Cheef Botanicals CBD Pills
Are you looking for a discreet and simple way to enjoy cannabidiol (CBD)? Say goodbye to guessing the right amount or having to explain to people that you're smoking CBD, not THC. Say hello to Cheef Botanicals' CBD capsules and soft gels!
Our CBD capsule contains only natural, organic ingredients. It doesn't contain animal gelatin and is suitable for vegans. We have high standards and only use CBD sourced from American hemp fields. A CBD capsule makes dosing easy with no mess or aftertaste, and they're inconspicuous with long-lasting effects!
What Are CBD Capsules?
A CBD capsule is a pills that contains CBD isolate powder. We'll explain more about isolate at the end of this section. First, we need to talk about CBD itself. CBD stands for cannabidiol, a naturally-occurring chemical compound found in the hemp plant.
Hemp is a form of the Cannabis Sativa plant that has extremely low levels of THC and very high levels of cannabidiol. CBD itself should not make you "high." Instead, it offers numerous benefits to your body and mind, promoting:
Relief from aches
Reduction of worry
Improved sleep
Natural appetite and digestive function
Most CBD products contain an additional ingredient to make dosing calculations easier for production and consumer purposes. Our capsules contain coconut powder combined with the CBD isolate. Coconut powder contains medium-chain triglycerides (MCTs), which are healthy fatty acids with numerous benefits of their own. CBD molecules naturally bond to fatty acids like MCTs, which dramatically increases their bioavailability (how much CBD your body can absorb).
Coconut itself also provides additional benefits and essential nutrients. Coconut is an alkaline food, so it helps to naturally balance your pH levels. It's also high in potassium, which may offer more help towards cramps and spasms. Plus, it's a good source of lauric acid, so it helps with metabolism and fighting off viruses and bacteria.
What Are CBD Soft Gels?
CBD softgel capsules are similar to the capsules we just mentioned. However, soft gels contain liquid CBD extract, and they have a soft texture (no surprise there). If you've ever taken fish oil supplements, you will recognize this form. The soft, smooth texture makes them easier to swallow, and just like our other capsules, these are suitable for vegans.
Full Spectrum, Broad Spectrum, or Isolate?
There are three general types of CBD: full spectrum, broad spectrum, and isolate. Each variety offers different benefits, so let's define each one.
Full spectrum hemp extract contains all of the compounds naturally present in hemp plants. This includes all the cannabinoids, terpenes (which create taste and smell), and flavonoids (which give the plant its color). Full spectrum CBD contains a very small amount of THC (0.3% or less), which should not be nearly enough to get you high.
Broad Spectrum hemp extract contains all of the same compounds as full spectrum CBD except that it has zero THC in them. Broad spectrum CBD products still contain terpenes and flavonoids, so they have an earthy, hempy taste and a translucent yellow-green tint.
CBD Isolate is 99.99% pure CBD. It contains no other cannabinoids (meaning it is THC-free), no terpenes, and no flavonoids. Therefore, isolate has no color, taste, or aroma.
At Cheef Botanicals, we produce full spectrum CBD softgels, while our CBD capsules contain isolate blended with coconut powder. Even though a broad spectrum CBD, isolate, or full spectrum CBD product should not get you high, those who are especially sensitive to THC or don't want it to show up on a drug test may prefer isolates. Drug tests don't check for CBD because it is federally legal.
Whether you choose an isolate, full, or broad spectrum CBD, the benefits will soothe you throughout the day. Full spectrum CBD and broad spectrum CBD may contain different forms of hemp extract, but the CBD is what matters most.
How To Use CBD Capsules
There is more than one way to take CBD capsules. Sure, you can swallow them like any other pill, but you can also get creative in a lot of ways. Check it out here:
The standard method of consuming CBD capsules and soft gels is no different than any other pill. Pop it in your mouth and swallow, washing it down with a gulp of water. It's best not to take these capsules on an empty stomach. Taking one with a meal or shortly thereafter improves may boost CBD's effects even further.
Add to a Food/Drink
It's easy to incorporate CBD into your favorite drinks. You can open up our isolate capsules and pour the powder into any beverage you want. Alternatively, you can puncture one of the CBD gel capsules and squirt the liquid it contains into your drink.
You can add CBD to your food in the same way you add it to your drinks. Just break open a capsule and empty its contents into your meal. Remember that the soft gels contain full spectrum CBD, which will give a slight hemp flavor to the food.
Tip for Consumers – Try CBD With Fatty Foods
As we previously mentioned, CBD binds well to fats like MCTs. Combining CBD with oil/fat makes it easier for your body to absorb, ensuring that you get maximum benefits. To get the most from your CBD capsules, try taking them alongside foods rich in healthy fats. We have some suggestions right here.
Hemp seed oil is a rich source of omega 3, 6, and 9 fatty acids. These are known as "essential fatty acids" because we need them to survive, but our bodies can't produce them independently. We use hemp seed oil in our CBD tinctures.
MCT oil and coconut oil are packed with the medium-chain triglycerides we mentioned before. We use MCT oil in our soft gels and coconut powder in our capsules to give our customers maximum benefits.
Avocado oil is a great plant-based source of healthy fats. Avocado oil is also great for cooking because it has a high smoking point, meaning you can cook without fear of burning the oil! It's a great option if you plan to make a meal with CBD powder/gel in it.
How Do CBD Capsules Taste?
You won't taste much of anything if you swallow a CBD capsule or soft gel. The plant-based gelatin coating has no flavor, and the pill's contents won't touch your tongue. However, if you plan to break the capsules open and add the contents to food or drinks, you may feel the texture of the powder. However, isolate powder is flavorless.
The CBD isolate powder in our capsules has no taste because it does not contain terpenes. You might get a slight hint of coconut flavor because of the coconut powder. The liquid in our CBD soft gels contains natural hemp terpenes that give it a nutty, earthy taste.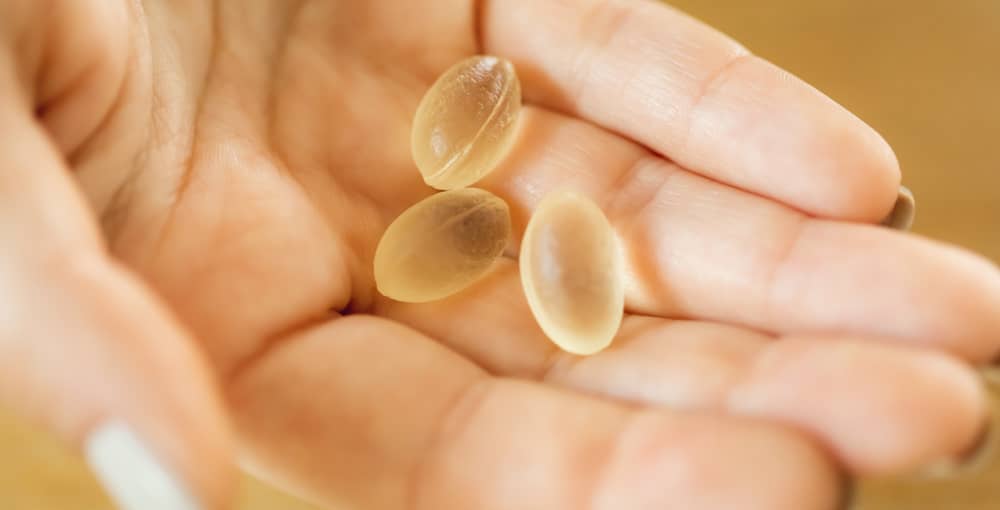 How Do They Work?
CBD works by interacting with the receptors in your endocannabinoid system (ECS). All vertebrates have an ECS, which controls many of the body's most vital functions, including:
Immune response
Sleep
Appetite and digestion
Mood
Memory
Reproductive health
By interacting with your natural cannabinoid receptors, CBD may support the ECS and elevate its effects. A well-functioning ECS is vital to maintaining homeostasis, which is the optimal balance of all mental and physical processes.
CBD capsules and soft gels work in your body the same way CBD edibles do. After you swallow, the pill must pass through your digestive tract into your liver. From there, it absorbs into your bloodstream, where it travels to and interacts with the cannabinoid receptors throughout your body.
Like edibles, capsules and soft gels take approximately one hour to take effect. Some people feel the benefits as early as 45 minutes after taking the pill, while others need to wait almost 2 hours. Everyone's body is different, and your metabolism affects how quickly the CBD reaches your bloodstream.
Capsules Or Oil?
There is no such thing as better or worse when it comes to CBD products. Whether you choose CBD oil (tinctures), capsules, gummies, vapes, or flower, each type of product offers the same main ingredient: CBD. The differences have to do with your own preferences, like whether or not you enjoy the taste of CBD oil or something inconspicuous like a capsule.
With CBD oil, you have the option of dropping it under your tongue. This method usually allows the CBD to kick in faster than swallowed products. Tinctures dropped under the tongue last 4-6 hours, while capsules and edibles last 6-8 hours.
You may have heard of "CBD oil capsules," but we find that terminology slightly confusing. A company could mean soft gels when they say CBD oil capsules, but it's too easily confused with CBD oil.
How Many Should I Take?
The ideal CBD dosage differs from one individual to the next based on factors like weight and why you need CBD. For complete guidelines, check out our handy CBD chart. In the meantime, we'll give you a few helpful pointers.
If it is your first time taking CBD pills, start with a small amount. The general rule is "start low and go slow," so try one capsule and choose the lowest strength. At Cheef Botanicals, we offer a 300 mg bottle of capsules with just 10 mg of CBD per pill. This is a perfect starting amount.
If you don't get your desired effect from a low amount, try increasing the amount next time. We offer 10mg, 25mg, 50mg, or 100mg capsules, so there's something to suit everyone. We recommend consulting with your physician before starting a CBD regimen to ensure it will not conflict with any medications you take. You can also get professional advice about the right amount of CBD for your particular situation.
Side Effects
CBD products are well-tolerated by most people, and it has very few side effects. Generally, people do not experience any adverse effects if they take the proper amount. Just so you are aware, here are some of the possible side effects of CBD products:
Change in appetite
Upset stomach or diarrhea
A slight change in mood
Dizziness/lightheadedness
Drowsiness
Dry mouth
Why Cheef Botanicals?
Anytime you order a CBD product, you want to ensure you're getting a solid, reliable product, which is exactly what we provide! Our capsules are specifically formulated from quality hemp, from which we extract the CBD with a safe CO2 extraction process.
Additionally, we believe we have the best CBD capsules because our product is:
Free of artificial sweeteners
Natural
Suitable for vegans
Gluten and dairy-free
Free from artificial colors or preservatives
3rd-party lab-tested
At Cheef Botanicals, we use only the best ingredients for our hemp-derived CBD products. We source our hemp from some of the finest farms in the country, allowing us to produce some of the highest-quality capsules.
Our CBD capsules are suitable for vegans, plant-based, and non-GMO. As a standard, we use pure, nutritious ingredients with no preservatives or additives in our CBD products to ensure that you get the highest quality CBD possible. We have a great selection of CBD capsules in various sizes and concentrations!
Cheef Botanicals ships to all 50 states for free! That's right, every order includes free shipping, with no minimum purchase required. Your order also comes with Cheef's 30-day money-back guarantee. As if that weren't enticing enough, we also offer 25% off your first order and 25% off future orders with our special subscription deals.
We are the direct manufacturer of our CBD products, so products listed on our website come straight from us. We have a complete detailed ingredient list for all products since we are the source of our own products. Our 25+ years of manufacturing experience in the organic food industry means we know what it takes to create reliable and healthy products, so consumers can trust that we offer the best CBD capsules.
Frequently Asked Questions (FAQ)
Are CBD Capsules and CBD Pills the Same?
Technically, there is a difference between the two, as capsules contain CBD powder or liquid encased in gelatin while pills consist of compressed powder with no casing. That said, most people use the terms "capsule" and "pill" interchangeably.
What Are the Differences Between CBD Capsules & CBD Edibles?
Edibles are anything you can infuse with CBD and ingest. Capsules fit that description, but they specifically refer to gelatin casings filled with isolate powder or a liquid CBD tincture. In short, capsules are edibles, but not all edibles are capsules.
Is It Okay To Take CBD Capsules or CBD Pills With Food?
Yes, in fact, we recommend taking capsules with food. While you should not experience any adverse reactions if you take these pills without food, taking them with a meal can maximize absorption. Pills and capsules have to be digested before the effects kick in, and taking them with food should help with this process.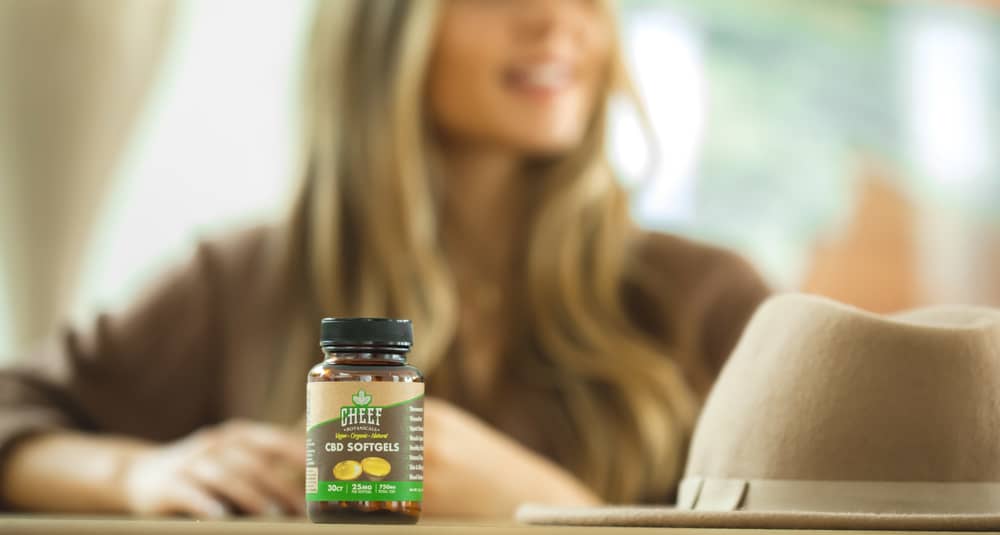 Can CBD Capsules Help Me Sleep?
The ECS plays a major role in regulating your sleep-wake cycle. Capsules and other CBD products boost the ECS and, in doing so, may promote a better night's sleep.
Will They Make Me Hungry?
Some people experience increased appetite after taking Capsules, but your experience may differ. CBD may relieve an upset stomach, which also promotes more eating.
How Long Do The Effects Last?
Cannabidiol pills typically last up to about 6-8 hours after consumption. However, a few factors can affect how long the cannabidiol pills last, including age, weight, tolerance, fatigue, or diet.
How Long Does It Take To Feel the Effects of CBD Capsules?
Capsules must pass through the digestive system before you start feeling any effects. Typically, this takes 45 minutes to an hour, but some people need to wait close to 2 hours before feeling the effects. It varies based on the same factors that determine how long CBD lasts.
Pills Or Oil?
While both CBD pills and oil are great, some might prefer pills because they're easy to take on the go, you know exactly how much you're consuming with each capsule, and they're flavorless. CBD oil drops can sometimes be inconsistent with dosing and have an earthy flavor that may turn some people off.
Do CBD Capsules Expire?
Yes, capsules can expire. It's best to store your bottle of capsules in cool, dark locations. Also, be sure to keep the container sealed from external air and humidity. Following these simple tips will prolong the shelf life, but don't let your capsules sit for too long in general.
The average shelf life for most CBD products, including capsules, is about 12-24 months. After 24 months, the CBD may lose effectiveness and not provide the same benefits as a fresh bottle. Plan to finish your bottle, so you can keep enjoying fresh ones.