Wholesale CBD Concentrate Business
The passing of the 2018 Farm Bill opened up the hemp market across the nation. Consequently, the Cannabidiol (CBD) market has exploded since then as well because CBD comes from hemp. The industry-changing bill legalized hemp, ensuring that millions of Americans could utilize this remarkably beneficial plant! Premium CBD hemp flower, CBD edibles, CBD concentrates, CBD oil, and CBD vapes are the most common forms of CBD products. The global CBD market is predicted to expand at a compound annual growth rate of 22.2% from 2019 to 2025. At that rate, the market will reach $23.6 billion by 2025. There is a good chance the market can outperform these predictions, especially with the health and wellness industry growing at the rate it is now. This is excellent news for those interested in wholesale CBD concentrates.
Our CBD concentrates come from hemp and it is defined as cannabis that contains 0.3% THC or less. Marijuana, which is a close relative of hemp, is known to be THC heavy. That is the reason it is still federally illegal. However, hemp contains a negligible amount of THC, 0.3% or less cannot get you high! Instead, hemp is packed with CBD. Consumers across the map who wish to enjoy the benefits of cannabis without the high can fully indulge in CBD. Of course, this has made the whole hemp market extremely lucrative.
Types of CBD Concentrates Available for Wholesale
There are various options when it comes to using CBD concentrates. Depending on the consumer's need, they may choose one over the other. Essentially, there isn't one product that is better than the other, so it is best to invest in several types to reach the diverse needs of the consumer. CBD concentrates are typically inhaled, which means consumers must either invest in a dab rig or another smoking apparatus such as a vape. However, CBD isolate, which is pure CBD, can be used in many different ways.
CBD Isolate
The name says it all when it comes to CBD isolate. This is the most purified form of concentrate. Manufacturers isolate the CBD in cannabis from all the other compounds in the plant. CBD isolates are the purest form of CBD available for consumers. It typically comes in the form of a fine white powder, and is the most versatile of CBD concentrate products. Consumers can smoke or ingest isolate. Or, they can be mixed with carrier oils to create CBD oil for sublingual use or mixed with essential oils for topical use.
CBD Wax
CBD wax is currently the most popular form of concentrate. It can come in full-spectrum or broad-spectrum form. Full-spectrum CBD wax contains all of the cannabinoids, terpenes, and flavonoids found in the cannabis plant. That includes THC. Remember, the negligible amount of THC in full-spectrum CBD cannot get you high. Instead, it helps to boost the power of CBD. When all of the compounds in cannabis work together, they create the highest form of benefit. This is called the entourage effect. Full-spectrum CBD wax gives consumers the most potent effect.
Broad-spectrum CBD wax contains all of the cannabinoids, terpenes, and flavonoids found in the cannabis plant except THC. This makes broad-spectrum CBD wax essential for those who wish to benefit from its use without the worry of failing a drug test. Although the 0.3% of THC in full-spectrum CBD wax isn't enough to get you high, it can still show up on a drug test. Broad-spectrum CBD wax allows consumers to enjoy benefits while still protecting their job security.
CBD/CBG Wax 1:1 + Terpenes
Cannabigerol (CBG) is another cannabinoid found in the cannabis plant. It gives consumers many of the same benefits that CBD is known for, with some additional perks. For example, CBG is known to be more uplifting than CBD, promoting more energetic effects. Our CBD/CBG wax is a mix of the two cannabinoids infused with added terpenes. Terpenes, dubbed "terps" by cannabis connoisseurs, are mainly responsible for the aroma and flavor profile of cannabis. Other than adding to the flavor of the wax, the terpenes also provide therapeutic benefits of their own.
CBG Isolate
Much like our CBD isolate, CBG isolate is a pure product. The CBG has been completely isolated from other compounds in the cannabis plant. CBD isolate will come in white powder form, and can be smoked, ingested, or mixed with essential oils to provide a sublingual or topical application.
CBD Concentrates Available Sizes
Our CBD concentrate for wholesale can be purchased in four sizes. Cheef Botanicals offers 1000mg, 3000mg, 5000mg, and 10,000mg packages. For more questions on pricing, and for inquires about orders, please contact your account manager or email us at sales@cheefbotanicals.com.
What To Know When Purchasing CBD Concentrate Wholesale
The most important factor when buying CBD concentrate wholesale is the quality of the product. As we mentioned earlier, the CBD market is booming. This has encouraged several less than reputable companies to try and get their piece of the pie. Don't go spend hundreds on wholesale CBD concentrate, just to find out it's bunk product. We assume your goal is a return on investment, not to lose money. Our products are third-party lab tested to government-specified regulations. We only use GMO-free, organic ingredients that are also cruelty-free.
The FDA does not fully regulate the CBD market, which means there is a chance that you will run into a fake product at one time or another. This is not that time. Cheef Botanicals takes great pride in providing quality hemp-derived products.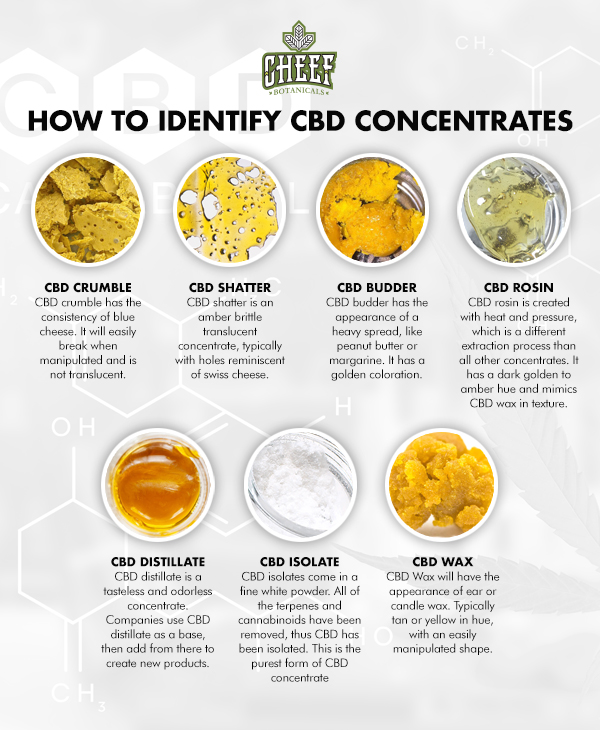 Why Buy CBD Concentrates Wholesale from Cheef Botanicals?
Here at Cheef, we are a company, not a corporation. A corporation focuses on the profit, without much care for the content of their products or taking care of the consumers. Think about it: corporations use machines and assembly lines to produce as much as possible, showing that they are more concerned with quantity over quality.
At Cheef, we ask ourselves every day, "What would benefit the consumer?" Quality hemp-derived products are our goal, with zero exceptions. Our wholesale CBD concentrates are the best on the market, and we stand by that guarantee with a lenient return policy. We also have a caring, hard-working, and passionate team of customer service agents ready to assist you at will.
Cheef Botanicals strives to spread the truth about natural alternatives to commercial medications that have more side effects than benefits. Why is there such a long list of side effects for a commercialized drug? CBD concentrates are all-natural, while various medications are formulated with synthetic chemicals and toxic processes. We seek to educate people about the risks and costly side effects of many pharmaceutical drugs, while offering a safe alternative.
3rd Party Tested
All of Cheef Botanicals products are third-party tested for quality. We provide a Certificate of Analysis (CoA) for all of our hemp-derived CBD products so that you may easily discern the contents and ingredients.
We Are the Manufacturer
Unlike companies that buy from a manufacturer then slap their name on the box, we actually produce our own CBD products. Cheef Botanicals utilizes farms in Oregon and Colorado for the hemp, and then we complete the production, extraction, and packaging processes in house. You can trust that we keep an eye on everything we sell from beginning to end, meaning we have more control over the quality. That benefits you!
Pricing
Purchasing Cheef Holdings' wholesale CBD concentrates offers retailers some very impressive deals and savings. View the other requirements for first-time wholesale buyers here. If you are looking to purchase some high quality CBD concentrates please give us a call at (818) 839-0516  to talk to a sales representative and discuss wholesale prices. Office hours are 6 am to 6 pm Monday-Friday and 6 am to 2 pm Saturday and Sunday PST.
How Can I Buy Wholesale CBD Concentrate?
Fortunately, it's pretty simple to buy wholesale CBD concentrates — you're already halfway there! The most important thing is to find a trustworthy supplier that uses high-quality CBD from legally licensed farmers in their CBD concentrates — that's us! Now, all that's left to do is fill out Cheef Botanicals' wholesale application below and you'll be selling unique, sought-after CBD products to consumers in no time.
Wholesale CBD Concentrate Application
Are you a reseller and would like to carry our products in your store? Please fill out the quick application below and our review team will get back to you within 24 hours!