Delicious? Check. Healthy? Check. Easy to use, make, and store? Check. What is there not to love about CBD honey?
Due to the numerous benefits CBD edibles provide, manufacturers have started adding it to an abundance of products. And a lot of these products are becoming mainstream. You'll be able to find CBD honey on the shelves of some grocery stores, health stores, dispensaries, as well as all over the internet.
Should you check out what all the hype around CBD honey is about? Probably! Here's all you need to know about CBD honey and CBD honey sticks.
What is CBD Honey?
CBD honey is exactly what you think (and hope) it is: honey infused with CBD! You can find jars of it or you can get yourself some CBD honey sticks. The sticks can be individual straws filled with the liquid form of CBD honey or they can be a solid stick of hardened honey that is infused with CBD.
CBD, which stands for Cannabidiol, is a phytocannabinoid found in the cannabis plant. This non-psychoactive phytocannabinoid is often extracted from hemp plants. Products from hemp are legal as long they contain 0.3% THC or less. THC stands for tetrahydrocannabinol and it is the cannabinoid in cannabis that gets people "high." However, the levels in hemp are too low to initiate intoxication. Since it's taken from the hemp plant, CBD and the products made from it are legal in all 50 states.
CBD reacts with the cannabinoid receptors in your body's Endocannabinoid System (ECS), which includes your mood, digestion, nervous system, and immune system. CBD may assist your ECS with keeping your body regulated and well-balanced. This process is known as homeostasis. These benefits make CBD a very popular addition to a variety of food products, including honey.
After extracting CBD from hemp using a C02 extraction method, the cannabidiol is infused into the honey. The positive effects of CBD are the perfect addition to honey, a "superfood" that is already well known for its health benefits.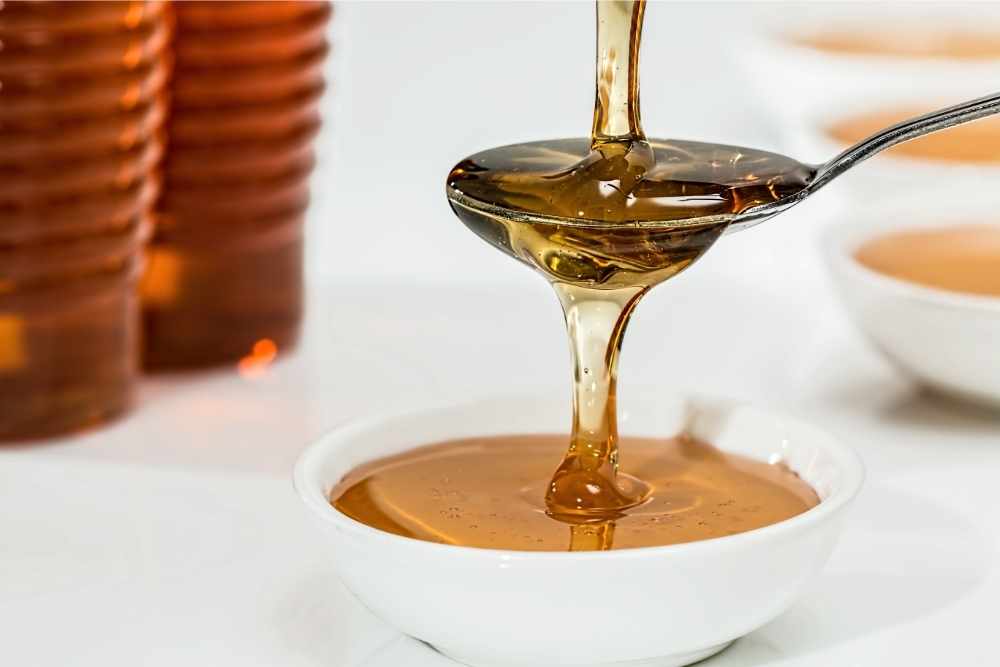 How to Use CBD Honey
You can use this honey in a variety of ways, all leading to the same great benefits and taste. And all of the different ways to use it are easy and simple — which is another huge bonus.
CBD honey is a healthy substitute for sugar. Try adding honey with CBD to your tea instead. You can put it in your next sports drink or use it as a great addition to any smoothie. Adding honey infused with CBD to any drink is definitely an even greater idea if you're trying to cure a hangover. The fructose in honey will help break down the alcohol quicker while the CBD might help provide some relief from those dreaded hangover symptoms.
Additional Uses
You can also add honey with CBD in it to your other favorite foods. Drizzle it on top of your cereal and yogurt, or add some to the top of your salad. CBD honey can also be added to any recipe — try putting it into your next baked good. Combine cocoa powder, coconut oil, chocolate chips, salt, and CBD honey to make your own dark chocolate. Or simply add it to your next peanut butter and jelly sandwich!
If you thought that was easy, you'll like our next tip even more: Just eat the CBD honey on its own as a snack! Have a hardened CBD honey stick? Crunch on it for a sweet healthy snack! If it's liquid, pour it directly into your mouth, suck the honey from the straw, or even hold it under your tongue like you would with a CBD tincture.
There's another interesting use for CBD honey you may not have thought of. You can actually apply CBD honey to your skin! Rub it on areas you're experiencing discomfort to use it like a CBD topical. You can also use it in a homemade face mask or lip balm. Just keep in mind that you'll probably get a little sticky.
Benefits of CBD Honey
The main benefit of CBD honey is that you're getting the effects of both honey and Cannabidiol. But let's break it down a bit more so you can get an even better sense of why these two naturally occurring products are so powerful when paired together.
Benefits of Honey
Honey is an antibacterial and antifungal agent thanks to its hydrogen peroxide and phytonutrients. It's believed that honey boosts the body's immune
system, helping it fight off diseases.
It's is also rich in antioxidants. Just like fruits and vegetables, honey contains polyphenols and organic acids, which contain a hefty dose of antioxidants. This is said to help lower blood pressure.
A small amount of honey can reduce bad LDL cholesterol and increase blood flow to the heart.
It's is a strong prebiotic that helps your body fight off bad bacteria in your gut.
This superfood is also just extremely soothing. It helps suppress coughing due to its anti-inflammatory properties as well as its ability to coat your throat.
Benefits of CBD
CBD may promote relaxation. A lot of people use CBD before bed to get better quality rest. This might be due to how CBD reacts with your body's serotonin receptors, which are important to your sleep-wake cycle.
CBD may promote relief from discomfort. People often use CBD to deal with soreness and ongoing aches.
CBD may help regulate your appetite. That's because CBD reacts with your body's ECS. The ECS helps balance your metabolism and fat storage.
CBD doesn't get you high, meaning you won't experience the side effects of THC.
Related: Soothing Actions of CBD Muscle Rub [Target Deep Relief]

Where to Buy CBD Honey?
You can purchase this healthy and delicious product from our online CBD store.  Here at Cheef Botanicals, we choose to focus on natural, organic CBD products and we only use the highest quality ingredients.
We offer CBD honey sticks with 10 sticks in each package and each stick contains approximately one tablespoon of honey infused with 10mg of full spectrum CBD.
With full spectrum CBD products, you get all the cannabinoids and terpenes included in the plant. This combination provides the full "entourage effect" which amplifies the beneficial strength of CBD and all the other cannabinoids. Full spectrum CBD contains 0.3% THC to complement the entourage effect, but this minuscule amount will not get consumers high.
Related: Why I Use Full Spectrum CBD Oil vs. Isolate or Broad Spectrum CBD


How to Store CBD Honey?
Did we ever mention how easy it is to use honey infused with Cannabidiol? Well — surprise! — it's easy to store, too! Honey can be stored at basically any temperature because its unique chemical composition keeps it from going bad. Bacteria doesn't often grow in this superfood because of its low water content and high acidic level, which gives honey an extra long shelf life.
Liquid honey should be stored in a cupboard at room temperature. You can also choose to use your refrigerator. Cooler temperatures will speed up the liquid honey's crystallization. While it won't go bad, the temperature you choose will basically define the texture of the honey. The fridge will keep it firmer while room temperature will make it softer.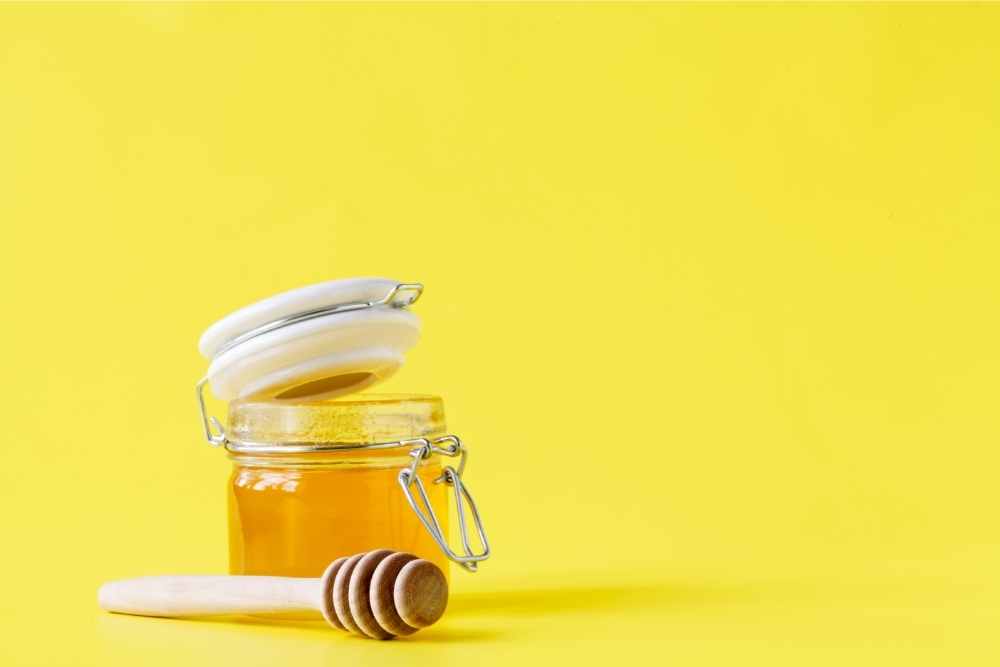 How Much CBD Honey Should I Take?
The amount of honey you use depends on the brand and the amount of CBD included. On average, a serving of honey is one tablespoon. People recommend consuming one serving in the morning and one in the evening, due to its health benefits.
If you're new to CBD, it doesn't hurt to start slow and discover the dose that works best for you. Feel free to use Cheef Botanicals' handy dandy CBD dosage chart to get a better idea of where to start. This will give you more insight on how strong to make your own CBD honey as well. You can also speak with a doctor about recommended doses.
RELATED: CBD Flower
Final Thoughts
Honey has a lot of health benefits. Honey that's CBD infused is even better. If you're looking for an easy way to get the benefits of both, CBD honey is the perfect solution. Natural and organic, CBD honey is the perfect addition to any drink or recipe. Or just feel free to pour the honey stick right into your mouth. This is definitely a CBD product you're going to want to try!
The statements made regarding these products have not been evaluated by the Food and Drug Administration. Therefore, this product is not intended to diagnose, treat, cure, or prevent any disease. This product is not intended to be an alternative to a doctor's advice. You should still speak to your health care practitioner if you are experiencing ongoing discomfort. Consult a health care professional about potential interactions or possible complications before using any product, including CBD rub. The Federal Food, Drug, and Cosmetic Act requires this notice. Read more information here.
Read Next: CBD Syrup: An Amazing, Rich Addition To Your Wellness Routine
Not sure which CBD product is right for you??? Take the quick quiz to find out!