As CBD gummies gain popularity as an edible form of cannabidiol, you may find yourself with questions about what they are and how they work. How can you know where to start and what's right for you? What's the proper CBD gummies dosage? There are so many different options you can easily get confused.
Don't worry —we're here to help you out. CBD gummies are an excellent way to introduce yourself to cannabidiol, but getting the right amount of cannabidiol is crucial. We'll cover what gummies are, how they meet your needs, and how to find the perfect CBD edible dosage!
What is a CBD Gummy?
CBD gummies are classic fruit snacks that are most commonly infused with full-spectrum CBD oil. They're discreet, delicious, and provide long-lasting therapeutic effects. The best CBD gummies will be organic, natural, and use zero artificial ingredients or preservatives.
A Quick Breakdown of CBD
CBD, which stands for cannabidiol, is a non-intoxicating cannabinoid found in two types of cannabis plants: hemp and marijuana. Most CBD products are made from hemp, which contains high levels of CBD and micro levels (0.3% or less) of THC (tetrahydrocannabinol).
While THC is psychoactive (it can get you "high"), the amount in hemp is not enough to intoxicate you. Hemp-derived CBD products will not make you feel high. Now, let's move on to some of the benefits of CBD gummies and CBD in general.
Why Use CBD Gummies?
CBD gummies are a fantastic way to enjoy the many beneficial effects of cannabidiol while also indulging your sweet tooth. If you've ever tried CBD oil, you'll love the ease of these pre-portioned edibles. CBD gummies make dosage easy. There's no need to measure out your dose every time, just eat a couple of tasty, sugary gummy snacks!
This form of CBD is also great for people who don't like to smoke or have a hard time swallowing capsules. CBD gummies make taking a beneficial remedy a whole lot more fun and delicious than traditional methods. Research is constantly emerging on the potential benefits and uses of CBD, even more so in the past two years.
In 2018, an updated Farm Bill made hemp and hemp-derived products (like CBD) federally legal. This bill keeps all legal CBD products at 0.3% or less THC. Since CBD is non-psychoactive, it's been gaining popularity as a natural, soothing compound that can help you feel better without getting you "high."
People use CBD to remedy a range of problems, the most common being:
Worried/nervous thinking
Upset stomach
Trouble Sleeping
Joint discomfort
Muscle spasms
Tension/soreness
Skin irritation
And many more!
This isn't a new concept, however! People have used hemp plants to soothe various ailments for thousands of years. Due to many legal roadblocks, CBD research had long been stilted. However, this has begun to change in recent times.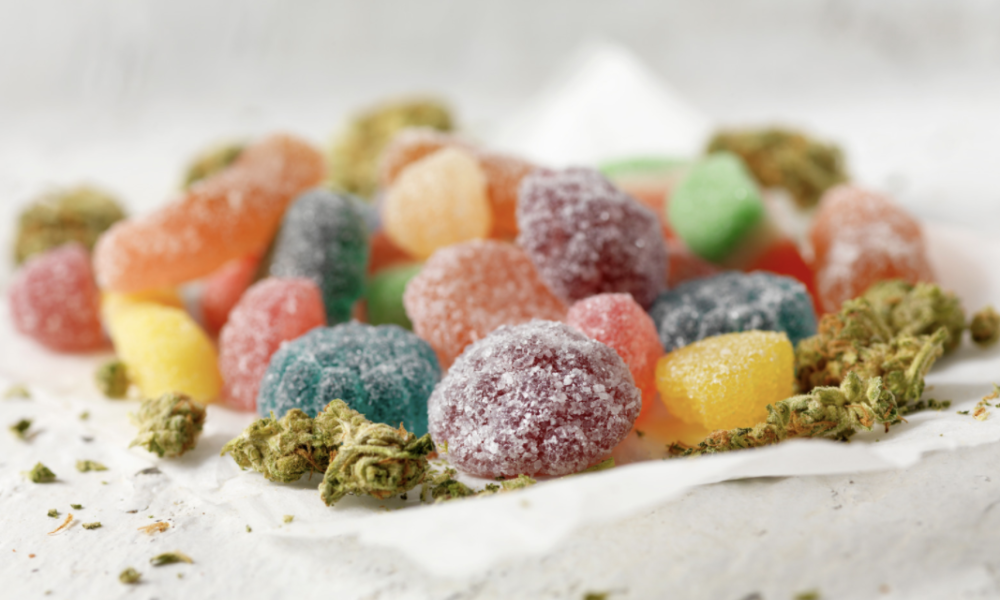 Are There Any Approved Medical Uses for CBD?
Currently, the Food and Drug Administration (FDA) has only approved the use of CBD in one anti-seizure medication, Epidiolex. Research trials found that people had fewer seizures when they took the medication in conjunction with other anti-seizure prescriptions.
Other than Epidiolex, CBD has not been approved to treat, cure, or prevent any disease. This means there is no official, standardized guide for CBD gummy dosage or any other cannabidiol product on the market. If you try CBD, be sure to buy from a reputable company that follows federal regulations and provides dosing recommendations.
What is the Right CBD Dose?
So if there is no official FDA dosage guide for CBD, how do you know the right dosage? Well, there is no "right dosage" for everyone. As we discussed, people use CBD for a wide variety of issues that may require different amounts of CBD to soothe. Additionally, some people prefer "stronger" doses, while others prefer "milder" portions.
CBD dosing depends on a range of consumer variables. Everything from a person's body weight, metabolic rate, the amount of sleep they've gotten, the last time they ate, and the consumption method will affect how CBD works in the body. CBD gummies are potent and long-lasting since they pass through a consumer's digestive tract. Since the intestines and liver must process the cannabidiol before it reaches the bloodstream, gummies and other edibles metabolize slower and the duration of effects is longer.
If you're shopping around, you've probably noticed gummies can come in a variety of bottle sizes and potencies (milligrams [mg] of CBD per gummy). To achieve your desired dose, you might need to eat a couple of gummies, depending on their potency. Low doses are typically good for first-time consumers, while higher doses are suitable for those with CBD experience and persistent, uncomfortable issues. If you want to calculate your personal CBD dosage recommendations, follow us to the next heading!
CBD Dosage Guidelines
We've consulted with experts to come up with a dosage range calculator. Remember: these are recommendations, not official guidelines.
At Cheef Botanicals, we generally recommend 0.25 (low dose) to 0.5mg (strong dose) of CBD per every one pound of body weight. Don't worry – it's easy math. Let's go over an example—say you weigh 140lbs.
Multiply 140 by 0.25 (140 × 0.25) to find your low dose of 35mg of CBD.
Multiply 140 by 0.5 (140 × 0.5) to find your strong dose of 70mg of CBD.
Your ideal dosage range is 35 to 70mg of CBD! Remember though this is just a starting point and you may benefit from even higher (or lower) doses once you become acquainted with the initial effects. We recommend starting at the low end of your dosage range if you're new to CBD. Again, you can always take more if you feel that the low dose isn't providing your desired effects. You can also cut gummies in half to reach your desired dosage.
CBD gummies typically come in a range of potency options, making it easy for you to buy a bottle that meets your needs. You'll likely see labels that read 300mg total/10mg of CBD per gummy, or 750mg total/25mg of CBD per gummy. The "total" refers to how much CBD is in the whole bottle, including all the gummies. "CBD per gummy" is the amount of cannabidiol in each gummy.
Once you calculate your dosage, count out the number of gummies needed to add up to that amount of CBD, and enjoy the sweet treat! If the 140lb person from our example bought a 300mg total/10mg of CBD per gummy bottle, they would need to eat three and a half gummies for a low dosage of 35mg.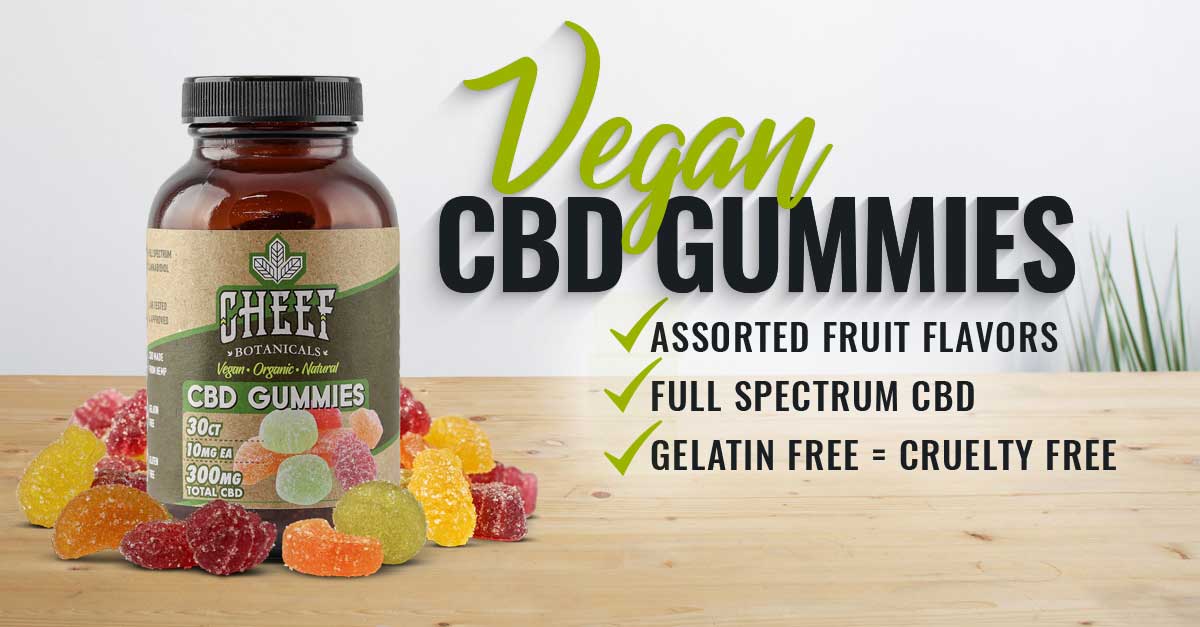 Can You Take Too Many CBD Gummies?
CBD is well-tolerated by the vast majority of consumers. Studies show that there are minimal possible adverse side effects associated with taking CBD. According to the World Health Organization, CBD is non-addictive and generally unharmful to humans. So, what happens if you take "too much CBD?"
You cannot overdose from taking CBD. However, some occasional, mild side effects may occur from taking more than the recommended dose of CBD, including:
Dry mouth
Drowsiness
Upset Stomach
Change in appetite
Change in mood
These adverse side effects don't last long and, as we said, generally result from taking more than your recommended dose. So in a way, you can take too many CBD gummies, but the effects of taking more than your dosage will be mild and non-life-threatening. Side effects of CBD tend to disappear with repeated use as your body adjusts to the compound. If you experience some effects the first few times you take a gummy, know that they likely won't persist if you continue using the product.
One of the few concerns associated with taking CBD is how it may interact with other medications. Cannabidiol may slow down the metabolism of some prescriptions, lengthening their half-life. Before taking CBD, talk to your doctor about other medications you may be taking and how CBD may affect their efficacy.
How Long Does it Take for CBD Gummies to Kick in?
Like other CBD edibles, CBD gummies can take anywhere between 30 minutes to two hours to kick in. It can sometimes feel like they aren't working, but be cautious of taking more before the two hours have passed. Yes, you may need a higher dose, but it also may simply be taking time to digest.
If you've waited a while and still don't feel the beneficial effects, it's safe to eat more gummies, but don't go overboard. You could give yourself an upset stomach and miss out on a positive CBD experience. Take it slow and enjoy the learning period of consuming CBD gummies. The effects of eating CBD gummies typically last between four to six hours.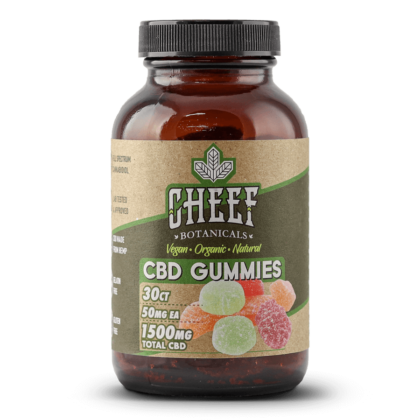 Where Can I Buy CBD Gummies?
If you want to buy our CBD gummies, you can purchase them right here on our website! They're vegan, organic, and non-GMO. We use all-natural ingredients like pectin (a plant-based alternative to gelatin) and fruit juice to formulate tasty, health-conscious fruit snacks infused with full-spectrum CBD oil. They're clean, potent, effective, and discreet.
We offer four different sized bottles of CBD gummies to accommodate diverse dosage needs. Each bottle contains 30 gummies, and the formulas rise in potency along with the total mg of CBD per bottle.
300mg total at 10mg of CBD per gummy
750mg total at 25mg of CBD per gummy
1,500mg total at 50mg of CBD per gummy
3,000mg total at 100mg CBD per gummy
Our CBD gummies are competitively priced compared to others on the market. To make sure you're getting a good deal, you may want to calculate the price per mg of CBD. To do so:
Say you're looking at the 3000mg bottle priced at $124.95.
Divide 124.95 by 3000 (124.95 ÷ 3000).
Find that our 300mg bottle will cost you ≈ $0.04 per mg of CBD.
If you have any questions or comments about our vegan CBD gummies, feel free to contact us!
Final Thoughts
CBD gummies are a truly excellent option for anyone looking to enjoy the beneficial effects of CBD while also enjoying a delectable, wholesome snack. They're almost like a soothing version of the gummy bears we ate as kids. They're perfect before a stressful day, a long flight, or a weekend of relaxation. All-day soothing effects from eating a couple of gummy bears? Sign us up!
Not sure which CBD product is right for you??? Take the quick quiz to find out!