CBD gummies combine the wonderful taste of fruit gummies with the positive effects of CBD. They taste amazing, but how do CBD gummies make you feel? Many CBD consumers will state they taste appetizing and act beneficially at the same time.
Whether you are familiar with CBD gummies or not, let's take a quick look into what they are, how they work, taste, and more! After you become informed, you will want to taste one of these amazing gummies right away!
What is a CBD Gummy?
A CBD gummy is a tiny bite-sized, gelatinous, cannabidiol-infused fruit snack. CBD gummies are typically infused with broad or full spectrum CBD oil and can come in various flavors.
Many CBD brands might use different ingredients to sweeten the gummy such as organic sugars or artificial sweeteners. For some people, it's important to read the list of ingredients and refrain from eating CBD gummies made with artificial or harmful byproducts. They prefer to select CBD gummies that are made with all-natural, organic, and vegan ingredients.
Gummies can come in different strengths to help you take your desired dosage. Whether you are looking for a small boost to your morning with a 10mg gummy or a strong 100mg gummy to chill out after a long day, there are endless varieties you can choose from!
Related Article: Hemp Gummies Vs CBD Gummies: Two Chewables With Big Differences
How Do CBD Gummies Make You Feel?
CBD gummies are one of many CBD products available for consumers to enjoy soothing and therapeutic benefits. Many consumers that take CBD report feeling more relaxed or at ease. Depending on how you consume the CBD oil, the effects can last anywhere from 4-8 hours!
Cannabidiol (CBD) is one of many naturally occurring, primary cannabinoids found in the hemp plant. CBD helps support your endocannabinoid system (ECS), which regulates many functions like sleep, memory, appetite, digestion, and immune response.
As the CBD enters your system, it serves to help you maintain an overall mental and physical balance. You can experience the following benefits of CBD:
Eases nervous or anxious behaviors
Soothes physical discomfort
Promote natural sleep
Enhances mood
Regulate natural digestion
Sparks creativity
One of the main reasons that people prefer CBD is that it lacks the intoxicating and psychoactive effects of THC. Taking CBD shouldn't change your body chemistry, such as your heart rate or blood pressure, and won't affect your decision-making and reaction times. It is highly unlikely that you will feel high from taking CBD.
There are also very few side effects related to CBD. Most people tolerate it extremely well and report no adverse reactions at all. The side effects experienced are typically very minor, short-lived, and can include:
Dry mouth
Slight drowsiness & fatigue
Mild diarrhea
Upset stomach
It's important to note that CBD products have not been evaluated and are largely unregulated by the Food and Drug Administration (FDA). CBD is not intended to diagnose, treat, cure or prevent any disease. If you are concerned about how CBD can affect you, you can always consult a medical health professional before taking it.
Can CBD Gummies Get You High?
No, CBD gummies should not get you high! Under the 2018 Farm Bill, all hemp and hemp-derived CBD products must contain 0.3% THC or less. Some CBD gummies contain trace amounts of THC, but they are non-intoxicating and should not leave you feeling high.
Studies also show that CBD poses no risk of addiction whatsoever. Because CBD does not produce any mind-altering, high effects like THC, it is extremely difficult and near impossible for you to overdose or abuse it!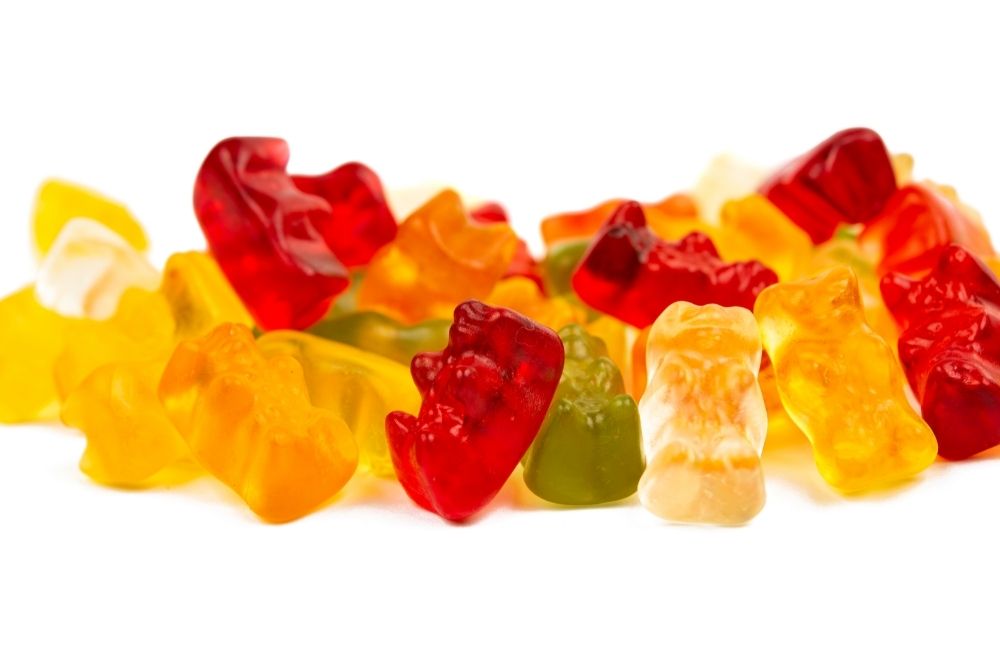 Why Use CBD Gummies?
It's hard to see why people wouldn't want to try CBD gummies. Besides the positive effects they provide, CBD gummies offer a more convenient, discreet method of consuming CBD products.
Here are some great examples of why people prefer CBD gummies over any other CBD product!
Taste: Some consumers might enjoy or tolerate the natural, earthy taste of CBD oil on its own, but others might not. CBD gummies mask that taste with assorted fruity flavors such as apple, grape, orange, pineapple, and strawberry.
Easy Consumption: CBD can be consumed by inhaling smoke or vapor from smoking flowers or vapes. Smoking might not suit some people and require a bit of prep work beforehand. CBD gummies are no hassle, easy to eat, and can be consumed anywhere.
Discreet: Some places do not offer smoking areas, so vaping or inhaling CBD flowers is not permitted. Eating CBD gummies allows consumers to enjoy CBD without causing a hassle.
Best CBD Gummies
If you are set on buying your first CBD gummies, you should aim to buy only the best ones. Here at Cheef Botanicals we practice making the healthiest CBD gummies available and as thousands of customers agree, they're the best tasting as well! Regardless, when selecting your product of choice be prepared to know what to search for since many brands offer gummies and other CBD products.
When it comes to finding the best CBD gummies, it might be easier to start your search online. However, whether you shop locally or online, keep the following things in mind while you search.
Customer Reviews: The brand you choose should have mostly positive consumer feedback on all their products, including CBD gummies. Reading reviews is a great way to learn about their overall satisfaction and customer service policies. Especially if the brand offers free shipping or money-back guarantees, it may be just enough to convince you!
Certificate Of Analysis (COA): If the CBD gummies you want to buy don't come with a Certificate of Analysis, then you might want to look elsewhere. COAs verify that the product has been third-party lab tested for the full cannabinoid profile and CBD content accuracy. COAs should be readily available, so you know exactly what you are consuming.
Quality Ingredients: Only seek CBD gummies made with organic, all-natural ingredients. Some brands may attempt to cut costs with artificial flavorings and colorings or even use preservatives and additives in their products.
Related Article: How To Store CBD Gummies [Keep Them Fresh & Flavorful!]
Final Thoughts – How Do CBD Gummies Make You Feel?
CBD products are growing increasingly popular as the market continues to grow. If you want to be part of the CBD wellness wave, CBD gummies are a great place to start, especially if you are new to the scene. If you want to check out other fantastic CBD-infused products that are made with only the best ingredients, then check us out at Cheef Botanicals!
Not sure which CBD product is right for you??? Take the quick quiz to find out!