CBD oil — people are loving it, and the market is booming. But there's one thing that seems to hold many people back from trying it or making it a regular part of their wellness routine: the price. There's no doubt about it — CBD oil is costly. So, where can you go to get affordable CBD oil?
What is CBD Oil?
CBD oil is a liquid formula made from pure cannabidiol (CBD) extract and a carrier oil (to balance to potency). We use hemp seed oil as our carrier for its nutritional benefits and ability to help your body absorb CBD. CBD is a non-intoxicating cannabinoid with many restorative, therapeutic benefits.
Full Spectrum, Broad Spectrum & CBD Isolate 
Did you happen to know there are three types of CBD extract? Full spectrum, broad spectrum, and isolate CBD all share similar soothing qualities, but there is a big difference from one to the next.
In addition to rich levels of CBD, hemp contains micro-levels of over 100 other cannabinoids! Some come in small amounts, like tetrahydrocannabinol (THC) and cannabigerol (CBG). THC in hemp is purposefully capped at 0.3% or less, and CBG is typically found at ≈ 1% or less.
When hemp goes through the extraction process, all of those cannabinoids remain in the resulting oil. In addition, compounds called terpenes and flavonoids, which give flavor, aroma, and beneficial effects to hemp, are also present in the extract. The different kinds of CBD extracts contain various amounts of these cannabinoids and compounds.
RELATED: How to Choose CBD Oil Products


Full Spectrum CBD Oil
Full spectrum CBD oil contains all of the cannabinoids and compounds that naturally occur in hemp. That includes 0.3% or less THC, the cannabinoid known for getting people high. However, 0.3% or less is not enough THC to make many people feel intoxicated.
Instead of intoxicating you, that 0.3% or less THC (along with the other cannabinoids and compounds) contributes to something called the entourage effect. An entourage effect is a synergistic event where all of the cannabinoids and compounds work together to increase each other's benefits.
Broad Spectrum CBD Oil
Although full spectrum CBD oil won't intoxicate you, prolonged consumption could potentially cause a buildup of THC in your system. This could result in a positive drug test. Although there's a very low likelihood of this, some people prefer to avoid THC altogether just to be on the safe side.
That's where broad spectrum CBD oil comes in. All the THC has been removed from the extract, but it still contains the other beneficial cannabinoids and compounds. You still experience an entourage effect with broad spectrum oil, but it's ever-so-slightly less impactful than that of full spectrum's.
Isolate
CBD isolate is hemp extract with ALL other cannabinoids and compounds removed, leaving only CBD molecules behind. It takes the form of a white crystalline powder, which manufacturers can then add to a carrier oil to achieve a purely CBD oil. It allows consumers to enjoy the effects of CBD and CBD alone.
Is CBD Oil Legal?
Yes! Thanks to the 2018 Farm Bill, hemp and its extracts are 100% legal as long as they only contain 0.3% or less THC. This prevents hemp flower and hemp-derived CBD products from being intoxicating. The Farm Bill also imposes ethical farming regulations that ensure the quality of hemp.
When the 2018 Farm Bill was signed into law, the CBD floodgates broke open. Finally, people could legally farm, harvest, sell, and buy hemp in all of its useful, soothing glory. Since then, creatives have launched dozens of beneficial CBD products for humans AND pets!
What Are the Effects & Benefits of CBD Oil?
So you're probably here because you're interested in CBD oil. But do you know how or why CBD can take restorative action within our bodies? It's quite fascinating! The process involves a body-wide network of cannabinoid receptors that are dispersed across various systems.
Those cannabinoid receptors are a key aspect of the endocannabinoid system (ECS). The ECS is a signaling system that all mammals have, and it helps us maintain our internal balance. Our bodies naturally produce endocannabinoids that bind to the receptors and signal the ECS to regulate functions such as mood, appetite, pain responses, sleep, digestion, and more.
CBD, a natural plant cannabinoid (also called a phytocannabinoid), can interact with our cannabinoid receptors and signal the ECS in the same way as our endocannabinoids. By adding CBD to your routine, you encourage your ECS to function well and take therapeutic action relieving your ailments.
You can take CBD oil for both immediate, long-lasting relief and as part of your regular wellness routine to keep things running smoothly. In addition to tackling more intense discomforts like scrapes that break the skin, CBD is generally soothing and calming. If you want some specifics, here are a few of the things CBD can help with:
Promote beneficial sleep
Encourage good digestion
Elevate your mood
Relieve muscle soreness
Ease nervous thoughts/behavior
Taking CBD oil is a fantastic way to promote all-around wellness for the mind, body, and soul!
What Makes CBD Oil So Expensive?
A dizzying amount of factors play into the high price of CBD. If you find super cheap CBD oil, be cautious of its quality — not all companies adhere to federal standards that keep hemp and CBD clean and effective. It is possible to find affordable CBD, but quality CBD oil will at least be somewhat pricey.
First and foremost, growing high-quality, federally-legal hemp is a costly process. If it's an indoor grow operation, the farmers need to pay for space, utilities (water and electric add up quickly), labor, licensing, materials, manufacturing equipment, etc. The list truly goes on and on.
Then, there's the cost of safe and clean CBD extraction. There are a few different ways to extract CBD from hemp, but some methods are dangerous and may contaminate the CBD. The cleanest, safest way to extract CBD from hemp is CO2 extraction, which requires expensive machinery, materials, and electricity.
After extraction, the pure CBD still needs to be mixed with a carrier oil, tested by a third-party lab, packaged, and distributed. Third-party lab testing ensures the quality and efficacy of CBD products; it tells you exactly how much CBD and other cannabinoids are in a mixture, edible, vape pen, etc.
All of these costs rack up quickly, and most of them are constantly recurring. Many manufacturers do their best to keep their costs as low as possible — they're in the business of helping people feel well and balanced, not in the business of gouging. But, the bills still need to be paid, and the cost of making CBD oil is high.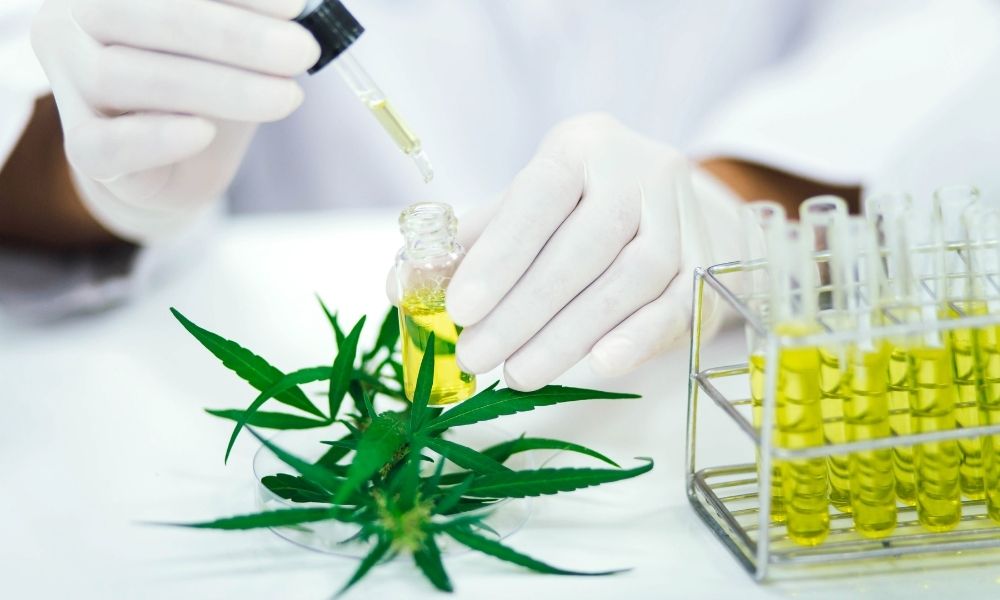 What to Look For in an Affordable CBD Oil
When looking for affordable CBD oils, you should still do your best to look for high-quality brands and formulas. There are companies out there who charge an arm and a leg for their high-quality CBD oil, but it is possible to find brands that charge reasonable, average prices for premium CBD tinctures. Look into several aspects of a CBD brand, including:
Hemp Source – Where do they get their hemp to make CBD oil from? Ideally, they'll let you know that it's from organic, federally-compliant hemp farms in the United States.
Certificates of Analysis (COAs) – COAs tell you the results of the third-party lab tests, which a brand should always have done for their CBD products. If you can't find a COA, move on to a company that provides them — you should get to know exactly what's in your CBD oil.
Extraction Method – Look for companies that use CO2 extraction as it's the cleanest and safest (for the extraction lab employees, yourself, and the environment).

Ingredients – What kind of carrier oil do they use? Be sure that it's a beneficial, organic/natural carrier oil like hemp seed oil, avocado oil, or medium-chain triglyceride (MCT) oil.

Brand Reputation/Reviews – Check out what a brand's customers are saying about them. You can learn a ton from online reviews these days. Customer reviews will clue you in to how good the product really is and the consumer's experience buying from the company.

Brand Values – What message does the company promote, and do their reviews line up with that mission? Look for the brand's integrity and whether or not they live up to their promises.

PRICING! – The average cost of CBD per milligram (mg) is $0.05 to $0.20. If you find anything over $0.20/mg, the company is likely ripping you off. To calculate the price per mg of CBD oil, divide the bottle's price by the total mg of CBD. For example, $29.99 ÷ 400 = $0.075/mg. That's a pretty good price point!
Related Post: Find CBD Oil Near Me [Guide To Local & Online Shopping]
What is the Most Affordable CBD Oil?
What is the most affordable, high-quality, clean, trusted, and effective CBD oil? Cheef Botanicals 100% organic, natural, and vegan CBD oil, of course! Since day one, we have obsessed over creating the highest-quality CBD products, starting with CBD oil, and making them available to everyone.
Cheef strictly follows federal guidelines and sticks on the ethical side of business. We source from trusted, organic hemp farms in Colorado and Oregon and have each batch of CBD oil (and every other product) third-party lab tested for quality, safety, and efficacy.
We offer four different sizes/potencies of CBD oil – 300 total mg, 600 total mg, 1,200 total mg, and 3,000 total mg. Each bottle's price per mg of CBD differs slightly, lowering as the product's volume increases. This means buying bigger bottles is more cost-efficient! The average price per mg of our four bottle sizes of CBD oil is $0.059. That puts us just above the lower end of the price per mg spectrum!
The difference between us and some other affordable companies? Our CBD oil is THE highest-quality you will find. We work hard to create an organic and effective CBD oil that's within everyone's price range.
Final Thoughts
We hope this article helped you understand why CBD oil can be so expensive. We also hope it gave you some perspective on the average price range and armed you with the information needed to make an affordable yet quality choice for yourself. CBD oil doesn't have to break the bank, but the cost of manufacturing it simply is what it is.
If you're looking for high-quality, affordable CBD oil, you've come to the right spot! At Cheef Botanicals, we keep our standards high and our prices fair. Our goal is to help you feel better, more balanced, content, and peaceful — not to gouge you with high costs.
Not sure which CBD product is right for you??? Take the quick quiz to find out!