Cannabidiol, or CBD, is an increasingly popular compound for those looking to naturally support their overall wellness. Since becoming a household name in the past decade, CBD products have been evolving and improving at a staggering rate. With the various form factors and delivery methods available for CBD nowadays, it is almost surprising that it has taken this long to see a CBD oral spray join the party.
As it turns out, oral sprays are a great addition to the already-impressive array of CBD products. Compared to other products, the delivery method of a liquid spray that is absorbed in your mouth provides CBD lovers with one of the fastest and most effective ways to get CBD into your system. But there's much more to this great CBD product. Join us as we take a deep dive into CBD oral sprays, how they work, and what makes them a great product for enjoying CBD's benefits!
What Is a CBD Oral Spray?
CBD oral spray is a liquid formulation of hemp-derived CBD that allows you to absorb its benefits by applying it directly inside your mouth. The mucous membranes in our mouths can absorb cannabinoids like CBD and deliver them directly into our bloodstream for the body to use. This rapid activation time makes oral sprays ideal for those seeking fast-acting CBD options.
The liquid formulations of CBD sprays come in small, slender, palm-sized bottles with a pump spray, providing a consistent amount of CBD in every pump. The supporting ingredients of these oral sprays are often chosen for their ability to help the body absorb CBD more effectively and efficiently while providing flavor. All these factors make CBD oral sprays one of the simplest and most convenient ways to ingest CBD.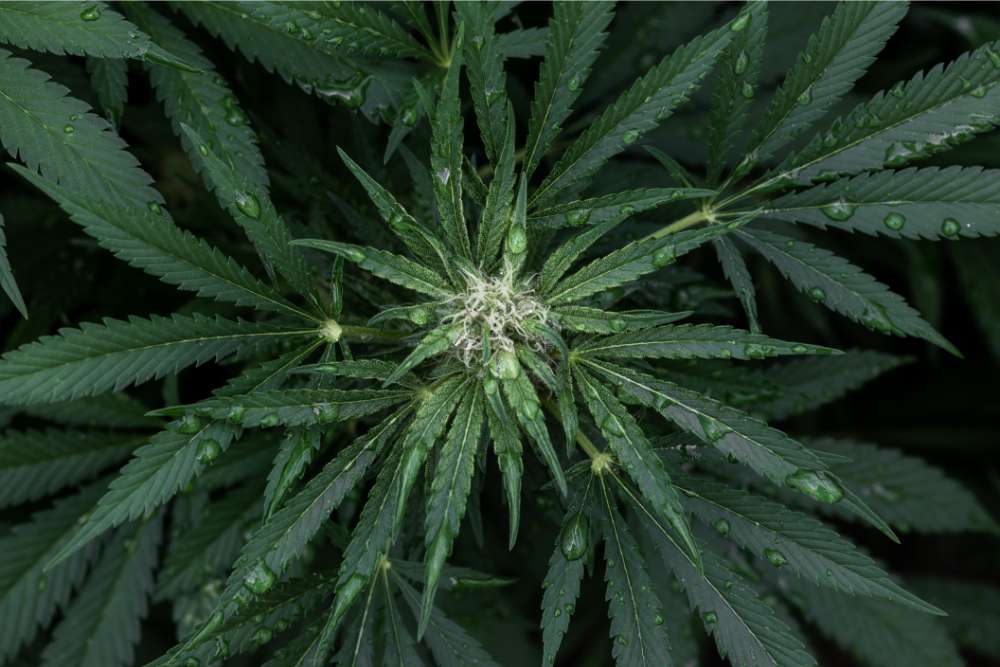 What Is CBD?
CBD, or Cannabidiol, is the main cannabinoid in the hemp plant. This variety of cannabis plants is rich in CBD and contains low concentrations of THC, the main cannabinoid in marijuana. Unlike THC, CBD is a non-euphoric cannabinoid that has a wide range of useful applications.
Enthusiasts can enjoy CBD across various product types ranging from infused CBD edibles to hemp flower. Recent years have seen wellness-minded individuals add CBD to their daily wellness regimen. CBD offers a natural way to manage anxiousness, stress, and physical discomfort, among other ailments.
How Does CBD Interact With Our Bodies?
CBD interacts with our bodies via the endocannabinoid system (ECS). This internal network of cell-signaling receptors helps to optimize several key bodily functions. This includes mood, discomfort response, memory, appetite, and sleep. CBD can supplement the natural activity of our ECS and help restore balance to our bodies. One of the easiest ways to do this is via products like CBD spray.
How Do I Use CBD Oral Spray?
Knowing how to correctly administer a CBD spray can help to maximize the wellness benefits of cannabidiol. There are two main ways to properly use a CBD spray: oral absorption and sublingual absorption. Both CBD spray methods require that you have no other food or drinks in your mouth.
Oral Absorption:
Remove the bottle cap and point the spray nozzle at the opening of your mouth.
Press the spray pump down with your mouth open to absorb a single serving of CBD oral spray.
Allow the spray to absorb in your mouth for 30 seconds, then swallow any remaining liquid.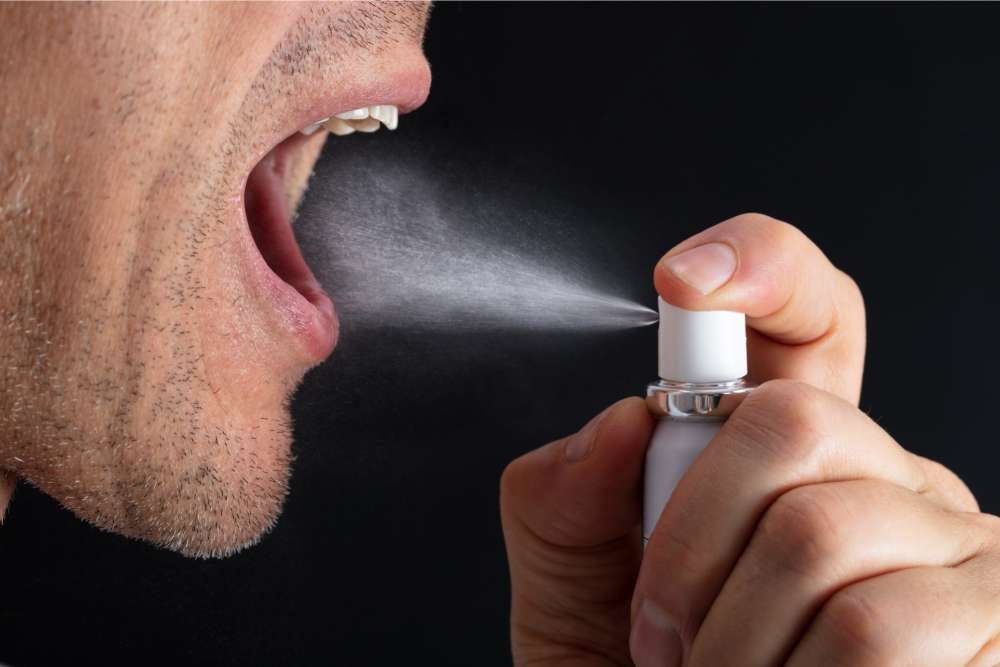 Sublingual Absorption:
Remove the bottle cap and aim the spray nozzle at the underside of your tongue.
Keep your mouth open and tongue lifted, then press the spray pump down to absorb a single serving of CBD oral spray.
Allow the spray to absorb under your tongue for 60 seconds, then swallow any remaining liquid. Fans of CBD oil will recognize the sublingual method, as this is one of the fastest ways to experience CBD's benefits.
Although the spray should start working in as little as 15 minutes, it is advisable to wait up to an hour to appreciate the full effect. If you are new to CBD, we suggest starting with a single spray and gradually increasing the amount as you become accustomed to the effects. Always consume responsibly and use your best judgment to determine what is suitable for your specific needs.
CBD Oral Spray Benefits
As we previously mentioned, CBD interacts with your ECS to deliver several positive benefits to your overall well-being. Some of the ways CBD oral sprays can benefit your mental and physical health include:
Uplifting mood and a positive mindset.
Calming racing thoughts by allowing you to de-stress.
Elevating appetite for adequate nutritional intake.
Supporting proper digestive system health and regularity.
Aiding mobility issues by easing joint swelling and puffiness.
Delivering relief from muscle aches and bodily discomfort.
Providing deep, restful, and undisturbed sleep.
And much more!
How Long Do the Benefits of CBD Oral Spray Last?
The benefits of CBD oral sprays typically last between 3-4 hours, giving them a similar duration to tinctures and sublingual CBD oils. However, this time window is merely a general guideline. It is always worth noting that each individual's response to cannabinoids can be different. Your personal experience with CBD may be shorter or longer than this average.
Disclaimer: While CBD shows much promise, further research is necessary to determine exactly how it works within the human body. CBD products have not been evaluated by the federal Food and Drug Administration (FDA). These products are not intended to diagnose, treat, cure, or prevent any disease or condition you may or may not have.
CBD is not meant to be a substitute or alternative to advice or information from a licensed healthcare professional or doctor. Please consult with your healthcare provider about the use of CBD and its potential interactions with medications you are taking, such as a chronic pain reliever or chemotherapy-induced nausea medication, to name a few.
Benefits of Using a CBD Oral Spray
Combining a spray's small form factor and reliability makes consuming CBD a breeze. This allows consumers to enjoy the benefits of CBD with minimal fuss.
There are many benefits to oral sprays infused with CBD that make them the ideal form factor. The main advantages of consuming CBD in an oral spray formulation are the following:
Fast-acting delivery method. Oral sprays allow CBD to quickly absorb directly into your circulation through your mouth, especially with the sublingual method. This makes oral sprays one of the fastest ways to enjoy the benefits of CBD.
More control over your consumption. The liquid formulation and pump spray gives you a consistent amount of CBD in each spray for reliable results. The spray mechanism also makes tracking how much CBD you ingest easy.
Discreet & portable. For those who prefer the more low-profile forms of consumption, oral sprays offer a very subtle way to enjoy CBD. The small size of the spray bottle also makes it easy to transport so that you can get your serving of CBD wherever and whenever you want.
Easy to use. The straightforward directions for using a CBD-infused oral spray make it readily accessible to anyone. Simply point the nozzle at your mouth, press the pump, and wait 30 seconds for the CBD to absorb before swallowing.
Smoke-free alternative. Oral sprays are one of the more health-conscious ways to ingest CBD. Avoid irritating your lungs with the simplicity of oral sprays.
Where Can I Buy CBD Oral Spray?
You can often buy CBD oral sprays online, where you usually get the widest range of choices and the best prices. When buying CBD online, look for reputable brands that are transparent about the contents of their products.
Reputable hemp companies should work with qualified laboratories to independently test their products. This test checks a product for purity, potency, and safety. These results should be viewable to customers on a Certificate of Analysis (COA), a document confirming the exact contents of a product.
Finally, look for customer reviews of the products you are considering. These reviews give you honest, real-world customer feedback that helps inform your purchase. Third-party review sites like Trustpilot are a great source for reliable and verified customer reviews.
Why Choose Cheef Botanicals for CBD Oral Spray?
At Cheef Botanicals, we strive to provide all-natural, holistic solutions to your health and wellness needs. Our CBD Oral Sprays offer consumers a discreet, portable, and easy way to enjoy the benefits of CBD.
We produce our oral sprays with the utmost care to ensure we deliver customers a satisfying product that meets their needs. We only use premium ingredients and pay meticulous attention to detail in formulating each batch.
Here's what you can expect from our cannabidiol oral sprays:
Made in the USA. The active ingredient in our Oral Sprays is hemp-derived CBD. We make our oral sprays using USA-grown, 2018 Farm Bill-compliant hemp. We source all our hemp from farmers with a passion and expertise for growing hemp flower.
Premium, natural ingredients. We blend broad-spectrum hemp extract with organic olive oil and peppermint oil to create the foundation of our oral sprays. All sprays are naturally flavored with stevia or monk fruit and free of artificial ingredients and chemical additives like potassium sorbate.
Lab tested for potency, purity, and safety. All our products undergo testing by an independent, third-party laboratory to certify their safety, potency, and purity. We publish the results in a COA for every batch of sprays we produce, confirming the ingredients and CBD content.
Cheef Botanicals CBD Oral Sprays
As CBD can be helpful for several issues, we have created a few options to address the most common problems people deal with. We offer the following CBD Sprays:
Balance CBD Oral Spray: Reap the total-body wellness benefits of CBD with our Balance Oral Spray! Loaded with hemp-derived, broad spectrum CBD to help your body feel at ease in perfect harmony.
Relief CBD Oral Spray: Our combination of CBD with creatine, potassium, and curcumin helps your body relax and recover. Use this when the going gets tough and you want to take extra weight off your shoulders — you'll feel instantly relieved and ready to keep moving forward.
Sleep CBD Oral Spray: Blending CBD with valerian root, L-theanine, and melatonin makes this spray an ideal choice to help you drift off into a deep sleep. Calm your mind and allow yourself to succumb gently to a good night's sleep. You'll be thankful for our Sleep Oral Spray when you wake up in the morning feeling refreshed and energized.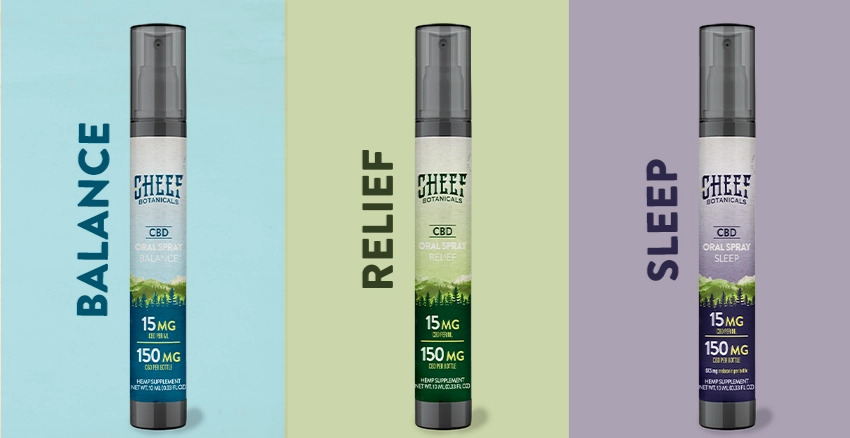 Enjoy Free Shipping and Save 25% On Every Order Forever!
In addition to our various formulations and commitment to quality, we offer free shipping on every order and other great perks when you join our Cheef community! When you schedule regular deliveries, you can save 25% on each order and make sure you always have oral sprays on hand. Choose between bi-weekly or monthly deliveries when you sign up for our free subscription services!
Final Thoughts – CBD Oral Spray
Oral sprays are a great option to get CBD into your system quickly. Sprays allow you to quickly absorb CBD and other cannabinoids through your mouth. This fast-acting method delivers CBD into your bloodstream for your body to use. CBD interacts with receptors in our ECS to provide calming and relaxing effects. One of the main advantages of CBD oral sprays is their portability and convenience.
We recommend buying cannbidiol oral sprays from an online provider for the best selection and price. Any brand or product you are considering should clearly state its ingredients and verify them via a COA. Check out the Cheef Botanicals website for premium quality CBD oral sprays that deliver fast relief, and add this handy wellness tool to your regimen today!
Not sure which CBD product is right for you??? Take the quick quiz to find out!