Are you ready to get on the CBD oil train and find out why so many people rave about its benefits? Before you get started, you need to know how to use CBD oil. Fortunately, taking this product could not be simpler!
There's more than one way to take CBD oil. This little bottle of liquid is amazingly versatile. Drop some in your mouth, add it to your food, or even rub it on your skin! Being such a multi-faceted product, it's easy to see why CBD oil is so popular these days. If you want to try CBD oil for yourself, you've come to the right place. In this article, we'll break down the basics of what CBD oil is, how it works, and the many ways you can use it every day. Check it out!
What Is CBD Oil?
CBD oil is a tincture made from two hemp-derived products: CBD extract and hemp seed oil. Let's break these ingredients down one at a time.
What Is CBD?
Cannabidiol, better known by its nickname CBD, is a naturally-occurring compound found in cannabis plants. Since we said cannabis, you might be apprehensive, so let's settle a few things. Firstly, CBD is not intoxicating. That is to say, it will not get you high. Plus, it is 100% legal in the United States.
There are two kinds of cannabis plants: hemp and marijuana. Marijuana contains high levels of THC (tetrahydrocannabinol), a chemical with psychoactive effects. Hemp contains low levels of THC (0.3% or less), but it's rich in CBD. Hemp is federally legal in the U.S. under the 2018 Farm Bill. However, any cannabis plant with more than 0.3% THC is classified as marijuana, which is illegal on the federal level. Marijuana-derived CBD products are illegal as well, but rest assured, at Cheef Botanicals, we exclusively use hemp plants for our CBD oils.
For thousands of years, people have used CBD to promote homeostasis and overall wellness. We'll discuss these benefits in detail momentarily, but first, let's talk about the second ingredient in our CBD oil tincture.
What Is Hempseed Oil?
We combine CBD extract with a carrier oil to minimize irritation to your skin and digestive tract and improve bioavailability (CBD absorption rate). Different CBD companies use different carrier oils, but we firmly believe that hemp seed oil is the best choice.
The seeds of the hemp plant contain a wealth of nutrients, including essential vitamins, minerals, fibers, and omega fatty acids. For all you vegetarians and vegans out there, hempseed oil is a great source of plant-based protein with many health benefits. It contains all 9 of the essential amino acids. Hempseed oil is a superfood like no other, and in our opinion, it's the only choice for a carrier.
What Are the Benefits & Effects of Using CBD Oil?
Taking CBD oil benefits the body and mind in the following ways:
Relieves aches and discomfort
Improves sleep quality
Aids appetite and digestion
Calms nervousness and distress
Stops racing thoughts
Promotes positive mood and mindset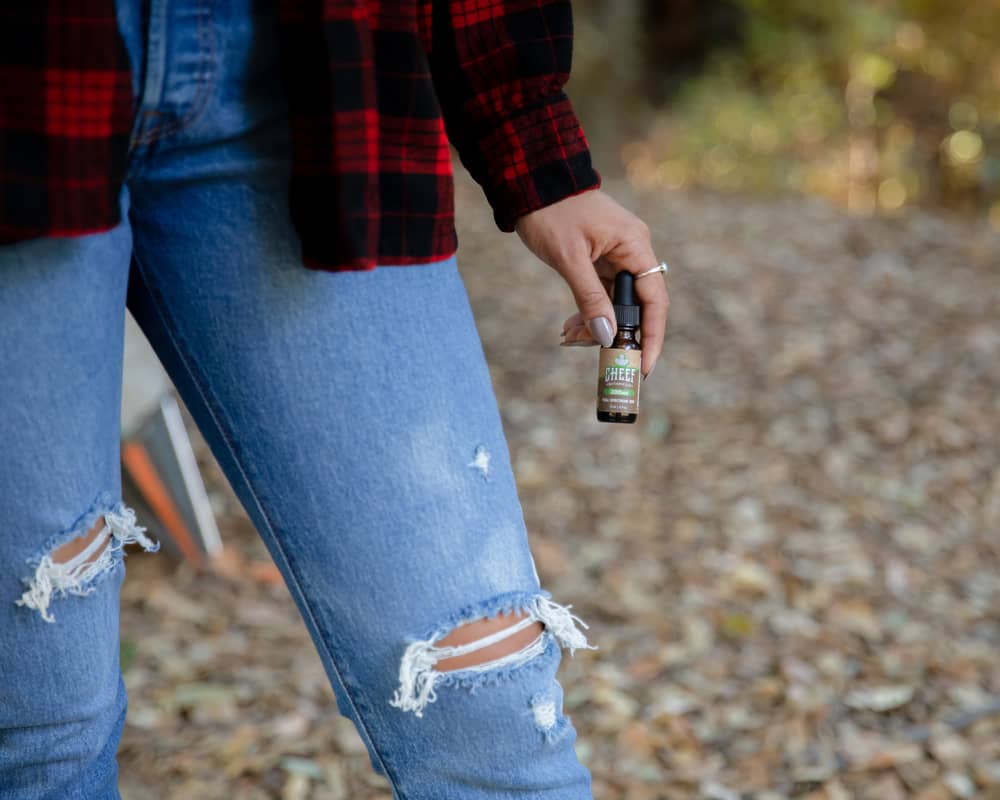 As far as side effects go, there are very few to consider. Many people prefer CBD to THC because of its rare and minimal side effects. You most likely won't experience the paranoia, couch lock, and brain fog that often come with marijuana consumption. There are just a few potential side effects to keep in mind:
Dry mouth
Drowsiness
Change in appetite
Mild dizziness
Again, these side effects are rare and short-lived for the few who experience them. Since CBD is not intoxicating, you can take CBD oil whenever you need it and continue with your daily routine, uninhibited.
How Does CBD Oil Work?
CBD works by interacting with the cannabinoid receptors in your endocannabinoid system (ECS). All mammals have an ECS, from the great blue whale to the pygmy possum to you. The ECS regulates some of the body's most vital functions, including sleep, appetite, digestion, immune response, mood, and memory. CBD gives this system a natural boost.
How to Use CBD Oil
Perhaps the best part of CBD oil is its versatility. Different methods of administering it achieve different results. Try CBD oil in all its applications and discover which is best for you.
Sublingually
Sublingual means "under the tongue" in Latin (in case you're a little rusty on your dead languages). Place a few drops of CBD oil beneath your tongue and hold it there for at least 30 seconds. Wonder why? Sublingual application is the fastest way to feel the effects of CBD oil!
The mucous membrane under your tongue is packed with capillaries – tiny little blood vessels that connect your arteries and veins. When you take CBD oil sublingually, it rapidly absorbs into your bloodstream. The relaxing effects kick in after just 15 minutes and last 4-6 hours.
Edibles & Drinks
Maybe you don't enjoy the taste of hemp oil, or perhaps you want your CBD experience to last even longer. If so, try adding a few drops of CBD oil to your favorite food or drink. Stir thoroughly and enjoy! When you eat or drink CBD, the effects take a bit longer to kick in – up to an hour. However, the effects of CBD last longest when you ingest it – 6-8 hours!
Topicals
Did you know CBD oil makes a great addition to your skincare routine? It hydrates the skin and locks in moisture. It also works to relieve muscle tension and soothe itchy, irritated skin. It's important to note that CBD cannot enter your bloodstream through your skin. Therefore, topical CBD does not reach the ECS, but that doesn't stop it from aiding your skin condition.
How Do You Dose CBD Oil?
The ideal amount of CBD oil varies from person to person based on several factors, including your metabolism and whether you're taking CBD for a specific issue. We highly recommend you check out our CBD dosage chart here and take the quiz to find your perfect dose!
As a general rule of thumb, you should take 0.25-0.50 mg of CBD per pound of your body weight. So, if you weigh 160 pounds, take 40 mg of CBD oil for a low dose or up to 80mg for a high dose. We advise starting with low doses and gradually working your way up.
Our CBD oil tincture comes in 300 mg, 600 mg, 1,200 mg, and 3,000 mg bottles. They include a graduated glass dropper so you can precisely measure your CBD dose.
What Is the Best Way to Use CBD Oil?
There is no best way to use CBD oils. How you take CBD depends on your personal needs and preferences. Here are a few things to consider when choosing how you administer your CBD oil:
Onset Time: If you want fast-acting relief, choose sublingual administration. The effects set in after about 15 minutes, as opposed to the hour it takes when you ingest CBD.
Duration: Here's the flip side: the effects of CBD last around two hours longer when you ingest it as opposed to taking it sublingually. For the longest-lasting relief, mix your CBD oil into edibles or beverages.
Desired Effect: Ask yourself why you need CBD oil. If you're interested in CBD for skincare or aiding muscle tension, you'd be best off using it topically. Take it internally if you want the full, holistic effects of CBD interacting with your cannabinoid receptors.
Why Choose Cheef Botanicals For CBD Oil?
We built Cheef Botanicals on the principles of natural wellness. Our founders have a combined 25 years' worth of experience in the organic food industry. All of our CBD products are made from 100% plant-based ingredients. They are non-GMO, dairy-free, gluten-free, and contain no artificial ingredients.
We use an eco-friendly, CO2 extraction process to make our products. First, we run supercritical liquid CO2 through ground hemp. We focus on the leaves and flowers because they contain the most potent concentration of CBD. The liquid CO2 strips the CBD from the plant material, along with terpenes, flavonoids, and other hemp compounds. Lastly, the CO2 evaporates, leaving a clean CBD distillate behind.
We take great pride in our methods. Unfortunately, many other companies use harmful solvents, such as butane, in their extraction processes. This can leave toxic residue behind, tainting the final product.
We value brand transparency, and we want you to be 100% confident in the products you consume. That's why all of our CBD products, including our oil tinctures, are lab tested to ensure quality. These independent, third-party laboratories test our products to confirm their CBD potency and ensure they contain no harmful contaminants or chemical pesticides. They also confirm that they meet the legal requirement of 0.3% THC or less.
The labs document their test results in Certificates of Analyses (COAs). We post the COAs for all of our products on our website for you to review. You deserve to know exactly what you're consuming so that you can enjoy your CBD oil with total peace of mind.
Final Thoughts – How to Use CBD Oil
You can see why CBD oil is such a popular product. Its versatility is unparalleled, and the added power of hempseed oil is too good to resist. Are you ready to try some for yourself? You can buy CBD oil right here at Cheef Botanicals.
Are you interested in exploring the CBD world further? Our oil tinctures are just the tip of the iceberg. Here are some other hemp-derived CBD products we think you'll enjoy:
Flower: You can enjoy the classic experience of smoking cannabis without the THC! We carry over 20 unique strains of premium hemp flower sourced from farms in Oregon and Colorado. Each bud is carefully cured and hand-trimmed to perfection. Buy it whole, or try our convenient CBD pre-rolls.
Vapes: Do you need the immediate effects of inhaling CBD but want something smoother and milder than smoke? Try our CBD vape pens! They come in a wide range of flavors, from classic cannabis strains like Sour Diesel to imaginative flavors like Lychee Ice.
Isolate: Isolate is pure CBD, meaning it contains no other cannabis compounds. Ultra-potent and adaptable, isolate can be eaten on its own, vaporized, or dissolved into your own homemade CBD tincture.
Dab Wax: Try our dab wax for a super-potent smoking experience. This product is designed for experienced CBD consumers. Newbies are advised to start gently and work their way up to high doses.
Edibles: Instead of mixing CBD oil into your food, why not try our edibles made with a precisely measured dose of CBD. Available in gummy or capsule form, these work just like ingesting CBD oil.
We encourage you to try each of these CBD products for yourself to determine which is your favorite. Mix it up from session to session, and share the love with your friends and family!
Not sure which CBD product is right for you??? Take the quick quiz to find out!