CBD pre-rolls are one of the most convenient ways to enjoy the natural effects of hemp. That's why we decided to make this list of the 5 best CBD pre roll strains. Each strain has its own unique aroma and terpenes that will leave a delicious taste in your mouth.  The best CBD pre rolls, also called CBD joints, are not only tasty, but they can also contribute to your well-being! Learn more about CBD pre rolls and flower with this guide.
What is a CBD Pre Roll?
CBD pre rolls are made from hemp flower that has been ground up and perfectly rolled for the convenience of the consumer. CBD pre rolls are full spectrum, which means they contain a wide variety of cannabinoids and terpenes, including THC.
However, according to the 2018 farm bill, CBD joints can only legally contain 0.3% THC or less. To have a more conclusive number, check out the hemp strains certificate of analysis (COA) breakdown. CBD pre-rolls are one of the most natural ways to intake CBD, not to mention the flavors taste great.
How We Came Up With This List
We came up with this list to help people find the strain that best suits their individual preferences and needs. We have listed these pre roll strains in order of flavor, potency, and popularity. Of course, each strain is special in its own way, and you might need to try a few different strains before you find the one that fits your taste.
Cheef Botanicals CBD pre rolls are sold in packs of five. Each pack contains 7 grams of premium hemp. We only use high-grade Colorado flower with fluctuating potencies and a ray of different delicious natural flavors.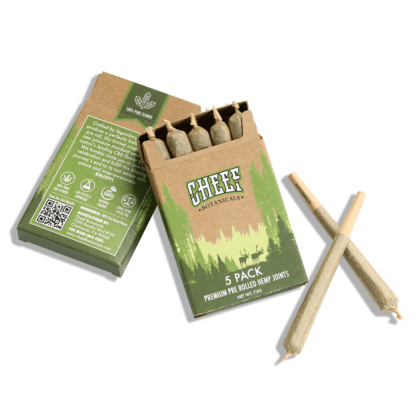 5 Best CBD Pre Rolls
1. Skywalker OG
This strain is known for its high CBD potency. Skywalker OG pre rolls have a whopping 20.94% CBD and 0.13% THC. This "out of this world" strain has a mixture of fruity, piney, spicy, and citrusy notes.
2. Sour Diesel
This is the perfect daytime flower strain. Sour diesel pre rolls will get all your creative juices flowing while providing energetic effects with a sour flavor profile. Our premium Sour Diesel rolls have 20.165% CBD content and 0.094% THC.
3. Hawaiian Haze
It is no surprise that Hawaiian Haze is a popular strain. Its starburst like tropical and citrus aroma leaves your tongue with rich earthy undertones. This naturally grown strain has about 18% CBD and less than 0.3% THC.
4. Lifter
Lifter CBD Pre Rolls are wonderful for those pursuing a calm and rich sense of focal energy. This strain leaves your tongue with piney fresh and lemon zest flavor. The wonderful skunky aroma is left lingering in the air. Lifter CBD strain has about 18% CBD content and less than 0.3%.
5. Special Sauce
This highly requested Special Sauce CBD joint is perfect for calming down at any time of the day. It has delicious terpenes that coat your tongue in a not so recognizable taste. The blend is unique and fun. The CBD content of this strain is 17.87% and a THC level of 0.07%.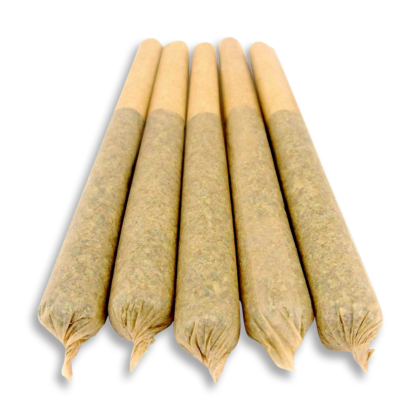 What are the Effects of Smoking CBD Pre Rolls?
All CBD products encourage our bodies to reach and maintain homeostasis. All the compounds form hemp work together to boost the endocannabinoid system (ECS). The ECS helps regulate mood, appetite, sleep, and the general well-being of each individual. To learn more about the ECS, click here.
We have all experienced aches at a certain point in our lives, and for some, it's daily. With each exhale of smoke, you can feel relief. Smoking a CBD pre roll before bed can bring comfort and relaxation throughout your mind and body.  
The synergy created by the wide range of cannabinoids in CBD pre rolls blends together in an almost rhythmic fashion to bring out the full potential of consuming hemp. The entourage effect not only fuses together cannabinoids but also the beneficial terpenes and flavonoids. This effect is best achieved with a full spectrum CBD product, however, broad spectrum CBD products can also offer a partial entourage effect.  
CBD can have various beneficial effects that are directly correlated to the dosage amount consumed. Unlike most prescription medication, CBD is a "reverse tolerance" homeopathic plant, meaning that over time you should consume less to experience the same effects. 
Of course, it is a difficult task to measure your CBD dosage while smoking, but a little experimentation will get you there. If you find yourself sensitive to THC, you may want to start off with a high CBD to THC ratio. Although there isn't an exact science to determining your flower dosage, it is recommended that a low dosage would be one to two inhalations.
Are CBD Pre Rolls Legal?
As mentioned previously, the 2018 Farm Bill has made it federally legal to purchase CBD hemp pre rolls in the United States. However, the flower must contain 0.3% THC or less. THC is the cannabinoid that is dominant in marijuana, while CBD is the potent cannabinoid in hemp. THC has a psychoactive component that makes the smoker feel "high."
Although CBD pre rolls are legal in federal law, state laws vary. For example, CBD is illegal in South Dakota. Businesses are not allowed to produce or sell CBD products, but consumers are able to purchase online. For this reason, you can purchase CBD pre rolls online but might not have as wide of a variety in your own area.  
How Old Do You Have to Be to Buy CBD Pre Rolls?
Depending on your state laws, minors under the age of 18 are not allowed to purchase CBD products. In some states, you must be 21. There is less age enforcement online, but some companies ask for age verification before entering their sites.
Related Article: How Old Do You Have to Be to Buy CBD? [Rules Explained]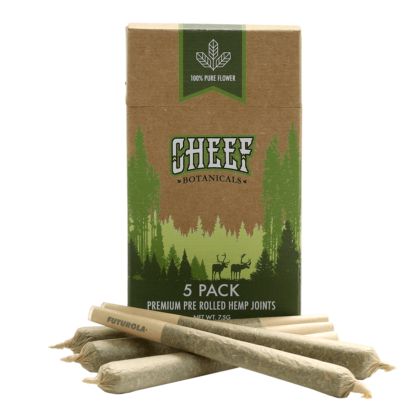 Why Cheef Botanicals Pre-Rolls are the Best!
Cheef Botanicals is a company founded by CBD health enthusiasts with 25 years of collective experience. The Cheef family has dedicated themselves to bring one of the best quality CBD hemp flowers from Colorado farms. We came out with an exceptional line of organic, plant-based hemp products. Our products encompass only the best organic flower. 
Cheef Botanicals provides a full gram and a half of flower in each pre roll. Some companies will offer more pre rolls but the total amount of CBD flower is much less. We offer 7 grams of flower in our CBD pre roll packs while other retailers offer 5 grams or less at similar pricing.
Cheef Botanicals definitely has the best prices when compared to our competitors. In addition, our brand provides large discount codes monthly to our subscribers. Be sure to sign up to receive emails about our next sale, it is coming soon!
Final Thoughts – CBD Pre-Rolls & CBD Joints
CBD pre rolls are a wonderful way to experience different strains. The best part about CBD pre rolls is the convenience and flavor they offer. Each strain is exceptional in its own way. The different terpene profiles add to the enjoyment of smoking hemp. Next time you pick a strain, take the time to indulge in the unique tastes and scents it has to offer, and don't forget to leave a review!
Not sure which CBD product is right for you??? Take the quick quiz to find out!