Blue Dream has been a popular strain amongst cannabis connoisseurs for countless years and now consumers can enjoy Blue Dream CBD! Blue Dream CBD is a hemp strain, meaning it has less than 0.3% THC. These types of strains allow consumers to gain the benefits of cannabis without feeling "high" or "intoxicated." Although, if you live in a marijuana-friendly state you can find this strain with higher amounts of THC. When the THC amount rises above 0.3% THC it can cause intoxication.
This CBD-rich hemp strain provides the energizing effect of a Sativa. The smooth, uplifting yet relaxing effects of this unique strain are attractive to many. Morning people will fall in love with Blue Dream CBD. It is the perfect strain to help you get your day started (or to keep it going). Once the effects hit you, it energizes your body and boosts your creativity.
Blue Dream (CBD): Strain Lineage
This CBD hemp flower evolved from the original Blue Dream cannabis strain (THC dominant), which is a cross of the Blueberry and Haze strains. Blueberry has almost the same terpene profile as Blue Dream. Since the '70s, Blueberry has been passed from breeder to breeder.
Eventually, somebody crossed Blueberry with an original Sativa strain, Haze. This strain produces lively effects and has a peppery bite. Although we don't know the exact location of Blue Dream's creation, some believe it originated in Santa Cruz, California.
As you can see, a lot of personality comes out of this genetic mixture! The taste, color, and aroma of this nonconformist strain leave consumers feeling enlightened and vitalized.
Blue Dream (CBD) Terpene Profile
This legendary strain has a colorful terpene profile. Myrcene, pinene, and a little bit of caryophyllene give Blue Dream CBD its exquisite aroma and uplifting effects. Although pinene has a potent scent, myrcene is the most dominant terpene in this strain.
You can almost taste the different flavors just by looking at the bud. A bolt of charged orange swirl envelops the earthy tones. Blue Dream CBD is a perfect mixture of herbal, pine, and pepper. After the first inhale, the slight bitterness is quickly masked by a sweet citrus tang. Once you exhale the herb, the berry aroma fills the air, while a fruity taste tickles your tongue. The dance of the peppery spice is left on the roof of your mouth.
We recommend this strain as a daytime flower because of its energetic nature. The pinene electrifies the mind, while the myrcene relaxes the body. These effects can increase your productivity since people perform better when they are relaxed. A clear mind is essential for maximum output!
RELATED: CBD and Terpenes [Why They're Important]
How Much CBD and THC are in Blue Dream Hemp Flower?
Blue Dream CBD has high CBD content. On average, it ranges from about 16 to 18 percent. Of course, this depends on where the strain was cultivated. The THC potency does not have much room to fluctuate. According to the 2018 Farm Bill, all CBD flower's THC levels must remain within the legal limit of 0.3% or less.
We recommend purchasing strains from a company that provides a certificate of analysis (COA) for all their products. The COA gives an accurate report of the cannabinoid content in the strain. Several companies have been caught in fraudulent schemes due to the falsification of their COAs. Be sure to only purchase products from a trustworthy company that does not shield necessary information from consumers, such as customer reviews.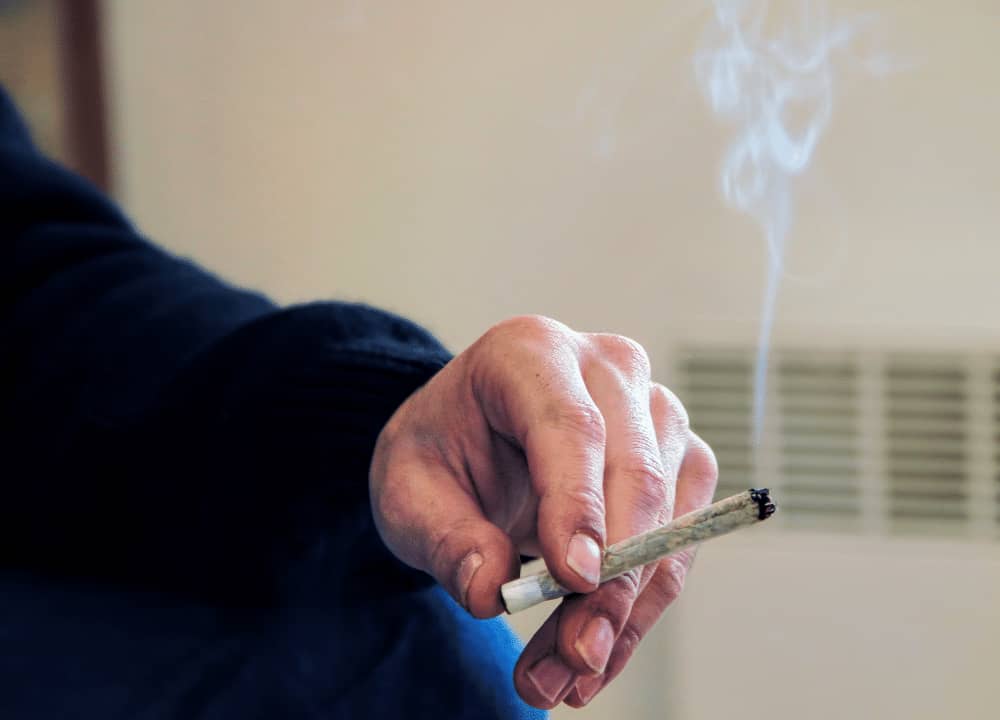 Blue Dream CBD Effects
Blue Dream CBD has a complex genetic history. Each parent strain has contributed in some way to the legendary results. Haze plays quite a large role in the output of effects. This dominant Sativa strain stimulates creativity and alertness of the mind, which is why we recommend consumers to enjoy this strain in the morning.
The Indica dominant Blueberry helps the body release tension that always pushes down on the shoulders. The majority of consumers may turn to CBD for relaxation purposes. Overall, Blue Dream CBD uplifts and energizes while allowing the consumer to release built-up tension. The majority of consumers report the flower provides a blissful sensation without feeling high. They also notice their apprehension and angsty feelings evaporate with each puff.
The great thing about CBD dominant strains is that they contribute to the most extensive body system called the endocannabinoid system (ECS). The cannabinoids present in hemp assist ECS function at full-speed. When your ECS is healthy, you can experience improvements in your mood, appetite, sleep, and memory. To learn more about the ECS, click here.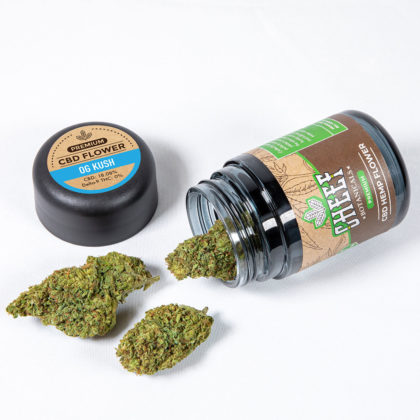 Similar CBD Strains
Before we list similar strains, we would like to reiterate that Blue Dream hemp is genuinely a unique CBD flower. This list is for all the connoisseurs who are trying to expand their CBD flower portfolio. Although the flavor profile of Blue Dream hemp is unmatched, these strains have similar terpene profiles:
OG Kush is a classic. It has a similar terpene profile, but it lacks the citrus blend. It has comparable effects to Blue Dream CBD.
Durban Diesel is another favorite among smokers. It is myrcene dominant, but it has a nice twist of limonene. It has a citrus twist but lacks the berry and spice.
9 Pound Hammer has almost an identical terpene profile to Blue Dream CBD hemp. However, Blue Dream CBD has more pinene than 9 Pound Hammer. Pinene is the terpene that contributes to alertness.
Final Thoughts – Blue Dream CBD
We all experience tremendous amounts of stress in our daily lives. Sometimes we need to start our day with a nice CBD boost on our way to work to help us get through the day. Sativa dominant Blue Dream CBD is the perfect strain to get you up, get you moving, and get you loose.
Whether you need more energy or more chill, Blue Dream CBD is there for you. We highly recommend this strain for all consumers. The sensational, hybrid effects won't disappoint you!
Not sure which CBD product is right for you??? Take the quick quiz to find out!