If you're a big fan of cannabis, you may have already heard about Green Crack without knowing it! Originally known as Green Cush, this strain has strong roots in the cannabis community that date back to the 80s. But did you know that you can find Green Crack CBD, too?
That's right! Green Crack is also a hemp flower containing high CBD levels with all the flavors and aromas you know and love . Green Crack CBD offers uplifting and energetic effects, making it a great strain to help you stay focused and motivated throughout the day! Keep reading along with us to learn more about Green Crack's history and what makes it such a special, well-loved strain.
Green Crack CBD Strain: Genetics
Green Crack CBD has an interesting parentage! The original, regular Green Crack strain was created by crossbreeding a strain called Skunk #1 with a mystery strain (its origins have never been revealed). The crossbreeding efforts produced the cannabis seeds that became the first crop of Green Crack.
The original Green Crack was a marijuana strain with high THC levels, but as we mentioned in the intro, you can now purchase Green Crack CBD flower. This has a slightly different lineage, being a crossbreed of Green Crack and California Orange CBD. Created by the well-established Humboldt Seed Organization, Green Crack CBD has all the benefits of the original Green Crack, without the "high."
History
Green Crack first made its debut in the late 1980s/early 1990s, grown by a breeder name Cecil C. He first named it "Green Cush." It wasn't dubbed "Green Crack" until Snoop Dogg first tried it and decided it needed an updated moniker due to the "heady" smoking experience it provides. Still one of Snoop's favorites to this day, Green Crack is best known for its mood-boosting qualities.
The CBD version of this strain is a more recent invention, as we mentioned in the last section. Humboldt Seeds and a few other vendors still sell cannabis seeds of the Green Crack variety, but, of course, it's far more convenient to buy trimmed and cured buds, like the premium CBD flower we carry here at Cheef Botanicals!
Strain Type
Now, we described Green Crack as "heady" earlier — but what exactly does this mean? Heady is a descriptor that's often used with Sativa-dominant strains. Cannabis strains usually under one of three strain types: Sativa, Indica, or hybrid. Here are the main differences between these classifications:
Sativa: When you smoke this strain type, you'll generally feel the greatest effects in your mind and mood. They're known to provide you with energy and clarity, making them great for daytime use!
Indica: This strain type provides effects that you'll feel more throughout your body. The relaxing effects it provides make it great for those who need rest or are looking to wind down for the day.
Hybrid: Hybrids offer the best of both worlds! This strain type offers a mix of both Sativa and Indica. Hybrids can either be dominant to one strain or have a 50/50 mix of both. This also means that hybrids offer the best effects of both strain types.
Green Crack CBD is unique in that it comes in two different strain types — one that's Sativa-dominant and one that's Indica-dominant. The more popular variety is the Sativa-dominant hybrid strain, which is 65% Sativa and 35% Indica on average.
The Indica-dominant strain usually has 75% Indica and 25% Sativa. More often than not, the Green Crack you'll find in shops is the Sativa variety, simply because it's in higher demand.
What Does Green Crack CBD Flower Taste & Smell Like?
Green Crack CBD makes for a flavorful smoking experience. It offers a spicy, citrus aroma that carries sweet undertones of mango and lemon. It also has pine and pepper undertones and flavors reminiscent of a warm cup of rich floral tea. Since it is both fruity and earthy, it's known to be a favorite flavor of people who love sweeter or more woodsy strains.
Strain Terpene Profile
But how does Green Crack have such a great flavor profile? The answer is terpenes! Terpenes are natural compounds responsible for the flavor and aroma of almost all plants. Here are some of the dominant terpenes found in Green Crack flower:
Beta-caryophyllene

Characteristics: Spicy and peppery.
Found In: Rosemary, cloves, basil, cinnamon, black pepper, oregano, and more.

Limonene

Characteristics: Sweet and citrusy.
Found In: Citrus peels (like those of oranges, lemons, and limes). Also found in many bushes and trees.

Humulene

Characteristics: Bitter and hoppy.
Found In: Beer hops, sage, ginseng, coriander, and more.
CBD and THC Content
Green crack CBD has high CBD content and low THC content. It normally contains between 17-22% CBD content and always has less than 0.3% THC. Since CBD products must be hemp-derived to be legal for sale, you shouldn't have to worry about your CBD flower containing more than 0.3% THC.
You can verify the CBD content of your hemp flower if it was lab-tested. Reputable cannabis companies send their products to independent labs that run tests to determine both the CBD and THC content. Look for lab results recorded in COAs (Certificates of Analysis) to confirm a brand's label claims. You can view COAs for all of our products here.
Green Crack CBD Effects
People often describe Green Crack CBD's effects as uplifting, cerebral, and energizing. It's the perfect strain for daytime consumption, as it can help you feel clear-headed and motivated.
Many people also find that Green Crack CBD helps with focus and concentration. If you're looking to get work done or study for an upcoming test, Green Crack CBD might be a great choice!
Green Crack CBD is also known to help provide relief from nervousness. It can help you feel more relaxed and at ease in your day-to-day life without making you feel like you need to take a midday nap.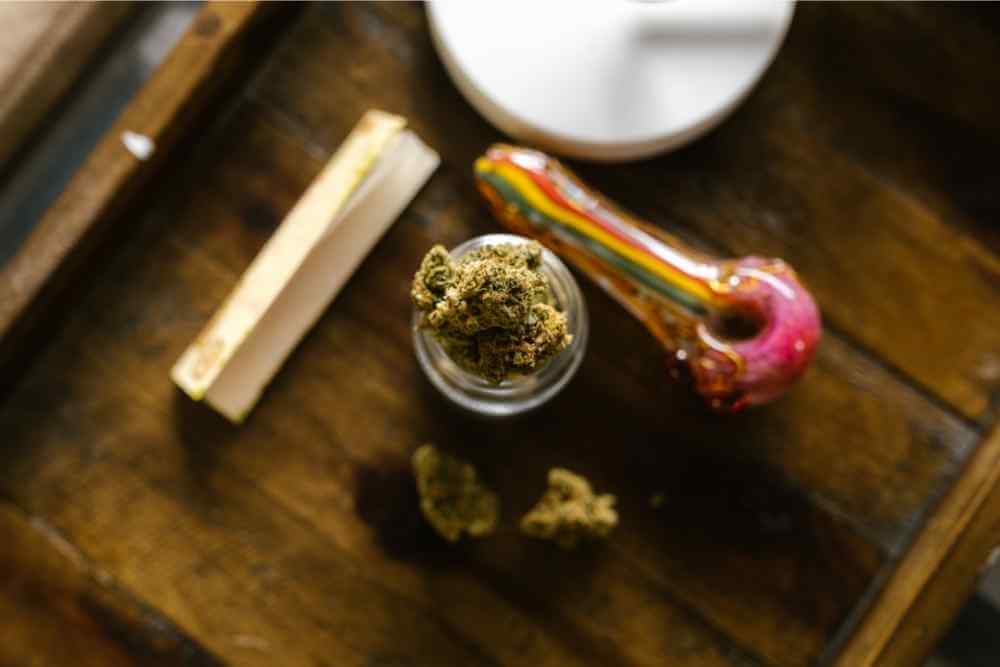 Hemp Flower: Suggested Usage
There are many different ways to enjoy hemp flower. While seasoned smokers likely know that these methods can be very different, it may be trickier for new consumers to make an informed choice. Here are the most common ways you can enjoy your hemp flower:
Pipes, Bongs, & Bubblers. For a simple and convenient CBD experience, you can use a pipe, bong, or bubbler to enjoy your hemp. We prefer glass pieces as they're usually easier to keep clean.
Joints, Pre Rolls, & Blunts. Are you looking for a more portable, potent experience? Try a joint or blunt! And if rolling your own joints isn't your specialty, try looking for pre-rolls or pre-rolled cones that you can easily pack yourself.
Dry Herb Vaporizers. Do you love CBD hemp flower, but prefer vaping over smoking? Dry herb vapes make vaping flower possible! These vapes are easy to use, widely available, and some are even customizable.
Similar CBD Flower Strains
Sometimes, you need an alternative to Green Crack because the CBD hemp version is much harder to come by than the marijuana version. Or maybe you're already a big fan of Green Crack, but you're looking to have a new experience. Here are some other CBD strains that are similar to Green Crack in flavor:
Hawaiian Haze
Flavor: Tropical and floral, reminiscent of pineapples and mangos.
Strain Type: Sativa-dominant hybrid.
Skywalker OG
Flavor: Citrusy, with fruity, piney, and spicy notes.
Strain Type: Sativa-dominant hybrid.
OG Kush
Flavor: Zesty and woody.
Strain Type: Sativa-dominant hybrid.
Tangie
Flavor: Heavily citrusy and mildly skunky, with notes of tangerine.
Strain Type: Sativa-dominant hybrid.
Ceiba Fox
Flavor: Sour with notes of lemon and pine.
Strain Type: Sativa-dominant hybrid.
If any of these have piqued your interest, we have great news for you! At Cheef Botanicals, we carry all of the strains listed above. Check out our shop to try your new favorite strain today!
Final Thoughts — Green Crack CBD
Green Crack is a great strain for those looking for an energizing, focused boost. With its tropical flavor and Sativa-dominant genetics, Green Crack is perfect for enjoying during the day. With its high CBD content, Green Crack is also a great choice for those looking for soothing, calming daily support.
Looking to learn more about CBD hemp flower? Check out Cheef Botanicals' shop! We have a wide selection of flower products and are confident you'll find the perfect flower for you.