If the name Honolulu Haze has you envisioning a tropical vacation, you're already halfway to experiencing the effects of this strain. Honolulu Haze CBD delivers flavor notes of pineapple and mango as it takes your mind and body on vacation. Somehow calming and uplifting, Honolulu Haze is a cannabidiol lover's dream.
Honolulu Haze is a Sativa-dominant CBD strain that lets you feel all the soothing effects of cannabis without the intoxication of THC. A mashup of Hawaiian Haze and AF6 genes, this flowery fresh, earthy strain wraps the senses in an aromatic wonderland. In this article, we'll dive deep into this tropical strain's history, effects, and more!
Honolulu Haze CBD Lineage
Honolulu Haze CBD is born from Hawaiian Haze, an airy Sativa strain known for its floral aroma. Hawaiian Haze is a mashup of the truly native Hawaiian strain and the potent Sativa strain Haze. Some believe it's the rich soil of Hawaii that lends Hawaiian (and in turn Honolulu Haze) its powerful, flavorful effects. Haze was originally grown and cultivated in Santa Cruz, California, by the Haze brothers. Hawaiian Haze is the tropical cannabis bridge connecting the golden coast and the Aloha state.
Breeders took the lovely Hawaiian Haze and crossed it with an elusive strain called AF6 to create our beloved CBD-rich hemp flower, Honolulu Haze. AF6 is believed to be descended from the Landrace (meaning truly native) strain Afghani, though its true lineage is mysterious. As you can tell, it took careful breeding to create this CBD flower, but it was all worth it in the end. This internationally loved Sativa-dominant hybrid strain has it all: potent effects, delicious flavor, and a sensational aroma.
Honolulu Haze CBD Strain: Terpene Profile
Terpenes are compounds that give cannabis flowers their flavors and aromatic qualities. Many terpenes also deliver unique benefits, just like cannabinoids. Let's take a look at the terpenes in Honolulu Haze that make it so crisp, exotic, and beneficial.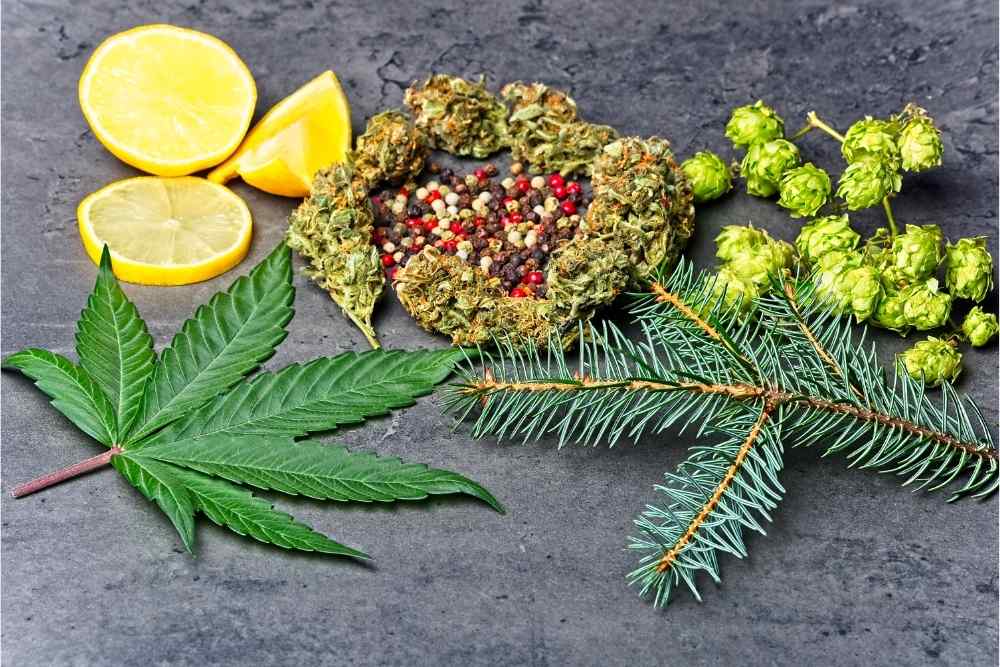 Pinene
Also found in pine needles, basil, and rosemary, this terpene gives Honolulu Haze a piney scent. Pinene sends your senses to the middle of a densely-wooded forest. Cannabis experts believe this terpene has potent soothing, anti-inflammatory, and sedating qualities.
Caryophyllene
Floral, earthy, and citrusy, caryophyllene naturally occurs in black pepper, basil, and oregano. This spicy terpene gives Honolulu Haze its warm aroma. It may also have powerful effects on the endocannabinoid system.
Bisabolol
Bisabolol is a light, sweet terpene that's found in chamomile. This terpene gives Honolulu Haze its fragrant floral aroma, and it may contribute extra soothing properties to the strain. Some studies have suggested that bisabolol may promote anti-inflammatory, anti-microbial, and calming qualities.
How Much CBD and THC is in Honolulu Haze Hemp Flower?
If you're looking for CBD-rich hemp flower, Honolulu Haze is a fantastic option. Ringing in at ≈ 23.9% cannabidiol, this popular strain has one of the highest CBD concentrations on the market. Like all hemp products, legal Honolulu Haze will meet the 2018 Farm Bill's requirement by containing 0.3% or less THC. This level is nowhere near enough to make you feel "high" or intoxicated. But, it is enough to elevate CBD's efficacy and bring you an enhanced experience.
Honolulu Haze CBD Flower Effects
Honolulu Haze is a Sativa that stimulates your mind and gets your creative juices flowing! Meanwhile, its CBD content keeps you mellow, focused, and relaxed. This delicious strain instantly takes effect moments after you you exhale. It clears the cobwebs from your mind and makes you feel ready to take on any task.
Some consumers report that Honolulu Haze offsets brain fog by making them feel more in tune. While other enthusiasts swear by this strain's calming properties. Some even say it helps them feel more comfortable in social settings.
Although CBD products are federally legal as long as they contain 0.3% or less THC, they haven't been fully approved by the Food and Drug Administration for medical use. This means that CBD products are not intended to diagnose, treat, cure, or prevent any disease or ailment.
Similar CBD Strain
If you love Honolulu Haze, we've got some amazing similar hemp strain recommendations for you! We ethically source all of our flower from organic hemp farms in Oregon and Colorado and send it to third-party labs for testing before we sell any to consumers.
Sour Space Candy – If you'd rather take your mind and body on a trip to outer space than to Hawaii, Sour Space Candy is the perfect CBD hemp flower strain for you. Packed with three of the same terpenes as our Honolulu Haze and a potent ≈ 20.66% CBD, the tangy flavors and energizing effects of Sour Space Candy are out of this world.
Special Sauce – Special Sauce, or a secret recipe for ultimate relaxation? At 17.85% CBD, this soothing strain's small buds take a swift punch at nervous thoughts and soreness. On top of its therapeutic benefits, Special Sauce hemp flower delivers notes of fresh berry and crisp pine.
Tangie – This zesty CBD hemp flower strain packs a similar flavor profile to Honolulu Haze. Tangie treats you to notes of juicy tangerine and pineapple as you inhale. At ≈ 11.19 CBD, this strain delivers a zesty sense of uplifting alertness as it soothes your mind, body, and soul.
Final Thoughts – Honolulu Haze CBD Strain
Honolulu Haze is a rare and sought-after CBD hemp flower strain. Its unique genetics, tantalizing flavor profile, and powerful effects keep consumers coming back to it time and again. For a CBD-rich, relaxing experience, try our Hawaiian Haze CBD flower today.
Not sure which CBD product is right for you??? Take the quick quiz to find out!