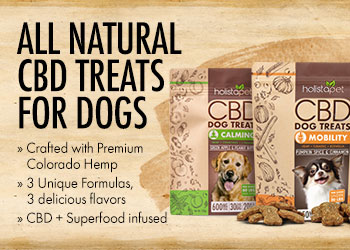 Since CBD has risen in mainstream popularity, it's become much easier to find in all different forms — in tasty gummies, versatile oil tinctures, its all-natural hemp flower form, and more. But did you know that there's CBD for dogs, too?
That's right! Just as CBD can benefit the human body, it can benefit Spot and his overall wellbeing. In these next sections, we'll break down what exactly CBD is, all the ways it can benefit your pup, how to administer CBD to them, and more so you can become a pet CBD pro in no time. Let's jump in!
What is CBD for Dogs?
Cannabidiol (CBD) is the second most active cannabinoid in cannabis. It is extracted from the hemp plant (or industrial cannabis) and doesn't provide any of the euphoric effects that other cannabinoids have (like Delta 8 or Delta 9 THC). Instead, it can boost one's overall wellbeing (and our pets' wellbeing, too), which has made it a staple within holistic wellness communities.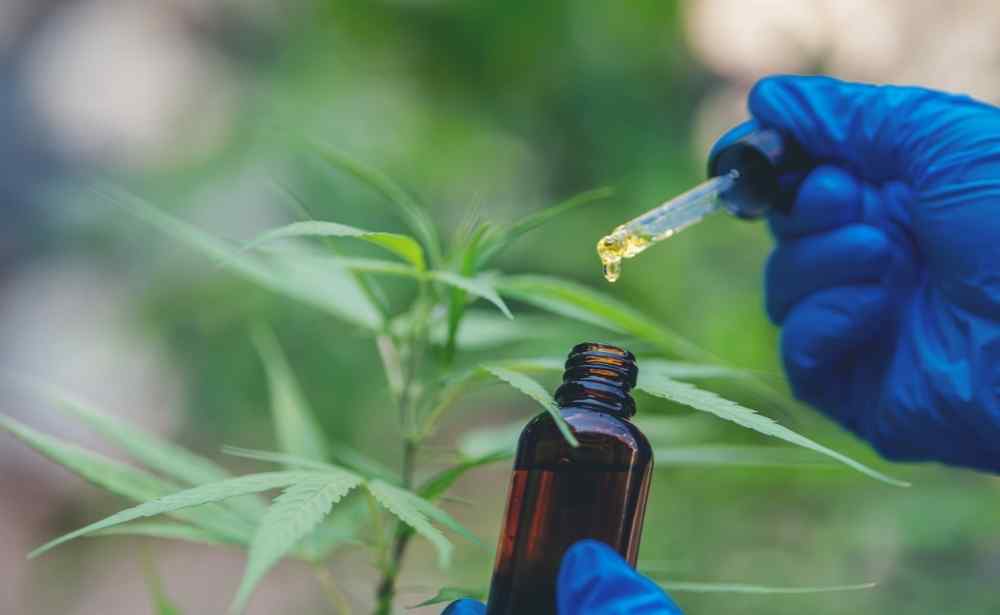 How Does CBD for Dogs Work?
Like how it works in humans, CBD interacts with the cannabinoid receptors in your dog's body, which in turn support their endocannabinoid system (or ECS). The ECS is a biological system found in most animals. It regulates many critical bodily functions (like the central nervous system and digestive system, and overall immune health, to name a few).
By supporting the ECS, CBD can help calm your pup, soothe aches, and much, much more (we'll get into more of these wonderful benefits below!)
Is CBD Safe for Dogs?
Yes — according to a study held by the World Health Organization in 2017, CBD is well-tolerated by animals when it's in its pure state. Though the FDA hasn't yet approved it, medical researchers are conducting various studies to hopefully discover even more benefits and uses.
That being said, if you're unsure if CBD is right for your dog, we recommend reaching out to your vet or another licensed medical professional for advice. A vet will be able to provide you with an official medical opinion that may help you determine whether you and your pup should give CBD a try.
Benefits and Effects
Though it's still being thoroughly researched, CBD already has many known benefits! CBD has been known to:
Promote improved sleeping habits
Help with relaxation
Boost and uplift mood
Increase appetite
Alleviate discomfort and soreness
Regulate proper digestion
And more!
While it is generally well-tolerated by most dogs, side effects can sometimes occur due to consuming CBD. These side effects are usually mild and short-lived in nature and may include changes in appetite, dry mouth, mild diarrhea, or sleepiness.
How Much CBD Should I Give My Dog?
The amount of CBD you should give your dog depends on your dog's weight. It can also depend on whether they've had CBD or not before. If it's the first time you're giving your pup CBD, we suggest you start with a regular or smaller dose (less than or half of a regular dose) to see how they respond to it before trying a stronger dose.
While there are no official guidelines for how much CBD you should give per dose, we've worked closely with scientists to determine optimal dosing recommendations for every pet.
Regular Dose
We recommend 0.25 mg of CBD per 1 lb. of body weight for a regular CBD dose. So if your dog weighs 110 lbs., you'd multiply that by 0.25 mg for a regular dose:
110 lbs. x 0.25 mg = 27.5 mg of CBD
Strong Dose
For a stronger dose of CBD, you can double the amount of a regular dose, which would be 0.5 mg per 1 lb. of body weight. If your dog weighs 37 lbs., you'd multiply that by 0.5 for a strong dose:
37 lbs. x 0.5 mg = 18.5 mg of CBD
Is Dosing the Same for All CBD Products for Dogs?
Since CBD dosing for dogs is mainly based on size and weight, your dog will normally consume around the same dose size for different kinds of products. For more specific dosing instructions, it's always best to read the packaging for each product.
What About Topicals?
Though most CBD products have similar dosing recommendations, CBD dosing is a bit different for topicals. Since topicals don't ever enter the bloodstream when applied externally, pet owners don't have to worry about measuring out a specific dose each time they use them.
That being said, we suggest that you still apply topical products as many times as product instructions suggest. For example, with Cheef Botanical's dog shampoo, we recommend applying it once a month. Since dogs don't need to be bathed very often, monthly use can benefit your dog's coat and won't be too drying for their skin.
Types of CBD Products For Dogs
Dogs have all different kinds of needs, and because of this, there are many different kinds of CBD products for dogs! From broad spectrum CBD oil tinctures and dog CBD oil capsules to crunchy treats and chews, there's a product out there for everyone.
Crunchy Treats
These traditional dog treats are sure to have your fluffy friend begging for more! They are made with all-natural ingredients and superfoods to give your dog a delicious boost of wellness.
CBD Hemp Oil For Dogs & Cats
CBD oil tinctures are some of the most versatile CBD products on the market because they can be consumed as-is or added to other products. At Cheef Botanicals, our CBD tincture is made from organic CBD and hemp seed oil. We use hemp seed oil as a carrier oil for our CBD so that the product is easier to digest and because hemp seed oil has so many benefits on its own.
Soft Chews
We firmly believe that all dogs deserve treats, especially those with sensitive teeth and tummies. That's why we carry soft chews! Cheef Botanicals' CBD Soft Chews are great for pals who have trouble with crunchier treats.
Hemp Seed Powder Capsules
Since CBD capsules are so small, they're not only easy to administer to dogs but also easy to travel with. If you're a big fan of bringing your pup on road trips, pop some of these into a sandwich bag to easily fit them into your backpack!
Topical Products
Pets can benefit from topical CBD products, too! Many people utilize CBD topicals to help relieve itching caused by bugs or allergies. You can massage balms and oils onto dogs' fur, paws, nose, and other external areas. Cheef Botanicals even offers a CBD Dog Shampoo that'll help your pup's coat stay shiny and fresh!
How Do You Give CBD to Dogs?
The best way to give CBD to your dog is by paying careful attention to their needs and following recommended dosing instructions. If your dog feels itchy after a day of rolling around at the beach? A wash with CBD shampoo may help the trick. If they feel nervous about having to go to the vet? A CBD treat an hour before getting in the car may help soothe their worry.
By listening to their body language and utilizing the dosing calculators we mentioned above, soon, you'll be able to administer CBD to your dog without a sweat.
How Long Does it Take for CBD for Dogs to Work?
CBD onset times are dependent on how you give your dog CBD. Usually, it takes a little longer for the effects of CBD treats to kick in, as they must be processed through your dog's digestive tract before effects onset (this may take anywhere from 45 to 60 minutes).
If you apply premium broad spectrum CBD oil to your dog's mouth, they'll likely feel its effects within 30 to 60 minutes. Topicals (like dog shampoo) will usually work immediately or within 15 minutes.
How Long Do The Effects Last?
CBD's effects will last for different amounts of time depending on how you give CBD to your dog. A CBD dog treat will usually last between 4-8 hours, while CBD oil products will last 4-6 hours. Topical products last for the shortest amount of time (2-4 hours), which means you can apply them most often, depending on the product.
What to Look for When Buying CBD for Dogs
When we shop for our dogs, we always want to ensure that we give them the best products possible. It can often be tricky to determine whether a CBD product will work well for your dog at first glance. That's why we've compiled some tips to help you determine which products should come home with you and which ones should stay on the shelves.
High Quality Ingredients
One of the best ways to tell if a product is of high quality or not is by checking out its ingredients. At Cheef Botanicals, we make sure that all of our products are organic, gluten-free, non-GMO, and dairy-free because we care about what we put into our dog's bodies and know you care, too.
To learn more about ingredients in our products, you can visit each product's page.
Brand Transparency
Speaking of keeping it transparent — transparency is one of the best ways to tell if a CBD brand is a reputable one. Brands that carry high-quality CBD products will have Certificates of Analysis (or COAs) available for their products. These reports hold results from third-party lab testing and will give you more insight into how each product was made. They will also help you determine whether a product was from high-quality hemp or not.
Company Reviews
Brand reviews are also a great indicator of whether you can trust a company or not. If a company has little or no reviews (or has overwhelmingly bad reviews), it may be a good indicator that you should try looking for CBD elsewhere.
Other Factors to Consider
While not completely necessary, there are a couple of other factors that can make purchasing CBD products a lot easier for you. We like to shop from brands that offer great customer service helplines and who have awesome return policies. After all, sometimes we have questions that can't easily be answered through a quick search, and sometimes we like to change our minds!
At Cheef Botanicals, we have a customer service team that's always ready to help answer any of your questions. And if you're not completely satisfied with a purchase after 30 days or after asking for help from our team, we have a 100% money-back guarantee policy.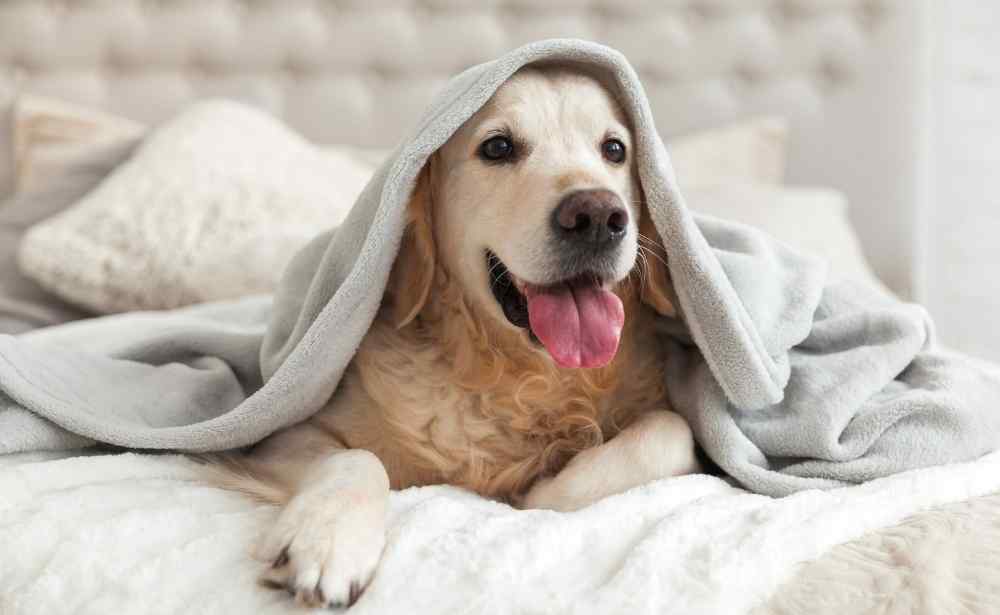 Why Buy CBD for Dogs from Cheef Botanicals?
At Cheef, we've made it our mission to help re-educate the public about the benefits of CBD and hemp plants so that everyone can benefit from all-natural products and solutions — and this includes your pets too. We formulate the best CBD oils and other products with your entire family in mind because we believe pets are just as important as every other family member!
Want to learn more about hemp and the benefits of CBD? Check out Cheef Botanical's Blog today.
FAQs
How Can I Get My Dog to Take CBD?
There are a handful of different ways that you can give your dog CBD! While some methods may be easier for some than others, all are equally effective, so it depends on your preference.
The easiest way to give your dog CBD is probably through treats or soft chews. Cheef Botanicals carries both, so no dog is left out! Both kinds of treats are pre-dosed, deliciously flavored, and very portable so that you can give them to your pup anytime and anywhere.
You can also administer CBD to your dog sublingually (this means applying it directly into their mouth). This method may require more patience and practice but will allow your dog to feel CBD's effects a bit faster. This is because it'll absorb directly into their bloodstream instead of being processed by their digestive tract.
Can I Add CBD Oil to Dog Food or Treats?
Yes! You can absolutely add CBD oil tincture to your dog's food and treats.
If your dog is on a specified diet, or you prefer to give them food or treats you already have at home, you can administer CBD oil to them by mixing it into their food. We suggest mixing half of their dose into their breakfast and saving the other half to mix in with dinner so that they can benefit from natural CBD oil throughout their entire day.
Can I Add It To Their Water?
While you can add CBD to your dog's water, it's not the most efficient way to give them CBD. Since CBD isn't completely water-soluble, some droplets may go to waste if you administer CBD this way.
Will CBD Make My Dog Sleepy?
If you give your dog a stronger dose of CBD than recommended for their size, they may become a little drowsy and want to take a nap. This is normal, and your dog will likely sleep off the dose.
Is Hemp Toxic for Dogs?
No, hemp is generally well-tolerated by dogs and is not proven to cause any toxic effects. There has never been a recorded case of a dog overdosing on CBD pet treats or any other CBD pet products made from hemp.
Still Unsure?
Reach out to your vet today to help decide if CBD is right for your pup!