CBD dog treats are a wonderful way to combine tasty dog biscuits with the amazing benefits of cannabidiol. In recent years, the popularity and demand for CBD have grown considerably due to its soothing and uplifting effects. Many people have begun to explore the versatility and usefulness of CBD to make positive lifestyle changes.
CBD can also promote healthier lifestyles for our dogs because it affects them in many of the same ways it does to people. With our exceptional line of CBD dog treats at HolistaPet, you can help improve your dog's heart health and immune system, boost joint and mobility, and reduce their stress and anxiety. Read on to find out why you should get these delicious treats for your dog today!
What Are CBD Dog Treats?
CBD dog treats are designed to boost your dog's overall health and wellness by combining CBD and superfood ingredients. These treats have been researched and tested extensively to ensure that they will help manage your dog's nervousness or discomfort.
On top of that, we make our amazing CBD-infused dog treats with mouth-watering flavors for your dog's enjoyment!
What Is CBD?
CBD is one of the primary cannabinoids found in hemp. CBD is a naturally occurring compound that can support our body's endocannabinoid system (ECS). The ECS is responsible for regulating many of the body's functions, such as:
Sleep

Appetite

Digestion

Mood

Memory
All CBD products are one of three main types – full-spectrum, broad-spectrum, and isolate. Most dog treats are made with full-spectrum CBD oil.
CBD promotes better overall health and wellness by helping the ECS regulate our body and reach homeostasis or equilibrium. When we reach that inner balance, we can function at a higher level and live our lives to the fullest!
How Is CBD Useful for Dogs?
CBD can provide many of the same benefits to dogs as it does to humans. Every animal in the world has an endocannabinoid system that regulates its bodily functions. CBD can promote better sleep, help regulate appetite and digestion, relieve discomfort, and provide soothing and calming effects.
CBD can also help manage many of the ailments that may be affecting your dog. With three different HolistaPet dog treats, our carefully researched superfood ingredients and CBD can help target specific issues like anxiety, joint pain, and heart problems.
Stress & Anxiety CBD Dog Treats
Our Stress & Anxiety CBD dog treats are formulated to help your dog stay calm and relax. Many dogs experience stress and nervousness for any number of reasons, like loud noises or separation anxiety. With a tremendous green apple and peanut butter flavor, these CBD dog treats can help your dog feel at peace!
Some of the main reasons your dog may be stressed or anxious:
Social anxiety

Separation anxiety

Travel anxiety

Loud noises

Unfamiliar surroundings
Two of the main active ingredients we use in these CBD treats are L-theanine and chamomile. Chamomile is a popular natural remedy for improving sleep and is often brewed as a tea for relaxation. It is also used as an aromatherapy treatment to help lower stress and anxiety.
L-theanine is an amino acid commonly found in black or green teas known for easing the mind and increasing focus. Many studies have been done on L-theanine and found that many people reported reduced anxiety in stressful situations. It's an important compound that can have a profound calming effect on your dog.
Joint & Mobility CBD Dog Treats
Our Joint & Mobility CBD Dog Treats are made with tasty cinnamon and pumpkin spice flavor your dog is sure to love. Joint issues can affect dogs of all ages and particularly in dogs over the age of 7. Dogs that are obese or coming off an injury may also have pain in their joints and ligaments, and giving them these amazing CBD treats can help manage the aches and stiffness.
Turmeric root and Boswellia can help repair damaged tissue, reduce swelling, and ease discomfort. Turmeric root is a common remedy in Asian cultures used to treat inflammation and relieve discomfort. It's also a popular spice that is used in many food recipes and medicine.
Boswellia is another herbal extract that many African and Asian cultures use as an anti-inflammatory treatment. Studies show that boswellic acid can inhibit the formation of leukotrienes, which are inflammation molecules. The powerful anti-inflammatory properties of Boswellia make it a great, natural ingredient in our Joint & Mobility CBD Dog Treats.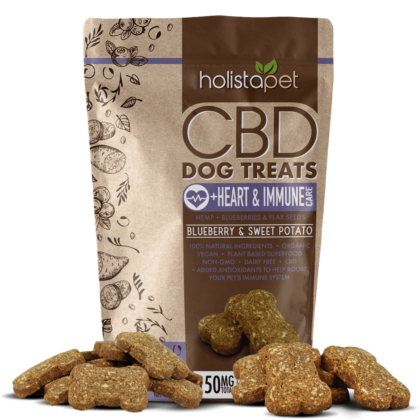 Heart & Immune CBD Dog Treats
To help boost your dog's heart health, try our Heart & Immune CBD Dog Treats. It's never too early to start taking care of your dog's immune system to prevent sickness or disease better. Also made with superfood ingredients, these sweet potato and blueberry-flavored CBD treats are great for boosting your dog's overall health and wellness.
The two main superfoods that we use in this formulation are blueberries and flaxseed. Blueberries are the king of antioxidants and can prevent heart disease and lower blood pressure. Blueberries are also considered a superfood because they are so nutrient-dense with high fiber, vitamin C, vitamin K, and many others.
Flaxseeds are also nutrient-rich with plenty of vitamins, minerals, and proteins. Flaxseeds are a good source of omega-3 fatty acids, which also play a large role in heart health and lowering cholesterol. Combined with blueberries, these two unique ingredients can significantly boost your dog's heart and immune care!
CBD Dog Treat Dosage Suggestions
Finding the correct dosage for your dog is essential to experience the full effects of CBD. The recommended amount of CBD to give your dog is typically about 0.25 mg per pound of body weight.
For example, if your dog weighs 60 pounds, an average dose to give them is about 15 mg of CBD (40 lbs x 0.25 mg/lb = 15 mg) for best results.
An increased dose for stronger effects is about 0.5 mg per pound of body weight. For the same 60 pound dog, give them about 30 mg of CBD (60 lbs x 0.5 mg/lb = 30 mg) for them to feel stronger CBD effects.
We have CBD dog treats in various strengths for dogs of all sizes!
For dogs < 20 lbs, we recommend the 150 mg bag. Each treat is 5 mg and has 30 treats per bag.
For dogs 20-60 pounds, we offer the 300 mg bag. There are 30 treats per bag at 10 mg CBD per treat.
For dogs > 60 pounds, our strongest CBD dog treat is the 600 mg option. Every bag has 30 treats, with 20 mg of CBD per treat.
If this is your dog's first time trying CBD, start with a smaller dose and gradually work your way up. Allow them to get used to the effects and adjust as needed to figure out the optimal dosage!
CBD Dog Treats Ingredients
Like with any food products you might buy, you should always be looking for CBD products made with healthy, all-natural, high-quality ingredients. Ensuring that there are no artificial ingredients in the CBD dog treats can keep your dog healthy and strong. Here are some of the best ingredients to look out for and some to avoid.
Ingredients to Look For
Reading the ingredients label can sometimes be confusing and complicated without knowing what to look for. Here are some of the best ingredients we have narrowed down for you!
Hemp seed powder

–

Hemp seed powder

is a fantastic superfood rich in proteins, fiber, fatty acids, vitamins, and minerals. Hemp seeds are a few complete protein sources containing all nine essential amino acids, making them a popular vegan and vegetarian ingredient. Combined with a full profile of vitamins, minerals, and omega fatty acids, hemp seed powder can improve heart health, skin conditions and reduce inflammation.
CBD oil

– Check for certificates of analysis (COAs) to determine the quality, effectiveness, and source of the CBD. High-quality CBD oil will have little to no waste during the hemp extraction process and be extremely clean. Some brands will attempt to cut costs by using cheap extraction processes or low-quality hemp that will affect the product's strength and quality.
Organic ingredients – Healthy CBD products are not made with any additives or preservatives (watch out for complicated chemical ingredients!). The best products use all-natural sweeteners and flavorings that are also great for your pet's health. Look for ingredients such as coconut oil, brown rice flour, molasses, peanut butter, and cinnamon to ensure your dog is getting high-quality treats.
Ingredients to Avoid
Artificial sweeteners, unhealthy oils, and high salt content can be harmful to your dog's health. Many of these ingredients are processed or high in unsaturated fats that can increase the risk of heart disease or obesity in your dog. Watch for the following ingredients:
Corn syrup

Vegetable oil

Artificial flavorings

High salt content

Xylitol

Propylene glycol

Brewer's rice

Cellulose

Sodium nitrites and nitrates (preservatives)
Who Makes the Best CBD Dog Treats?
Your dog's health is top priority at HolistaPet and Cheef Botanicals! Our mission is to create the best quality of life for all pets because they are our best friends, and we should take every possible step to ensure they live healthy and happy.
With HolistaPet's fabulous CBD dog treats, we can help you take care of your dog by providing them a tasty, relaxing, healthy snack.
We believe we have the best CBD dog treats because our fantastic team at HolistaPet has carefully researched and tested our products for quality and effectiveness.
All of our CBD products are made with healthy, organic, non-GMO ingredients to ensure the highest-quality treats for your dog. Made with delicious and yummy flavors, we guarantee that your dog will love them or your money back!
When looking for the best brands to buy, a great place to start is by comparing customer and product reviews. You can determine for yourself the company's customer service quality, product effectiveness, and source of the CBD.
Final Thoughts – CBD Dog Treats
CBD dog treats are a fantastic way to help care for your dog while providing them a nice, tasty treat to enjoy. HolistaPet's three formulations are targeted at improving your dog's different areas of health, and we highly recommend all three of them for optimal results! We know how important our dogs are to us and want to take every measure to give them the best life possible!