How many times have you started your morning with a cup of coffee, shot of espresso, or a tall can of energy drink only to crash a few hours later? Taking more of these products will make you desensitized to them and lead to overuse, dependency, and various issues impacting your health. However, there is a natural way for you to start your day with a boost of energy without the debilitating effects of artificial, sugary, or highly caffeinated drinks. Taking CBD for energy is one of the most effective ways to meet your daily energy needs and boost overall wellness!
To understand why CBD is such a powerful energy-boosting compound, we must identify what CBD even is and how it works. Only then can we determine which CBD products provide the best energy and how you can benefit from them. Read on to find out why you should switch to using CBD to meet your energy needs!
What is CBD?
Cannabidiol, more commonly known as CBD, is a naturally occurring compound found in the cannabis plant. CBD is present in abundance in the hemp plant, grown and cultivated according to the standards established by the 2018 Farm Bill, which made hemp into an agricultural product. Hemp-derived CBD products contain 0.3% or less THC and are 100% federally legal. 
Endocannabinoid System (ECS)
The endocannabinoid system (ECS) is a complex network of cannabinoid receptors found throughout the human body. There are 113 naturally occurring cannabinoids found in cannabis plants that work with the ECS to support a person's overall wellbeing. One of the most essential and effective cannabinoids is CBD. 
Discovered in 1992, the ECS is still relatively new and something that scientists have yet to appreciate fully. Recent years have expanded our understanding of the ECS and how it works to regulate our natural processes. Studies have shown that the ECS plays a critical role in regulating a range of biological and physiological functions in humans and animals.
Some of the processes the ECS helps to regulate in humans include:
Mood

Memory

Digestion

Swelling

Discomfort

Sleep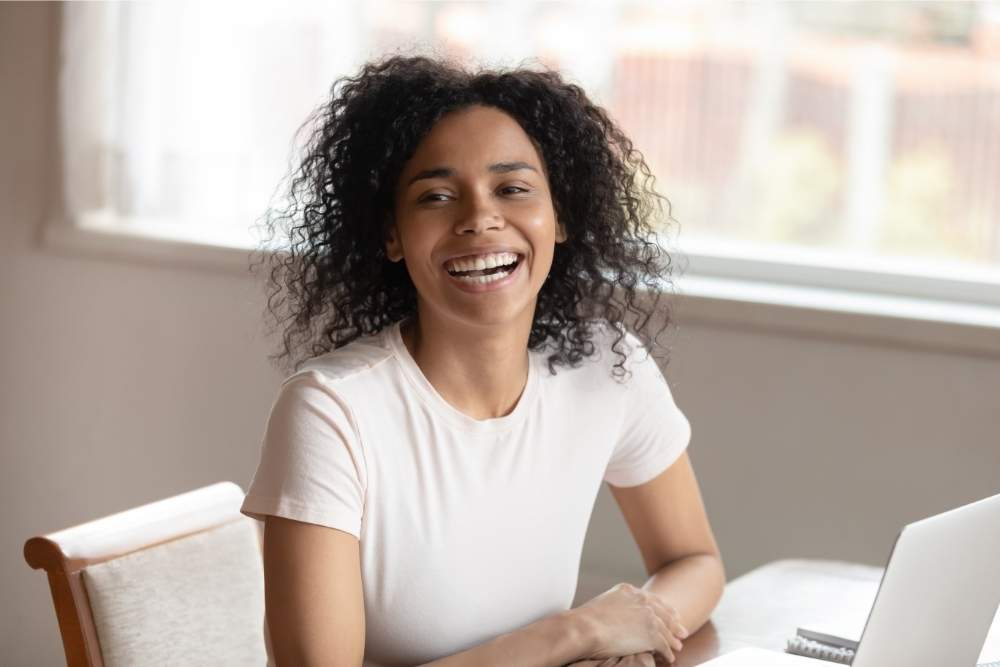 How Does CBD Work?
CBD works with your ECS to help boost your general wellness. Cannabinoids like THC bind directly to specific receptors in the ECS to generate a response. However, unlike THC, CBD interacts indirectly with these receptors to generate a range of enriching effects within the body. Not only will this promote energy, but it will also lead to other uplifting effects.
Full Spectrum CBD Vs. Broad Spectrum CBD Products
CBD products come in two different forms: full spectrum and broad spectrum. Both are highly effective at promoting the benefits of CBD. However, what distinguishes these two products is their overall effectiveness at working with the ECS to deliver optimal benefits associated with CBD.
The differences between the two forms of CBD products are:
Full Spectrum CBD:

CBD products containing terpenes, CBD, other cannabinoids, and 0.3% or less THC.

Broad Spectrum CBD:

CBD products containing terpenes, CBD, other cannabinoids, and no THC.
The Entourage Effect
The entourage effect occurs when all of the compounds present in a CBD product (terpenes and cannabinoids) act together to deliver maximum benefits to the consumer. This is why full-spectrum CBD products are valued since they contain THC.
Those looking for a THC-free experience should try broad spectrum CBD products. Although broad spectrum products are typically not as potent as full spectrum products, they are still very effective at producing similar results.
Can I Use CBD for Energy?
Totally! CBD is a holistic way for you to add a burst of energy to your life! Not only does CBD give you energy, but the versatility of the cannabinoid also helps your ECS harmonize several other processes key to your overall vitality.
Does CBD Give You Energy?
Of course, it can! A simple dose of CBD can boost energy and replace those unhealthy energy drinks packed with unnatural amounts of stimulants. Not only will you feel great, but you'll save money by ditching that overpriced coffee shop. CBD is becoming the go-to alternative for those who want a natural way to boost their energy levels without sacrificing health!
Recent studies reveal how CBD can provide you with a jolt of energy. A 2017 review showed that CBD has a biphasic effect, meaning that the impact CBD has on the body depends on whether it's given at lower or higher doses. And a 2020 study suggested that a high dose of CBD had relaxing and sedating effects, while a low dose of CBD acted as a wake-promoting agent and provided stimulating effects.
Can CBD Help Me Focus?
In addition to providing a holistic way to increase your energy, CBD can also help you stay focused throughout the day! A recent study expanded upon a 2004 study that showed CBD helps promote energy and focus. The study found that dosing 15mg of CBD helped keep participants awake and alert and countered the sedative properties of THC. 
Health Benefits of CBD 
In addition to increased energy, CBD provides numerous benefits to optimize your soundness. Your road to general wellness starts with using CBD. 
Some of the many health benefits associated with using CBD include:
Enhancing mood

Reducing agitation and providing mental clarity

Tapering traumatic or stressful experiences

Promoting appetite

Lessening upset stomach

Easing soreness and discomfort

Reducing joint swelling

Facilitating mobility

Reducing skin blemishes

Aiding sleep cycle
Quality and Safety Concerns
Before you start boosting your energy levels with CBD, you must consider the quality and safety concerns associated with the product and yourself. Knowing your health history before adding CBD to your wellness routine is important.
How much CBD you can take is dependent on several factors unique to you:
Bodyweight

Body chemistry

Metabolism

CBD tolerance level
When taking CBD products, only use products that have the following assurances:
Products grown in the USA in accordance with the Farm Bill.

CBD sourced from hemp plants.

Third-party lab-tested products that come with a Certificate of Analysis (COA).

Contains no more than 0.3% THC.
What Types of CBD Products Are Good for Energy?
The best CBD products for energy are CBD edibles because they are consumed through oral ingestion. Whereas inhalation produces an overall feeling of relaxation and topicals deliver soothing relief at the site of discomfort, appropriately dosed edibles provide an optimal CBD-induced energy boost.
The energetic effects of CBD typically occur 45-60 minutes after oral ingestion. Here are some amazing CBD products available in low doses that are excellent for boosting your energy level. 
One drop from a 300mg CBD oil tincture provides 1mg CBD. Tinctures come in varying strengths, with a dropper conveniently incorporated into the cap for easy dosing of CBD oil. You can dose a CBD tincture by adding it to your favorite food or beverage, consuming drops orally, or placing a few drops underneath the tongue (sublingually) for rapid uptake and faster effects (within 15-30 minutes). 
CBD Capsules
Our CBD capsules contain CBD isolate powder. The capsule is normally swallowed but can be cracked open and the isolate added to food or beverage. One CBD capsule from a 300mg bottle typically contains 10mg of CBD. 
CBD Soft Gels
Soft gels must be swallowed and cannot be cracked open. One soft gel from a 300mg bottle typically contains 10mg CBD.
CBD Gummies
Gummies are a tasty way to get your CBD kick. CBD gummies have a sweet flavor profile and come in various fruit flavors. The typical gummy from a 300mg bottle contains 10mg CBD.  
CBD Honey Sticks
Honey sticks come infused with CBD. Each honey stick typically contains 10mg CBD and can be added to a tea or used as a condiment. 
Related Post: What is CBD Protein Powder? Getting Ripped With Cannabinoids
Why Choose Cheef Botanicals for CBD?
If you want to start using CBD for energy and focus, then you've come to the right place! At Cheef Botanicals, we offer various CBD-infused products to meet all of your CBD needs.
Some of our most popular CBD products include:
Edibles:

Gummies, oil tinctures, capsules, soft gels, and honey sticks.

Topicals:

Bath bombs, body lotion, relief salve, and hand sanitizer.

Vapes:

Vape cartridges.

Flowers:

Premium and budget CBD flower, pre-rolls, and joints.

Concentrates:

Wax, isolate, and distillate.
All-Natural Ingredients
Our products are made from 100% USA-grown hemp and are 100% federally legal. We use only all-natural, organic ingredients free of artificial flavors and artificial colors to make our products. Our CBD products are cruelty-free, non-GMO, and gluten and dairy-free.
High Quality Guaranteed
We are a fully transparent CBD company. All of our products come third-party lab tested with COAs to ensure you're getting a quality product. We provide a 30-day money-back guarantee on all of our products in the rare case that you're not satisfied.
Save Money By Subscribing
We want to help you save money. Subscribe to our free subscription services and never pay full price ever again! We offer 25% off on all individual products and 30% off on bundles for subscribers. When you shop with Cheef Botanicals, you'll never run out of CBD every again! Just tell us how often you want us to deliver your products, and we'll ship them free of charge right to your home!
Final Thoughts – CBD for Energy
There are many products to choose from when looking for an extra energy boost to get you through the day. These highly caffeinated and processed stamina boosters can become habit-forming and negatively impact your long-term health, from coffee to energy drinks to energy shots. However, a more holistic approach exists. Using CBD for energy provides a non-addicting and natural way to help you increase energy and focus throughout the day.
The best CBD products to use for energy are those consumed orally. Higher doses of CBD have sedative effects, whereas lower doses act as a wake-promoting agent and boost energy. Taking premium-quality CBD edibles in low amounts will give you the energy boost you desire. Shop with us to find a CBD product that's right for you and meets your energy needs!
Useful Resource: CBD For Nutrition Posts
Not sure which CBD product is right for you??? Take the quick quiz to find out!