CBD Massage Oil [A Natural Boost for Deep Relaxation & More]
CBD massage oil may be your new go-to end-of-day soothing agent! Powered by the natural benefits of cannabinoids, CBD massage oils are crafted to support skin wellness and promote long-lasting relaxation of the mind and body. CBD massage oils come infused with CBD hemp extract and essential oils to go beyond simply easing your body. CBD oils may support our overall wellbeing in ways that'll take massage therapy to the next level!
Sore muscles and joint aches are annoying, but these issues may subside with our all-natural CBD oil. And the benefits of CBD massage therapy of any kind outweigh that of other massage oils. This guide will show you the benefits of CBD massage oils, how to create your own, and help you determine whether CBD is right for you.
What is CBD Massage Oil?
Many people are looking for pain and inflammation treatment and turn to massages. Massage oil helps reduce friction and makes the experience even better. What about CBD massage oil? As the name suggests, CBD massage oil is typically a mixture of essential oils like sweet almond oil, jojoba oil, or hemp extract paired with pure CBD. This mixture is then applied topically to areas of discomfort or wherever you'd like added relief. This concoction promotes natural ingredients that customers say helps the skin stay soft and supple.
The benefits of CBD transfer into the body through the skin. These benefits allow the mind and body to experience effects of the compound fully. This mind-body connection might get you feeling relaxed.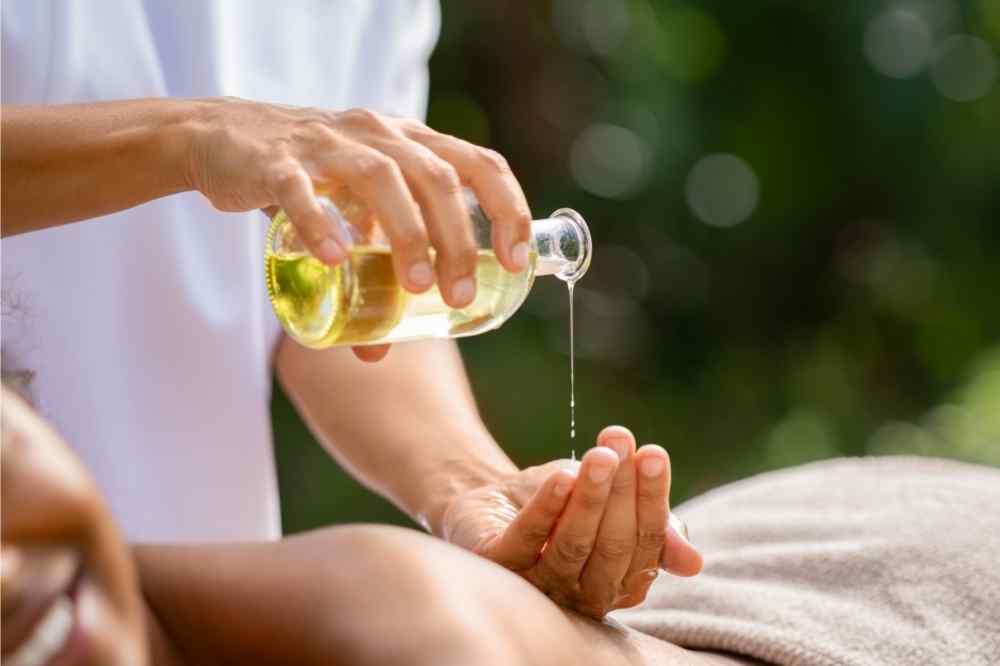 What is CBD?
CBD is the most popular of over a hundred naturally occurring compounds in the hemp plant called cannabinoids. Experts have known about CBD for decades, and countless people have benefited from its rejuvenating effects. From muscle soreness to nervousness, CBD and its connection to our body's endocannabinoid system allow it to support all kinds of benefits to the mind and body.
What is the Endocannabinoid System?
The endocannabinoid system (ECS) is an essential regulatory system in the body with influence that extends to nearly all aspects of our lives. From sleep to digestion, making sure your ECS is in tip-top condition is important.
Within the hemp plant are over a hundred cannabinoids including cannabidiol (CBD). CBD supports the CB1 and CB2 receptors in our body. This interaction boosts our ECS, and a well-functioning ECS promotes balance of the mind and body. Here are some benefits listed below:
Benefits of CBD
CBD might be a great option for those who want to make their daily routine a little more manageable. Below are some positive benefits of CBD:
Calms the mind
Soothes aching muscles
Promotes natural sleep
Helps support proper digestion
Appetite booster
Lowers swelling
These upsides may make getting on a regular CBD routine great for you. A few people may encounter some negative side effects from CBD. While these potential downsides may be annoying, they are not life-threatening and typically don't last long:
Lethargy
Red eyes
Dizziness
Dry mouth
Upset stomach
Always consult with your doctor before regularly consuming anything (nonprescription CBD products or not).
Is CBD Legal?
We've gone over the benefits of CBD, but how easy is it to get your hands on this compound? The answer: very! The 2018 Farm Bill legalized all hemp-derived CBD products in the United States. The sale, consumption, and distribution of CBD products are completely legal in all 50 states with just one caveat: each CBD product must have 0.3% THC or less. With 0.3% THC content, no need to worry about any of the negative side effects associated with marijuana.
Are There Other CBD Massage Options?
The great thing about CBD is how easy it is to include in just about everything. It also works well in several consumption methods. Whether you want to consume CBD oil orally via a dropper or sprinkled in your favorite food, the full-bodied benefits are about the same. When CBD massage oil is rubbed into a sore area, your skin absorbs the CBD. Below is a quick list of other CBD products that are perfect for massaging.
CBD Massage Lotion
CBD massage lotions are typically a mixture of all-natural ingredients like hemp seed oil and various other ingredients that support wellness and nourish the skin. If your favorite CBD company doesn't carry massage lotions yet, add CBD oil to a massage lotion, and voila! You've got yourself a massage oil that may make you feel great, regardless of proper massage technique.
CBD Salve
Salves are great for those who want something that supports the reduction of muscle tension or soreness. Here at Cheef, our CBD salve comes with full spectrum CBD, which means all the hundred or so cannabinoids in a hemp plant are present in the product, making for a more potent, longer-lasting formula of cannabis-derived compounds. Apply our salve to an area on your body that could use some support. Make your regular massage a treat with the help of the cannabis plant!
CBD Bath Bomb
CBD Bath bombs are a great topical CBD product for those who want spa time even at home for ultimate relaxation. Here at Cheef, we carry all kinds of bath bombs with aromatic scents like Lavender Awaken, Tropical Oasis, Citrus Obsession, and Lemongrass Dream. Have a lovely staycation right at home with the help of our CBD bath bombs.
What's Better, CBD Massage Oil or CBD Massage Lotion?
Both CBD massage oil and lotion work well for massaging and applying CBD topically. Distinguishing which one works better for you is, well, up to you. If you want a thicker, creamier CBD product emphasizing moisturization, CBD massage lotion might work better.
Massage oil, on the other hand, has multiple application recommendations. From loosing muscle tension to general relaxation, those looking for wellness benefits from a subtle product may like CBD massage oils. Also, CBD oil works with a load of different things. So if you have a favorite lotion, add some CBD drops for a little extra kick of wellness.
The Benefits of Getting a CBD Massage
Because CBD supports our ECS, it might help you with sore muscles or racing thought. CBD massage oil on the skin provides loads of benefits like reducing stress and nourishing skin. There are numerous benefits to getting a massage:
Reducing stress and increasing relaxation
Appeasing muscle soreness and tension
Improving circulation, energy and alertness
Mixing CBD into your massage routine only adds more benefits. CBD helps stifle inflammatory symptoms and supports muscle regeneration. People experiencing physical or mental discomfort may benefit greatly from a CBD massage.
Can I Make My Own CBD Massage Oil?
Yes! Making your own CBD massage oil is a breeze. Simply find some natural additives or essential oils of your liking and mix them with CBD massage oils to promote your health and wellness. Below are a few different ingredients and suggestions on how to take the benefits of massage oils to the next level.
How To Make CBD Massage Oil
CBD massage oils are pretty easy to make! With a little patience and the resources to collect the ingredients, you can make a boutique CBD massage oil, easy. Here are some recipes below:
Baseline Materials To Have
1/2 cup Hemp Seed Oil
1/2 cup Sweet Almond Oil
60 drops CBD Oil
90 drops Essential Oils (choose your blend below)
Muscle Support
30 drops of each:
Siberian Fir Essential Oil
Eucalyptus Essential Oil
Lavender Essential Oil
Optimal Relaxation
30 drops of each:
Lavender Essential Oil
Bergamot Essential Oil
Frankincense Essential Oil
Cheef CBD Oil
CBD oil has the best of both worlds: the subtlety in flavor and the benefits of natural terpenes and extracts. Most people describe the taste as nutty and earthy, and it blends effectively with almost any oil for a great CBD massage oil.
Our CBD oil comes in three sizes and potencies:
300mg or 600mg CBD (15ml bottle)
1200mg CBD (30ml)
3000mg CBD (60ml)
CBD oil is made from Mother Nature's best friend: the hemp plant. We only utilize CBD hemp oil in our mixtures, and we never add any synthetic substances, flavors, or preservatives to any of our products.
Why People Choose Cheef Botanicals
There are so many reasons to choose Cheef Botanicals! To start, we only utilize the highest quality ingredients in our wide variety of products. Don't believe us? Check our Certificate of Analysis (COA), a document that highlights each ingredient that we are proud to highlight. Unlike other retailers, we manufacture the best CBD oil in-house, meaning we have full control over what goes into our products and how they're made.
More so, Cheef has so many perks! For new customers, get 25% off all first orders. For those that love our products and want more options on how to get a better bang for their buck, we have tons of bundle packages that include discounted products when bought together in bulk. And for those who know what they want and frequently run out of our sweet CBD, subscribe! For a small monthly premium, you'll be first in line to buy all of our products and get huge sales (up to 50% off sometimes).
Thousands of reviews from folks like you don't lie — people love our products. If you have any questions about CBD, THC, and many of the other cannabinoids coming into the rotation every day, discuss it with our live customer service representatives. True experts with knowledge of all of our products, these representatives can answer all your questions.
Final Thoughts – CBD Massage Oil
Fans of CBD consume and enjoy it for countless reasons. To help them relax after a long day, boost energy when they're feeling a bit low, there's no limit to what CBD can do for you. It can be quite difficult to determine the appropriate CBD amount for you. Don't worry! Your journey toward full body and mind relaxation is just around the corner. By deciding which product you'd like to try and starting small, you can quickly learn your perfect amount for maximum relaxation.
Ready to chill like royalty? We may not be able to make you a certified massage therapist, but we've got the next best thing. Visit Cheef Botanical's Shop today to discover our premium CBD selection to make your next massage one to remember!