CBD roll on is a fast-acting method of applying cannabidiol onto your skin. Many roll ons provide a cooling sensation to the skin due to the menthol and camphor they contain. However, those are not the only ingredients that reduce soreness. Combined with CBD's soothing effects, roll on products are an excellent way to ease muscle discomfort and skin irritation!
What is a CBD Roll On?
CBD roll ons are convenient and simple to use topical products that allow you to easily apply cannabidiol to areas of your skin or around specific muscles that need assisted relief. These nifty applicators work their magic by using a salve or gel.
The gel is infused with cannabidiol (CBD) and placed into an applicator similar to a deodorant case. Roll on products typically come with a smooth ball at the end, which evenly spreads the gel over the areas you apply it to.
How to Use a Roll On
To use CBD roll ons, first remove the cap from the product. The applicator may be dry when you first open the package. If that's the case, roll the ball on your hand until gel covers the top of the applicator.
Once the applicator is prepared, target the muscles or areas that are experiencing discomfort. Gently but firmly use the ball to apply the product onto the desired spot. Even if you're not actively feeling pain, the relief of a CBD roll on can prepare you for the day ahead!
Some roll on products may require that you shake them before use. This ensures the CBD oil tincture, isopropyl alcohol, and any extract in the formula is properly distributed. When in doubt, consult your physician and double-check that you're using the product as directed on the label.
Menthol is a highly flammable ingredient. Since many roll ons contain this compound, do not store or use this topical near high heat or flames.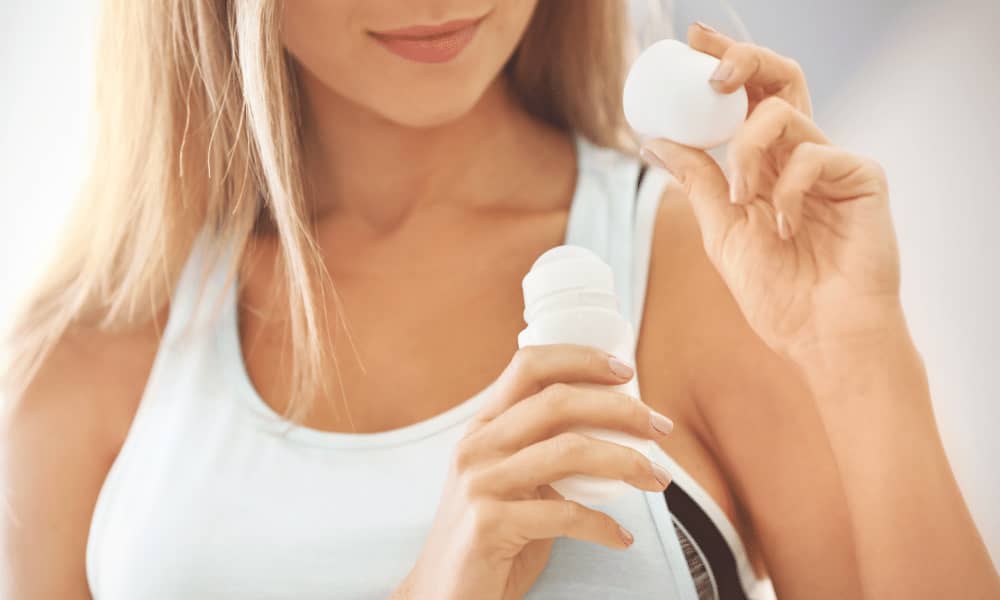 Where Can You Apply CBD Roll Ons?
CBD roll ons can be applied almost anywhere on the body. Use them wherever you're feeling soreness or discomfort. If your legs are cramped after a good run, or your arms are like jelly after some lifting, apply the roll on to those areas!
You should not apply roll ons to delicate parts of the body. While CBD can assist tension, the additives in some roll ons could irritate sensitive spots. Avoid putting salve onto your armpits, genitals, eyes, ears, nose, and mouth.
Note that CBD is not approved by the Food and Drug Administration (FDA) for medical use. This product is not intended to diagnose, treat, cure, or prevent any disease.
How Do CBD Roll Ons Work?
CBD roll ons target cannabinoid receptors on your skin. The CBD in the product interacts with these receptors to soothe discomfort. The ball applicator allows you to comfortably apply the salve into localized areas of soreness with no mess, providing extra relief.
Cannabidiol can be inhaled, swallowed, dropped under the tongue, used as a suppository, and even mixed into food or drink. As our bodies absorb the CBD, it interacts with our endocannabinoid system (ECS).
The Endocannabinoid System
The ECS is a biological system present in virtually all mammals. It helps our body regulate vital functions such as breathing, digestion, heart rate, and more. Research is looking into whether the ECS plays a role in weight management, and the findings are promising.
This system regulates endocannabinoids, which are neurotransmitters that bind to cannabinoid receptors. These receptors can also interact with phytocannabinoids that enter our body, like CBD and THC.
We have CB1 and CB2 receptors located throughout our bodies. We also have some of these cannabinoid receptors on our skin, which is why CBD can have a soothing effect when we apply it topically.
CBD boosts our ECS and promotes calm feelings. We ingest cannabidiol for its overall positive effects, or we can apply it topically to soothe discomfort in a specific area. You should only use a CBD product as directed on its label.
What Are the Common CBD Roll On Ingredients?
Many CBD roll ons contain natural ingredients that combat discomfort. However, some products contain potent numbing agents to promote pain relief. Make sure you're satisfied with your roll on and that you have no adverse reactions by first applying a small amount to your hand.
Menthol and Camphor
Two of the most common ingredients in CBD roll ons are menthol and camphor. Menthol is derived from mint oil, and it causes a cooling sensation to the applied area. Camphor is the extract of camphor trees, and it is often used for relieving muscle pain and general discomfort.
Essential Oils
Another reason why manufacturers typically add plant-based ingredients to roll ons (and many other cannabidiol products) is because they contain a number of unique terpenes. Terpenes can be found in the essential oils of nearly every plant type. They are responsible for a plant's unique smell and taste.
Plants use terpenes as a defense mechanism against herbivores, but we humans are instead drawn to their unique aromas. Some experts believe that terpenes can influence the efficiency of CBD through a process called the "entourage effect." This effect is most noticeable when using a full or broad spectrum CBD product. 
Full or Broad Spectrum CBD
Most roll on products will be either broad or full-spectrum. Full-spectrum CBD contains all of the terpenes, cannabinoids, and flavonoids naturally found in hemp extract. This includes low amounts of THC (0.3% or less). However, this miminal amount of THC will not induce any intoxicating effects.
Broad-spectrum CBD contains the same compounds as full-spectrum, minus the THC. If there are broad-spectrum options, why leave THC in at all? Using a low level of THC in CBD oil helps to promote the entourage effect.
Nano-CBD
Some manufacturers use nano-CBD in their roll ons. This form of cannabidiol is broken down into tiny particles. This versatile form of cannabidiol can be fused into the salves and gels that go into roll ons, and it is also used to make CBD water!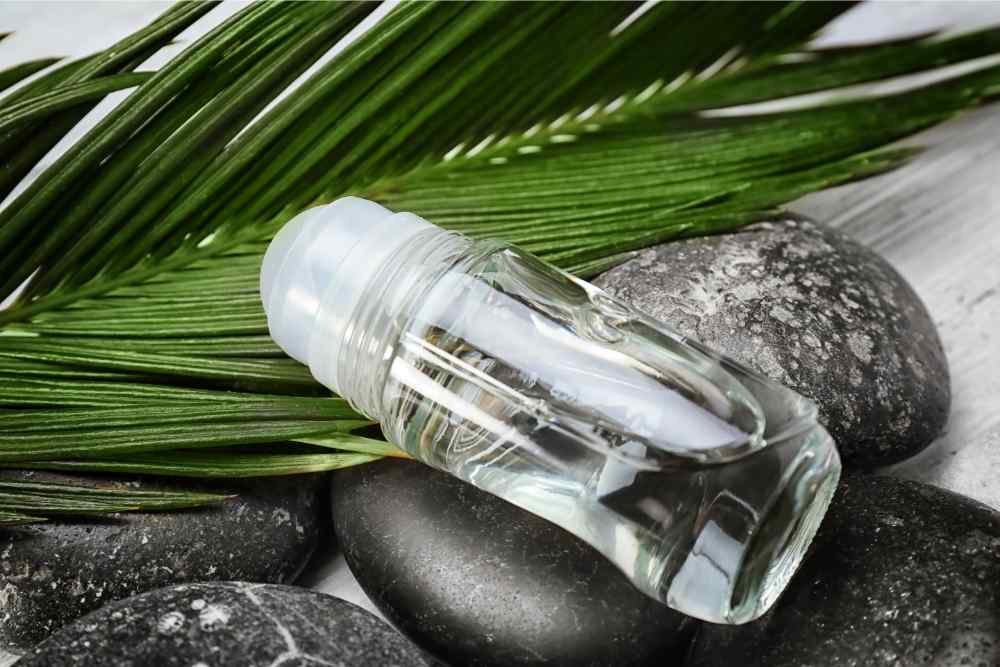 What Are the Benefits of a CBD Roll On?
Roll ons contain CBD that communicates with and promotes our ECS. This system is responsible for essential body functions. When CBD interacts with our ECS we can experience its soothing effects. Specifically, CBD roll ons can soothe muscles, relax the skin, and help our bodies with recovery. Here are some other perks that come with the product.
Speedy Relief
CBD roll ons provide fast, targeted relief. Since we have cannabinoid receptors on our skin, topical products (like a roll on or CBD body lotion) can provide relief within 15 minutes. Some claim they can feel the effects immediately after contact. Plus, the effects of topical CBD stay localized to the area you apply them to.
High Bioavailability
The amount of cannabidiol that is active in our body after using a product is quantified by a percentage. We refer to this percentage as that substance's bioavailability. Topical cannabidiol has a bioavailability of 45%.
Considering oral cannabidiol has a bioavailability of 6-15%, topical application is ideal. When we swallow CBD, it first must pass through our gastrointestinal (GI) system before it reaches our endocannabinoid system. Unfortunately, the G.I. tract destroys some of the CBD, however topical applications avoid this.
The effects of topical applications typically last for 2-3 hours. If you're using CBD roll ons for soreness, apply the product every few hours or when the discomfort returns. You can use roll ons repeatedly, but you should take a break from applying the salve if your skin starts to dry or show irritation.
Related: CBD Bioavailability & Why It Should Matter to You
Mess-Free
Roll ons let you apply CBD to your body without having to smear a product on your hands. This reduces the chance of you spreading salve or gel onto other things you touch.
Are CBD Roll Ons Legal?
Absolutely! CBD roll ons are completely legal. This is because cannabidiol comes from hemp, which has been legalized in the U.S. since 2018.
Just because CBD roll ons are legal doesn't mean they're all safe or made from high-quality materials. Get a certificate of analysis (COA) to ensure that your cannabidiol product contains what the manufacturer claims it does. COAs are given to companies by third-party labs that test CBD items.
This third-party lab checks the product's cannabinoid levels. They give the business a certificate of analysis that shows what cannabinoids and how much are inside of the item. Any company worth your money will allow their COAs to be viewed by anyone at any time!
CBD Roll On Alternatives
Roll ons are fantastic, but they come with some drawbacks. Since the only application method is the rolling ball, it can be hard to control how much CBD gel you get each time. And the design of the applicator doesn't allow all the product inside to be used. The ball can be great for use on a specific area, but it can be unwieldy when trying to get to those hard to reach places.
Also, what if we want to massage the target area? Since a salve is meant for muscle discomfort, we usually need to apply it to sore or irritated areas. A plastic ball doesn't work that well for massaging but a rub on product will.
Instead, try Cheef Botanicals' high-quality CBD salve. You can control how much you apply each time, and lightly dab it or massage it onto a specific area. Placing salve on two fingers allows you to reach those tricky places that can be hard to reach with a roll on.
We offer our salve in 500 mg and 1000 mg CBD potencies. You can also sign up for a subscription purchase and take 10% off your purchase. When you make a subscription purchase, we send you a revitalizing salve every 30 days with free shipping and the option to cancel at any time!
Final Thoughts – CBD Roll On
Whether you get your CBD roll on for soreness relief or preparation, you'll feel at ease and relaxed from its soothing properties. The menthol, camphor, or peppermint can provide cooling and revitalizing effects while the CBD boosts the effectiveness of our ECS. For an even more precise application, try out Cheef's soothing salve!
Not sure which CBD product is right for you??? Take the quick quiz to find out!