It's undeniable, and at this point, unavoidable — CBD has taken the beauty world by storm. But, how does CBD skin care actually work? The recent boom of the cannabidiol industry may seem overwhelming. Manufacturers are throwing the ingredient around left and right like it's some sort of panacea.
If you've been curious about this recent cosmetic trend, you're in the right place! We're here to answer all your questions about CBD skin products and help you understand how they can help your body. This article will cover the ins and outs of CBD skin care products and what to look for.
What Is CBD Skin Care?
CBD skin care is not that much different from your regular personal care products. It's just your regular lotions, lip balms, and face masks infused with cannabidiol! CBD products can be a fantastic complement to your daily regimen. They not only help you take care of your skin but also help you reap the benefits of CBD.
The vast amount of CBD-infused skin care products include:
Body lotion
Lip balm or chapstick
Face masks
Sunscreen
Hand sanitizer
Body wash/soap
Acne treatments
Anti-aging cream
Bath bomb
Are CBD Skin Care Products Legal?
Yes, all CBD skin care products are legal. Under the 2018 Farm Bill, all hemp-derived products are legal for sale and manufacturing across the United States as long as they contain 0.3% or less THC. CBD comes from hemp, which is a non-intoxicating cannabis plant with naturally low levels of THC. However, you should not confuse hemp with marijuana, another cannabis plant with much higher THC levels. Marijuana is still illegal under federal law, despite many states allowing regulated use.
What Are the Benefits of Using CBD for Skin Care?
Many health and beauty products are infused with CBD oil, which delivers special benefits to your mind and body. When you apply CBD topically, the compound interacts with cannabinoid receptors on your skin. These receptors communicate with the endocannabinoid system (ECS), which helps regulate your body's mood, digestion, pain levels, and more.
CBD skin care products go a step further than your ordinary topicals when it comes to relieving minor irritations, dryness, and soreness. Formulas containing CBD leave you soothed and relaxed. Whether you use a CBD bath bomb or a muscle salve, you'll feel the tension melt and experience extra calming relief. In addition to CBD's soothing qualities, there is some evidence that it can also regulate your skin's oil production by limiting the amount of sebum your body produces. This may make the ingredient helpful for people who struggle with oily skin.
While many health and beauty products contain CBD oil, some products contain hemp seed oil. The two are closely related, and both have fantastic benefits, but they affect the body differently. The biggest distinction is that hemp seed oil does not contain any CBD. However, some brands (including Cheef Botanicals!) will use both CBD and hemp seed oil in their products for maximum benefits.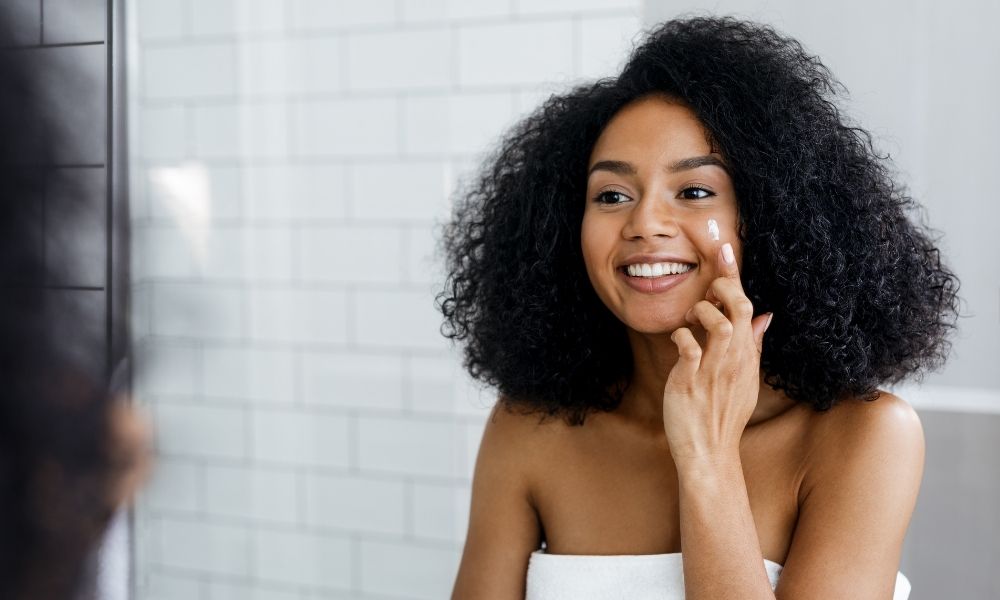 How Do CBD Skin Care Products Work?
CBD, or cannabidiol, is one of the many cannabinoids in hemp. It is non-psychoactive, so it won't ever leave you feeling "high" or intoxicated. As we mentioned earlier, CBD absorbs through the skin and works with the body's endocannabinoid system (ECS). The endocannabinoid system is present in almost every animal on Earth and plays a role in maintaining the body's balance — including mood, appetite, sleep, and more.
There are cannabinoid receptors all over our bodies and in every layer of our skin. When you apply CBD skincare products, the receptors immediately begin to react with the CBD and initiate its effects. By having receptors in every part of our body, you can target specific areas of your skin for treatment. It usually takes about five minutes for the CBD effects to kick in. However, since the skin has a low cannabinoid absorption rate (around 5-10%), you may need to apply the product liberally to feel the effects.
Topical CBD products are best for targeting specific areas of discomfort rather than whole body relief. This is because topical CBD only stays localized in the area you apply it — it doesn't travel through the rest of your system. Once you start to feel the soothing effects, the CBD can last 2-6 hours before wearing off. Feel free to reapply if the affected area is still sore. One of the great things about CBD products is that they carry minimal side effects, and it is impossible to overdose on them.
What Are The Best CBD Skin Care Products?
The best CBD skin care products contain all-natural, organic ingredients that nourish the skin. They'll also be free of parabens and harsh chemicals. Guess where you can find products that meet those standards? Right here at Cheef Botanical! Our industry-leading line of CBD skin care products are made with your overall wellbeing in mind. Let's talk calming cosmetics!
CBD Body Lotion
Our CBD body lotion comes in two amazing scents – Cucumber Melon and Orange Bliss. The pure, high-quality moisturizing ingredients coconut oil, olive oil, shea butter, vitamin E, and aloe vera will leave your skin so soft you'll never want to stop touching it! The refreshing, natural scents are also sure to invigorate your senses and leave you feeling rejuvenated.
CBD Hand Sanitizer
Our CBD hand sanitizer is extremely useful, both disinfecting your hands and providing you with CBD relief. Plus, the CBD can moisturize your hands and protect them from the drying effect of the alcohol. With its refreshing lemon scent, this hand sanitizer is sure to keep you clean and refreshed!
CBD Relief Salve
Our CBD relief salve is designed to fight discomfort fast. We offer 500 and 1000 mg formulas for all kinds of soreness. Our salve has the highest CBD concentration to ensure that it can penetrate the skin and give you the ultimate relief.
CBD Lip Balm
Our smooth CBD lip balm is organic, 100% vegan (no beeswax), and will leave you feeling loose after use. Made with shea butter, coconut oil, lavender, and grapeseed oil, this topical can revitalize the dryest lips. The CBD extract gives your lips that extra feeling of comfort and helps smooth over any irritations.
CBD Skin Care – What to Look For
When looking for CBD skincare products, look for natural ingredients and fragrances that support your skin. Avoid formulas that contain too many chemicals, artificial fragrances, or parabens.
Also, it's essential to carefully read the label to ensure the product actually contains CBD and not hemp seed oil. If you see the terms "full-spectrum CBD" or "broad-spectrum CBD" on the package, you can be sure the product is made with cannabidiol. Some labels may be misleading or unclear and use terms like "CBD-enriched hemp seed oil" or "cannabis seed oil" when the product does not contain any CBD at all.
And last but not least, look for companies that provide third-party test results or COAs (Certificate of Analysis) that verify the CBD content. Without this report, you can never be sure how much CBD the formula actually contains. This testing is also the hallmark of a responsible company, so it's best to only purchase from manufactures that make this information available.
Final Thoughts – CBD Skin Care
Now you know what all the hype is about! Except cannabidiol is more than a fad — this powerful compound can deliver outstanding benefits to anyone's skin. Our stressful and hectic lifestyles cause us to seek relief however we can. Adding CBD into our skin care products is just one great way we can take self-care to the next level! Who doesn't want to boost their skin, ease discomfort, and relax all at the same time?
Not sure which CBD product is right for you??? Take the quick quiz to find out!