Baths are a truly great time to relax. You can turn on some music, dim the lights, and then sink into the warm water for an escape from reality. But no bathtub getaway is complete without bath bombs! Intoxicating scents, soft bubbles, and an explosion of color, bath bombs completely transform any bathtub getaway into a fantasy-come-true. But how many times can you use a bath bomb?
What Is a Bath Bomb and How Is It Used?
Bath bombs, also called bath fizzers, are hard-packed mixtures of dry ingredients (like baking soda, citric acid, cornstarch, and essential oil) that melt into a soothing bubbly substance when added to water. They're often spherical, but over the years bathing and beauty companies have become more creative with their shapes. You'll be able to find ones resembling fruits, ice cream cones, and donuts — and they all come in a variety of brightly colored swirls and sparkles.
The bath bomb was first invented in 1989 by Mo Constantine. The Lush Cosmetics founder started the experiments in her shed after becoming inspired by "Aqua Sizzlers." While it's the acid and bicarbonate base that creates the bubbly reaction, these unique beauty products also have different scents, color dyes, lathering agents, and essential oils that have made them popular for people looking for an invigorating bath.
Here's how to properly use a bath bomb according to experts:
Fill your bathtub with water before dropping it in. This allows it to properly dissolve.
There is no required temperature, but warm water is best. Ingredients like cocoa butter don't melt unless they're in warm water.
Some bath bombs invigorate while others relax, so find a bath oil that synergizes with your specific bath bomb to enhance those effects.
If you have sensitive skin, try adding oat milk, rose, or lavender to the water.
Can You Use a Bath Bomb More Than Once?
Bath bombs were originally intended for single-use, but it's hard to let them go. They not only make your bathroom smell wonderful but have a lot of ingredients that benefit your skin. For this reason, people will often try to get more than one use out of their single bomb.
They will become less effective after each use, but it can still provide the same experience and benefits if they're handled and stored properly. You'll want to drop the bath fizzer into the bathtub and watch it start to bubble! The goal is to not let it dissolve completely. It may take a few times to perfect when it's the right time to take it out before it dissolves too much.
When you feel it's dissolved enough, remove the bath fizzer from the water and quickly dry it up. Try using warm or hot air from a blow dryer to dry the remaining portion of the colorful ball. Then, store the bath bomb in a plastic bag.
Can I Split My Bath Bomb to Make More Than One?
Another way to use your bath bomb more than once is to cut it in half before dropping one portion into the tub. While bath bombs are meant for one bathing session, a lot of people find that half of one is still enough for an enjoyable experience.
If you plan on splitting it up, go with a circular shaped product with a crease in the middle. Some bath bombs may crumble when you attempt to cut them in half. To properly cut a bath fizzer in half, you'll need a flat-head screwdriver, a kitchen mallet, a plastic bag, and a cutting board.
Here's what you'll need to do:
Place the bath bomb on the cutting board and identify the crease or seam.
Place the head of the screwdriver on the crease.
Make sure the bath bomb is in a position where it can't move.
Hit the mallet lightly on the head of the screwdriver a few times. You'll see the ball start to split in half.
Put the bath bomb halves into plastic bags and store them in an airtight container.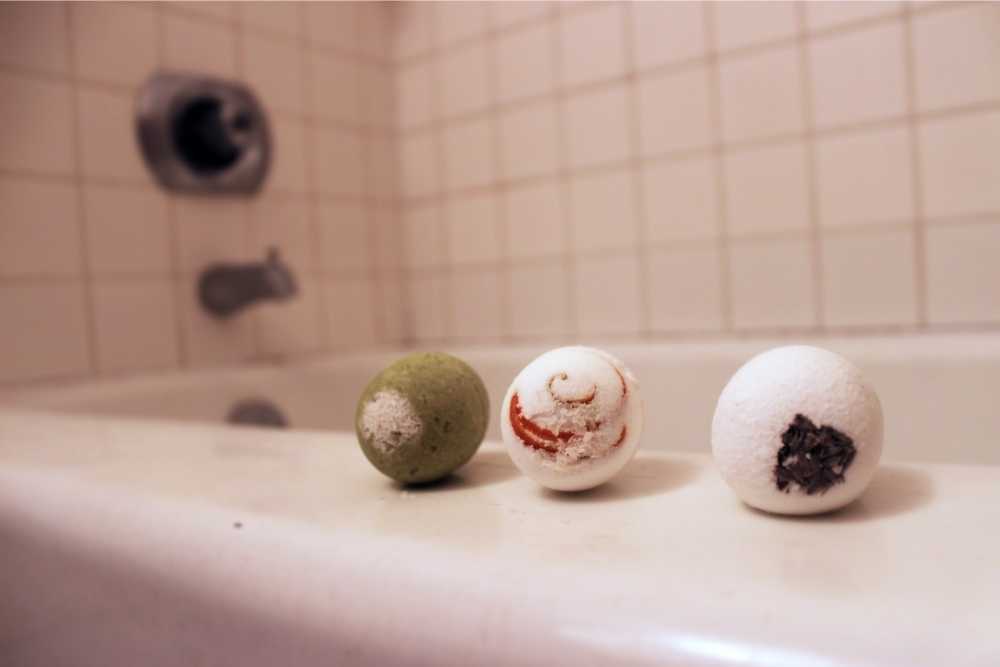 Can You Use a Bath Bomb Every Day?
Luxurious. Soothing. Relaxing. Rejuvenating. Bath bombs are great so it's not a surprise people want to use them every day during their bath routine. But should you?
The short answer is: It depends on the product you're using.
Each bath fizzer has its own ingredients. Most have basic ingredients like salts, essential oils, and sometimes glitter and dye. Then there's the sodium bicarbonate that reacts with the citric acid, making your bath bubbly and beautiful. It all smells so good and it feels good, too. But is it good for you?
Thanks to the oils that are within most popular brands, they make great moisturizers. You'll notice that your skin feels smoother and softer after using a quality bath fizzer. But they can also contain harmful chemicals and ingredients that irritate your skin or create a rash.
Even the creators of bath bombs, Lush Cosmetics, advise against using their product every day. The most common reactions are a disruption in a person's pH balance in their vagina as well as itchy or irritated skin. If you experience this after using a bath fizzer, it's best to stop using them right away and reach out to a doctor about allergies.
If you have sensitive skin and want to give this product a try, check out all-natural bath bombs without harsh chemicals. Cheef Botanicals' bath bombs only contain natural ingredients that can help protect your skin.
Are There Other Ways That I Can Use a Bath Bomb?
You don't need a bathtub to enjoy bath fizzers! There are definitely other ways to enjoy their soothing benefits and wonderful scents.
Mini Bombs
Try a mini bath, manicure, or pedicure! Drop just a quarter of the bomb into a tub or container filled with warm water and soak your feet or hands.
Aromatic Uses
You can also use bath bombs to make your carpet smell nice. Sprinkle a small amount of crushed, uncolored bath fizzer on the floor before vacuuming. Or put a slice in a shoe to deodorize them before use. You can even dissolve some pieces into water and add it to a spray bottle to use it as a deodorizer for pillows and furniture. Put half a bomb inside an organza bag and hang it in your closet or place it in your drawers — wherever your clothes are. They will definitely smell amazing after.
Can't get enough of their smell? We have another idea for you to try! Try filling a large pot with water and heating it up on the stove. While it's simmering, drop in a bath bomb. Reduce the stove's heat so the water is no longer boiling. But, be sure to let it steam. Soon your entire home will smell like your favorite bathtub scents!
CBD Bath Bombs
Interested in taking your bath experience to the next level? Try one of our bath bombs with infused with Cannabidiol (CBD). They offer the same benefits as a quality bath bomb plus the benefits of CBD. CBD is a cannabinoid from hemp that is capable of interacting with cannabinoid receptors on your skin.
Cannabinoid receptors on the skin work with the internal Endocannabinoid System (ECS) to promote healthy skin homeostasis. Though most known for oils and CBD flower, cannabidiol can be infused into your weekend of relaxation. If you like bath bombs your skin will absolutely love one infused with CBD.
Can I Shower with a Bath Bomb?
Showering is another great alternative use! Try cutting off a small chunk of your favorite bath fizzer and rub it on you like soap in the shower. This will transform an ordinary shower into one that smells and feels invigorating. You'll also get the same benefits of smooth, soft skin. This shower version will become a "fizzy explosion of scent" when warm water hits it from the showerhead!
Final Thoughts
If you're looking to relax after a long day or feel a sense of invigoration, bath bombs are the perfect addition to any bath. Nothing beats their explosion of color and smells of an invigorating bath bomb. Now that you know that you can get even more uses out of your bath bomb, the only struggle is trying to decide which scent you want to try next!
Not sure which CBD product is right for you??? Take the quick quiz to find out!