CBD vape kits include everything you need to start vaping right away, making them perfect for beginners and veterans alike! As the popularity of CBD continues to grow, more people will be looking for ways to enjoy the benefits of this unique compound. The convenience and portability of vapes offer a hassle-free experience unmatched by any other method of consumption.
These vape kits make it easy for beginners to try vaping by including everything they need in one package. Sometimes vapes can get pretty complicated with all of the technology and variety that is involved. With this guide, we will help you understand the ins and outs of vaping and why you should purchase a vape kit today!
What is a CBD Vape Kit?
A CBD vape kit packages everything you need together so you can start vaping in little to no time. One of the main things to note is that these vapes are usually rechargeable pens and not disposable, so you can add new vape juice cartridges or pods after they run out. These pen kits typically consist of three main parts:
Rechargeable battery (pen) with tank or cartridge
USB charger
CBD vape juice or e-liquid
These easy-to-use CBD vape pens can come with different tank sizes, designs, and customization options depending on your budget. Vaping CBD has never been easier!
Benefits of Vaping
Vaping is one of the quickest ways for you to feel the effects of CBD. By inhaling vapors into your lungs, the CBD can enter your bloodstream in s short time, allowing you to relax more quickly. It also allows you to consume CBD in smaller amounts, enjoying the experience in slow, steady amounts.
When you use a vape pen, you can get a quick hit and feel the effects of CBD for about 1-3 hours. Compared to edibles, which may last up to eight hours, vaping can provide a short, sustained period of benefits, allowing you to function during your day.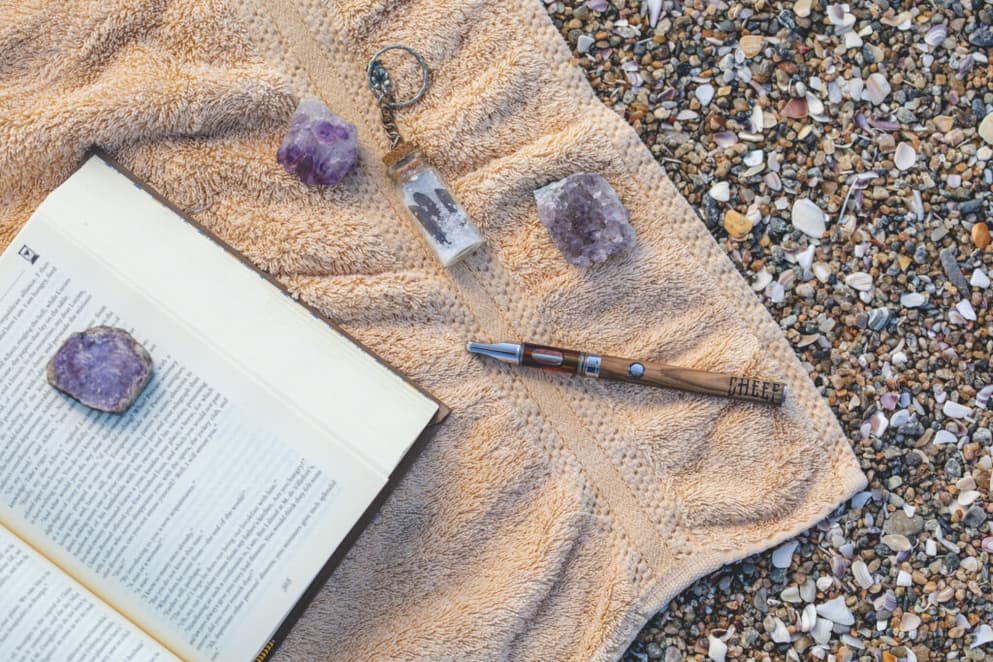 What Types of CBD Vape Kits Are There?
There are a few different types of vape kits that are tailored for your convenience. Whether you want a quick, on-the-go option or something that will last a little longer, these vape kits can help you enjoy your CBD to the fullest.
Disposable Vape Pens
Disposable vape pens are one of the more popular vape options because they are incredibly easy to use. These pens do not require any setup or charging to begin using. While these kinds of vapes typically do not come in starter kits, you can purchase them individually. They are great for beginners to get their feet wet.
Battery-Operated Vape Pens
Battery-operated pens are perfect for those that consistently vape and want to try multiple flavors. Starter kits include a rechargeable pen that you can use repeatedly, as long as you refill or replace the CBD cartridge when it's empty. These pens are often more cost-effective over time compared to disposable pens as you only need to replace the cartridges or vape juice.
Push vs. Draw-Activated Pens
CBD vape pens come in two types – they are either push-button or draw vapes. With push-button vapes, you click the button once or a few times to allow your pen to heat up and create a smooth vapor for you to inhale. Draw vapes are much simpler, and all you have to do is directly inhale for a quick CBD hit.
What Is the Best CBD Vape Kit for You?
With CBD vape kits, you have a few different options to match your every need. Whether you are looking for longevity or convenience, it's incredibly easy to find a starter kit that is perfect for you.
Disposable CBD Vape Pens
Disposable pens are the perfect starter vape for those just starting out. These pre-filled vapes are discreet, stylish, and easy to use since most disposable pens are draw vapes. After you completely use the vape juice up, you can toss the vape pen in the trash without worrying about refilling the pen.
The only downside to this option is that it can cost you more money over time. While it is great for convenience, buying a new disposable pen every time can be quite expensive. Try these vapes if you're just beginning to vape, and move on to the next option if you think vaping is for you.
Replaceable Cartridges
The two most common kinds of vape pens you'll find in a starter kit are rechargeable pens that have either replaceable cartridges or a refillable tank.
Replaceable cartridges or pods are typically easier to use, as once you use all of the e-liquid, you can swap it out for a new one. Many people prefer this option because of how simple it is to replace the vape cartridge and toss the old one out. It's simple, easy, and requires no extra work!
At Cheef Botanicals, we offer a great starter vape pen kit that comes with a battery (pen) and a USB charger. The soft wood-like finish and lightweight design make it easy to grab and go, keeping you vaping discreetly anywhere you want.
Refillable Tanks
Refillable tanks usually have larger vape juice capacities, allowing you to vape for extended periods without having to refill as often. Buying vape juice may save you money over time since they are cheaper than the pods. However, this option often requires more work to refill the vape juice and clean the pen.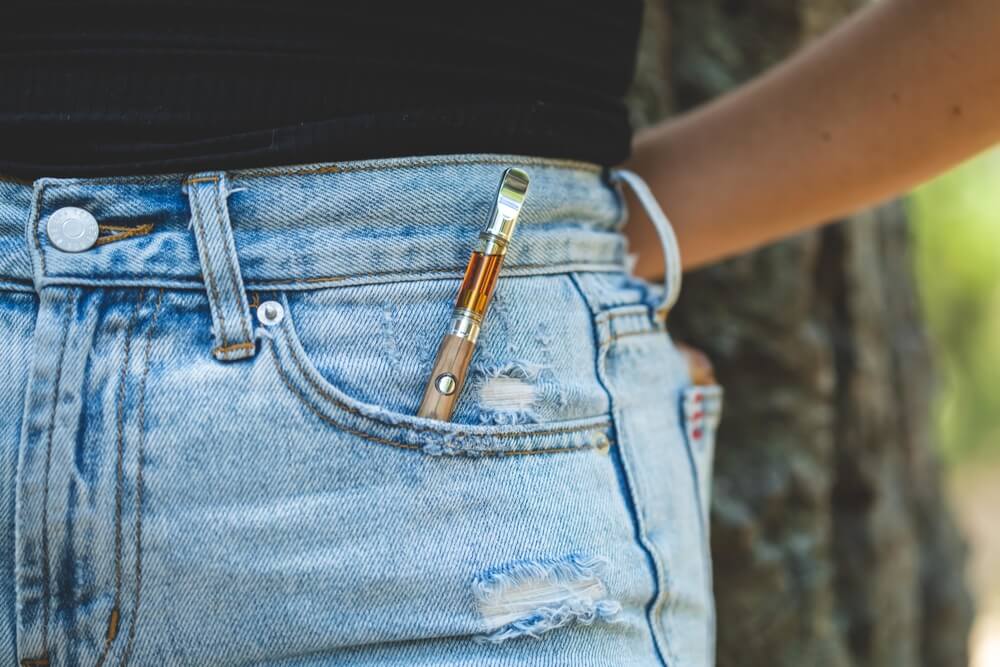 How Do You Use a CBD Vape Kit?
CBD vape kits are very simple to use, and it won't be long before you become a pro. The great thing about CBD vapes is that you can choose to take smaller hits if you are looking for a mellow afternoon or larger hits if you are trying to relax after a long day. Vaping is one of the easiest and most efficient ways to enjoy CBD.
Disposable Pens
Pre-filled disposable pens are typically draw-vapes (inhale to activate). You don't need to turn them on or charge them to begin using them. Simply inhale the vapor slowly and allow the effects to kick in.
Rechargeable Pens
With the refillable pens, make sure you are not overfilling the tank. Overfilling capacity can cause the e-liquids to block the airways for the vapor to flow and weaken your experience. Follow the instructions on the manual to ensure you are filling in just the correct amount. Vape pens with replaceable cartridges are far easier to use, as all you need to do is pop out the old cartridge and insert the new one. These pens can be either draw or push-button vapes.
Many rechargeable pens are push-button vapes, needing time to turn on and heat the vape juice. Depending on the brand, you may need to press the button a few times or hold for a few seconds to activate. Allow up to 30 seconds to a minute before inhaling to have a smooth vaping experience.
Inhale the vapor and give it a few seconds for the effects to kick in. Repeat as desired until you are feeling calm and relaxed. To turn off your vape, click the button the same amount of times it took to turn it on. You can put your CBD vape pen in your pocket or bag and continue about your day without having to worry about any cleanup! For more info on vaping CBD check out these great resources.
CBD Vape Kits – Best CBD Pre-Filled Cartridges
We make our fantastic CBD vape pens and high-quality, pre-filled vape cartridges with the very best ingredients for your enjoyment. With over a dozen great flavors, you can pick your favorites while relaxing to the soothing effects of CBD.
However, what makes our products the best is more than just variety. We pride ourselves in using only the highest-quality CBD oil extract that contains no additional additives or preservatives. Our products are third-party lab tested to ensure that they are effective in providing you with the best experience possible.
Check our site for the Certificates of Analysis (COAs) from the third-party labs for more information!
Final Thoughts – CBD Vape Kit
CBD vape starter kits are a great way to get your foot in the door and try CBD for the first time. You don't have to worry about purchasing separate parts as everything is packaged together for you. Once you get used to the entire experience, you can start to branch out and try different vapes!
Not sure which CBD product is right for you??? Take the quick quiz to find out!