Vegan CBD Edibles
Find quality Vegan CBD edibles, including CBD gummies, here at Cheef Botanicals. Unlike other CBD edibles that use a lot of filler ingredients, our CBD gummies for sale are gluten and dairy-free. They contain no artificial colors, and we only use natural sweeteners. Our hemp-derived gummies are created with premium full-spectrum CBD that is processed using clean CO2 extraction methods to retain quality.
We believe that CBD products should be made with health in mind, so our edibles contain only natural ingredients. Plus, we are proud to share that our CBD source comes from Colorado-grown hemp, which offers high-grade CBD to utilize in all our products. All of our CBD edibles contain no THC because THC is the cannabinoid responsible for the trademark euphoric "high" that cannabis is known for. With our gummies, you only get the desirable effects of cannabis, there's no high, so you can perform like any regular day with no hindrances.
Why Order CBD Edibles From Cheef Botanicals?
Consumers wishing to buy CBD edibles are given many choices that offer seemingly good products for sale. However, to ensure products are reliable and good quality, it is best to work with a supplier you can trust.
Here at Cheef Botanicals, we are the manufacturer. We strive to be a trustworthy source for Vegan CBD edibles and CBD gummies for sale. Plus, our industry knowledge in the organic food industry reaches back 25 years. Our products are carefully created, quality-tested, and fairly priced. Shipping is free for every order and we ship to all 50 states because cannabidiol is now legal in all of them.
What Are
Vegan CBD Edibles?
CBD (cannabidiol) is a naturally occurring compound extracted from the cannabis plant. It is used worldwide to treat a wide variety of symptoms, disorders, and conditions for those who seek natural relief.
You can take CBD oil several ways, including ingesting it orally by placing a few drops under your tongue. Smoking or vaping CBD is also popular. While all these methods of taking CBD are effective ways of getting CBD absorbed into your system, they do not suit everybody. Also, they can be rather conspicuous if you take CBD these ways in public.
A much easier and far more palatable way to consume CBD is by eating CBD edibles. This is often taken in the form of gummy candies or chocolate. The problem is that most CBD edibles contain animal products, so they are not suitable for vegans.
To cater to the vegan market, there are now some manufacturers producing vegan CBD edibles. These treats do not contain any animal products at all. Vegan CBD edibles are cannabidiol infused edible products. They are ideal for vegans who want to take advantage of the many therapeutic properties of CBD, without compromising their vegan diet.
Finding the Right CBD Edible Potency Level
CBD works with the endocannabinoid system (ECS) in the body to restore and maintain a healthy balance known as homeostasis. If you are just starting a CBD regimen, it is typically better to begin with lower potency levels or doses and work your way to higher dosage amounts until you feel you have reached the best dose for you. This is how you find your optimum dose.
To make the gradual CBD introduction process easier, Cheef Botanicals offers different potency levels among all of our Vegan CBD products, including edibles. For example, our hemp-derived gummies, which are also vegan and organic, are available in a selection of potency levels, including:
Our 300mg selection provides 10 milligrams of CBD in each gummy (low potency).

The 750mg option provides 25 milligrams of CBD in each gummy (mild potency).

Our 1500mg selection provides 50 milligrams of CBD in each gummy (medium potency).

The 3000mg option provides 100 milligrams of CBD in each gummy (strong potency).
Wondering what your correct dosage size is? Find your personal CBD dosage information by using our handy CBD dosing chart here.
If you are taking other supplements or prescriptions, it is always a good idea to speak with your physician to make sure the CBD edibles will not interact or cause any issues.
THC Edibles vs CBD Edibles
If you are interested in buying vegan CBD edibles, it's important that you know exactly what it is that you are buying. You should understand the difference between THC and CBD. Cannabis has been used for centuries. It's used in things such as cookies, brownies, and chocolate, but a CBD infused edible is very different from something like a pot brownie.
There are more than 100 different cannabinoids in cannabis and hemp plants. The two most abundant cannabinoids are cannabidiol (CBD) and tetrahydrocannabinol (THC). THC is a cannabinoid that binds to and stimulates the CB1 cannabinoid receptors. These are located primarily in the central nervous system and the brain. One of THC's effects is that it causes the high that is associated with the recreational use of cannabis.
CBD, on the other hand, is a non-psychoactive cannabinoid that doesn't bind to the cannabinoid receptors. It does, however, stimulate both the CB1 and CB2 receptors. This effect provides the many therapeutic benefits of cannabidiol, but without the high that THC causes. In fact, CBD is known to reduce the psychoactive properties of THC. Some people will eat CBD edibles to reduce the negative effects that cannabis can cause.
It is important that you are aware of the CBD / THC content when buying vegan CBD edibles. Also, be aware of the concentration of CBD that is in your product, as well as checking that the edible is truly vegan.
Why You Should Choose to Eat a Vegan Diet
Choosing to eat a vegan diet goes far beyond buying vegan CBD edibles. It means choosing to only eat food that does not contain any animal products. It has become far easier to do in recent years because there are now many vegan food options available in the stores. Choosing to adopt a completely vegan lifestyle, however, can be more of a challenge. Many products, from shoes and clothing to furniture, do include animal products, even when it is not obvious that they do.
There are too many benefits of the vegan diet to ignore. They are not simply restricted to animal welfare concerns, although that is an important consideration for many people. There are also many health benefits to be gained by not eating animal products.
Eating a vegan diet can reduce the risk of heart disease and type 2 diabetes, lower high blood pressure, and reduce high cholesterol. It is believed that a vegan diet can also decrease the risk of certain types of cancers.
Other vegan reported benefits of a vegan diet include improved mood, easier weight management, increased energy, improved digestion, and a clearer complexion.
Contrary to popular belief, there is no medical evidence that humans need to eat meat or other animal products at all. All the vitamins, protein, and other nutrients that the human body needs can be obtained from plant sources. A vegan diet can have a very positive impact on your health, to animals well being, and to the environment.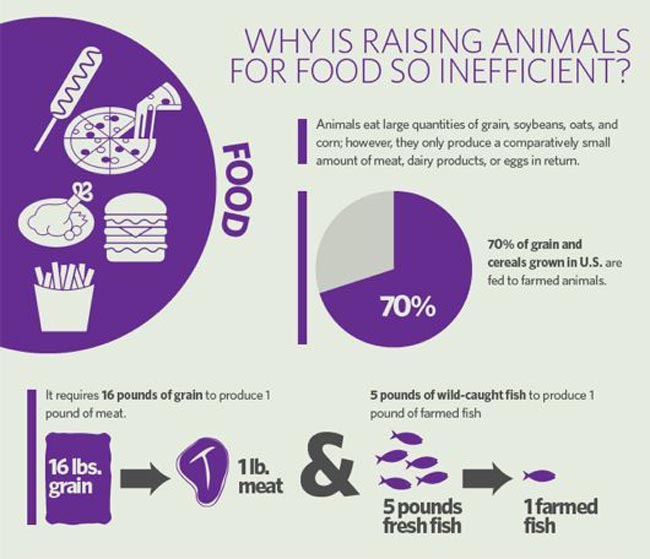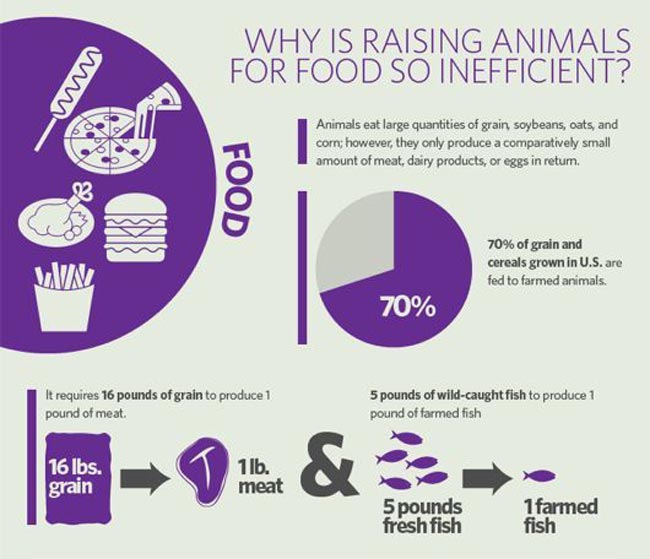 Environmental Benefits of Veganism
The effect that consumption of meat and other animal products has on the environment is huge. It also has a major impact on the availability of food around the world.
It is estimated that between 18-51 percent of all man-made pollution is generated as a direct result of humans eating animal products. This pollution comes from greenhouse gases that are emitted by farmed animals. It also stems from energy use from the rearing of livestock and the transportation of animal products around the world.
It is estimated that it takes approximately 40 calories of energy from fossil fuels such as oil and coal to produce a single calorie of beef. In comparison, it takes just 2.2 calories of energy to produce one calorie of plant protein.
The mass production of meat is also contributing to serious food shortages in some parts of the world. It is widely accepted that there is more than enough food in the world to feed the entire population. Still, about 82% of children who live near livestock do not have enough food to eat. The meat that is being produced is being consumed in other parts of the world.
Farmers grow vast amounts of grains to feed livestock, but why not use it to feed humans? The rearing of livestock also consumes immense amounts of water. Simply put, the production of animal food is far less efficient than the production of plant food. Animal production also has a far greater impact on the environment.
The Advantages of a Vegan Diet
The reasons that people choose to adopt a vegan diet usually revolve around the health benefits and moral justifications.
Health Factor
There are many health benefits to be gained from eating a vegan diet. As we discussed above, many common diseases are caused directly or indirectly by the consumption of meat. A vegan diet will include the nutrients that are often missing from the modern diet. This includes fiber, antioxidants, omega-3 fatty acids, and it is low in fat too, so a vegan diet can be a much healthier option.
Environmental Factor
The impact that animal-based food production has on the environment is huge. Also, it's a very inefficient way to produce food. From global warming to the over-fishing of the seas, the production of food from animal sources has a major impact on the environment.
Food Scarcity
A lot of the grain that is grown in the world is used to feed livestock when it could be used to feed people. Raising livestock is an inefficient way to produce food. It widens the gap between those who have more than enough food to eat and those who are going hungry.
Animal Welfare
For many people, the decision to go vegan is driven by a passion for the welfare of animals. They would argue that raising animals for the sole purpose of creating food is cruel and unnecessary.
The Disadvantages of a Vegan Diet
Eating only vegan food can have some disadvantages as well, and sticking rigidly to a vegan diet can sometimes be difficult.
Existing Medical Conditions
Changing to a vegan diet is a big change to make, so if you are being treated for any medical conditions, it would be advisable to consult with your doctor before you switch. Also, tell your doctor if you are being treated for conditions that can be affected by diets, such as diabetes or osteoporosis.
Unrealistic Health Expectations
While there are undoubtedly some health benefits associated with a vegan diet, it is not a guarantee of fitness and perfect health. The same rules about eating a varied diet, making healthy lifestyle choices, and getting plenty of exercises apply to vegans just as they do to meat-eaters.
Dining Out
Most big food stores are now stocking vegan food, but there is still a shortage of vegan restaurants. Also, depending on where you live, most big chain restaurants do not offer vegan options on their menus. Small treats like vegan CBD gummies and snacks can be difficult to find when you are out. There is no guarantee that you will be able to find vegan snacks or confectionery.
Potential Loss of Minerals and Vitamins
There is a potential for vegans to not get enough of some essential vitamins and minerals in their diet. To avoid this, a vegan may need to plan their food more carefully than a meat-eater would. There is some evidence to suggest that vitamin B12 might not be found in sufficient quantities in a vegan diet, but can be gained from fortified foods and supplements. A vegan diet may also be low in Vitamin D and calcium, but there are vegan sources of both these essential nutrients.
Above all else, being vegan takes commitment and sometimes a lot of inspecting of food labels. This ensures that there are no animal products in the foods we choose to eat.
Today, it is possible to find vegan versions of most types of foods, even vegan CBD edibles, if you are willing to take the time to look for them. If you are looking to find vegan edibles near me then look no further. Cheef Botanicals carries the best CBD gummies. Check out our great selection of Flower, CBD cartridges, lotions, and CBD Salves!
FAQs
How Long Does It Take for a CBD Infused Edible to Kick In?
Cannabidiol (CBD) edibles can take a bit longer to metabolize than other methods of consumption. This is because the edible first needs to be digested and processed by the liver before entering the bloodstream, where your body metabolizes the CBD. This process takes approximately 45 minutes to one hour.
Still, metabolization could take longer depending on when you have last eaten. If you are on a full stomach, it could take upwards of an hour for the effects to kick in. As such, always remember to start low and go slow, and keep in mind that it could take some time to take effect.
How Long Do the Effects of CBD Infused Edibles Last?
One of the great benefits of CBD-infused edible products is the length of time consumers can enjoy their effects. Because CBD edibles metabolize in the stomach, they create a kind of prolonged release so that you can feel its effects longer. Generally, you can expect the effects of CBD oil edibles to last between 6-8 hours.
Many consumers enjoy the long-lasting benefits, as they can consume an edible early in the day and then go through the rest without the need to take more. This lets consumers go about their day with fewer interruptions so that you can enjoy all the little things instead.
What Types of CBD Edibles Are There?
For those with a sweet tooth, everything is more fun when it includes eating tasty treats, so why not bring that same pleasure to CBD? You can enjoy CBD edibles in so many different ways! Cheef Botanicals line of edible products provides a fun and practical way to get the hemp plants many benefits wherever you are.
Products like our vegan gummies contain no artificial sweeteners, are gluten-free, and contain all-natural ingredients. Our vegan CBD gummies come in natural fruit flavors like:
Green apple
Strawberry
Mixed berries
Elderberry
With these mouthwatering flavors, you can promote relaxation in your life and enjoy it while you do so!
CBD edibles aren't just for fun, though. Edibles can allow you to get your zen moments in without drawing too much attention to yourself or creating a lingering smell. For an even more low profile, try a product like a CBD isolate capsule, tincture, or softgel.
So next time you want to make the most of your moments of calm or create them yourself, give our line of CBD products a try!
Do All CBD Edibles Have the Same Amount of Cannabidiol in Them?
If you've never consumed a CBD product before, it's reasonable to wonder how much CBD might be in a particular product. We designed our edibles so that users have many strength options depending on the specific product purchased. This gives you the ability to decide the strength of the CBD products you are comfortable consuming.
Here at Cheef Botanicals, we create our products with varying strengths to suit the needs of all kinds of people. Formulated using broad spectrum CBD, we provide our customers with the best CBD gummies to relieve stress, take it easy, or treat yourself to a good night's sleep.
Our delicious CBD gummies are available in 300mg, 750mg, 1500mg & 3000mg containers. So even those needing a super-strong dose will be satisfied! In these containers, each gummy contains 10 mg, 25 mg, 50 mg, and 100 mg, respectively.
What Happens If I Eat Too Many CBD Edibles?
If you didn't follow the "start low, go slow" rule, you might find yourself a little more disoriented than you intended. Eating too many CBD edibles should be no problem for your health, as CBD is well-tolerated and non-intoxicating. This is due to how CBD interacts indirectly with the endocannabinoid system (ECS).
But if you take too much, you might experience some unintended side effects, including:
Vomiting
Diarrhea
Drowsiness
Dry mouth
These effects are not commonly experienced and are avoidable if you ensure you take the appropriate dose. If you do happen to take more than intended and experience any of these effects, remember that these effects are usually short-lived and mild. Contact a medical professional if these effects do not decrease in severity or you experience more severe symptoms.
Can I Make CBD Edibles At Home?
For the bakers, creatives, and DIY hackers out there, creating CBD edibles at home can make for a fun way to create a custom product. Making CBD edibles at home is easy with Cheef's organic CBD oil as your main ingredient! Bake it into delicious brownies for the classic experience, try your hand at relaxing CBD gummy bears, or take things to the next level with recipes of your own creation.
Gone are the days of decarbing hemp flower to create budder; instead, the creative world of edibles is at your fingertips with our CBD oil!
Do CBD Edibles Smell Like THC?
Because CBD and THC come from the same family of plants, namely cannabis Sativa, many people often confuse the two cannabinoids. Furthermore, for those without any experience with CBD, they may appear as the same thing based on their scent and appearance. But what about the smell of CBD products like edibles?
You'll be glad to know that despite hemp's similar visual appearance and scent to marijuana, neither of these qualities should be noticeable in an edible. While some scent may be coming from the product, it should only become noticeable when one practically has their nose over the product. If that is not the case, no noticeable smell should be clear.
So, although CBD edibles can carry a scent that is mistakable for a THC product, this is unlikely because most edible products carry the scent of their food-based components. There should still be no noticeable scent for products that do not have a food component, such as soft gels and pure CBD isolate capsules.
Is It Okay to Eat CBD Edibles Daily?
Some prescription medications may pose a risk to consumers if taken daily or cause a state not well-suited for carrying out everyday tasks. This can become a problem for consumers trying to treat their discomforts or other general ailments. If you want gentle relief from nagging aches, general discomfort, or issues stemming from mood regulation, CBD can be your daily driver.
CBD is a non-intoxicating substance that encourages a calm, carefree mental state. Because CBD does not bind directly to the ECS receptors and instead indirectly influences them, CBD's effect is well-tolerated in its consumers. As such, it should be okay to eat CBD edibles daily without needing to worry over any undesirable or unplanned consequences.
Remember that the more often you consume CBD, the higher your tolerance or amount you can consume before getting the desired reaction.
Can I Fly On a Plane with a CBD Edible?
If you're a nervous traveler, you might need some relief during your adventures! Sometimes the stress of travel or the sore legs that come from long flights in planes, trains, and automobiles can get you down. You want to be sure you have a source of relief to take on the go, but you might find yourself hesitating to pack your CBD before you take a flight.
While it's always important to read up on the hemp laws of the state you're flying to, you can enjoy a sigh of relief in knowing that you can take your CBD products with you on the plane so long as they fall within the legal limit of less than 0.3% THC. While certain states may not allow CBD, the products are federally legal everywhere in the U.S. So never endure a sleepless redeye flight again, with trusted help from Cheef's line of CBD edible products.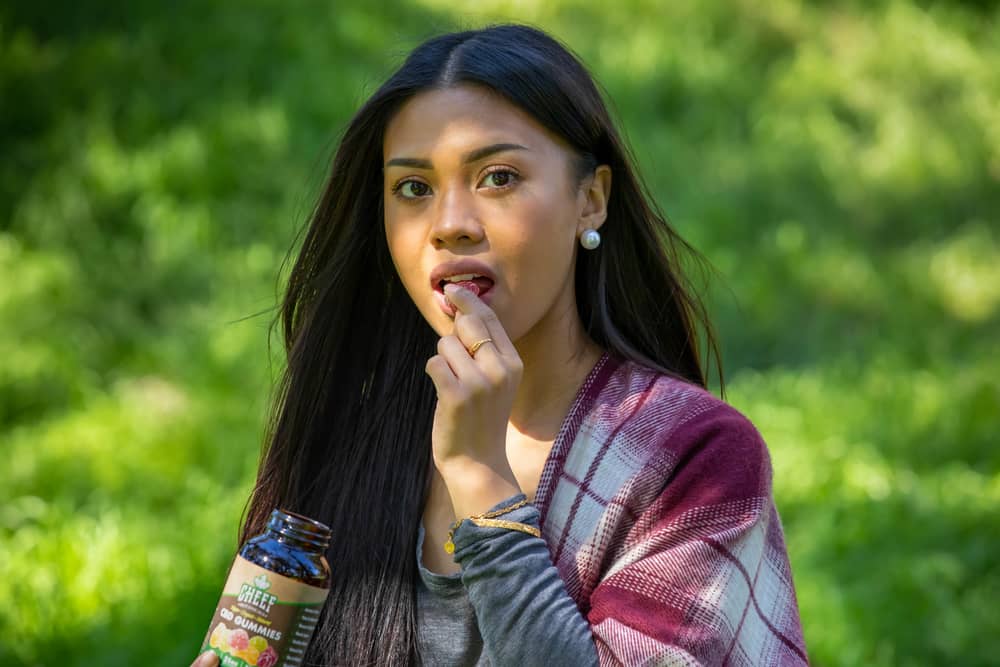 What Are the Benefits of Buying CBD Edibles Online?
The CBD market is a huge and ever-growing field, so with CBD companies popping up everywhere, there are many options to go through when trying to purchase CBD products. But often, brick-and-mortar stores cannot live up to the standards that they should be providing! This is one of the major reasons many consumers have turned to buying their CBD products online.
Buying online provides consumers with the advantage of having access to the necessary information to make an informed decision. For example, purchasing online ensures the product is third-party lab tested for harmful chemicals, as you will be able to look through the company's website for their COAs (Certificate of Analysis). Buying your CBD products online will also allow you to look for other necessary information like country of origin so you can also ensure that the CBD extracts used come from industrial hemp plants grown in the United States.
Also, buying online will give you a wider breadth of options coming directly from the manufacturers of the products, so you don't have to deal with a go-between to get access to the top CBD edibles and oils. So if you want to get the top CBD gummies and treats without needing to leave the comfort of your own home, you're already in the right place here at Cheef Botanicals!
Will CBD Edibles Show Up On a Drug Test?
New CBD consumers often want to know if they could fail a drug test from just CBD. The short answer to this question is no, taking CBD should not result in a failed drug test. However, there is a higher possibility when taking full spectrum CBD oil, full spectrum CBD gummies, or any product containing trace amounts of THC deemed legal by the food and drug administration.
To be more specific, CBD will likely not be included in any drug screening, but any test you take will likely look for THC.
While a failed drug screening is not a given following taking a full spectrum product, the chances are there. If you're worried about triggering a failed test due to CBD consumption, avoid full spectrum extracts, and opt for a broad spectrum CBD. Broad spectrum products will contain all other beneficial terpenes and cannabinoids found in the hemp plant but without the THC.
Why Choose CBD Infused Edibles Over Other CBD Products?
There are a variety of products to choose from that contain CBD. There are topicals of all varieties and applications, hemp flower, potent CBD concentrates, vapes, and more! These product types each carry their own distinct benefits that draw people to them for their specific needs.
But what makes CBD edibles a better option?
CBD edibles can be particularly useful for several reasons, with their delicious flavor as no exception! Edible CBD helps to allow users a consumption method that is both low-profile and accessible in the broadest range of circumstances. Vapes and flower are good mobile options, but many places do not allow smoking or vaping.
In these situations, edibles can be the perfect way to get your CBD dose in without having to draw any attention to yourself. This way, you can rest assured relief can be with you wherever life takes you.