Cheef Botanicals CBD Vape Cartridges
Our CBD vape cartridges are specifically formulated using a broad spectrum hemp extract that is refined using clean CO2 extraction methods. We only incorporate natural terpenes into our CBD vape cartridges and avoid using any VG, PG, MCT, or PEG oil. The result tastes amazing and the natural terpenes add to the powerful "entourage effect" CBD is known for. Our cartridges are equipped with an industry-leading atomizer making them compatible with basically any 510 threaded vaping device. Each cartridge provides its own unique flavor and generally produces between 200-400 puffs.
What Are CBD Cartridges?
CBD cartridges contain CBD e-juice that is heated and vaporized for smoking through a vape. Vaping CBD is a very popular way to gain all the amazing benefits that CBD has to offer. CBD works by interacting with our endocannabinoid system (ECS), which controls a lot of important functions in our body in order to promote homeostasis.
CBD cartridges contain specially made CBD e-juice. What this means is that you can not and most certainly should not pour CBD tinctures into an empty cartridge and start vaping. CBD tincture oils are meant for ingestion, not inhalation. Oils often have carrier oils, which help disperse CBD throughout the body when ingested but are not meant for the lungs. CBD vape cartridges, on the other hand, contain CBD natural terpenes, which are used to create a vape liquid that is intended for smoking. 
Most CBD consumers find vaping to be convenient and effective because it is one of the fastest ways to feel its effects. In fact, when you vape CBD you can start to feel its effects within 90 seconds, whereas other products could take up to an hour. Vape pens are portable and can make it easy for you to get a quick dose of CBD anytime you need.
What Are the Benefits & Effects of Using a CBD Vape Cartridge?
CBD promotes homeostasis of the body and mind, offering many wellness benefits. Research has suggested that the effects of CBD are subtle but transformative. When you take a pull from your vape pen, these effects should take root within seconds. You may feel some or all of the following:
Relaxed sensations
Better sleep
Improved appetite and digestion
Relief from aches and discomfort
Positive mood
Creative energy
What Are the Most Popular CBD Vapes?
Each CBD vape cartridge contains a unique blend of terpenes for a one-of-a-kind flavor. Here we've compiled a few of our most popular vape options to get you started. This is not a list of the best CBD vape cartridges, per se. "Best" is a matter of personal opinion, and the only way to find out which vape cartridge is best for you is to try all the options for yourself!
OG Kush
You know we had to start with the OG. By many accounts, OG Kush is the most popular cannabis strain in the world. Enjoy its classic flavor, earthy with a note of lemon that lingers on the palate, which it owes to the terpenes caryophyllene, limonene, and myrcene.
Sour Diesel
If any strain can challenge the supremacy of OG Kush, it's Sour Diesel. Once you catch a whiff of its pungent aroma, you'll understand how this strain got its name. Earthy and citric, with a hint of spice, Sour D boasts some of the strongest flavors in the cannabis kingdom.
Jack Herer
This famous strain got its name from Jack Herer, one of the most prominent cannabis rights activists of the 20th century. In fact, Jack was sometimes called the "Emperor of Hemp," and this truly regal strain honors his memory. Now, you can enjoy its delicious terpene profile without having to face the negative side effects of marijuana.
Pineapple Express
Named for the iconic 2008 film starring Seth Rogan and James Franco, Pineapple Express is an especially tasty strain with hints of mango, pine, and of course, pineapple flavor. Enjoy it in a potent vape cartridge. It's a whole lot easier than rolling one of Rogan's cross joints. That much is for sure!
Lemonade
Maybe the taste of cannabis flower isn't up your alley. If that's the case, no worries. We carry an array of vape cartridges with unique flavors unrelated to cannabis. Take Lemonade, for example. Each hit from this delicious cartridge tastes just like a glass of fresh-squeezed lemonade — not too sour, not too sweet.
Cactus Cooler
We're paying homage to our SoCal roots with this vape juice, inspired by the beverage of the same name. Let the refreshing flavors of orange and pineapple awaken your senses. Cactus Cooler sodas are famously unavailable outside the southwest, but we are sending the good vibes right to your door.
Caramel Macchiato
Are you looking to cut down your coffee consumption but can't get the sweet taste of your morning macchiato out of your head? We've got a bold new vape flavor for you. Enjoy the comforting flavors of caramel, fresh espresso, and foamy milk that you love, but without those nasty caffeine jitters spoiling your day.
Pixie Stix
Candy cravings are common. What we don't crave: high blood sugar. Now you can satisfy your sweet tooth in the form of a CBD vape. The sweet, fruity flavors of strawberry and orange take center stage in this Pixie Stix-inspired vape cartridge.
Fruity Cereal
Can you remember when mornings were fun? Rolling out of bed and pounding a bowl of sweet, fruity cereal always got the day started on the right foot. The days of sugary breakfast may have passed you by (curse you, adult metabolism!), but you can reclaim their carefree spirit with this delicious vape. Take a puff of Fruity Cereal, and let your inner child out to play!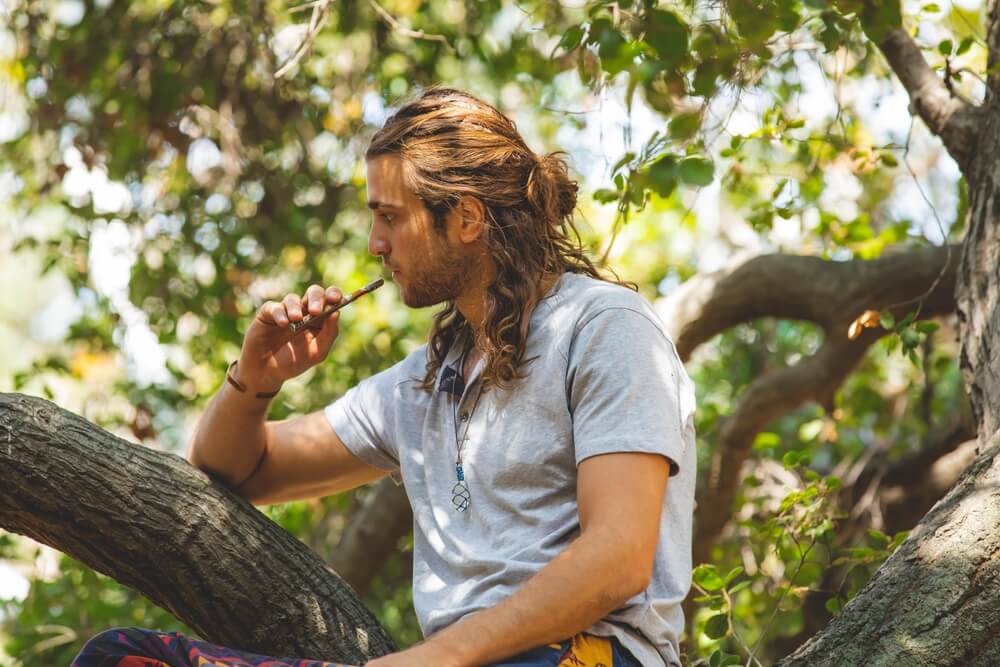 What Makes a Vape Pen Unique?
You can take CBD in several forms, including:
Flower
Tincture
Capsules
Fruity gummies
Topical salves
No two consumption methods are exactly alike — some act quickly while others take their time and linger for a longer period. So, what makes vape cartridges unique in the CBD world? Here are a few principal traits that CBD cartridges are known for:
Fast-Acting: Inhalation is the fastest way to feel the benefits of CBD. From your lungs, CBD crosses the blood-brain barrier in a matter of seconds, delivering instant relief.
Discreet and Portable: Vape pens are about the same size as your average ballpoint pen (go figure). They easily fit in your pocket or purse so that you can keep them on hand at all times.
Flavorful: CBD vape cartridges come in a variety of flavors. This is perfect for those who want the fast-acting effects of inhaling CBD but don't like the taste of cannabis flower. With so many flavors to choose from, there's a CBD vape cart for everyone.
Easy Dosage Control: Vape pens make it easy to control how much CBD you take. You determine how many hits you take and how much to inhale. This makes vaping the perfect choice for CBD newbies who do not yet know their tolerance. Start with a small dose and slowly increase as you see fit.
How Does CBD Work?
CBD works by supporting your body's endocannabinoid system (ECS). Every mammal on Earth, from you to your dog to the seals on the beach, has an ECS. This complex system regulates many essential physical and neural processes, including:
Sleep
Appetite
Digestion
Sensitivity
Body temperature
Immunological response
Memory
Mood
Our bodies produce some of their own endocannabinoids, which have a very similar chemical structure to CBD. This allows CBD to act upon the ECS, giving a welcome boost to this vital system.
Can You Get High From Vaping CBD?
No, you cannot get "high" from CBD. Our CBD vape cartridges do not contain THC, which is the agent in cannabis responsible for causing a "high." CBD by itself is non-psychoactive, meaning it will not produce a high. Even in higher concentrations, pure CBD will not alter your state of mind. Remember, THC is what causes this phenomenon, not CBD.
THC, or tetrahydrocannabinol, is a psychoactive chemical abundantly found in marijuana plants. CBD is not extracted from marijuana. Instead, it is extracted from the closely related hemp plant. Hemp contains extremely low amounts of THC and very high amounts of CBD. Many people find the absence of a high to be a desirable quality of CBD because it does not affect their daily functioning. You can use CBD while still carrying out your day-to-day activities normally.
Will CBD Show Up On a Drug Test?
CBD cannot cause a failed drug test. Drug tests are not designed to look for CBD. However, some CBD products do have trace amounts of THC, which can show up on a drug test. While it is not enough THC to get you "high," it is enough to potentially affect drug testing.
Employers make you take drug tests to make sure that you are not getting high. Keep in mind that some manufacturers produce CBD cartridges using non-isolate CBD. As previously mentioned, CBD from hemp may contain minuscule amounts of THC, up to 0.3% to be specific. However, our CBD vape cartridges are stripped free of THC.
Other companies may include small amounts of THC in their cartridges. That being said, there is a possibility that you can get a false-positive for THC on your drug test if you are consuming excessive amounts of CBD.
Are CBD Cartridges Legal?
As a result of the 2018 Farm Bill, CBD from hemp became legal throughout the United States for commercial cultivation. This made it possible for companies to produce CBD products for consumer purchase. CBD cartridges are one of the many products that are offered in the CBD world.
Marijuana remains illegal at the federal level, and therefore so does its commercialization. This means that CBD from marijuana is not legal. However, CBD from hemp is legal, as long as it contains less than 0.3% THC. CBD from hemp is legal in the United States for recreational and medicinal use. This includes CBD cartridges, which are a popular product in the market today. 
How Much CBD is in a Vape Cartridge?
CBD vape cartridges can be found in various sizes, typically ranging from 200 to 400 mg cartridges. Now you might wonder, approximately how long will a cartridge last? A good rule of thumb is that each puff will give you 1 to 2 mg of CBD. If you do the math, this would mean a 200 mg cartridge would give you 100 to 200 puffs, depending on the strength and duration of each pull. Obviously, the longer your pulls, the shorter the lifespan will be of your cartridge.
People use their CBD vapes differently. Some people use them only before bed to help them sleep, so they probably take one or two puffs. In this case, their vape cartridge could last them for over a month. Others might use their CBD vapes throughout the day, so their cartridge would definitely not last as long.
The lifespan of your CBD cartridge all depends on your preferences and specific needs. You will likely fall into one of the two categories mentioned above.
How Do You Use a CBD Vape Cartridge?
Step 1: Determine the right dosage.
By figuring out the right dosage for yourself, you will have a better understanding of what size vape cartridges to buy in the future. For starters,  you can begin with a smaller cartridge such as 200 mg. Remember that each puff gives you about 1 to 2 mg of CBD. To determine how many milligrams of CBD you need, start from the lower end and work your way up from there. We recommend starting with 15 to 20 mg because this will allow your body to adjust to the newly introduced CBD. If you feel comfortable with the dosage, you can keep it at the same amount or increase it.
We have some general dosage guidelines on our CBD dosage page to further assist you with determining your correct dosage. Don't worry, you will never overdose on CBD. There are no known cases of this happening. A healthy human can take up to 1,500 mg a day without any issues. Keep in mind that CBD works best when it is used regularly. It takes consistent use of CBD to fully benefit from its effects resulting from the interactions in your body. 
Step 2: Choose a vape.
Once you determine your dosage, the next thing you need to do is find yourself the right vape. For cartridges, you want a 510 thread battery. These are compatible with standard CBD cartridges. Once you finish a cartridge, all you have to do is pop in a new one and you're good to go.
Step 3: Start vaping, but start slow.
To start vaping, connect the cartridge to the 510 battery, turn the power on, hold the button and inhale small puffs. Do this, and then wait for a while to see how the CBD affects you. Start slow, and then work up to your desired dose. You may find that you only need two to three puffs for the CBD to take effect, while others might require ten. Every person is different, so the dosage for you may be different from others.
CBD cartridges are a great way to get a quick fix of CBD while you are on the go. Vaping is one of the most effective means of taking CBD because it allows for fast absorption into your body, which means less time required for it to take effect. For your safety, always make sure you are buying proper CBD vape liquid and not using CBD tincture oil as an alternative. Give it a try so you can find out if CBD vaping is right for you.
Why Choose Cheef Botanicals for CBD Vape Cartridges?
At Cheef Botanicals, we have perfected the vaping experience. Our commitment to wellness stems from our founders' backgrounds in the organic food industry. All of our CBD products are 100% plant-based, non-GMO, dairy-free, and gluten-free. You won't find any artificial flavors or colors here!
We get our CBD through a clean CO2 extraction process. Supercritical liquid CO2 runs through ground hemp and strips away the CBD along with terpenes, flavonoids, and other hemp compounds. Finally, the CO2 evaporates, leaving behind a clean end product. Some other companies use solvents, like butane, in their extraction process, which leaves toxic residue in their vape juice.
We exclusively use premium quality CBD and all-natural, hemp-derived ingredients — no vegetable glycerin, propylene glycol, polyethylene glycol, or MCT oil. All of our vape cartridges are made with broad spectrum CBD, so you get the benefits of multiple cannabinoids without the downsides of THC.
You don't have to take our word for this. Check out the rave reviews our customers have left. We place great value on brand transparency. All of our CBD products, including our vape cartridges, are tested by a third-party laboratory. They test our products to confirm their CBD potency and ensure that they meet the legal requirement of 0.3% THC or less.
Once the tests are complete, the lab documents the results in a Certificate of Analysis (COA). We post the COAs for all of our products on our website. You deserve to know exactly what's going into your body so that you can enjoy your vaping sessions with total peace of mind.
CBD Fun Fact
Did you know that CBD is not only useful for humans but it can offer tremendous benefits for pets and animals as well? In fact, every mammal and almost every living creature is born with an endocannabinoid system, which means CBD will work for them pretty much the same way it does for humans. Want to learn more? Check out our 100% trusted sister brand HolistaPet for all your pet CBD inquiries.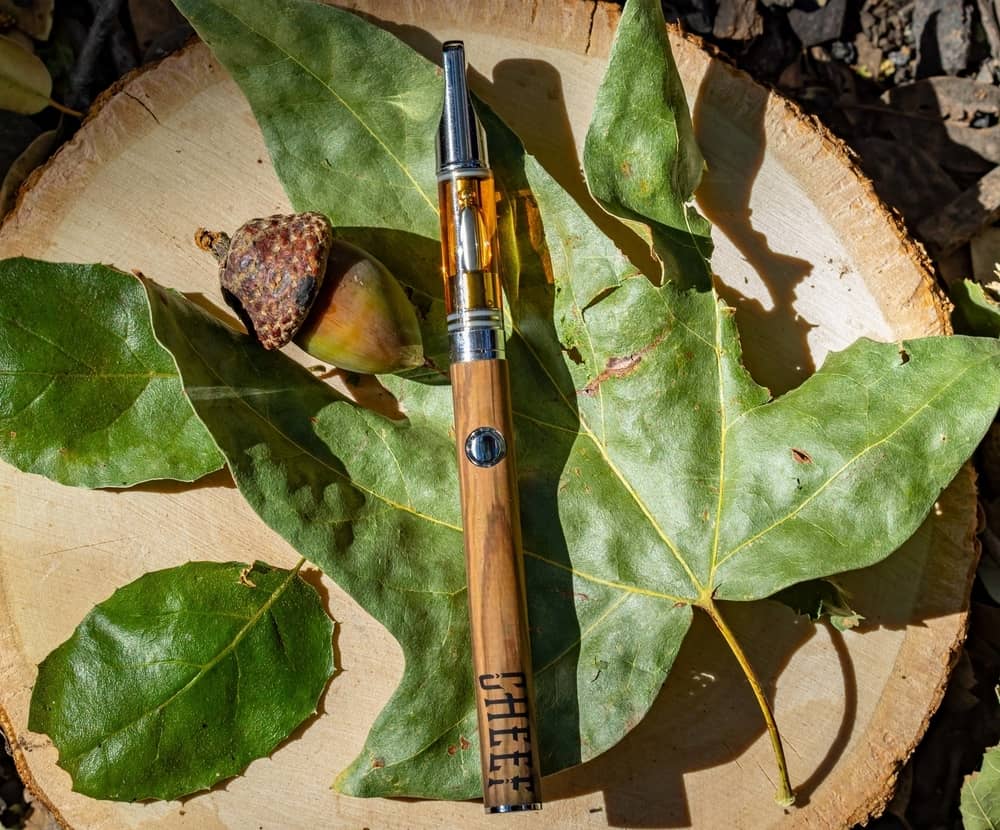 FAQs – CBD Cartridges
We get a lot of questions about the world of hemp and CBD. That's why our team of customer service agents work hard to explain anything you may be curious about. But before you give us a call, check out these answers to the most frequently asked questions!
How Long Does CBD Vape Stay In Your Body?
The effects of vaping CBD last from 3-4 hours on average. One of the great advantages of a CBD vape is that you can feel the effects almost instantaneously. You don't have to play the waiting game that comes with taking edibles, and when the effects start to fade, you can easily re-up by taking a few more puffs.
After the effects wear off, CBD typically stays in your system for another 2-5 days. You will not feel any of its effects during this time (unless, of course, you take more CBD), and you don't have to worry about getting "high" because our CBD vape cartridges contain no THC.
Can You Refill CBD Cartridges?
You should not attempt to refill your CBD vape cartridge. We cannot emphasize this enough: CBD vape pens use a disposable cartridge. The only way to open such a cartridge is to break it (this probably goes without saying, but we don't recommend doing so). There is a good reason companies do this, as refilling CBD vape cartridges on your own is risky.
Our vape cartridges are filled with a premium blend of broad spectrum CBD distillate and terpenes — nothing else. This liquid e-juice is specifically designed to be inhaled, but other forms of CBD are not. In particular, you should be cautious of products called "CBD oil" since this term can mean a few different things.
Can You Refill CBD Cartridges with CBD Oil?
Do not, under any circumstances, try to refill a CBD vape cartridge with CBD oil. CBD vape juice and CBD oil are not the same things. Unfortunately, a lot of people get confused by these terms. Let's clear things up.
Different companies use different terminology when referring to their vape liquid. Understandably, this can cause some confusion. You have probably heard terms like "CBD vape oil" and "CBD oil cartridge." The word "oil" is misleading in this context, and unfortunately, some people confuse CBD vape juice with CBD oil. Let us be clear about Cheef Botanicals' terminology:
CBD Oil: Also known as tincture. Designed to be ingested, never inhaled. Do not vape CBD oils.
CBD Vape Juice: Also known as e-juice or simply juice. We manufacture this juice to be vaped, so it is safe to inhale. Although other brands might do so, we never refer to our juice as "oil."
In the next FAQ, we'll take a closer look at the difference between CBD oil and vape juice.
What's the Difference Between CBD Vapes & CBD Oil?
CBD oil is a tincture made from CBD extract and hemp seed oil. Hemp seed oil is a highly nutritious superfood packed with Omega 3, 6, and 9 fatty acids. While hemp seed oil is good to eat, it is not suitable to breathe in. Think about olive oil. It's nutritious and delicious, but would you want to inhale it?
The liquid in our vape cartridges is made from CBD extract and hemp-derived terpenes alone. It contains no carrier oils or added flavors. This ensures a clean product that you can safely vape.
Are All CBD Cartridges Compatible With All Vape Pens?
Not all cartridges are compatible with all vape pens, but most of them are. There is a widely-recognized standard for vape pens: 510 threading. Our batteries and cartridges are designed to fit 510 threading, so they are interchangeable and compatible with other battery brands.
Most vape pens on the market also adhere to the 510 threading standard. However, a few brands make unique cartridges designed only to fit their specific batteries — a little selfish of them, don't you think?
Will Using a CBD Cartridge Make Me Cough?
There is a chance that vaping CBD will make you cough, but it's not a certainty. Many people cough the first time they try a CBD vape pen because they are not yet accustomed to the way it feels. You are much more likely to cough if you take big hits off your pen. Taking shorter puffs can save you from a coughing fit, especially if you have never vaped CBD before.
How Many Hits Are In A CBD Cartridge?
Each vape cartridge generates approximately 200-400 puffs, with each puff delivering 1-2 mg of CBD. The number of puffs you can get varies based on a few factors. A larger cartridge will generate more puffs. We carry 200 mg and 400 mg carts.
It also depends on how long you inhale. Thicker hits drain the vape cartridge faster. We recommend that you start with the smaller 200 mg cartridge and take 15 to 20 mg doses. Then, you can increase or decrease the dosage depending on how your body responds. For more information, you can check out our handy dosage chart.
Do CBD Cartridges Smell Like THC?
Some of them do, and some of them don't. It depends on what kind of CBD cartridge you buy. Each cartridge has a unique terpene profile, which determines how it smells. Terpenes are natural chemical compounds found in many plant species that dictate scent and flavor.
If the cartridge is named for a cannabis strain such as OG Kush, Sour Diesel, or Gorilla Glue, you bet it will smell like that strain. If you aren't a fan of how cannabis smells, or don't want the attention that scent can draw, no worries. You can choose a fruity aroma like Mango, Watermelon, or Lemonade.
What's the Difference Between a CBD Cartridge and CBD Flower?
CBD flower refers to the raw flower of the hemp plant. This is typically smoked in a joint or water pipe. Some people prefer vaping CBD to smoking because vapor is milder. CBD vape pens are more portable and discreet as well.
Vape juice has a higher concentration of CBD than hemp flower. While flower ranges from 10-20%, our vape cartridges pack a formidable 45.91% CBD! This is even more impressive when you realize that CBD vapor has 40-50% bioavailability.
Another significant difference between flower and vape carts is that flower is full spectrum. Full spectrum CBD products contain all the flavonoids, cannabinoids, and terpenes naturally found in hemp plants. This includes a very small amount of THC (0.3% or less). In such a low concentration, THC is not intoxicating. But if you are concerned about traces of THC showing up on a drug test, your safest bet is a broad spectrum CBD product like a vape pen!
CBD Cartridges Near Me
You might be asking yourself, "Where can I find CBD cartridges near me?" A simple Google search for "CBD cartridges near me" will provide listings of local merchants that carry CBD carts. However, you might find these results inadequate due to brick-and-mortar stores generally carrying a limited selection and quantities of carts.
If you want to prevent yourself from playing a frustrating game of Russian roulette with local retailers, then your best bet for finding a quality selection of CBD cartridges is to shop online. In fact, shopping online is easier, faster, and more convenient! You'll be able to buy CBD cartridges from brands that have the most varieties! Additionally, you can compare and contrast between multiple brands to make the most informed judgment.
One of the best CBD vape cartridge brands is Cheef Botanicals! We carry the best CBD vape cartridges around backed by a Certificate of Analysis (COA) to ensure you're getting a high-quality product.
Here's why our CBD carts are the best:
100% all-natural ingredients, organic, and non-GMO
No additives, preservatives, or harmful chemicals
No MCT, PG, PEG, or VG
Broad spectrum (Contains no THC)
Available in 200mg and 400mg strengths
Free shipping on all products!
Don't have a quality battery or charger? No problem! We sell both!
Each CBD vape cartridge is third-party lab tested and comes with a COA
Want to save more money? Become a member of our free subscription services and save 25% on every order! When you become a member of our subscription services, you'll get your CBD carts delivered directly to your doorstep before you run out! 
You'll never need to search for "CBD cartridges near me" ever again after you try our products and sign up for our money-saving subscription services. So what are you waiting for? Take advantage of our deals right now!