Columbus, Ohio is a major midwest metropolis teeming with many people who have yet to discover the benefits of CBD oil. Named after the Italian explorer Christopher Columbus, Ohio's state capital has plenty of CBD stores for residents to explore and chart their course to general wellness. These intrepid CBD enthusiasts might be wondering where to buy CBD oil in Columbus, Ohio. Unlike Christopher Columbus, we'll help Columbusites make it to their destination without getting lost.
If you live in or around Columbus, Ohio, we'll teach you how to find the best CBD oil in the city. We'll also explain why the best option is to buy from Cheef Botanicals. So without further ado, Columbusites, let's set sail and find out where to buy CBD oil in Columbus, Ohio!
Is CBD Oil Legal In Columbus, Ohio?
Yes, CBD oil is legal in Columbus, Ohio. The 2018 Farm Bill legalized hemp and hemp-derived products across the United States of America. As a result, Columbusites can purchase CBD oil and receive its many holistic wellness benefits.
CBD products like CBD oil are all hemp-derived and contain less than 0.3% or less THC. This number is important because it distinguishes a legal product from an illegal one. The federal government defines anything with THC content above 0.3% as marijuana. Tread carefully and make sure the CBD oil you buy from Columbus CBD stores satisfies the legal THC limit and is hemp plant-derived.
CBD products generally come in three varieties: full spectrum CBD products, broad spectrum CBD products, and CBD isolate. Let's take a look at them:
Full Spectrum CBD Products: Contain CBD, other cannabinoids, terpenes, flavonoids, and 0.3% or less THC.
Broad Spectrum CBD Products: Contain CBD, other cannabinoids, terpenes, flavonoids, and are THC-free.
CBD Isolate: 99%+ pure CBD. Typically available as a crystalline solid or powder. Contains no other cannabinoids, terpenes, flavonoids and is THC-free.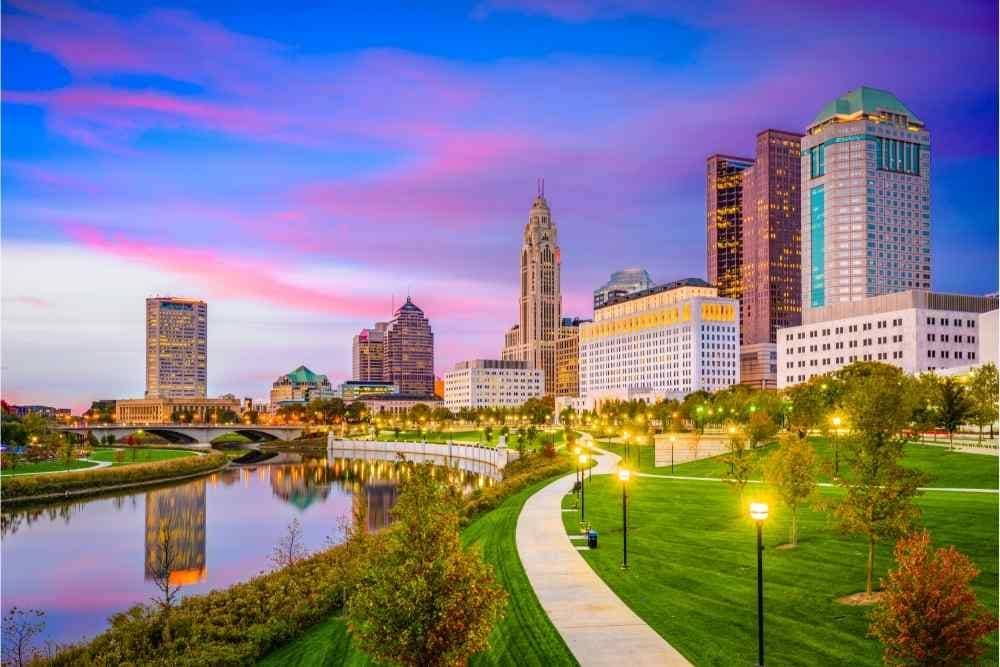 How Old Do You Have To Be To Buy CBD Oil In Columbus, Ohio?
You need to be 18 years old to buy CBD oil in Columbus, Ohio. However, the age limit can vary depending on what kind of local store you decide to buy your CBD oil from. You must be 18 to purchase CBD oil from CBD stores or health food stores.
The age limit increases to 21 when you buy CBD oil from a recreational dispensary that sells medical marijuana. A valid Ohio I.D. card is all you need to buy CBD oil in Columbus. There is no need for a license to buy or sell CBD products in the state of Ohio.
Where to Buy CBD Oil In Columbus, Ohio?
You can buy CBD oil from several stores in Columbus. But chances are that these stores will have limited stock, charge higher prices, and be located outside your range. Your best option is to purchase CBD oil online from reputable companies like Cheef Botanicals to prevent these issues from coming up.
At Cheef, we make all of our products with your health and safety in mind. You never have to worry about limited stock, high prices, or driving several miles to get CBD oil when purchasing from us. You can shop from the convenience of your home and have our products delivered for free right to your doorstep! Get 15% off your CBD oil with this special online discount code: COLUMBUS15
In addition to our best-selling full spectrum CBD oil, we also carry the following CBD products to boost your general wellness:
Vape Cartridges: Attach these to a standard 510-threaded battery and start vaping away. We carry a delectable assortment of flavors to choose from.
Flower: Make your own joints or pack a pipe with our premium buds or smalls.
Edibles: In addition to CBD oil, consume some gummies at your leisure, take some soft gels or capsules when you're on the go, or add some honey sticks to your toast or tea.
Concentrates: The most potent form of CBD, use these with a dab rig or a wax vape to receive the immediate benefits of CBD.
Topicals: Apply these to your skin and let CBD work its magic!
Local CBD Stores
If you require instant satisfaction and don't want to wait for your order to conveniently arrive at your doorstep, then you will want to visit these top-rated local stores:
CBD Oil Columbus: 199 OH-3, Columbus, OH 43215
Midwest Wellness CBD Store: 5425 Bethel Sawmill Center, Columbus, OH 43235
Columbus Botanical Depot: 14 W Pacemont Rd, Columbus, OH 43202
Purely CBD: 3258 E Main St, Columbus, OH 43213
Whether you live in Northwest Columbus, Downtown, or just outside the city, you can visit these shops to get your hands on CBD oil in Columbus.
Can CBD Oil Be Shipped To Columbus, Ohio?
Yes, CBD oil can be shipped to Columbus, Ohio! As we previously mentioned, you should buy CBD online if you want the best products, selection, and bang for your buck. In fact, you can purchase CBD oil right now from our online shop and have it shipped directly to your residence. There are other perks when shopping online. At Cheef Botanicals, we offer free shipping on all of our products and deliver not just to Columbus but anywhere in the state of Ohio.
Why Choose Cheef Botanicals?
At Cheef Botanicals, we specialize in safe, clean, and potent CBD products to improve your overall soundness. Not only will you find CBD oil here, but you'll also find a range of products to suit your specific needs. Here's why we have the best CBD products around:
Safe, Clean, All-Natural, and Legal CBD Products
Rest assured, all of our CBD products are made using safe and clean production processes and are 100% legal. We don't use any harmful chemicals, solvents, or additives when making our CBD oil or other CBD goods.
We employ an expensive and safe CO2 extraction process to extract CBD from organic hemp sourced from the best hemp farms in the United States. All of our CBD products are made following the strict standards established in the 2018 Farm Bill. Thanks to our ethical standards, we can ship CBD to you no matter where you live.
We offer CBD products in the following varieties:
Full Spectrum
Broad Spectrum
Isolate
Our products are cruelty-free and made from 100% all-natural, organic ingredients. All of our products go through third-party lab testing to ensure quality and potency. They also come with a detailed lab report in the form of a Certificate of Analysis (COA) that you can view or download directly from our website.
Free and Fast Shipping With 25% Off On Every Order!
Get free, fast shipping on every product with no minimum purchase required! We also offer free subscription services to make sure you never run out of CBD ever again. Have your CBD oil delivered discreetly to your doorstep every two weeks or once a month.
Members also save 25% on every order all the time. Never pay full price or for shipping when you're a member of our free subscription services. Take advantage of these amazing discounts and become a member today! Your wallet will thank you for it.
CBD Oil Alternatives
The benefits of CBD are not just limited to oil. With various ways to consume CBD, you'll find an alternative to CBD oil that's right for you. Let's take a look at the various CBD products to choose from:
Vape Cartridges: Convenient and discreet for on-the-go puffs. Each CBD Vape Cartridge contains a unique blend of terpenes for a one-of-a-kind flavor.
Flower: Premium Flower, Smalls, and Pre-Rolls.
Edibles: CBD Gummies (cubes or fruit), Honey Sticks, Soft Gels, and Capsules.
Concentrates: CBD Wax, Isolate, and Distillate.
Topicals: CBD Body Lotion, Relief Salve, Hand Sanitizer, and Bath Bombs.
Final Thoughts – Where To Buy CBD Oil in Columbus, Ohio
Home of the legendary Ohio State Buckeyes, one of the country's best zoos, and some of the best urban parks in the country, Columbus, Ohio has it all. The city also has a great selection of stores to buy CBD oil from. However, these stores generally have a limited selection of CBD oil compared to online stores. When shopping for CBD oil online, only buy from reputable companies like Cheef Botanicals. We're CBD experts and have one of the best full spectrum CBD oils around!
If you're a resident of Columbus, Ohio, we can ship our CBD oil directly to your doorstep. Please take advantage of our free shipping and head to our shop to get CBD oil today! While you're there, use this special discount code to get 15% off your order: MYCITY15. Save more money by becoming a member of our free subscription services and get 25% off on every purchase of our CBD oil!