With more and more people learning about the soothing benefits of CBD, there are understandably plenty of questions around it. That's why we at Cheef Botanicals want to utilize our CBD expertise to answer the common question of whether or not any THC is in CBD oil. It's a completely reasonable question because the world of hemp can include many different compounds, including cannabidiol (CBD) and tetrahydrocannabinol (THC). With CBD oil (also called tincture) being one of the most efficient and versatile methods of cannabidiol consumption, let's take a look at some CBD facts along with what's inside and answer the question: does CBD oil have THC?
What is CBD Oil?
CBD oil, as you may know, is liquid cannabidiol that can be swallowed, mixed with food or drink, applied topically, or taken sublingually. When CBD enters our bodies, it interacts with and promotes the functionality of our endocannabinoid system (ECS). Our ECS regulates homeostasis within the body by assisting our breathing, mood, stress, digestion, heart rate, and more.
CBD is in the natural oils produced by the hemp plant. Once a hemp crop is mature it gets harvested, then the plant material goes through an extraction process to yield a highly concentrated hemp extract. After that, the concentrate is combined with a carrier oil such as hemp seed oil to create CBD oil at different potencies. Our CBD oil is vegan, rich in essential omega fatty acids, and a good source of protein!
What is THC?
Tetrahydrocannabinol, or THC, is also found in hemp. It is another compound that binds to cannabinoid receptors in our bodies. This cannabinoid induces psychoactive or "high" effects when taken in large quantities. However, THC levels are much lower in hemp plants than they are in marijuana plants, and federally legal cannabidiol products should never contain enough tetrahydrocannabinol to cause these effects in consumers.
The Farm Bill of 2018 legalized hemp, which is a form of cannabis that has low levels of THC (0.3% or less). Marijuana is another form of cannabis, but it can be much higher in THC (above 0.3%). Because high levels of THC are still illegal in many areas, marijuana is not often used for cannabidiol extraction. But in areas where marijuana is legal you might find CBD products with high amounts of THC. If you want to avoid those types of products, pay attention to THC amount on labels or packaging.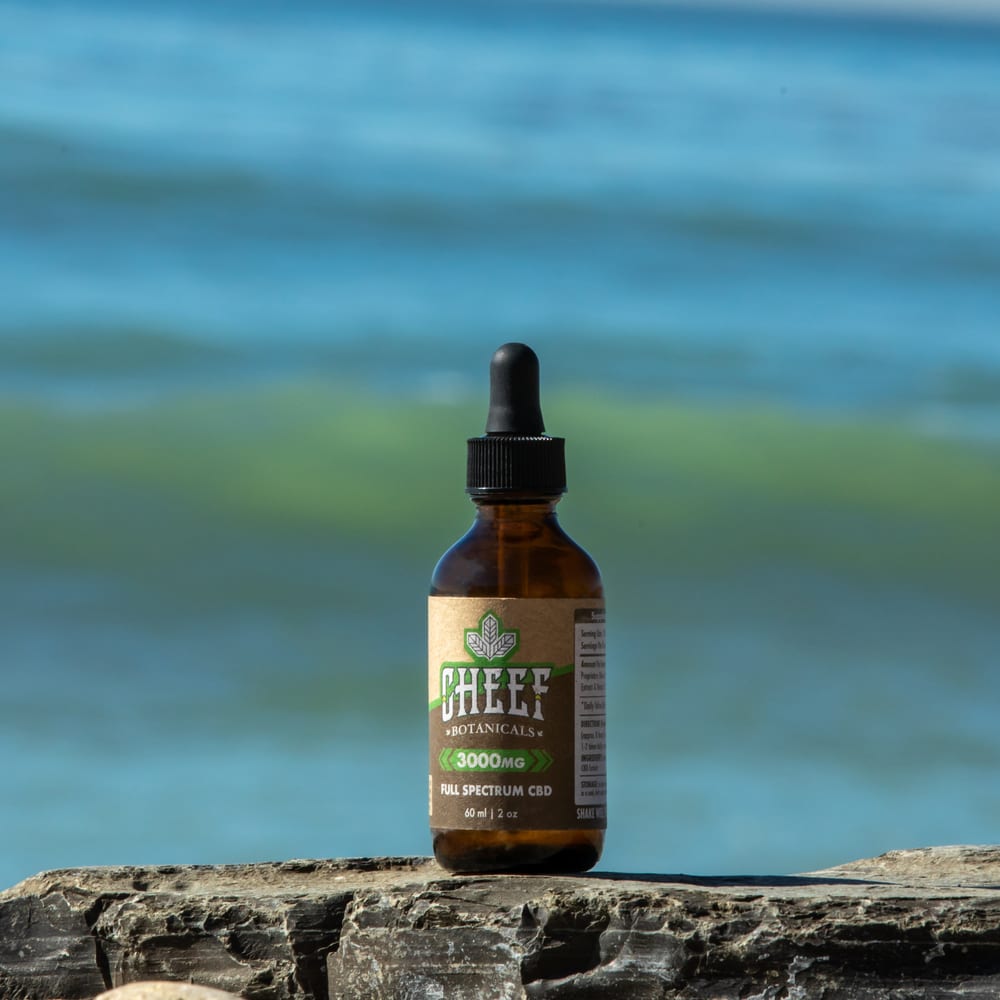 Does CBD Oil Have THC?
So, does CBD oil contain THC? The answer is sometimes. Let's take a look at the different formulations of CBD oil and whether or not each one contains THC. When it comes to CBD, there are full-spectrum, broad-spectrum, and isolate products. Each kind comes with its own unique benefits, though all contain the calming and tranquil effects of CBD.
When CBD is taken from hemp, other compounds also get extracted. These may include flavonoids — which affect the plant's color — or terpenes which carry the aromas and flavors. We at Cheef Botanicals use these natural ingredients in several ways. For example, we use terpenes as thinning agents in our e-juice vape cartridges.
During the process, low amounts of THC also get extracted from hemp. In addition to flavonoids, terpenes, and other cannabinoids taken from hemp material, full-spectrum CBD products also contain equal to or less than 0.3% THC. These levels are low enough that the consumer does not get "high" or feel the intoxicating effects of THC. So, why have THC included at all? Well, this is due to something called the "entourage effect."
The entourage effect refers to the boost in effectiveness when all of the components naturally found in hemp are ingested at the same time. This synergy is present in broad-spectrum CBD as well, but it is even stronger in full-spectrum products. For those who would rather avoid THC altogether, broad-spectrum offers all of CBD's benefits without tetrahydrocannabinol (and is still somewhat boosted by the entourage effect).
CBD Isolate Formulation
For those who want the maximum potency of CBD without anything else involved, isolate might be the perfect product for you. CBD isolate contains only cannabidiol molecules that have been "isolated" from the other compounds extracted from hemp. Cannabidiol isolate is 99%+ pure CBD, completely free of THC!
Isolate is a mostly tasteless and odorless fine white powder. The lack of flavor and odor in an isolate powder makes this form of cannabidiol ideal for those looking to cook with CBD or mix it into their drinks.
Additionally, the purity of isolate might be ideal for anyone who wishes to feel the benefits of CBD without worrying about THC or drug tests. Broad-spectrum CBD might also appeal to those who have to take the occasional drug test. So, let's take a look at this next popular form of cannabidiol.
Broad Spectrum CBD Formulation
Isolate may not contain any tetrahydrocannabinol, but does all CBD oil contain THC? The answer is no, some cannabidiol oil may contain no THC at all. Full-spectrum CBD contains all of the extracted compounds from hemp (including 0.3% THC or less). This results in a product that delivers the full force of the entourage effect.
Though, did you know that the synergistic entourage effect can still be felt without THC? This is what makes broad-spectrum CBD such an incredible option. All of the flavonoids, terpenes, and other compounds that are taken from hemp material are inside of broad-spectrum CBD, just like in full-spectrum products. However, broad-spectrum CBD contains no THC! It may be ideal for those who'd rather avoid tetrahydrocannabinol for a drug test or other reasons.
Full Spectrum CBD Formulation
For the complete strength of the entourage effect, full-spectrum CBD oil is the perfect product. These oils contain all of the compounds extracted from hemp, including low amounts of THC. While you won't feel the effects of THC the same way that you would if consuming marijuana, small doses of tetrahydrocannabinol boost the entourage effect and add to the overall tranquility of CBD. Furthermore, keeping the levels of THC below 0.3% doesn't leave you feeling intoxicated, groggy, or "high."
Is CBD Oil Better With or Without THC?
CBD and THC balance each other out extremely well in the right doses. This means that CBD oil is generally better with THC, but it all comes down to personal preference. The synergistic benefits of ingesting all of the compounds that naturally occur in hemp are fully felt when low amounts of THC are able to work in harmony with CBD. This makes full-spectrum CBD oil the best product for those who are looking to experience cannabidiol in all of its glory.
However, if you're an athlete or work at certain companies, a routine drug test might be of concern to you. While high-quality full-spectrum products should not have high enough levels of THC to cause you to fail a drug test, some may not want to risk it at all. Others may want to avoid THC for their own reasons. This is completely understandable, and part of the reason why we at Cheef Botanicals have perfected our broad-spectrum vape juice recipe.
If you'd like CBD without the THC, broad-spectrum oil still provides some of the entourage effect's boost in cannabidiol efficacy without any tetrahydrocannabinol. If potent, pure CBD interests you most, isolate might be just what you're looking for!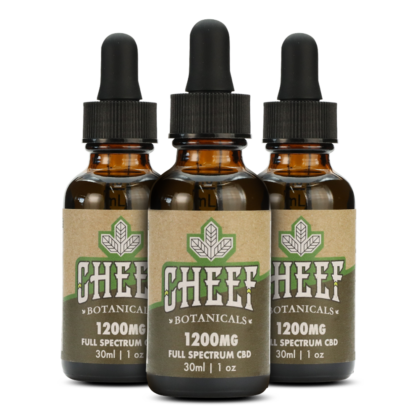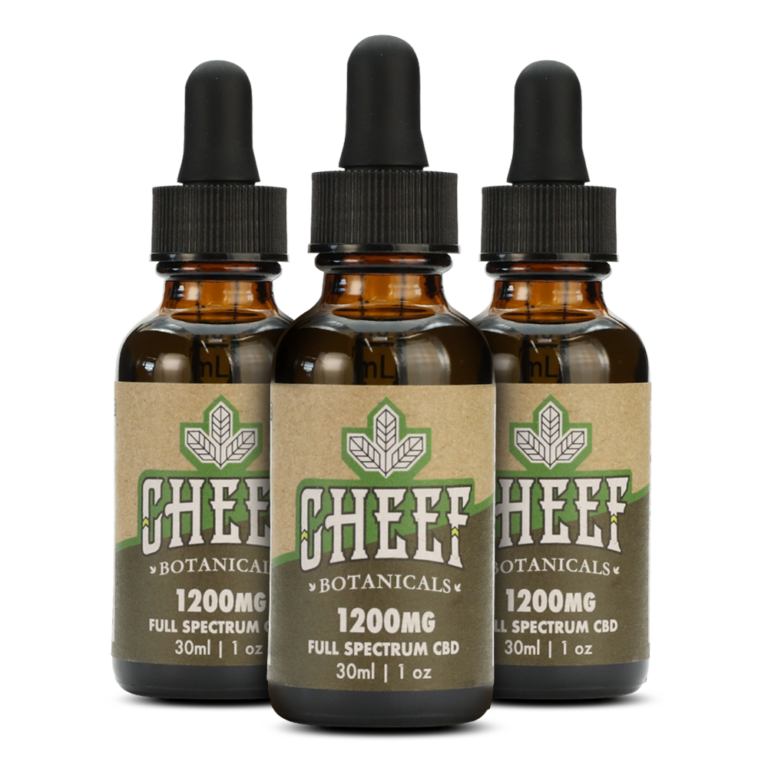 Cheef Botanicals Full Spectrum CBD Oil
Here at Cheef Botanicals, we use 100% organic, all-natural ingredients to create our effective CBD oils. We don't use any additives, preservatives, GMOs, or artificial flavorings. Our ingredients consist of pure CO2 extracted full spectrum CBD distillate and hempseed oil — nothing more! Hempseed oil is a nutritious superfood that promotes good skin, heart, and brain health.
Our full-spectrum oil contains THC levels that are equal to or less than 0.3%. This ensures you won't feel any psychoactive effects while still getting all of the benefits that come from CBD and THC working together. To ensure this standard we set for ourselves, our third-party lab-tested certificates of analysis are available to the public.
More Cheef Botanicals Full Spectrum CBD Products
We at Cheef Botanicals didn't just stop with CBD oil. Our numerous full-spectrum products have something to offer for everyone. If quick, tasty, and specifically dosed cannabidiol sounds most appealing to you, then consider our full-spectrum CBD edibles!
Our cannabidiol-infused honey sticks make for a delicious snack, and our potent CBD gummies are 100% vegan, organic, and natural. We also don't use any artificial colors or flavorings in our gummies. They come in a variety of different sizes (300mg, 750mg, 1500mg, and 3000mg)!
Other full-spectrum products include CBD lotion, hand sanitizer, relief salve, and even lip balm! All of these will give you the soothing effects of THC and CBD's synergy as you unwind from a long day, cool down after a workout, get ready for bed, or start your morning.

Cheef Botanicals Broad Spectrum CBD Products
If you'd prefer to avoid THC, we've still got you covered. Cheef Botanicals' broad-spectrum cannabidiol products offer relaxing and tranquil feelings without the low amounts of THC found in full-spectrum CBD.
Our bath bombs are the ideal way to wash away tension, and our three flavors (peppermint, lavender, and citrus) give off sweet-smelling and calming aromas. Our pre-filled CBD vape cartridges are another portable and discreet option for cannabidiol consumption. We flavor our e-juice with natural terpenes, offering consumers tasty flavors like mango, pineapple express, sour diesel, and many more.
Related: Purchase CBD Vape Cartridges
We also don't use any harmful thinning agents like propylene glycol (PG), vegetable glycol (VG), polyethylene glycol (PEG), or medium-chain triglycerides (MCT) in our carts. These thinning agents can be harmful once heated and broken down. This is why we at Cheef Botanicals only use broad-spectrum CBD and natural terpenes in our pre-filled cartridges.
Cheef Botanicals Isolate CBD Products
You may not want the low amounts of THC that come in full-spectrum products, and that's okay because we've still got options for you. Cheef Botanicals' isolate concentrate is a good alternative for those not interested in anything besides pure CBD. Our capsules are just the thing for those who wish to take CBD on a routine schedule (without THC). Unlike our gummies, however, these capsules consist of 99%+ CBD molecules.
Final Thoughts – Does CBD Oil Have THC?
Full-spectrum CBD oil has THC, and broad-spectrum oil does not. The entourage effect can still be felt in both, while CBD isolates are a refined, versatile alternative. There truly is something for everyone and plenty of room to experiment! No matter how you like your CBD, Cheef Botanicals has you covered!
Additional Resources: Great CBD Vape Cartridges
Not sure which CBD product is right for you??? Take the quick quiz to find out!