You love bath bombs. You just can't get enough of that soothing fizz, the intoxicating aroma, the whimsical colors. But lately, you've noticed a rash and believe it's from the harsh chemicals found in some commercial bath bombs. Now you're on the hunt for organic bath bombs, but you've realized it's a bit tough to narrow down the search!
Thankfully, we've put together a guide for the top organic bath bombs. These are products you can trust to be fully natural and organic. So what makes a bath bomb organic? And which bath bombs should I implement into my bath routine? We've got you covered!
What is an Organic Bath Bomb?
Organic beauty and health products are becoming more and more popular. The term simply means that all of the ingredients used in these beauty products are organically farmed and regulated by the Food and Drug Administration. Depending on the state, the percentage of organic ingredients used varies (in California it's 70% or more), but any beauty product with a USDA Organic seal is at least 95% organic. To be certified organic, beauty products will not have any of the following:
Animal testing
Genetically modified organisms (GMO)
Chemicals
Synthetic colors, dyes, and fragrances
Instead, organic bath bombs will have natural, organic ingredients that have been sustainably sourced and a transparent manufacturing process. Sometimes they will even contain recycled content, making them better for the planet (not just your skin).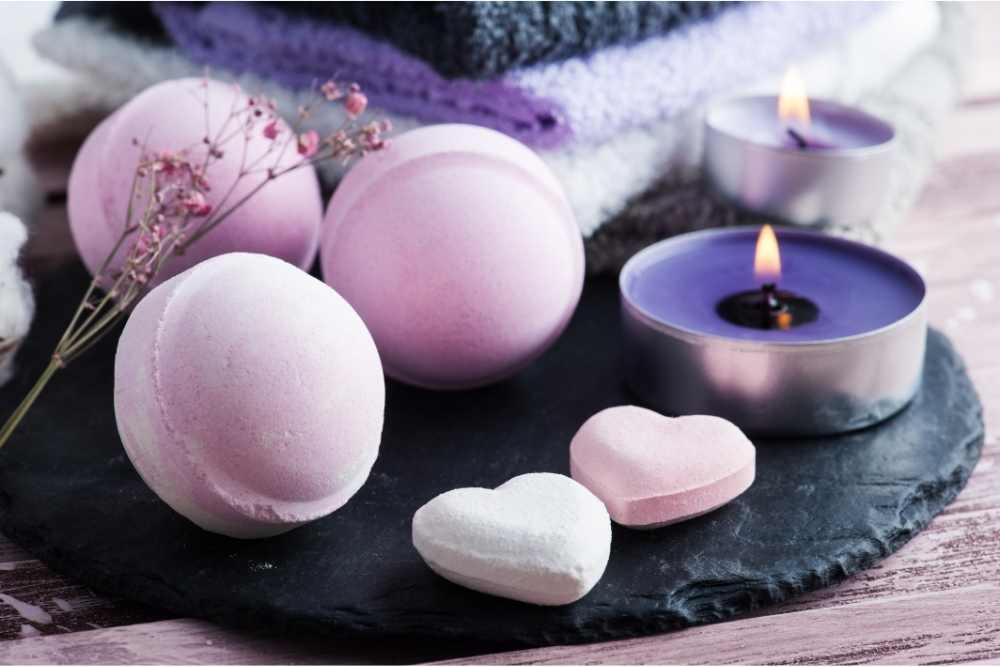 What is the Purpose of Organic Bath Bombs?
Bath bombs that don't boast the organic label can sometimes contain chemicals and ingredients that are harmful to your skin. Sometimes they'll contain sodium laureth sulfate, artificial dyes, fragrances, and glitter that irritate your skin, even causing rashes or harming sores and cuts. Getting an infection is also possible from the overuse of these bathing accessories, especially for women (think yeast infection and UTIs).
For people looking to relax in their bathtub after a long day at work or spend a Sunday pampering themselves, organic bath bombs are a great addition to any bath! They make any bath soothing, relaxing, and stress-relieving, while also benefiting your skin.
Are Organic Bath Bombs Safe?
Bath bombs and topicals with all-natural ingredients are much safer than most commercial variations because they don't contain the ingredients that can lead to rashes and irritation. Natural products will often replace them with nourishing ingredients that moisturize and soften your skin, like shea butter, coconut oil, sunflower seed oil, and Epsom salts.
Related Article: What Makes a Bathbomb Fizz? Ingredients That POP!


Organic bath bombs are often safe for everyday use! Of course, you want to make sure you're not disrupting your pH balance or bothering your skin. If you don't notice any adverse reactions to frequent bath bomb use, organic varieties are able to be used almost daily thanks to their natural, safe ingredients and lack of chemicals.
Benefits of Using Organic Bath Bombs
Bath bombs are great for your beauty and health needs. They moisturize your skin, hydrating the epidermis layer, making your skin smooth and soft. You'll most likely feel youthful and refreshed after using a bath bomb, especially an organic one.
A relaxing, hot bath can make you breathe deeper, supporting your circulatory system. It can also improve your immune system. The addition of a bath bomb can also ensure your bath alleviates muscle tension and discomfort. The sodium bicarbonate and citric acid that are responsible for making bath bombs fizz will also repair your skin and strengthen your blood vessels.
Bath bombs will basically make you feel rejuvenated, relaxed, and refreshed — inside and out! But they can also create an atmosphere like no other. Nothing transports you to another — more peaceful — realm quite like colorful, swirly water and intoxicating fragrances. It can make a bath not only feel luxurious but like a tropical getaway. Or maybe a high-end spa. Or even a hot tub right out of that romance novel you just read. You know, the one with the mansion and single millionaire. Transport yourself with relaxing aromas and bubble sensations.
Related Article: How to Use a Bath Bomb: Follow This Industry-Leading Guide

Top 4 Organic Bath Bombs You Should Try
Even though organic and natural bath bombs are becoming more present in the beauty market, a lot of them are hard to come by. Sometimes bath lovers will end up making their own bath bombs when they can't find truly organic products. We've put together a shortlist of some bath bomb products you can trust — not just their ingredients, but that they will provide the luxurious, relaxing experience you're craving!
Bathorium
Bathorium's all-natural bath bombs are 100% green and clean ingredients — and free of chemicals. These slow-release bath bombs come in a variety of scents, all of them designed beautifully. Each Bathorium bath bomb has a decoration, making them feel extra high end and special each and every use.

Cheef Botanicals
Our organic, natural bath bombs have all of the benefits of a bath bomb with the addition of CBD! Cannabidiol is one of 113 phytocannabinoids found in hemp. It's non-psychoactive, meaning it doesn't get you high when it reacts with the cannabinoid receptors in your endocannabinoid system (ECS). When it reacts with the receptors in your skin, CBD will provide relief to that area. You'll feel less sore and experience less discomfort almost instantly.
The CO2 extracted hemp in our CBD bath bombs is from some of the highest grade hemp available, sourced from local farms. There are no harsh chemicals in any of our bath bombs. They come in Citrus Obsession, Lavender Awaken, Peppermint Ora. Each one will make you feel relaxed, relieved, and ready to take on the world.
Related Article: Soothing Action of CBD Muscle Rub [Target Deep Relief]


Sky Organics
Sky Organics' set comes with six large bath bombs, all handcrafted in the USA using 100% pure essential oils, organic coconut oil, and Epsom salt. Ranging from strawberry milkshake to Caribbean coconut, these sweet-smelling bath bombs will make you feel soothed and hydrated after your highly aromatic bath.
Rocky Mountain Soap Co.
If you love lavender, this is the product for you. Their lavender variety is made with French lavender, making for a seriously relaxing soaking experience. The coconut oil and cocoa butter in their bath bombs will make you feel incredibly moisturized long after your bath, meaning the soothing sensation of their bath bombs doesn't have to end just yet.
Final Thoughts
It's finally time to sink into the bath, underneath that swirly layer of bright colors, and close your eyes, breathing in the scent of your favorite bath bombs. It's even easier to relax and escape when you know the products you are using are organic and safe. So put on your headphones, open a book, and get ready to melt in your favorite organic bath bomb!. Check out my source.
Not sure which CBD product is right for you??? Take the quick quiz to find out!