No one can deny that peanuts are an incredible superfood packed with protein and healthy fats. But, did you know that you can gain even more benefits from this wonderful nut by making it into CBD peanut butter?
This creamy, delectable treat is one of the BEST edibles you can make at home. Why? It's easy, delicious, and you can use it in countless recipes! We all know how versatile peanut butter is, and CBD peanut butter is no different. You can use it in sandwiches, bake it into cookies, or get even more creative. Read on to find out how you can make CBD peanut butter at home, what to look for when buying it, and how it promotes wellness!
What Is CBD Peanut Butter?
CBD peanut butter is simple — you take your everyday peanut butter and infuse it with cannabidiol. The benefits of both ingredients can serve to boost your wellness and provide soothing effects. CBD oil also tends to have an earthier taste, which complements the peanut butter flavor well.
What Are The Benefits of Peanut Butter?
Peanuts and peanut butter are nutrient-rich superfoods that have many benefits for your health. Peanuts are loaded with vitamins, minerals, healthy fats, and proteins. These nutrients can lower the risk of heart disease, help with weight loss, and improve our heart health. One serving of peanut butter can provide you with:
Proteins, fiber, and carbohydrates
19 vitamins and minerals (vitamin E, vitamin B6, zinc, copper, potassium, magnesium, and more)
"Healthy" fats that can help lower cholesterol
Bioactive compounds such as antioxidants, polyphenols, and phytosterols. These compounds boost heart health, possibly lower the risk of heart disease and cancer and improve blood flow.
When buying peanut butter, watch out for brands that are high in sugar, trans fats, and vegetable oils. Though peanut butter provides tons of nutrients, these additional ingredients can be unhealthy for you. You can buy natural formulas made with minimal ingredients at health or organic grocery stores.
What Are The Benefits of CBD?
Cannabidiol (CBD) provides many therapeutic, soothing benefits. It interacts with the endocannabinoid system, a network of receptors that influence key bodily functions like mood, digestion, pain response, and more. Many people prefer using CBD over THC because it does not leave you feeling intoxicated or high.
Some of the benefits that CBD can provide are:
Better sleep
A balanced appetite
Improved mood
Relief from aches and soreness
Easier digestion
Plus, there are very few side effects associated with CBD. Most people who use cannabidiol tolerate it very well, and any reported side effects are typically mild.
Some side effects of CBD are:
Slight dizziness or nausea
Dry mouth
Change in mood or appetite
Mild diarrhea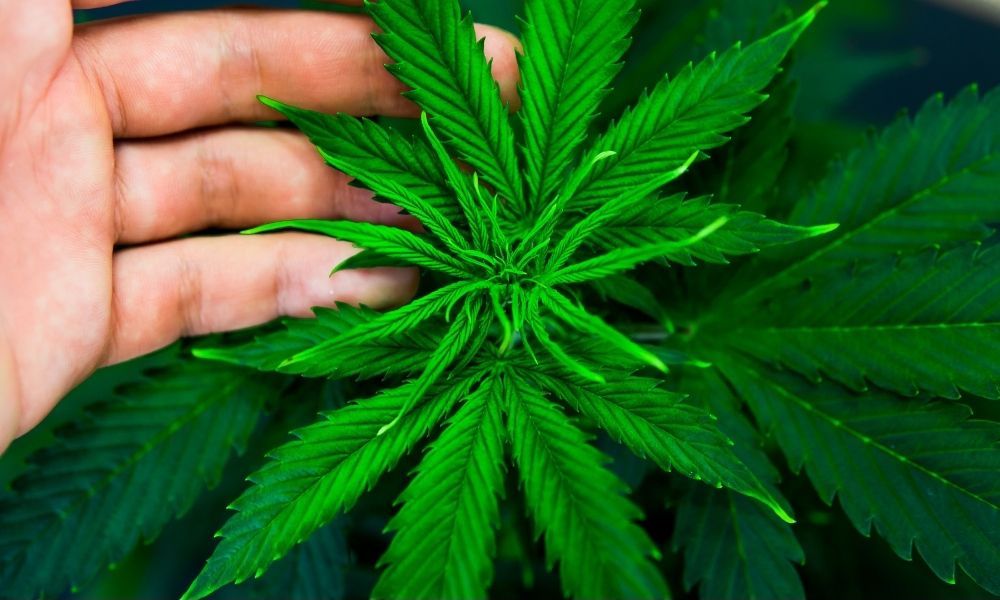 What's the Difference Between CBD Peanut Butter and Other Edibles?
When you make CBD peanut butter, you know exactly what you're eating and putting in your body. You might not know what ingredients other edibles are made with. Some contain artificial flavorings or preservatives which are not good for your health.
On the other hand, edibles from Cheef Botanicals (and homemade treats made with Cheef products) contain only all-natural, organic, non-GMO ingredients. Everything we put in our products is plant-based, and we keep all the harmful chemicals out of the mix. We only use natural flavorings like brown rice syrup, cane sugar, and fruit extracts.
Of course, another difference that makes CBD peanut butter shine above other edibles is how versatile it is! You're not just eating your CBD peanut butter by itself. You can spread it on crackers or toast, bake peanut butter cookies, or even cook with it. However you choose to consume this nutty delight, it never disappoints.
RELATED: COOKING WITH CBD OIL


What to Look for When Searching for CBD Peanut Butter
When you're looking for CBD peanut butter, there are a few things to watch for to ensure you get the highest quality product. Always start with the ingredients and check that there aren't any extra additives or preservatives. It's also a good idea to make sure the product is non-GMO (genetically modified organism) and contains no artificial flavorings. These ingredients are unhealthy and can detract from the nutritional value of peanut butter.
Since there are multiple brands, try doing your own research on the company. Most companies will have a website where you can check out their products, mission, and most importantly, customer reviews. Customer reviews are a great way to determine a company's customer service, return policies, and product quality.
Full-Spectrum vs. Broad-Spectrum vs. Isolate
When buying any CBD product, check to see if it's full-spectrum, broad-spectrum, or isolate. These are the three types of CBD that you can find in all CBD products.
Full-spectrum CBD contains all the compounds found in hemp, including THC (0.3% or less). Most people use full-spectrum products for the strongest effects. Full-spectrum is the most potent because when all the compounds from hemp work together, it creates the entourage effect. The entourage effect is a synergy between CBD, THC, cannabinoids, flavonoids, and terpenes within hemp. These compounds can support each other and bring out the maximum benefits of CBD.
Broad-spectrum also contains all of the compounds in hemp but does not have any THC. Broad-spectrum products are great for people who drug test regularly and cannot risk a positive test. Although there is not enough THC in full-spectrum CBD to trigger a positive test, repeated use may lead to THC buildup in your system and a possible positive result.
Isolates are the purest form of CBD and can come in powder or crystal form. Isolates are incredibly versatile — you can add them to many different foods or beverages for an extra CBD boost. Because isolates are pure CBD, there is no entourage effect, but it is still great for relaxing and soothing effects.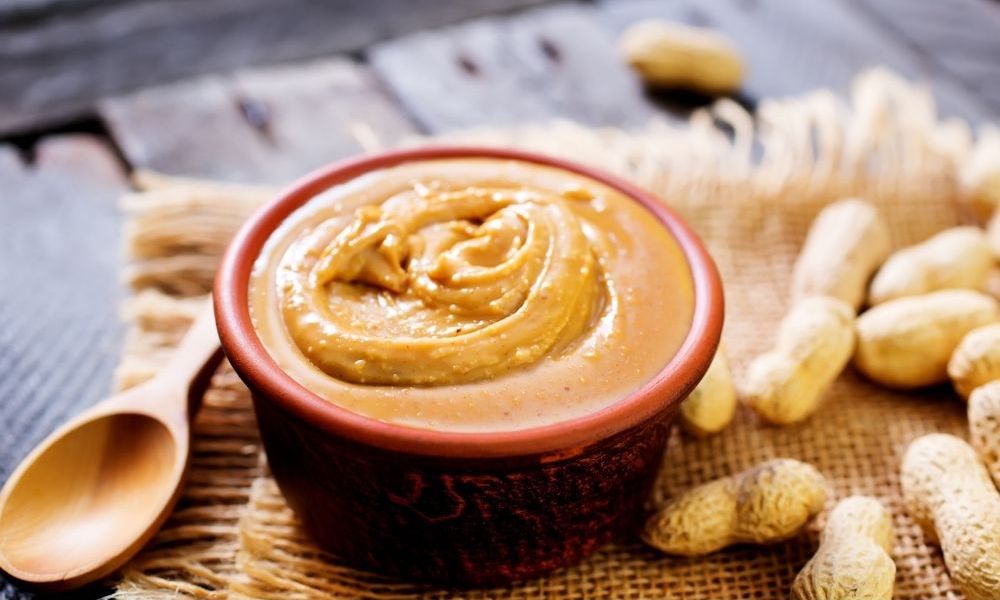 Is CBD Peanut Butter Legal?
All hemp-derived CBD edible products are completely legal, as long as they contain 0.3% or less THC! Under the 2018 Farm Bill, all hemp and hemp-derived products are federally legal for sale and manufacturing. The one rule is that the products cannot contain more than 0.3% THC. Once it passes that 0.3% threshold, hemp is classified as marijuana, which is still federally illegal.
Can I Add CBD to Regular Peanut Butter?
Yes, you can add CBD to regular peanut butter to make your own version of CBD peanut butter! You can add CBD oil, CBD isolate, or CBD honey sticks to make CBD peanut butter from the comfort of your own home.
Related Products: Shop Cheef Botanicals CBD Isolate
Here's a quick recipe for CBD peanut butter you can make quickly!
Ingredients:
1x Jar of Peanut Butter
1x large pot or pan
1 tbsp Olive oil
CBD oil/isolate/honey sticks*
*Check out our recommended CBD dosage chart on our site!
Add a thin layer of olive oil to your pot or pan to prevent sticking
Scoop in 1 jar of peanut butter (or as much as you want) into the pan
Mix in CBD (desired amount) into peanut butter and stir well
Heat peanut butter mix low to medium heat for around 10 minutes
Stir regularly to prevent burning
Take off stove and keep stirring
Allow 10-15 minutes for the mixture to cool down
Pour into original peanut butter container or new container and refrigerate to solidify the mix
Enjoy!
Final Thoughts
CBD peanut butter is a fantastic food that can enhance your diet and lifestyle. Peanut butter is a superfood that has many health benefits, and with CBD, you can have an even greater treat that can help you relax and calm down. Try CBD peanut butter and reap all the benefits!
Not sure which CBD product is right for you??? Take the quick quiz to find out!