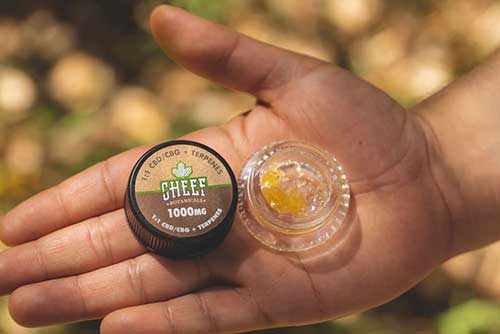 CBD concentrate is a high potency cannabidiol extracted from the hemp plant. We secure CBD by using the CO2 extraction method, which is a solvent-free process. There are many different types of concentrate, whether you're looking for something that burns easier, something with flavor, or longer shelf-life.
Think of other concentrated products, such as juice. Concentrated juices are much stronger and pure, and often times consumers even mix them with water to dull down the potency! Concentrated juice also has a much longer shelf life as well. Most of these same factors apply to CBD concentrates. They are the purest, most powerful form of CBD for consumers, and their shelf life is typically much longer than other CBD products.
Each flower is filled with terpenes, cannabinoids, and flavonoids that contribute to the well-being of every individual. Besides scent and taste, these complexities provide many beneficial attributes to the human body. 
CBD concentrates are very efficient and effective, offering consumers high potency along with reduced use. Pure CBD concentrates can come in several forms. The most basic form is CBD distillate, which is a syrupy substance that contains broad spectrum CBD (no THC). CBD distillate is often mixed into other products to make CBD-infused goods. 
The most popular concentrates, however, are wax, dabs, or live resin. CBD shatter and CBD isolates are also gaining popularity across the nation. CBD waxes and shatter may contain all the cannabinoids and terpenes in the cannabis plant, making them a full spectrum CBD product. On the other hand, pure CBD isolate, also referred to as broad spectrum CBD isolate, contains 99% pure CBD without other cannabinoids or terpenes present.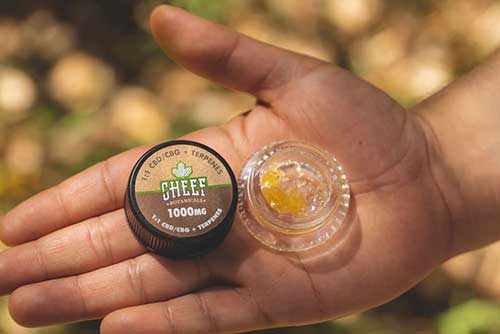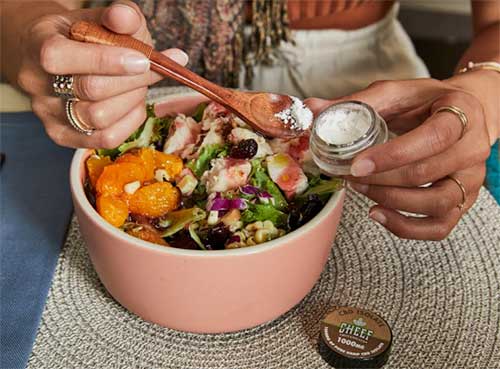 What Are The Benefits Of Using CBD Concentrates?
CBD concentrates are very powerful. This is great for consumers for two reasons. The first, and more obvious reason, is that the consumer gets a very potent product. The potential benefits of CBD concentrate should last longer because of how potent and pure it is. For consumers dealing with very pervading and acute issues, CBD concentrates are the best bet for attaining the highest form of relief. However, we still recommend asking a healthcare professional for more serious health issues!
Value of CBD That Makes It Into Your System
The second reason that CBD concentrates are great for consumers is the value. Because of how strong and pure CBD concentrates are the benefits should last longer. Some products (like CBD oil and edibles) are broken down by your body before benefiting it. With concentrates, a high amount makes it all the way through your body, meaning more of it winds up in your system.
Besides any CBD concentrate, there are several other ways to take CBD, from tasty edibles to topical applications. Some even prefer using CBD oil sublingually! Others prefer to add CBD oil to their favorite meal or drink. All of these methods have their advantages, but none work quicker than inhalation. When you inhale CBD, it enters your bloodstream directly from your lungs, giving consumers immediate effects.
How To Use CBD Concentrates — CBD Dabs & CBD Vaporizers
Yes, you can smoke CBD concentrates! Since concentrates typically have higher CBD content, you'll probably need to use dab rigs and a torch to heat the thick substances. Just be sure to take a small amount at first because they're extremely potent!
If you combine your CBD concentrate (like CBD isolate) with CBD flower, you're likely to have a more rewarding experience, too. Try combining the two into a rolling paper or adding both into a pipe or bong bowl.
If you combine them in a rolling paper, we recommend adding tiny concentrate pieces to the paper first. This will help your joint smoke more evenly. For a bowl, add a little bit of concentrate on top before lighting up — be careful not to add too much, as it may become tricky to burn and smoke.
Which CBD Product Is Right For You?
CBD Concentrate — Will It Get You High?
No, CBD concentrate should not get you high! Although it can be potent at high doses, CBD is generally non-inebriating and doesn't have the same effects as THC products. Even at higher doses, you'll most likely only feel sleepier than usual, as it is extremely unlikely to experience any adverse effects. And it's extremely unlikely that CBD will show up on a drug test since most only test for THC.
Why All These Different Strains?
The reason for creating these types of cannabis strains (hemp) is to ensure that the final product will have only CBD. This is because even though CBD and THC are closely related, CBD is a non-inebriating cannabinoid. This is just a fancy way of saying that CBD will not get you high – it should not cause inebriation in anyone who takes it.
Frequently Asked Questions