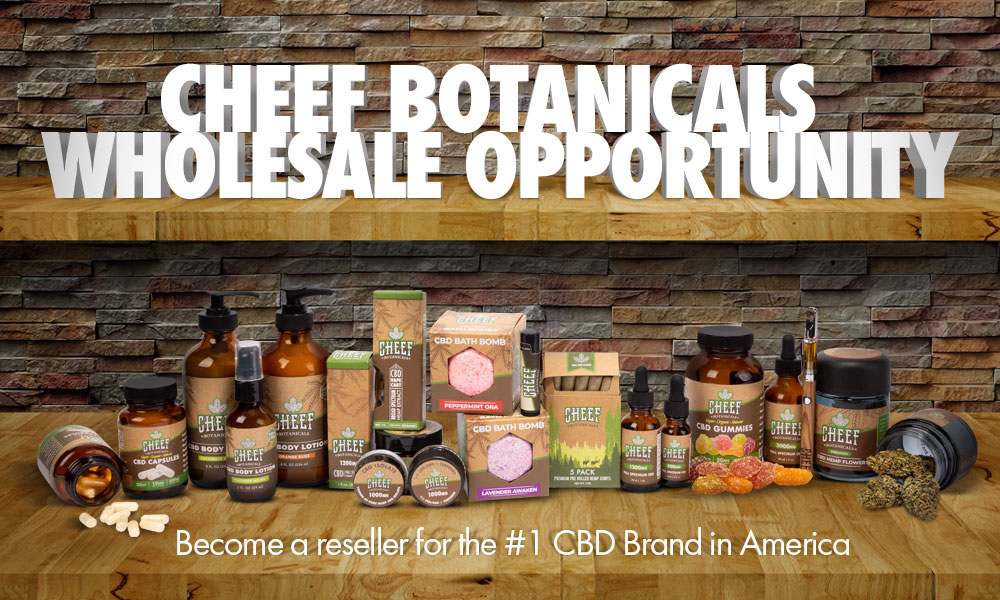 The cannabis market is growing to become one of the most lucrative businesses in America. In fact, the entire cannabis market amassed more revenue last year than the NBA, which is quite a feat! This can all be attributed to the passing of the 2018 Farm Bill, which legalized hemp across the nation. Subsequently, this has made the CBD wholesale market very profitable.
Hemp is a cannabis plant that has 0.3% THC or less. This means that CBD, and other hemp-derived products that are federally regulated, cannot get you high. The psychoactive effects of marijuana are not present in hemp. Instead, CBD gives consumers all the benefits of cannabis with none of the high. Premium CBD hemp flower, CBD edibles, CBD concentrates, CBD oil, and CBD vapes are the most common forms of use.
How to Become a CBD Wholesaler?
Because CBD is legal on a federal level, you do not need to secure any special cannabis license to sell it. However, you will need to acquire a seller's license so that you are registered as a legitimate seller. Outside of that, we recommend that you have a clientele base as well.
There is no point in buying wholesale CBD unless you plan to make a return on investment. Although we would love to sell our amazing product to anyone who can afford it, we HIGHLY recommended that those who decide to purchase wholesale CBD are cognizant of the business, and what it takes to be successful.
Why Buy CBD Wholesale Products From Cheef Botanicals
Cheef Botanicals was created by a group of health-conscious cannabis connoisseurs with over 25 years of combined experience in the organic food business. We partner with hemp farms in Colorado and Oregon to provide the highest grade CBD products available.
All of Cheef Botanicals' products go through third-party tests for quality. We present a Certificate of Analysis (CoA) for all of our hemp-derived CBD products so that you may easily determine the components and ingredients. Unlike businesses that purchase from a manufacturer then stamp their name on the package, we actually produce our own CBD products. You can trust that we keep an eye on everything we sell from beginning to end, meaning we have more control over the quality.
Our products include only the best organic vegan ingredients. They are non-GMO, cruelty-free, gluten-free, and dairy-free. We only use genuine wholesome ingredients, with no artificial flavors or colors.
At Cheef, we ask ourselves every day, "What would benefit the consumer?" We have zero exceptions to our policy of providing the best cannabis products on the market. Our wholesale CBD concentrates are the best in the nation, and we stand by that guarantee with a lenient return policy. Additionally, we have caring, hard-working, and passionate customer service agents ready to assist you at will.
How Can I Buy CBD Wholesale?
If you have an interest in purchasing CBD wholesale, fill out an application, reach out to your account manager or sales@cheefbotanicals.com.
Buying wholesale CBD oil is simple. You just need to find a reputable supplier that can provide you with high-quality CBD products. Luckily, you're already on the website of a reputable supplier! Your supplier should be legally licensed to manufacture and sell CBD and the hemp they use should be from a licensed farmer. It's essential that your CBD is lawfully sourced to avoid getting you and your customers in legal disputes.
At Cheef Botanicals, we use third-party lab testing to ensure our wholesale CBD oil is the highest possible quality and follows all government standards. Every third-party lab-tested product will come with a Certificate of Analysis. This is so you can be sure that consumers are getting reputable products.
CBD Wholesale Application
Are you a reseller and would like to carry our products in your store? Please fill out the quick application below and our review team will get back to you within 24 hours!
Frequently Asked Questions (FAQs)
What Are the Benefits of Owning a CBD Business?
One of the biggest benefits of owning a CBD business is the rapid growth the industry is experiencing! Enthusiasm for CBD products is on the rise, creating a demand for new and exciting products.
Breaking into a fresh market is always an exciting idea for anyone looking to start a business, so you can expect like-minded competition. But this high market visibility is just another advantage that comes with the territory. Consumers are already very curious about CBD, so with its widespread availability, businesses that make themselves stand out further with high-quality products will see their customer satisfaction transform into more sales!
What Are the Benefits of Buying & Selling Wholesale CBD?
When you purchase CBD wholesale, it means you'll get heavily discounted prices on the highest quality CBD products! Equally important is that you can secure large amounts of these products at once to resell. You might be looking to bring CBD into your small town or want to carry a variety of products for your store.
These CBD products also have a high-profit margin that continues to rise even as the CBD industry matures. Vendors can turn a good profit with CBD wholesale prices without much risk. Additionally, with the 2018 Farm Bill, we can ship hemp products all across the United States!
Still, one of the biggest benefits of being a CBD reseller is that you can avoid the difficulties of developing a completely new product line and join up with a popular, recognized brand. This way, you can be part of a brand known for quality assurance and providing premium CBD products, like Cheef Botanicals. If you buy CBD wholesale from us, you won't just become a CBD wholesale distributor — you'll have the opportunity to grow in a highly exciting and profitable field.
Is the CBD Market Profitable?
Reasonably, people want to be sure they are headed into a profitable market before they take the plunge into becoming a CBD distributor. Luckily, CBD is a profitable business venture now and is likely to gain even more popularity and recognition in the future. Those who can tap into this popularity to get a devoted customer base will likely make a good profit due to the high margins associated with wholesale pricing of CBD items.
Once you establish a customer base, CBD wholesale operations will enjoy returning customers. This is a big factor in the profitability of taking part in a wholesale program. A high-profit margin and a returning customer base are good signs pointing towards profitability.
Is It Too Late to Start a CBD Business?
It's never too late to start a CBD business! In fact, experts think the CBD industry will continue its growth trajectory, with a forecast reaching a value of $19.5 billion by the year 2025. So for anyone looking to break into the industry and become a distributor, this is great news!
What Is the Difference Between White Label & Private Label CBD?
White and private label products have small but important differences. Essentially, private label CBD products are sold through only one manufacturer and distributor. The manufacturer makes products solely for one specific brand.
White label CBD products are when a product created by one company is rebranded and sold by many others. White labeling can be a way to contract the most expensive parts of production to a trusted manufacturer. White labeling will allow you to buy proven quality wholesale products at a discount that you can put under your own brand. This makes white labeling an exciting option for wholesale CBD vendors confident in their marketing.
Is There a Limit to How Many CBD Products I Can Sell?
There is no stated limit in most states on how many different individual hemp-derived CBD products a retailer can sell. Still, some states and regions may have limitations on the sale and consumption of CBD products. Some regions may need additional licensing or could prohibit the sale and consumption of CBD altogether.
If you are considering selling CBD, it is always best to research your state's guidelines. This is the only way to fully ensure you are operating your business legally!
Where Can I Sell CBD?
You can sell CBD anywhere in the United States as long as you have a business license. The Federal Drug Administration (FDA) allows the sale of CBD nationwide, provided the products contain no more than 0.3% THC. This is to remain in line with the guidelines created in the 2018 Farm Bill. Generally, all states should approve products that meet the required THC levels.
But, statewide laws may differ in places where recreational marijuana is still not approved. Because of this, be sure to cross-check with a legal expert from the state in question before marketing wholesale CBD products in your region. In some states, you may need a CBD license to legally sell products.