With our hectic lifestyles and ever-growing schedules, it is never the wrong time to give yourself, a friend, or a family member a stress relief gift. And with birthdays, anniversaries, and holidays around every corner, you'll likely find yourself hunting for the perfect present in the near future. What's better than gifting someone peace of mind?
After a long day of work, we all need to find a moment to unwind and relax. And no matter how you choose to take the load off, there is always something to help you recharge and get ready for the next day. This article will review the best soothing gift ideas that can detangle even the tightest ball of nerves.
What are Stress Relief Gifts?
Stress relief gifts aim to reduce some of the stressors that come with everyday life. They do not have to be complicated or extravagant—something simple works perfectly fine. Whether it's a hot cup of tea, a special candle, or even some CBD products, there are many ways to relieve stress.
How Does A Stress Relief Gift Work?
Calming gifts help you cope with stress. They make relaxing an easy task when it would otherwise be difficult. In a nutshell, they're an excellent way to help others, or yourself, manage the difficult feelings that accompany work, relationships, and daily life.
It's important to remember that though these products can ease some of the strain, they are not a cure. To eliminate stress, you must either get rid of the stressor or learn how to cope with it.
Stress management is a skill that does not come easy for many people. However, it is vital to learn how to identify what is worrying you and deal with it appropriately. Stress relief gifts can help with the latter by providing comfort during trying times.
Who Can Benefit From Stress Relief Gifts?
Anyone can enjoy stress relief gifts! No matter how stress-free someone may seem, you never know what's going on beneath the surface. There is always something that can make them feel more at ease. For example, many college students are stressed over tests and papers. They spend long hours in class, and even more time at night studying and writing. Some students are so used to this routine they don't even realize they're stressed out!
At any point during the semester, a student could use a pick-me-up. So, caring friends and family members might send them "care packages." These packages can contain several things: a handwritten letter, a new sweater, or even comforting snacks. These kinds of gifts can help the students manage their stress better or study more efficiently.
Besides gifts, the thought of knowing someone cares can also be a stress reliever. For example, a great gift can be as simple as a macaroni art project a child brings home to their parent. Parents focus all day on taking care and providing for their children that a small, thoughtful gift can help take away some of that stress.
Best Stress Relief Gifts
A stress relief gift can be almost anything. Take a look at some of our top choices that can take the weight off anyone's shoulders.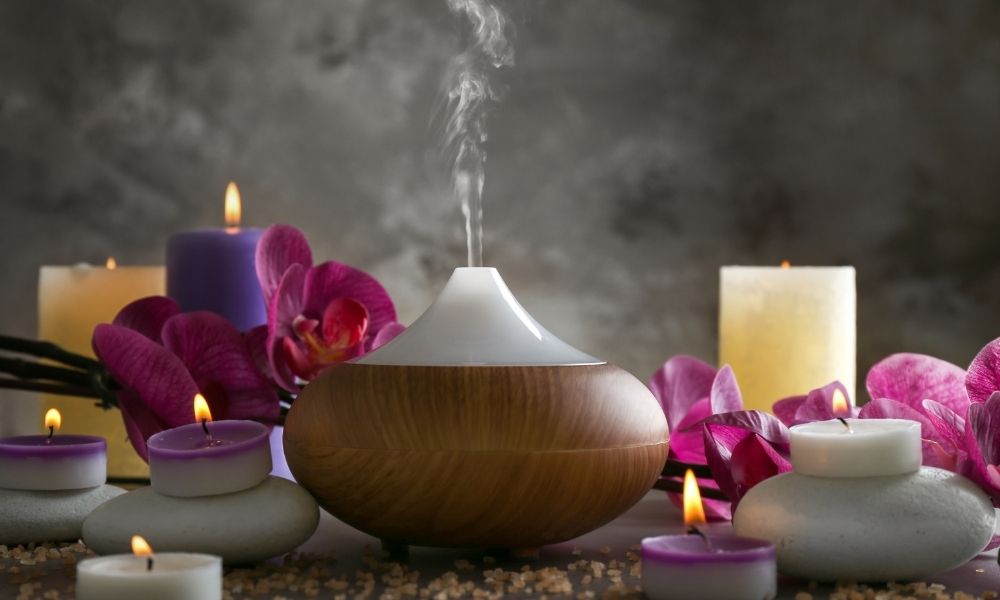 Diffusers, Sprays, & Candles
An oil diffuser or spray can be great for cleansing the air around you and making it your personal relaxation space. You add your favorite essential oils to the diffusers to bring the benefits of aromatherapy to whatever room you're in. Aromatherapy is the use of pleasant fragrances for improved wellbeing.
With the benefits of aromatherapy, oil sprays and diffusers can help ease stress. These products are one of the best ways to experience essential oils. Some claim these natural solutions can improve sleep, nasal decongestion, and help relieve headaches. Products containing essential oils like soap, body creams, lotions, and shampoos, can also provide soothing effects.
While inhaling essential oils may be calming, you can also get some relief from scented candles. The soothing fragrance of a candle can make you pause and take a deep breath—something we all forget to do.
Massage & Spa Treatments
Got pain? Most stressed people do, and they're too busy to even realize it. This is where a good massage or spa treatment can save the day. So, the perfect stress relief gift might not come from you, but from a skilled masseuse instead!
These treatments specifically focus on relaxing your soft tissues and sore muscles. Studies have shown that massage treatments release serotonin in the brain, a neurotransmitter responsible for regulating mood. So if you think about it, massages and spa treatments may be able to improve one's mental condition, including depression and anxiety.
While massages can boost serotonin, the hot water inside spas can similarly increase melatonin levels. Melatonin is a neurotransmitter that regulates our sleep cycles. High melatonin levels can improve our sleep and get us well-rested for the following week. Consider treating your friends or family members, or even yourself, to a spa treatment! It can be the perfect stress relief gift to kickstart your week.
CBD Products
The use of cannabidiol (CBD) for stress relief has grown in recent years. Cannabidiol is a compound extracted from hemp that induces relaxing effects. CBD products are quickly gaining popularity due to their extensive therapeutic applications. Plus, CBD never induces a "high" like some other cannabis products do.
CBD is the perfect stress relief gift because it can soothe discomfort and promote wellbeing at the same time. You can use it in many different ways, depending on whether you want fast-acting or sustained effects. The vast benefits of CBD make it an extremely versatile gift!
At Cheef Botanicals, we offer a wide variety of products suited for every preference. If you have a sweet tooth ( or know someone who does),our vegan CBD  gummies are the perfect product that can satisfy a craving and offer soothing benefits at the same time. You can also add some serenity to your day with CBD oil, which can produce even faster effects than gummies if you take it under the tongue.
But there's more to our product line than edibles. We know that a good smoke or vape session at the end of the day can be an incredible stress reliever, so we offer CBD flower and vape cartridges. These products are incredibly fun to use, and they produce almost instantaneous effects.
Topical CBD Products
Your body and mind are deeply connected. If you're stressed out, your body is probably tense as well! Luckily, topical CBD products can relieve some of the ache by bringing potent cannabidiol right to your skin.
Cannabinoid receptors in your skin immediately interact with CBD to provide speedy, powerful relief. CBD topicals can ease soreness from muscle strains, minor skin irritations, and the stressful wear-and-tear of daily life. Check out some of these fantastic soothing products at the Cheef Botanicals store:
CBD Bath Bomb – Soak all your stress and tension away with a CBD bath bomb! As we mentioned earlier, hot water can put you in a state of deep relaxation. You can take your bath to the next level by adding fragrant, soothing CBD to the water. These bath bombs contain nourishing ingredients that leave your skin soft and rejuvenated. Plus, the relaxing fragrance will take away the stress with each breath!
CBD Relief Salve – For those dreadful, persistent aches, you can use a CBD salve to ease discomfort. This formula is specially designed to penetrate deep into the skin and target sore muscles and joints. Whether you overworked your body, sat too long at your desk, or struggle with sore joints, this product can provide relief. The salve contains all-natural ingredients that moisturize your skin while it reduces discomfort, making it a win-win for your body!
CBD Lotion – If you're a skincare junkie, you're going to love our CBD lotion. It's made with natural skin-nourishing ingredients like coconut oil, shea butter, and aloe vera to hydrate the skin and increase its elasticity.  Plus, it's free of parabens, harsh chemicals, and preservatives. You can purchase it either cucumber melon or orange bliss scent—both are divine!
Related: Stress Relief Lotion: The Essential All-Purpose Topical


Special Pillows
Some specials pillows designed for maximum comfort can help with your stress. Whether the pillows improve your posture or sleep, there is no question that an increase in comfortability equals a decrease in stress. Look for memory foam options, pillows that conform to your head and body shape, or squishy pillows that you can squeeze.
Besides those options, some higher-end pillows can even massage your head or back. Like massage therapy, these massaging pillows can help release endorphins in the body that can improve your mood. When coupled with weighted blankets, special pillows can help reduce stress significantly.
Sleep is one of the most crucial factors in determining your mood, energy, and focus. Sleep deprivation is often linked to obesity, and insomnia and can drastically affect your mood. So, it makes sense that a good stress relief gift can get your sleep back on track.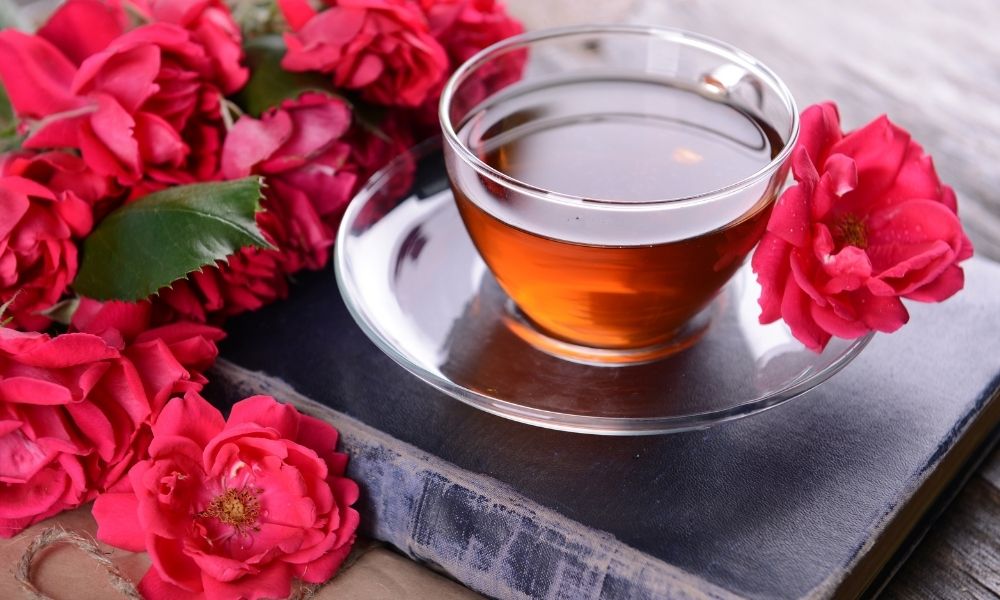 Comforting Teas
Teas are a fantastic way to offer a relaxing, warm escape from your daily duties. Many herbal teas, such as lavender or chamomile, contain beneficial essential oils and plant extracts. These compounds often have natural soothing or anti-inflammatory properties.
Some cultures use tea leaves as a traditional remedy for issues such as anxiety, fatigue, or depression. Researchers have found that drinking tea may help lower cortisol levels, the hormone responsible for our stress. All in all, tea has calming properties and can make a wonderful stress relief gift for just about anyone.
Hair/Scalp Massager
As you may have noticed, taking care of our bodies is essential for stress relief. Massaging our hair and scalps is yet another way we can take self-care a step further. This procedure increases blood flow to our heads, relieves tension, and even helps hair growth.
Hair and scalp massagers can come in two varieties: manual and electric. These massagers are very affordable, ranging on average from $10-30. Relieving tension in our heads is a great way to reduce stress! Many people don't know how good it feels until they try it.
Adult Coloring Books
Adult coloring books may not be a common stress reliever, but they can be very therapeutic for many. Researchers believe that coloring books may reduce tension and depressive symptoms in some people.
When test subjects engaged in the simple task of coloring, it allowed their minds and bodies to relax and zone in on a soothing activity. For some, this brings them back to their childhood and the comforting, nostalgic feelings that it offers. For others, it offers a disconnect from their everyday lives and allows them to focus on menial tasks. If you are artistic or simply want something creative to work on, adult coloring books can be the perfect gift for anyone looking to take their mind off of their hectic schedules.
Indoor Plants
Indoor plants are an unsuspecting yet powerful stress reliever. Many studies show that plants can reduce stress, boost your mood, and even improve cognitive function. Plus, they're great for adding color to your house or workplace.
A study in 2015 suggested that interaction with plants may reduce stress and anxiety in young adults. Like coloring books, the simple task of taking care of the plants decreased stress levels in the subjects.
In addition, plants have the natural ability to absorb many air pollutants into their soil and roots. Some of these pollutants include carbon monoxide and mold spores, which can lead to dry eyes or headaches.
Stress Balls/Squeeze Stress Toys/Fidget Spinners
Sometimes your stress can build up, and you may feel a need to get some of that tension out. Stress balls or squeeze toys can provide that quick relief. These toys may also increase blood circulation and prevent carpal tunnel. Channeling your mental stress onto a physical object can be very helpful for some people.
If you find it hard to pay attention or struggle to sit still, fidget spinners can boost attention spans and increase focus. Like stress balls, these small toys use rapid stress management techniques to help people center their minds.
Don't underestimate the power of these small items! Stress balls and fidget toys have a ton to offer. For people that can be fidgety at school or work, these tools are good ways to keep you calm and focused.
Best Stress Relief Gifts – Final Thoughts
There are many awesome stress relief gifts out there that can help take some of the rigors of everyday life away. Whether you are at work, school, or home, there is something for everyone to manage their stress better—even if you feel like you don't need it. Sooner or later, we will all need a pick-me-up to help us stay happy, healthy, and ready to tackle the day ahead. Learn more about CBD news here.
Not sure which CBD product is right for you??? Take the quick quiz to find out!