If you're looking for the ultimate way to relax after a long day, CBD bath salts may be the perfect choice for you! Soaking in a bathtub is instantly de-stressing on its own, but when you sprinkle in some CBD bath salts, you're in for a sweet, soothing surprise.
CBD salts in the bath can provide deeply nourishing relief to body aches while detangling stress to help you quickly unwind. The relaxing scents and salts combine with cannabidiol oil to melt the day away. There are also calming and moisturizing effects on the skin. These salts can potentially reduce redness and blemishes while the skin gets an all-over "ahhh" treatment.
What Are CBD Bath Salts?
You may have tried regular bath salts and wonder what's so special about adding CBD. These popular bath salts are typically made with a combination of the following:
Baking soda (sodium bicarbonate)
Sea or Epsom salt (magnesium sulfate)
Essential oils
Moisturizers like coconut oil and shea butter
CBD oil
The addition of cannabidiol oil helps to moisturize and calm the skin and potentially soothe sore and aching muscles. Drop some CBD bath salts into your tub the next time you draw a bath, and you'll notice extra relaxation and calmness.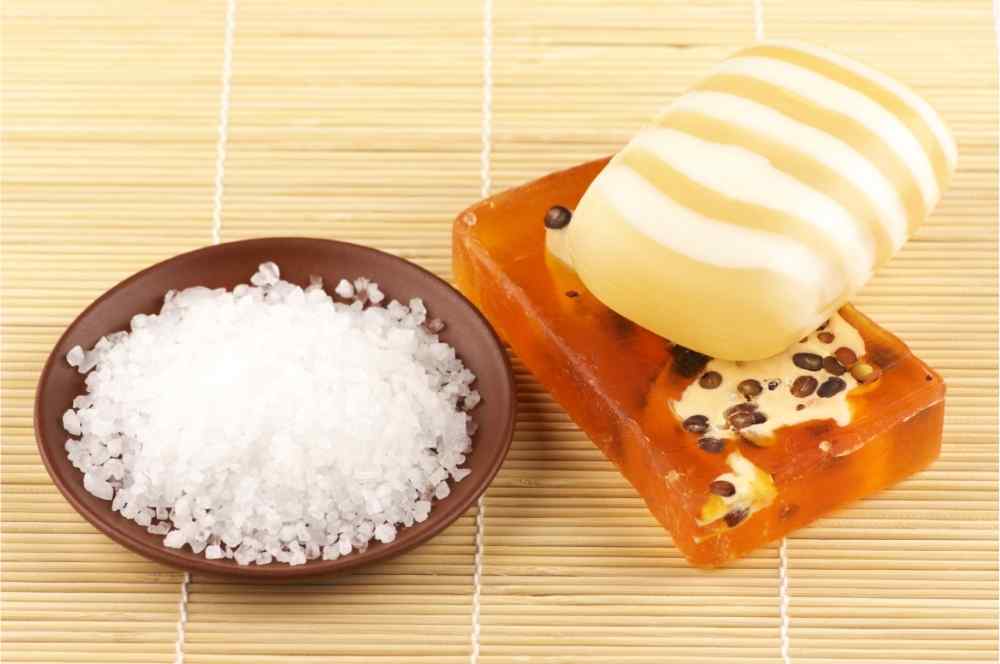 How Do CBD Bath Salts Work?
CBD bath salts can create a transformative experience and help restore your body to a naturally balanced state. Cannabidiol oil soaks deep into skin and muscle tissues to interact with cannabinoid receptors all over the body through the skin pores. The skin, muscles, and nerves can feel the calming and de-stressing effects within moments. CBD may help reduce muscle and joint swelling. It can also minimize discomfort and redness from existing skin breakouts or irritation from skin conditions.
As the salt melts away in the tub, your stress dissipates, and you feel a deep calmness flow over you. Unlike swallowing or inhaling CBD, topically applied products don't enter the bloodstream. Your skin acts as a tough barrier between the outside world and your inner body system. Since CBD bath salts don't enter the bloodstream, they are perfect for mild effects as you lean back in the tub and rest.
What Are the Benefits of CBD Bath Salts?
Bath bombs and salts have become immensely popular in recent years for good reason. They help moisturize the skin and provide an aromatherapeutic, calming, and uplifting experience. Adding in CBD may reduce skin irritation, as well as provide relaxing benefits all over the body.
CBD bath salts can soothe tired, achy muscles and joints and encourage your body to feel at ease. Therapeutic essential oils activate the senses and aid relaxation. The addition of Epsom salts or baking soda helps relieve a sore, overworked body while creating a fun, rejuvenating fizz. Indulging in a CBD-enriched bath before bedtime can help you drift into a deep, restful sleep.
Ingredients
There's a huge selection of bath salts on the market that are made with scents and moisturizers for anyone's preference. Below are some common natural ingredients found in CBD Bath Salts.
Cannabidiol Oil (CBD)
Full or broad spectrum CBD oil boosts bath relaxation and can relieve sore muscles, joints, and nerves. Its absorption and effectiveness is elevated when added to hot water and soaked in. It also aids in calming red, irritated skin.
(Note: CBD Oil can also be used by itself to enhance your bathing experience. You can rub it on your skin before bathing or add it to bathwater to indulge in its relaxing, soothing benefits.)
Baking Soda (Sodium Bicarbonate)
Provides detoxifying and cleansing effects to help purify your skin. It's the main ingredient that powers the fizz in bath bombs.
Sea Salt
Stimulates circulation, helps ease stiff, sore muscles and joints, and soothes achy, overworked legs and feet. Sea salt also helps to cleanse and detoxify your skin — the largest organ in the body.
Epsom Salt (Magnesium Sulfate)
Soothes muscles and softens dry, rough skin while helping to remove dead skin cells. Epsom salts have been used for hundreds of years to relieve all kinds of aches, pains, and skin troubles. They can also help with reducing bloating.
Coconut Oil
A sumptuous, natural moisturizer that comes from pressing the fresh or dried meat of the coconut palm fruit. It leaves your skin gloriously soft and smooth. Coconut oil is packed full of medium-chain triglycerides, or fatty acids (MCTs), which means it's ideal for helping your skin retain its supple youthfulness.
Shea Butter
Nutrient-rich natural moisturizer derived from the nuts of the shea tree. It contains high levels of vitamins and fatty acids and has been used as a cosmetic ingredient for centuries. Its skin-hydrating power is comparable to coconut oil.
Essential Oils
These concentrated, fragrant oils are made by extracting volatile chemical compounds from plants, using various processes. They smell amazing and can improve your mood and sense of well-being. The most popular essential oils for the bath include:
Lavender for calming and relaxation
Clary sage for alleviating stress
Peppermint for relieving headaches, muscle aches, and itching
Orange for an energizing and uplifting effect while also being calming and relaxing
Rosemary for soothing the body and stimulating the mind
Are CBD Bath Salts Legal?
Yes, CBD bath salts are completely legal! Fortunately, we're not talking about synthetic cathinone, which is an illegal drug also referred to as "bath salts."
CBD is extracted from hemp plants and is federally legal. Hemp plants differ from marijuana plants in their level of THC. To be classified as hemp, the plant must contain 0.3% or less THC; otherwise, it is considered marijuana. At Cheef Botanicals, we only sell legal CBD with 0.3% THC or less, so there is no intoxication or "high."
Why Use CBD Bath Salts?
Bath salts infused with CBD can help to create a deeply soothing body soak treatment. Everyone wants to feel comfortable and relaxed, and using a CBD bath product can be just what you need to help ease everyday tensions. The calming and relaxing benefits are ideal for soaking tired muscles as well as helping to relieve skin sensitivities.
Taking baths helps stimulate circulation and provide full-body relaxation.  CBD-infused bath salts can also calm and soothe redness on sensitive skin.
CBD Bath Salt Alternatives
There are tons of great CBD body products besides bath salts that you can add to your bath arsenal. Making use of a full collection of CBD bath and skincare products will give you the most effectiveness. Choosing products that work well for you and have a scent you enjoy will make your bathing time something special to look forward to.
CBD Bath Bombs
Our carefully crafted CBD Bath Bombs are made with organic, non-GMO, broad spectrum CO2-extracted hemp and are lab-tested for potency. The soothing, all-natural bath bombs come in 5 delicious fragrances with natural essential oils to enhance the experience.
CBD Body Lotion
Maximize your skin pampering with our deeply moisturizing CBD Body Lotion, made with all-natural ingredients like coconut and olive oil, along with broad spectrum CBD. The quick-absorbing lotion comes in two refreshing scents — classic Cucumber Melon and delicious Orange Bliss.
Relief Salve
Perfect for post-workout relaxation, our CBD Relief Salve dives deep into muscles and joints to ease muscle tension and soreness from overexertion.
The Pamper Bundle
If you want a full mind and body experience, try the Pamper Bundle, our curated product collection that includes a Citrus Bath Bomb, Cucumber Melon Body Lotion, Relief Salve, and CBD Gummies. This bundle was designed to give you the full CBD experience inside and out. We're here to help you enhance your self-care routine and take your bathing experience to the next level of tranquility.
Related Articles: CBD Bath Products [Relax and Unwind the RIGHT Way]


CBD Bath Care For Pets
You can give your dog the same relaxing and calming benefits of bathing with CBD! Cannabidiol moisturizes your dog's skin and promotes a healthy coat. Our CBD Shampoo for Dogs is a gentle yet thoroughly cleansing shampoo made with broad spectrum CBD and a soy-based protein conditioner to leave your dog's coat silky smooth and shiny. It comes in a refreshing Mandarin Berry scent to keep your pooch smelling fresh and clean. It's perfect for dogs who have sensitive skin or don't like being washed.
Final Thoughts
CBD-infused bath products can enhance your self-care routine by calming your mind, moisturizing your skin, and deeply soothing muscles and joints. Using them regularly can provide relief to aches and pains and potentially improve distressed skin.
Pets can also benefit from CBD bath products in the same way we do. With the wide variety of bath products on the market, adding CBD to the mix has taken relaxation to the next level while providing incredible wellness-boosting benefits.
Not sure which CBD product is right for you??? Take the quick quiz to find out!