Sometimes picking the right CBD muscle balm can be confusing. It's tough to know exactly what you're looking for. Is it the right strength? Will this brand work for me? Is it made with good ingredients? That's where we come in!
We want to make it easy to pick out the perfect CBD rub by sharing exactly what quality ingredients you should be looking for. Not every CBD balm is created equal. You should be on the lookout for one that is effective, strong, and formulated to give you instant relief.
What is CBD Muscle Balm?
CBD muscle balm, also known as CBD salve, is hands down the strongest CBD topical rub available! This natural ointment is made by infusing full-spectrum CBD (from hemp CBD flowers) with a natural carrier oil, then we add therapeutic herbs. You can apply it gently to target almost any area of your body that feels sore or tense. You should feel a sense of relaxation almost instantly, as well as much-needed relief in just a few minutes.
Our muscle balm, in particular, is especially fast-acting and strong. Known as a salve, our powerful CBD muscle balms contain 500mg – 1000mg of full-spectrum CBD. Full-spectrum means it combines all of the hemp plant's phytocannabinoids, terpenes, and flavonoids to generate more effective results. These natural compounds interact with cannabinoid receptors in our Endocannabinoid System (ECS). This includes the receptors found in our skin.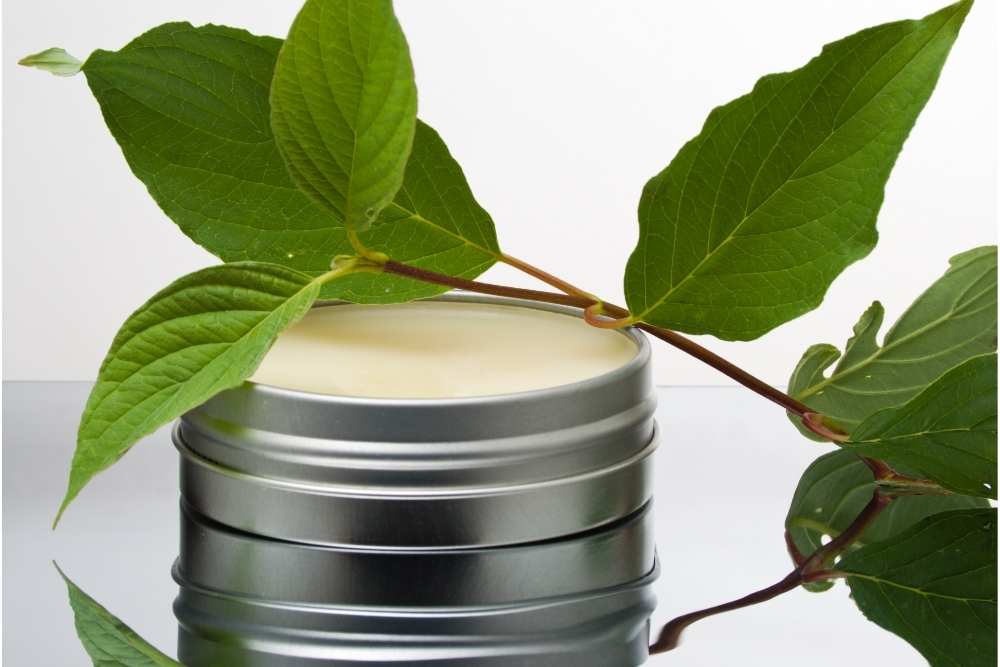 Why Use CBD Muscle Balm?
CBD muscle balm is perfect for recovering athletes and those who live a more active lifestyle. It works very effectively since you can apply almost anywhere as needed. The CBD in muscle rub doesn't go into your bloodstream. Instead, CBD reacts with the CB1 and CB2 receptors found in your skin. Thus, it ensures that the targeted area receives the direct effects of CBD.
Many people who use CBD salve can feel the effects almost immediately after contact. Once you apply our CBD balm you should notice soothing relief within 15 minutes or less. Effects usually last up to three hours, giving you ample time for relaxation and comfort!
CBD Muscle Balm Pro Formula
Candelilla Wax
Candelilla Wax is a thickening and hardening agent that helps prevent your skin from losing moisture. This wax has a reputation for smoothing stretch marks and battling the signs of aging. It's often used as a nourishing skin conditioner because it hydrates and smooths skin so effectively! This ingredient is a vegan approved alternative to beeswax and its found often in lotions, creams, and balms because it's easy to spread over the skin's surface.
Peppermint Essential Oil
The fresh scent of peppermint oil is a plus on its own. But peppermint is also said to treat pain. Peppermint oil is one of nature's most powerful analgesics due to its 44% pure menthol content. As a topical ingredient, peppermint oil can help calm and cool the skin and surrounding tissues of an affected area.
Calendula Flowers
Calendula is a plant that's often used to make medicine. It's known to reduce fevers, prevent muscle spasms, and treat sore throats. Also, calendula flowers can help reduce swelling when applied directly to the skin.
Olive Oil
Olive oil is another ingredient that's said to reduce inflammation. That's because olive oil is loaded with antioxidants, as well as vitamin E and vitamin K.
Jojoba Oil
Jojoba oil is found in a lot of cleansers and moisturizers. It's known for its powerful effects on skin conditions like acne, eczema, and psoriasis. A hearty plant that grows in North America, this perennial's nut can be made into a gentle oil. It's often mixed with other essential oils to improve skincare routines.
Fennel Essential Oil
Fennel has been used for centuries, mostly in recipes, because it's known to promote healthy digestion. Roman warriors would eat fennel to "become stronger" before going to war. Even though fennel is known for its licorice flavor and aroma, it's also popular as a topical. It's known for its calming and soothing effects when applied directly to the skin.
Frankincense Essential Oil
Frankincense is made from the resin of the Boswellia tree, carrying a spicy fragrance. It's said to have anti-inflammatory benefits. Because of these benefits, it's the perfect addition to a strong and effective CBD rub.
Vitamin E
A lot of skincare products include vitamin E because it reduces inflammation. Vitamin E also protects the skin from ultraviolet (UV) light, which is why it is found in so many sunscreens. It can even reduce the area's itchiness!
CBD Oil
Studies have shown that CBD stimulates our endocannabinoid receptors, impacting their activity within our bodies. Unlike THC, which binds to receptors to cause effects, it is believed that CBD influences our receptors to produce more cannabinoids of their own. This natural process may promote the functionality of the ECS. Remember, the ECS is integral in regulating inflammation throughout the body.
CBD oil is crucial in making our salve more powerful than everyday muscle balms. While there's still research to be done, it's clear that people who use CBD topicals experience fast and effective results.
How to Purchase CBD Muscle Balm Online
So this is easy to answer — just go to our CBD topical page and select our CBD relief salve. There are two options to choose from, extra strength (500mg CBD) or maximum strength (1000mg CBD). Next, just add the product to your shopping cart and follow the checkout directions to complete your order. Each order automatically qualifies for free shipping and it comes with a 100% return policy, if for any reason you are not satisfied with your purchase.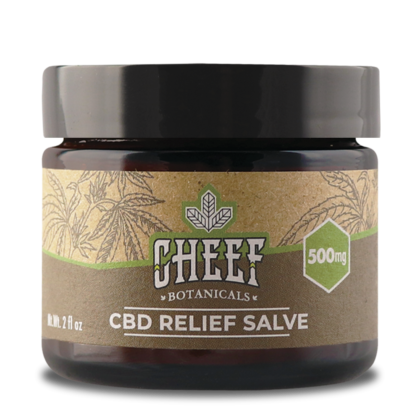 Why Cheef Botanicals?
Cheef Botanicals was founded by health-conscious cannabis enthusiasts. We truly care about the quality and ingredients in all of our CBD products. All of our CBD products are not just the highest grade on the market but use only natural organic ingredients. They're also 100% vegan and don't contain any GMOs.
Whether it's our relaxing bath bombs or powerful salves, our mission is to inform the world about the hemp plant's natural, safe, and effective cannabinoids. We provide customers with a chance to step back from the pharmaceutical industry's misleading information and experience natural alternatives for themselves.
Cheef Botanicals' goal is to educate people on the research and studies surrounding CBD. We do that through forums, social media, customer experiences, and news articles.
Final Thoughts
Whether you're looking for soothing relief after a workout or an escape from ongoing discomfort, CBD salve is a fast-acting and strong topical. Wherever you apply it, you can expect our CBD salve to react almost instantly with the cannabinoid receptors in your skin.
The statements made regarding these products have not been evaluated by the Food and Drug Administration. Therefore, this product is not intended to diagnose, treat, cure, or prevent any disease. This product is not intended to be an alternative to a doctor's advice. You should still speak to your health care practitioner if you are experiencing ongoing discomfort. Consult a health care professional about potential interactions or possible complications before using any product, including CBD rub. The Federal Food, Drug, and Cosmetic Act require this notice.
Not sure which CBD product is right for you??? Take the quick quiz to find out!