Can You Take CBD and CBG Together? [Yes! Here Are the Benefits]
You've likely heard of compounds like CBD and THC, but did you know that over a hundred cannabinoids are found in cannabis? One of the most underrated ones — CBG — is especially beneficial to your wellness when consumed with other cannabinoids. So if you're wondering if you can take CBD and CBG together, you're in luck. We have the answers you're searching for right here!
In this article, we'll cover what CBD and CBG are, where they come from, how they can benefit you, and how you can consume them together for maximum effect. Ready to become even more of a cannabinoid pro? Let's jump in and learn all about taking CBG and CBD products together!
What Are CBD and CBG?
CBD (cannabidiol) and CBG (cannabigerol) are cannabinoids, naturally occurring compounds found in cannabis plants. You may already know that both CBD and THC (tetrahydrocannabinol) are the two most common cannabinoids found in the cannabis plant.
CBD is the most abundant hemp-derived compound. It's known for being able to soothe and relax you (amongst many other benefits) without making you feel "high." THC is present in large amounts in marijuana plants and is more commonly known for its euphoric effects.
But what about CBG? Like CBD, CBG (cannabigerol) is also another cannabinoid present during the blooming phase. You can find CBG in very small amounts in every hemp plant. Though it's known for its ability to help regulate appetite, better sleep cycles, enhance motivation, and uplift mood, there's so much more to CBG than that! Let's take a closer look at what makes CBG so special.
The Science and Importance of CBG
CBG is often referred to as "the mother of all cannabinoids" since it gives rise to three primary cannabinoid acids — CBGa, CBDa, and THCa. Every cannabinoid originates from CBGa (cannabigerolic acid), which is the younger, acidic form of CBG. As the hemp plant grows, CBGa matures into the acidic forms of other loved cannabinoids. This includes both CBDa (cannabidiolic acid) and THCa (tetrahydrocannabinol acid).
These cannabinoids remain acidic until they undergo a heating process (decarboxylation). Since all cannabinoid extraction processes involve using heating, curing, and drying, this activation happens without hemp farmers or manufacturers needing to take any extra steps. This means that no matter what kind of hemp product you purchase, it will only contain activated cannabinoids like CBD, CBG, or THC.
Are These Cannabinoids Legal?
Yes, both CBG and CBD are federally legal under the 2018 Farm Bill. As long as products containing these cannabinoids are derived from hemp and contain 0.3% or less THC, they are 100% legal.
Though hemp products are federally legal, we still recommend researching your state's rules and regulations before shopping or traveling with any hemp products. Different states have different laws regarding consumption and sale practices, and laws frequently change as cannabis research expands.
Can You Take CBD and CBG Together?
Yes, you can take both CBG and CBD together. These cannabinoids have similar molecular structures, and both have exceptional benefits. This is especially true when they're consumed in combination!
When cannabis compounds like CBG and CBD are present together, they act synergistically to increase their benefits and the benefits of other hemp plant compounds! We call this great phenomenon the entourage effect, and it typically occurs when you consume full spectrum hemp products (those that contain the legal limit of THC).
How To Take CBD and CBG Together
Lucky for you, it's not too hard to consume CBD and CBG together! The best (and easiest) way to do so is by finding products that follow the "1:1" ratio. This means that for every 1 milligram (mg) of CBD, there is also 1 mg of CBG.
While you can also find both CBD and CBG products sold separately in different ratios and concentrations, this ratio is pretty easy to find in shops and online. And with a variety of products to choose from, you can consume these cannabinoids by smoking, vaping, or ingesting them!
Yes, you can take both CBG and CBD together. These cannabinoids have similar molecular structures, and both have exceptional benefits. This is especially true when they're consumed in combination!
Benefits of Taking CBD and CBG Together
There are a lot of combined benefits that come from taking these cannabinoids together! As we mentioned earlier, these two natural compounds complement one another and provide you with the entourage effect when consumed in a combo.
Both can help you improve your wellness by providing these exceptional health benefits:
Help increase focus
Ease nervousness and worried thoughts
Boost your overall mood and wellness
Relieve general discomfort
Help support your body's restorative abilities
Support your sleep cycle and improve your sleeping habits
Aid upset stomachs
And more!
Are There Side Effects?
Although CBD and CBG are both well-tolerated and are not known to produce "psychoactive effects" or inebriation, you may experience mild side effects if you consume above your recommended amount. This is especially true if you have never consumed a cannabis product before.
These side effects may include:
Shift in appetite
Sleepiness
Dry eyes and mouth
Mild nausea or diarrhea
Luckily, these side effects are temporary and very mild. If you develop more serious side effects than this, please discontinue use and reach out to your doctor for professional guidance to determine if you are healthy enough to consume CBD, CBG, or any other cannabis plant product.
How Long Does It Take for CBD and CBG to Work?
The amount of time it takes to feel the benefits of CBD and CBG depends on how you consume them! Different consumption methods take different amounts of time. Here are some general onset times:
Inhalation: Immediately to within 30 – 90 seconds after inhalation (by smoking or vaping) and lasts 3 – 4 hours.
Sublingual application (under the tongue): 15 – 30 minutes after applying under the tongue and lasts: 4 – 6 hours
Ingestion: 45 minutes to an hour after consumption and last about 6-8 hours.
What About Long-term Effects?
When it comes to long-term effects, it normally takes at least 1-3 weeks of consuming cannabinoids to notice a difference in how you feel overall. Your body will need to adjust to the new cannabinoids in your system, and sometimes this takes a little bit of time. Continued consumption will lead to long-term beneficial effects on your overall wellness.
The amount of time it takes to feel the benefits of CBD and CBG depends on how you consume them! Different consumption methods take different amounts of time.
How Do CBD and CBG Work Together?
CBG and CBD support the body differently, so they bring each other a lot more balance when they work together! While CBG directly binds to receptors that help support anandamide (a naturally occurring endocannabinoid in the human body) levels, CBD interacts with your body's cannabinoid receptors. These receptors support your endocannabinoid system, which helps your body maintain homeostasis for optimal wellbeing and functionality.
The endocannabinoid system is responsible for important bodily functions, like your:
Mood
Appetite
Motor function
Immune response
Metabolism
And more!
A great example of how well CBD and CBG balance one another is how they affect drowsiness. On its own, CBG is often used to help achieve better sleep more easily. On the other hand, CBD Flower is great for daytime consumption and is more energizing.
When combined, these qualities balance each other out so that you'll feel both relaxed and awake enough to continue your daily tasks. This is just one of the many wonders of taking CBG and CBG together!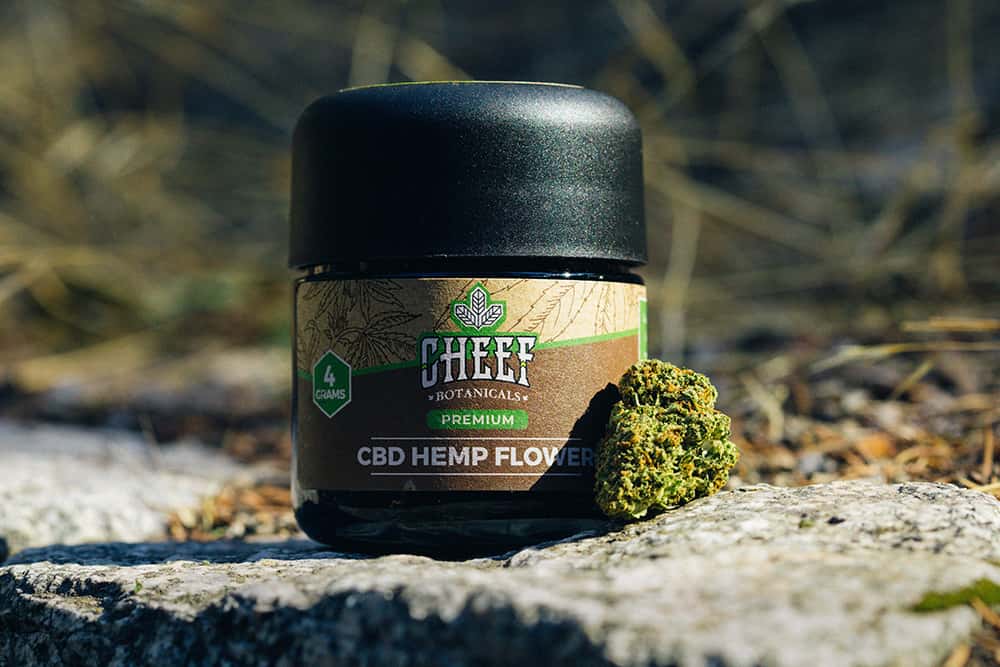 Products With CBD and CBG Together
As we mentioned briefly above, you can find many different CBD + CBG products, both in stores and online. But how do you go about finding the most premium products?
The best way to find high-quality products is by doing thorough research when browsing. Be sure to only shop from legitimate, well-established, and well-known brands, like Cheef Botanicals! Here are some of the most popular CBD + CBG products we offer:
CBD Hemp Flower
Are you a big fan of flower? Sit back, relax, and roll up a joint with Goliath. CBD + CBG hemp flower offers all the benefits you seek in the classic form you love.
CBD/CBG Wax
If you're looking for a more potent experience, wax may be the answer! This amber-toned wax is easy to manipulate and handle. It's one of the purest forms of CBD + CBG and is a wonderful way to feel pleasantly calm, really fast.
CBG and CBD Oil Tinctures
Cheef Botanicals' oils are a great way to try CBD and CBG out on their own! Tinctures are versatile, and you can consume them directly, sublingually, or added to your fave food or drinks.
CBG and CBD support the body differently, so they bring each other a lot more balance when they work together!
Where To Buy CBD and CBG Oil
If you're looking to find CBD tincture locally, finding a store near you isn't too hard! Simply open up Google maps on your phone, computer, or tablet, and search for "CBD and CBG" to find local shops in your area. We highly suggest checking out reviews and each shop's website before immediately deciding on what's closest to you.
While you can find CBG and CBD products in stores, we highly recommend shopping online instead! When you shop online, you can compare price points better, review Certificates of Analysis (COAs) to verify the potency and quality of products, and shop from a much wider selection of products.
CBD and CBG Together Available at Cheef Botanicals!
Why look for premium hemp products when they're already at your fingertips? That's right — Cheef Botanicals has the gamut of high-quality hemp, including CBG and CBD! All of our hemp is American-grown, and we cultivate our cannabinoids using clean processes, like the CO2 method.
Our high standards for hemp extend to the rest of our ingredients, too! All of our ingredients are free from GMOs and never include any artificial colorings or flavorings. Our products are also dairy and gluten-free and are suitable for vegans because we think that everyone should be able to experience hemp's benefits.
Not totally convinced yet? If you need help alleviating anxiety while making a selection when shopping online, check out our customer reviews! We're proud to have high ratings across Trustpilot and the Better Business Bureau (BBB). And if you're not happy with your order for any reason, we have a 30-day 100% money-back guarantee.
To learn more about our return policies, check out the Quick Links at the bottom of this page. For all other questions, comments, or concerns, reach out to our stellar customer service team for more help.
Final Thoughts — CBD and CBG Together
CBD and CBG are a lesser-known cannabinoid combination, but these two offer a world of potential benefits! Hemp-derived CBD helps to promote optimal wellbeing, while CBG directly interacts with receptors in the brain and body. Together, CBD and CBG help support various processes in the body that help you maintain total wellness.
If you're looking for CBD, CBG, or a combo of CBD + CBG products, look no further than Cheef Botanicals! We have a wide range of premium hemp products, including flower, wax, oils, gummies, and more. CBD and CBG together are a force to be reckoned with, so browse our selection today to help optimize your health!