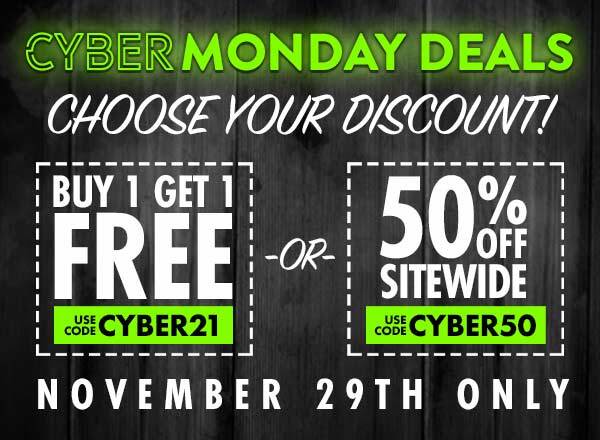 CBD Cyber Monday
The holiday season is officially here, and with it comes CBD Cyber Monday deals! If you're looking to cash in on the best discounts on exciting CBD products, you've come to the right place! Prepare yourself for the upcoming chaos and mayhem that comes with family gatherings, big celebrations, or long road trips to grandma's place. Whether you're looking to grab deals on delicious CBD gummies or your favorite flower strains, Cheef Botanicals has everything you're looking for!
Black Friday may be over, but that doesn't mean the sales have to end! Cyber Monday is the perfect time to get all your Christmas shopping done and load up on stocking stuffers for all of your friends and family! Avoid time-consuming in-person shopping on Black Friday; instead, buy CBD online to access great Cyber Monday deals at Cheef Botanicals.
Wondering if you can snag some great deals on your favorite CBD goodies? Keep scrolling for sale details on the best CBD products on the market!
When Does the 2021 CBD Cyber Monday Sale Begin at Cheef Botanicals & How Long Does It Last?
Cheef Botanicals CBD Cyber Monday deals begin on Monday, November 29th at midnight ET and last for one day and one day only! So mark your calendars, and be sure to grab one of our coupon codes before the sale ends at 11:59 PM ET!
HOW DO I REDEEM THE CYBER MONDAY CBD COUPONS?
It's simple! Once you have everything you want in your cart, just add the coupon code on the checkout screen and hit "Apply Code" to save big on your entire order! Two deals are going on for CBD Cyber Monday, so be sure to apply the right code for your purchase:
BOGO (Buy One, Get One Free)* – CYBER21
50% off sitewide – CYBER50
*BOGO deals can only be applied to two of the same item. Sitewide deals do not apply to flower bags over 1/4 lbs.
CAN I COMBINE MY CBD CYBER MONDAY COUPON WITH OTHER Cheef Botanicals DEALS?
Other Cyber Monday sale coupons cannot be combined with other Cheef Botanicals deals. This remains true for almost all CBD brands and online retailers offering Cyber Monday discounts. Even so, you'll save more than ever with our CBD Cyber Monday sales. We promise you'll be more than happy with these can't-miss savings!
Any subscription products, bundles, items already on sale, or flower over 1/4 lbs. are not included in Cyber Monday discounts.
What Is Our Shipping Policy for Cyber Monday?
As long as you're in the United States, we can ship anywhere directly to your front door. Additionally, our standard free shipping policy still applies when you select "first-class" at checkout, and there's no minimum purchase required! All orders take 24-48 hours to process before shipping. Expect about 5-7 business days for your order to arrive. However, shipping can sometimes experience delays during the holiday season and COVID-related issues, so please allow up to 2-3 weeks if you don't get your order immediately. We promise the wait is worth it!
We currently do not offer international shipping, as every country has its own rules and regulations regarding CBD products.
What Is Our Return Policy for Cyber Monday?
If you're not completely satisfied with your purchase, we offer a 30-day money-back guarantee, no questions asked*! Just fill out a Return Request Form and send it to us within 30 days (no later than 45 days) of your initial purchase. If you have any further questions or concerns, contact our amazing customer support team for more information!
*Return policy does not cover flower orders of 1/4 pound or higher.
Cheef Botanicals CBD Cyber Monday Products
During CBD Cyber Monday, our customers enjoy big sitewide sales on a large variety of high-quality CBD products! At Cheef, we pride ourselves on providing the best products made wholly from all-natural ingredients! Treat yourself to the best CBD oil on the market, or try our best-selling gummies to maximize your relaxation during the holidays.
No matter what you decide to pick up, there really is no better time to stock up on the best new products for pets and people, so be sure to take advantage of all of our best CBD deals!
CBD FLOWER
Cheef Botanicals CBD-rich hemp flower is sourced from the best hemp farms in the country to ensure that you're smoking quality product without worrying about any chemicals or pesticides. It's time for some self-care as the smooth flavors of hemp flower unwind you into a blissful, calm state of mind. Some of our most beloved and popular strains include Northern Lights, Sour Space Candy, and Zkittles, but there are over 30 premium and top-shelf strains for you to choose from!
CBD EDIBLES
Enjoy all the benefits of CBD in one convenient little dose on CBD Cyber Monday! Our award-winning CBD edibles include broad spectrum CBD oil tinctures, gummies, soft gels, and capsules. Capsules and soft gels are perfect for dosing on the go for those who want a quick and easy method of consuming CBD. You can also eat the gummies for a fun, little snack or get creative by adding CBD oils to your favorite meals or drinks. Everyone enjoys a treat every once in a while, so why not make yours a little more special?
CBD VAPES
Vapes are one of the most popular ways to enjoy CBD for an easy, efficient, and effortless way to feel its therapeutic effects. Our CBD vape juices are uniquely crafted without any use of additives like PG, PEG, VG, or MCT oils that could be harmful to your health when vaped. Instead, we use all-natural terpenes to create amazing flavors and aromas that give you a shortcut to serenity. The result is a super-smooth, flavorful experience perfect for enjoying on the go in short bursts. With over 20 amazing flavors, this is one product you don't want to miss out on!
CBD CONCENTRATES
For the times where a little extra relief is needed, try CBD concentrates for a more potent and effective experience. From distillate to isolate to wax, concentrates are typically highly concentrated at around 80-99% purity. You can smoke concentrates with a dab rig to get a strong sense of relaxation and therapeutic effects. Since concentrates can be stronger than what you're used to, we recommend these CBD products for the more experienced consumers!
CBD TOPICALS
Topicals are any product applied to the skin or outside of the body, like shampoo, lotion, CBD cream, or even bath bombs! They work in a more localized way, providing relief directly to the applied area. CBD topicals are a great choice for people suffering from muscle or joint soreness or can make a great option for promoting healthy skin without using any synthetic chemicals or ingredients.
CBD FOR PETS
Cheef cares about your pets too, and CBD works great for both humans and animals! Our CBD pet line of products is great if you notice your pet showing nervous behaviors, stomach problems, poor moods, or discomfort! Pet CBD can come in various forms, including CBD tincture topicals, treats, and capsules, all formulated specifically for issues commonly experienced by pets.
Our pet products are gluten-free, non-GMO, and made with 100% all-natural, healthy ingredients! Bring some extra joy to your pet's life during CBD Cyber Monday!
CBG PRODUCTS
CBG may still be unfamiliar to many people, but it's an even more energizing and uplifting cannabinoid than CBD! Because it's much rarer than CBD (less than 1% of every hemp plant), CBG enthusiasts are typically looking for a premium, first-class therapeutic relaxation. CBG is the perfect complement to CBD, promoting a blissful and more focused headspace. Try the gummies, oil tinctures, capsules, or even the wax for a completely new overall experience.