Lemonade is one of the world's most well-loved beverages, which comes as no surprise considering lemonade is an incredibly delicious and refreshing drink! And if you're a fan of CBD products, why not combine two great things to make CBD lemonade? Together these two are a perfect combination to give you a unique and delicious way to enjoy CBD.
If you'd like to learn more about how to kick start your summer with CBD lemonade, tips on making it, and some deep-dive information on CBD, you have found the right place! Read on further for details on these questions and more, including where to get the best quality CBD available!
What Is CBD Lemonade?
If you're familiar with lemonade and CBD, it's fairly straightforward to figure out what CBD lemonade must be! CBD lemonade is the combination of CBD and classic summertime lemonade! This refreshing beverage combines CBD hemp extract's calming and wellness-supporting benefits with lemonade's sweet and delicious flavor.
CBD lemonade is easy to make and a great way to feel the effects of CBD without tasting it. The acidity of the lemon juice helps cut the flavors, so you get the taste of your drink's sweetness without the herbal kick. As far as CBD drinks go, lemonade is effective, delicious, and can be made using easily purchased ingredients!
Benefits of CBD Lemonade
CBD lemonade is the perfect hydrating treat for a hot day, but when made with great ingredients like CBD hemp extract from Cheef Botanicals, the benefits of this phytocannabinoid-rich drink go beyond simple refreshment! CBD provides various beneficial effects by balancing one of the body's cellular regulation systems called the endocannabinoid system (ECS).
The ECS is responsible for maintaining balance in various important processes carried out in your body at all times. These processes are essential for living a balanced lifestyle and can significantly impact your quality of life. Some of the processes the ECS is responsible for include:
Sleep
Mood
Memory
Appetite
Immune response
When the ECS is in a balanced state, we refer to this as homeostasis. With the ECS in balance, you can enjoy a range of benefits that help to support overall wellness and calm. Consuming CBD is thought to generally increase your overall wellness through this balance. Some of the beneficial effects that CBD can potentially help to promote:
Calmness
Mood boost
Reduced discomfort
Sleep
Appetite
Disclaimer: Our product is not intended to treat, cure or prevent any serious medical condition or serve as a replacement for any prescription medications. We always recommend our customers consult a medical professional, and any statements made on the efficacy of CBD are not meant to serve as a medical claim or recommendation.
Are There Side Effects of CBD Lemonade?
CBD is a well-tolerated substance that can provide beneficial qualities without imparting undesirable effects. Still, this is not to say that consuming CBD will not sometimes result in unintended side effects. CBD has no known fatal overdose cases, but when taken in too high of an amount, the side effects can potentially cause discomfort. Some of the side effects that are sometimes experienced from CBD consumption can include:
Red eyes
Dry mouth
Fatigue
Stomach ache
Side effects are more likely to be experienced in consumers who take too much. Still, the effects should be mild and rapidly reduced in severity with time in most cases. If side effects seem to increase rather than lower in severity, or if more serious effects are present, we always recommend you seek a doctor's advice.
Can You Buy CBD Lemonade?
While it sounds like a rarity, you can find CBD-infused lemonade on the market! When shopping for CBD lemonade, avoiding artificial flavors and looking out for high-quality ingredients helps make a big difference. Try prioritizing preservative-free products that contain natural flavors and are made using organic lemonade with organic agave nectar.
One of the great things about pre-made CBD lemonade is that you can find it in many varieties. Shopping around, you can find variations like CBD sparkling lemonade. Some brands even provide their own CBD sparkling soda flavors to give consumers their preferred choice. You are most likely to find CBD lemonades in health stores, your local CBD shop, or by searching around online!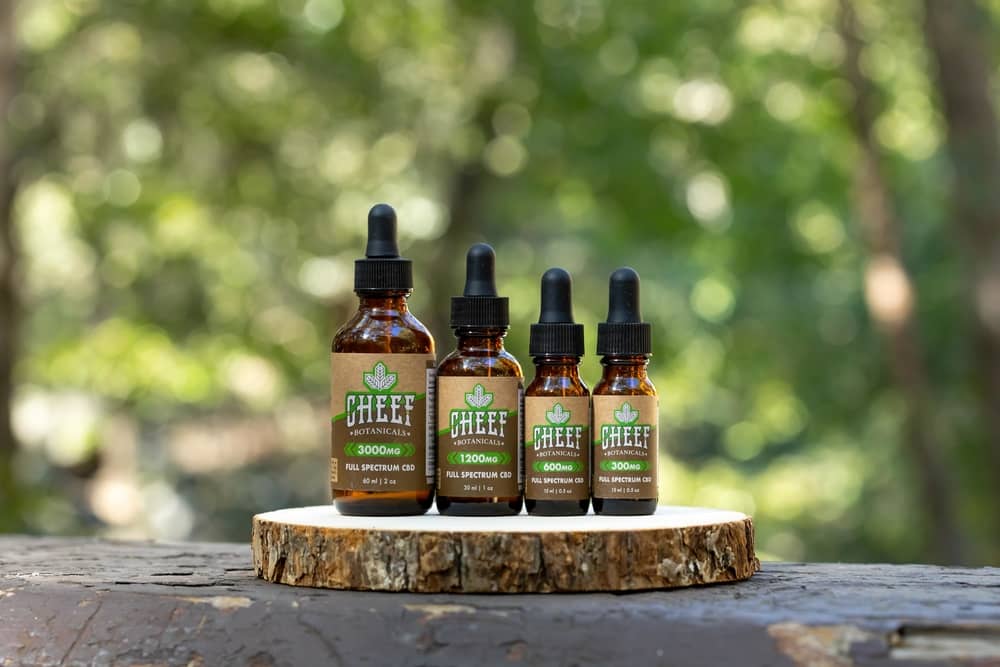 Can You Make CBD Lemonade?
Yes! And you'll be happy to know that making homemade CBD lemonade is easy! All you need to make it is CBD oil or isolate and some lemonade. True DIY heads can opt to make the lemonade by scratch, but store-bought lemonade will do the trick just fine, so people of all skill levels should be able to make this drink if they desire. However, before you make your drink, you will need to know how much CBD is best to add!
How Much CBD Should You Add to Lemonade?
Before making your CBD lemonade, you need to determine how much CBD you should add. If you are making a single serving of lemonade, you only need to put enough CBD inside for one use. To simplify figuring out how much to take, we came up with some guidelines.
Generally, for a regular serving of CBD, you will take 0.25 milligrams of CBD for every pound of bodyweight. For a strong serving, you will double the amount to include 0.5 milligrams of CBD for every pound of body weight.
You can also make multiple servings at a time. That will allow you to get your preparation out of the way so you can have your CBD-infused lemonade available right when you need it. To make multiple servings, multiply the suggested amount from the guidelines above by the number of servings you intend to create. For example, if you weigh 160 pounds and desire a regular serving, the individual serving would come out to 40 milligrams. If you wanted to make 5 servings of lemonade at this potency, you would take 200 milligrams total.
How To Make CBD Lemonade?
Don't stress! CBD lemonade is simple enough to make that you could taste its pleasures today! All you need to make it is CBD oil or isolate, and boom! You've got yourself the starting point for some tasty drinks. Once these two main components are accounted for, the rest is simple. All you have to do is crack open your lemonade, and then the rest is just pouring the CBD in! Wait for the CBD to fully dissolve or mix in, and you're all set!
Where To Get CBD Oil & Isolate
If you want to make CBD drinks you can be proud of it's best to start with a quality CBD product. Why not go with us at Cheef Botanicals for the best quality CBD? Our products are made using preservative-free ingredients and are made in-house to ensure the quality we want to see in our natural products. We also provide fast and free shipping on orders of all sizes so that you can have your CBD fast and without unnecessary hassle.
Final Thoughts — CBD Lemonade
CBD lemonade takes a delicious thing and makes it even better with the power of CBD! This thirst quencher is just what your summer afternoon needs, providing chill vibes and relaxation in a deeply refreshing drink. And while CBD lemonade sounds like a fancy craft drink that would be hard to get, it is easy to make yourself!
So the next time you are craving a nice cold glass of CBD lemonade, stop by our site to look at our full line of CBD products. We offer a variety of products, including broad spectrum CBD extract and THC-free solutions, so that customers of all needs can find what they are looking for. Also, look around our online shop to see our well-loved edible products along with our line of vapes, hemp flower, and even our pet products!