Recently, CBD has been gaining a lot of attention for its holistic therapeutic properties. CBD infused coffee is one of the new ways to consume this unique cannabinoid. Coffee is a favorite and sometimes necessary drink most of us enjoy, but there are some effects that can refrain us from drinking the second cup of coffee. The jitteriness of drinking too much coffee may be subsidized by the calming effect of CBD drinks and edibles.
Incorporating a full spectrum CBD oil into your daily cup of joe should definitely start you off on the right foot!
What is CBD Coffee?
CBD infused coffee is made by simply adding Cannabidiol to your favorite hot coffee. Once you have brewed your coffee at home, you can add the desirable dosage, give it a stir, and enjoy. Adding CBD to your favorite java drink has been made extremely convenient.  You can add CBD to a cold brew, cappuccino, even your favorite Starbucks frappuccino. You can add CBD to just about any beverage!
Is CBD Coffee Legal?
CBD coffee is federally legal in the United States! The 2018 Farm Bill is federal legislation that has made it legal to purchase CBD products derived from hemp plants. The hemp product must have 0.3% THC or less for it to be considered legal. Consumption laws do fluctuate from state to state, but overall, hemp driven CBD products are legal in the USA.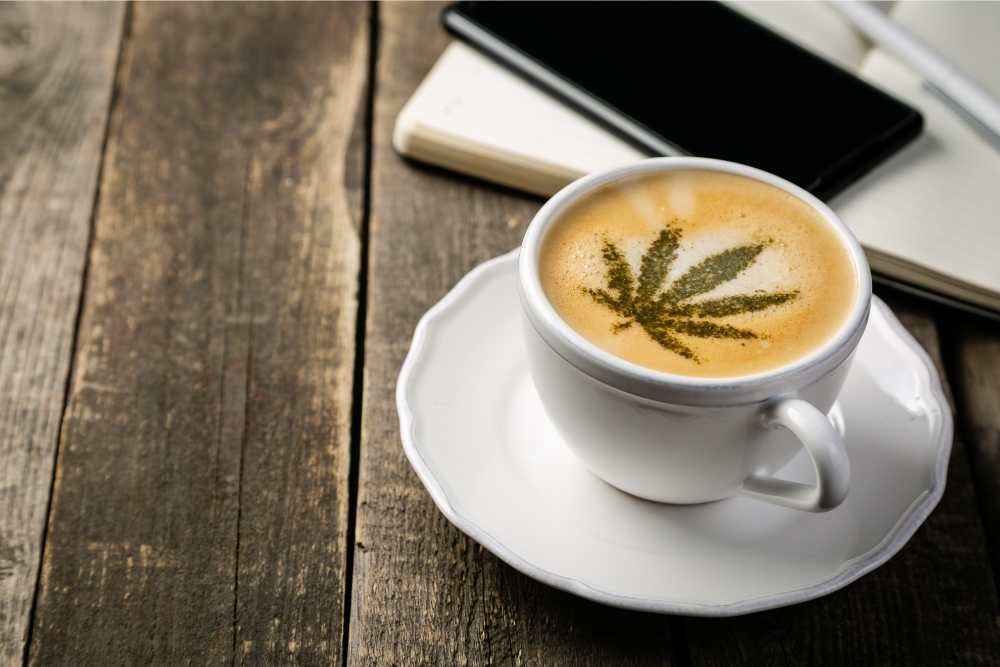 What Are the Benefits of CBD Coffee?
CBD coffee can contribute to your daily well-being. On the days where you find yourself drinking way too much java, you can feel your body vibrate from the excessive energy. CBD in your cup of joe will help balance that sensation! You will still receive the energy boost we all need in the mornings, but it will be balanced with a relaxed and focused mind.
Some java and mocha drinkers have utilized CBD and noticed a boost in their productivity because they do not crash mid-day. CBD infused coffee can help you feel relaxed while completely in control. If you find yourself suffering from insomnia, take note that CBD is known to help promote tranquility. With CBD in your cup of joe, you can wave goodbye to those morning blues.
Are There Any Side Effects When Drinking CBD Coffee?
CBD on its own might have mild side effects. The majority of CBD coffee drinkers do not experience any side effects because the dosage is not strong. However, some side effects may include dry mouth, diarrhea, drowsiness, and fatigue. If you are taking any prescribed medications, CBD is known to inhibit certain types so checking with your doctor is recommended.
It is essential for your health to purchase CBD products from a trusted source. Your CBD product should include a Certificate of Analysis (COAs) from a third party to verify the CBD content.
Can CBD Infused Coffee Get Me High?
CBD infused coffee can not get you high. THC is the psychoactive component in marijuana that can make you feel "high." Hemp CBD products have a greater CBD to THC ratio, meaning that there is not enough THC to make a person feel high. If you are skeptical about a full spectrum CBD product, you can always incorporate a CBD isolate in your java! CBD isolates do not include a trace of THC or any other cannabinoid, other than CBD.
How to Make CBD Coffee
Making CBD coffee is extremely easy. Just brew your preferred coffee beverage, for example, a delicious cup of Colombian coffee works great. Next, add your sweeter or creamer then add your desired dose of CBD. You can use full spectrum CBD oil, CBD honey sticks, or CBD isolate. Use a spoon, frother, or blender to mix the CBD in with your cup of joe. And voila, your CBD coffee is ready to brighten your day!
If you prefer to sweeten your morning cup using sugar, you can replace it with CBD honey as a healthy alternative! Honey is known to improve memory and brain activity, so mixing it in your coffee can contribute to your daily well-being.
Final Thoughts
CBD has been incorporated into many products. However, CBD infused coffee is probably one of the most useful creations because it has the ability to balance out the negative side-effect's coffee has and replace it with the benefits of CBD. It is something we can incorporate into our daily lifestyles to bring balance and homeostasis to our minds and bodies.
Not sure which CBD product is right for you??? Take the quick quiz to find out!