Figuring out your optimal CBD dosage can be tricky, but if the regular CBD oils aren't strong enough for you, try extra-strength CBD oil! If you are looking for more relief from either discomfort, joint or muscle aches, or even a lack of sleep — CBD oil with higher potency may be just what you're looking for.
So how much difference does extra-strength CBD oil make compared to regular CBD oils? And does extra-strength necessarily mean more effective and efficient? This guide will examine the benefits of higher potency CBD and how it can affect your body!
What Is Extra-Strength CBD Oil?
Extra-strength CBD oils have higher concentrations and are more potent than the average CBD hemp oil. The stronger the product, the larger the quantity of CBD there will be per bottle.
Although there are no standardized guidelines for CBD oil potencies, these products can be separated into three main categories: average, strong, and extra-strong potencies. Some CBD oils can even go as high as 15,000 mg per bottle!
Average strength CBD oils typically range from 300-600 mg.

Strong CBD oils are usually in between 600-1800 mg.

Extra-strength CBD oils are everything 1800+ mg.
Full Spectrum vs. Broad Spectrum vs. Isolate
It's important to note that the type of CBD extract will also make a huge difference. Generally, most oil tinctures will be either full spectrum or broad spectrum CBD. Full spectrum CBD contains all the cannabinoids from hemp and will provide you with the most potent benefits. CBD products are most effective when all the cannabinoids can work together, creating a synergy called the "entourage effect."
Broad spectrum CBD is similar to full spectrum but is completely THC-free. The entourage effect is slightly diminished, but broad-spectrum CBD is still very effective. It is great for people sensitive to THC and want to avoid any adverse effects!
Isolates are pure CBD (over 99%+ purity), usually coming in crystal or powder form. Although there is no entourage effect in isolate, it's one of the most versatile products you can add to many products for a quick CBD boost. Isolates are one of the best ways to incorporate CBD into your daily life.
Related: What's The Difference Between Hemp Oil And CBD Oil?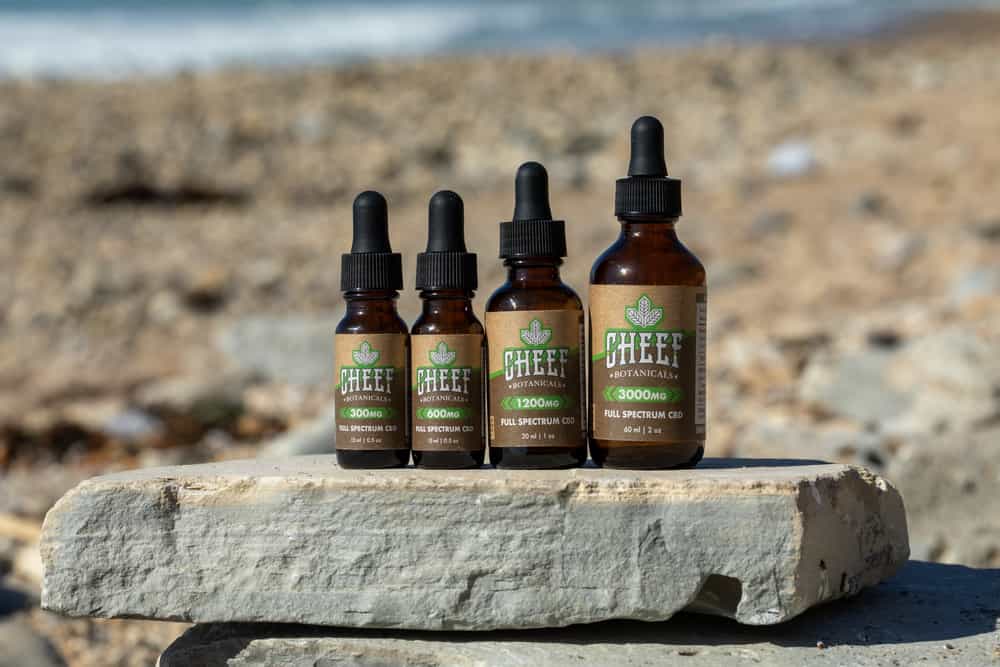 What Are the Benefits of Extra Strength CBD Oil?
Extra-strength CBD oil enhances many of the benefits that regular CBD gives. Since extra-strength is more potent, you can feel stronger effects or take fewer amounts to make it more cost-effective. Buying multiple bottles of a weaker CBD oil may end up costing more over time.
Even though extra-strength CBD oil is more cost-effective, we recommend first-time consumers start with higher potencies. Without knowing your tolerance, the CBD may cause more drowsiness or fatigue than usual. The best method for trying CBD is to gradually work your way up from a smaller dosage and lower potency.
Benefits of CBD
There are many potential wellness benefits to taking CBD! Many people try CBD to help with things such as:
Promote better sleep

Improve mood

Enhance appetite

Boost digestion

Relieve discomfort
One of the best things about it is that there are very few side effects. CBD is a non-intoxicating hemp extract that doesn't leave you feeling high. It's one of the many reasons people prefer consuming CBD over marijuana products. CBD still has a few mild side effects, but it's generally well-tolerated by most people. Some of the adverse side effects you might experience are:
Dry mouth

Mild drowsiness or fatigue

Change in mood or appetite
Remember that everyone's CBD tolerance can differ, but it's nearly impossible to overdose on CBD if you accidentally take too much. With consistent, steady implementation, you should lose these adverse effects in no time, prompting a CBD experience that benefits the mind, body, and soul. Finding the optimal dosage can take some time, but eventually, you'll be able to find what works for you!
What Is Extra Strength CBD Oil Used For?
Extra-strength CBD oil is for people who have more discomfort than usual that regular CBD has not been able to relieve. It can help alleviate pounding headaches, joint and muscle soreness, or redness and swelling of the skin. The added potency is also great for those who have built up a CBD tolerance and need something stronger to feel the same relief.
Can Extra-Strength CBD Oil Get You High?
No, extra-strength CBD oil shouldn't get you high!
CBD is a non-intoxicating compound that cannot give you euphoric sensations. Under the 2018 Farm Bill, hemp-derived products can contain up to 0.3% THC, but even these small amounts are not enough to get you high. You might experience slightly stronger side effects than normal, like more fatigue or drowsiness, which is why we recommend trying regular strength CBD oils if you are new to CBD.
How Do You Use Extra Strength CBD Oil?
There are many different ways you can consume extra-strength CBD hemp oil. You can ingest CBD orally or apply it sublingually under your tongue. Another option is to add CBD oil to your food.
Sublingual – Taking CBD sublingually may increase the product's bioavailability (how much your body absorbs). Our bodies don't absorb CBD very well, and oral ingestion may only allow us to absorb 5-10% of the product. By putting the CBD tincture under our tongue, the absorption is boosted up to 10-15%. The sublingual application also reaches your bloodstream much faster, typically within 15 minutes, compared to 30 minutes to an hour from oral ingestion.
Oral Ingestion – Oral ingestion can involve swallowing the oil directly or adding it to your favorite food and drinks! Although directly swallowing the oil can take longer for the effects to kick in, it usually lasts much longer to around 6-8 hours.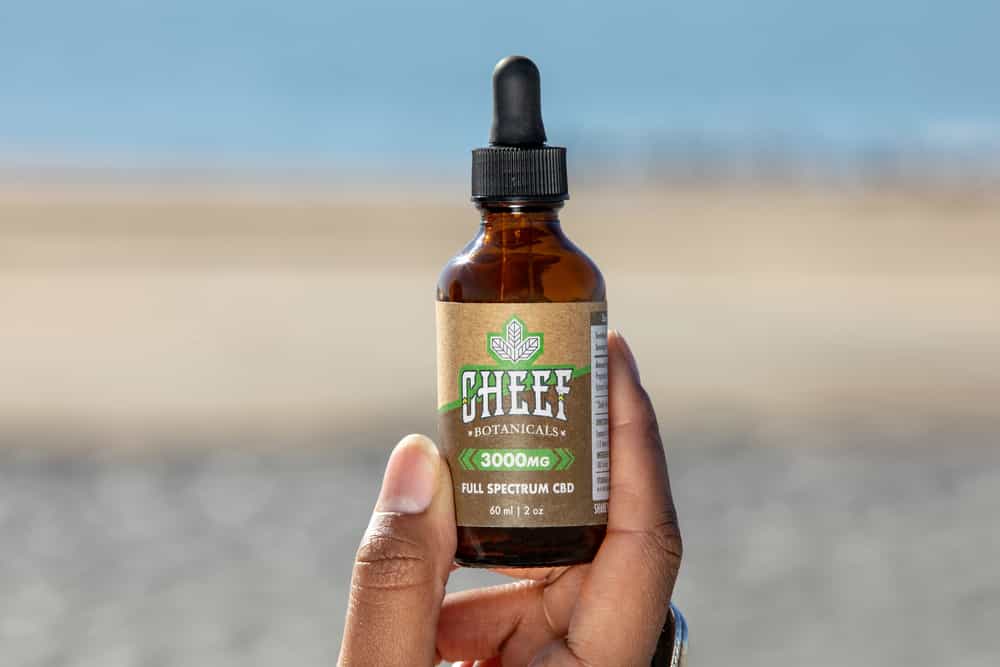 How Do I Choose A CBD Oil Strength That's Right for Me?
CBD can affect everyone differently depending on their tolerance, age, weight, and a few other factors. Luckily, there are different CBD tincture potencies for everyone that can be customized to match your needs.
For most people, the average CBD potency is about 300-600 mg. Stronger potency CBD oil can range from above 600 to about 1800 mg. Finally, if you are looking for the most potent CBD tinctures, anything above 1800 mg is considered extra-strength.
Choosing the Right Brand
The CBD industry is booming right now, which can cause you to be overwhelmed with the number of available products. One of the most crucial steps is choosing a brand that you trust and value. Many companies may attempt to mislead you on the accuracy or effectiveness of their products.
At Cheef Botanicals, we have seen the many benefits of CBD and truly believe it can change the world. We want to educate the world on the fantastic qualities of CBD and provide industry-leading products of the highest quality. Here are some of the things you can look out for that will hopefully help guide you in the right direction:
3rd-Party Lab Testing
Any reputable CBD company will offer Certificates of Analysis (COA) that verifies the product underwent third-party testing for potency and the full cannabinoid profile. COAs ensure that the brand hasn't cut corners on costs by providing misleading or incorrect information. You'll also verify how much CBD, THC, etc. is in the product.
Customer Reviews
Reviews from other customers are always a great way to research a company's reputation and product quality. Reading firsthand reviews from others may also help you make a better-informed decision before buying from them. Things to look out for include its customer service policies and how satisfied people are with their purchases.
Pricing
Determine what your price point is for whatever product you're looking for. Sometimes you may want to pay a little extra for a reputable and positively-reviewed company or if you want to sacrifice a little quality to save more money. Remember to compare the potencies of each product since being more expensive doesn't always mean it's better. It's all about finding the best bang for your buck!
Hemp Source
Always look for brands that source their hemp from the USA. USA-grown hemp has to follow strict regulations set by the FDA and USDA. Imported hemp from foreign countries might contain pesticides, contaminants, and even over the legal limit of 0.3% THC. Local farms will ensure your hemp is grown organically and responsibly, better for the environment and your health.
Ingredients
Always read up on the ingredients that are listed on the product label! By doing your own research, you may find that some products contain filler ingredients that have no nutritional value. By consuming CBD products with more beneficial ingredients, you'll be able to better take care of your wellness. Avoid products that utilize any preservatives, additives, or artificial flavorings!
Final Thoughts – Extra-Strength CBD Oil
For those looking for stronger effects and more relief, extra-strength CBD is perfect for providing those additional benefits. Extra-strength CBD oil should only be stem from seasoned veterans who understand how CBD affects their bodies. Higher potencies can be more cost-effective in the long run as well. Take a look at your needs and ailments and determine what dosage or potency works best for you! 
Not sure which CBD product is right for you??? Take the quick quiz to find out!