Whether you're looking to relax and unwind or simply get a more restful night's sleep, you can't go wrong with a CBD edible! You'll feel the effects within 45 to 60 minutes and benefit from the CBD in your system for up to eight hours! But you might be wondering, "how do I find CBD edibles near me?"
CBD is federally legal, so you'll find edibles both online and possibly in stores near you. But sometimes it can be tough to know where to start your search. Where can you find CBD edibles? Are there any near you? How do you know if you can trust the company and its product?
And once you finally find some appealing CBD edibles, how do you know if it's a safely regulated option with quality ingredients?  We're here to answer all these questions — and more — making your search for CBD gummies or any CBD edible easy, streamlined, and fast.
Utilizing Google Maps To Find CBD Edibles Near Me
CBD edibles are an easy-to-use and pre-dosed way to safely ingest CBD, a cannabinoid found in hemp plants. CBD interacts with the cannabinoid receptors in your body's Endocannabinoid System (ECS). Some research suggests that this interaction has the potential to initiate tremendous amounts of benefits. 
Sometimes you need that relief much sooner than shipping allows, meaning it's time to find out if any stores near you have CBD gummies and other edibles. Luckily, Google Maps is easy to navigate and understand, helping you search for CBD edibles in no time. Here's how:
Open your internet browser and search for

Google Maps (or use the Google Maps app).
Make sure your location is turned on, so that Google Maps can find nearby results.

Using the search bar at the top of Google Maps, enter "CBD Edibles" or "CBD Edibles near me."

The Google Maps results will list all of the nearby locations that possibly carry CBD edibles, along with their address and phone number.

If you find a local option try giving them a call to check if they have the CBD edibles you desire. Or, you can always just drive to the location to view their products in person.
Potential Risks of Buying CBD Edibles From Local Merchants
While buying CBD edibles from local vendors is the fastest way to get your hands on some relief, there are some things to keep in mind. Consumers should be aware that, in general, there are very few standards in place for CBD products. The store's owner is at the hands of the CBD manufacturer, who is the one deciding which CBD products they offer — and it's possible that their CBD edibles could be low quality, or even harmful, depending on the ingredients the products contain.
For this reason, you may want to proceed with caution when buying CBD edibles from local health stores. There's a chance they won't meet your standards or provide the benefits you're searching for. Stores will also frequently jack up the prices of their CBD products. You could end up paying up to five times the price of what the same — or better — edibles would cost online.
Cannabis dispensaries might be a safer choice if you want to ensure your CBD edibles are of higher quality. Dispensaries have standards set in place for selling CBD products. Unfortunately, many of their CBD edibles will likely be derived from marijuana plants. That means the CBD edibles could have more than 0.3% Delta 9 THC, which is the cannabinoid that can get you "high" when present in larger amounts.
Related: Does Hemp Get You High? [Full Guide for Smoking, Vaping, Consumption]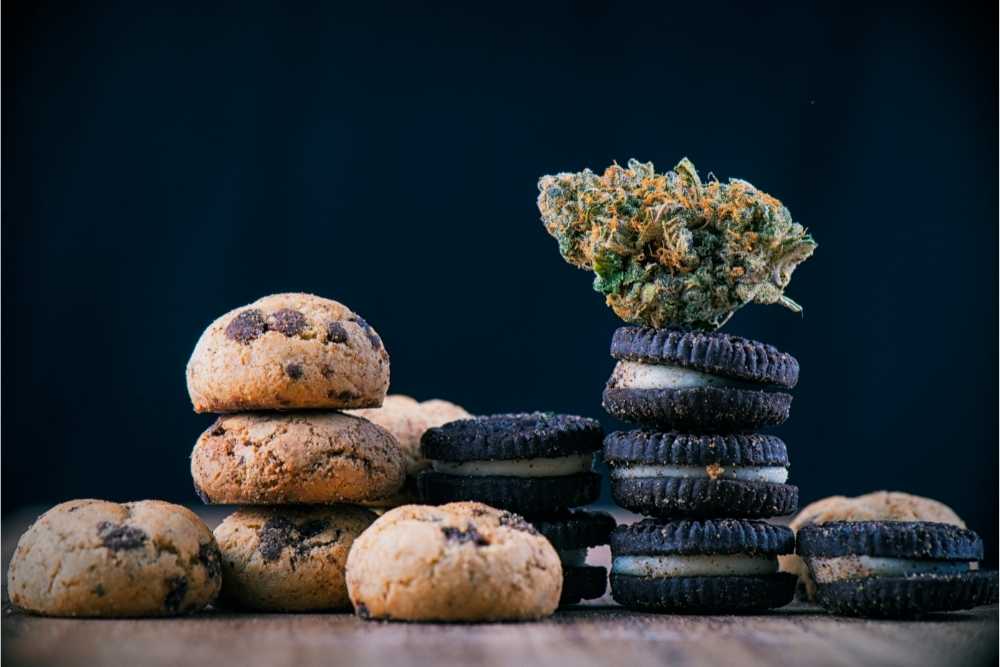 How To Find CBD Edibles Online
Ordering CBD edibles online is often worth the extra wait for shipping. Most quality CBD edibles are sold online, meaning there are more CBD product options in contrast to most retailers. This includes CBD oils, capsules, topicals, and gummies.
Fortunately, it's pretty easy to discover CBD edibles online, maybe even easier than looking for local retailers! Here's a quick step-by-step to get you on your way to quality CBD gummies or any CBD edible on the market:
Open your web browser and then go to your preferred search engine. We recommend Google since it has the best results for finding CBD edibles.

Type a phrase like "CBD edibles" in the search bar. This will result in Google's top results for the most popular websites that utilize that phrase. Some may be blogs or forums, but you'll notice a few online retailers in the mix as well.

Click on one of the websites and start checking out their site and their products.

Now it's just a matter of adding your desired CBD edibles into the shopping cart, and following your chosen company's check out instructions.
Popular Products: CBD Flower
What To Look For When Shopping for CBD Edibles
While the searching portion of online shopping is easy, it can be a bit tougher when it comes to choosing which website to buy CBD edibles from. Buying online allows you to directly purchase CBD edibles from the manufacturer. Checking a company's website will tell you about their story, where and how they grow their hemp, and their processes. You also have access to customer reviews and feedback.
If you're searching for CBD infused edibles on a reputable website, you'll also be able to find lab results. These should detail the different concentrations of the cannabinoids in the CBD edibles. You'll want to pay extra close attention to the concentrations of CBD and THC. Shopping online for CBD edibles also gives you great insight into the ingredients included in each product. When it comes to CBD edibles, this is definitely something you'll want to take a closer look at.
Ingredients To Avoid
Some ingredients just flat out aren't very good for you. If your CBD product contains any of the following ingredients, chances are, it's not the most premium product on the market:
Corn syrup

Gluten

GMOs

Artificial flavors and colors

Preservatives
Quality Ingredients To Look For
Surely, there are a few things you want to keep in mind when searching for quality CBD edibles. There are many types of CBD products and each one can be either full spectrum, broad spectrum, or isolate.
You will usually want to choose CBD edibles that are full spectrum if you want to experience the "entourage effect." This means that it has all of the cannabinoids, terpenes, and flavonoids working together for greater effectiveness. Of course, full spectrum still has less than 0.3% THC so you won't get "high" from these CBD edibles.
Related:

 

The Complete List of Cannabinoids in Cannabis



During your hunt for high-quality CBD gummies, you may also want to keep an eye on whether they contain animal products. When a product is "cruelty-free," it means that no animal products are in the ingredients or used during the manufacturing process. Cheef Botanicals' CBD gummies are suitable for vegans, and contain no gelatin or animal byproducts.
There are many advantages to a plant-based diet, usually centered around health benefits and the environment. A vast number of common diseases are linked to the consumption of meat or a lack of nutrients. This includes omega-3 fatty acids and fiber. A plant or vegan-based diet is usually well rounded in terms of nutritional value, plus it's also much lower in fat.
Animal-Based Food Production
Animal-based food production has had a major (negative) impact on the environment. From global warming and over-fishing to a rapid loss of resources and land. Raising livestock is also an inefficient way to produce food since a lot of the food used to feed livestock could be used to feed people instead.
Of course, being vegan also inspires the better treatment of animals. There are many animals being treated cruelly in the world since they are viewed solely as future food. So, let's take a look at the ingredients you should be looking for in plant-based CBD gummies. Make sure they include some of the following:
Premium-quality CBD oil

Rice syrup

Cane sugar

Natural apple, grape, orange, pineapple, or strawberry for flavor

Fruit and vegetable concentrate (examples: apple, carrot, pumpkin, blackcurrant)

Expeller-pressed sunflower seed oil

Granulated sugar
Organic Natural Ingredients vs. Non-Organic Processed Ingredients
You probably see the word "organic" being thrown around a lot, and that's because organic ingredients are pretty important when it comes to quality CBD edibles, including gummies. You'll want to start checking for the "organic seal" on your CBD products — meaning no hormones, artificial chemicals, antibiotics, or genetically modified organisms (GMOs) were used.
Non-organic ingredients impact the environment negatively. GMOs have been in a lot of headlines for the large number of chemicals they require, their need for stronger pesticides, and their strong link to global warming. GMOs were responsible for 60% of nitrous oxide emissions in 2008. They also use a significant amount of fossil fuels due to the production of synthetic nitrogen fertilizers.
Non-organic ingredients also have lower nutritional value and lower levels of antioxidants. Food raised organically is more nutrient-dense because plants grown without pesticides essentially work harder to survive, developing more important nutrients. Organic ingredients also have lower nitrate levels — higher nitrate levels have been linked to serious sicknesses.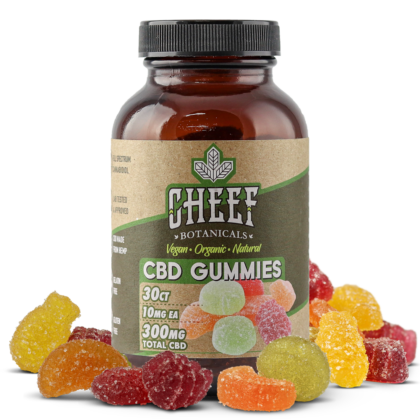 USA Grown Hemp CBD vs. Imported Hemp CBD
By now, you've checked the CBD edibles' ingredients. But there are a few more things to consider when you're searching for quality CBD edibles online! Use the company's website to find out the source of the hemp, which should always be listed on the packaging label.
Make sure that the hemp is grown within the United States because the US has strict guidelines for hemp growing, administered by the government. Federally approved hemp fields will follow guidelines set by The United States Department of Agriculture (USDA), the Environmental Protection Agency (EPA), and the Food and Drug Agency (FDA). These three government agencies ensure that the hemp is safe for consumption and doesn't have negative effects on the environment.
Hemp grown in other parts of the world doesn't have the same strict regulations. Because of this, imported hemp means lower standards, increased contaminants, and unregulated chemicals.
At Cheef Botanicals, our hemp is naturally sourced from farms across America. We were founded by health-conscious cannabis enthusiasts that have over 25 years of combined experience in the organic food industry who wanted to spread the importance of quality, plant-based CBD product.
Most Popular CBD Edibles: Gummies, Chocolate & Honey Sticks
CBD Gummies — CBD Gummies provide an ideal way to satisfy your sweet tooth while simultaneously getting your dosage of CBD discreetly.

At Cheef Botanicals, our CBD Gummies contain no animal gelatin, no GMOs, no artificial flavors, and no artificial colors.

CBD Chocolate — Chocolate lovers, rejoice! CBD Chocolate is exactly what you'd think it is: chocolate that has CBD in it. It can come in the form of chunks, milk, dark, or even white chocolate.
CBD Honey Sticks — 

CBD Honey Sticks are the perfect ingredient to add a little bit of gusto to your favorite drink or snack.
Final Thoughts
It's late and you're feeling like you absolutely need to relax. You dig around your kitchen and realize you ran out of CBD edibles. But don't panic! It's easier than ever to get your hands on an edible like CBD gummies nowadays, whether you're using the world wide web or driving to a local store. You can even get CBD delivered directly to you!
If you're searching for the highest quality CBD infused edibles that you know meet federal regulations and have the safe and beneficial ingredients you desire, you'll probably want to begin your search online. That's where you'll find products you can trust from companies you can thoroughly research.
Not sure which CBD product is right for you??? Take the quick quiz to find out!