Since the passing of the 2018 Farm Bill, the use of CBD has more than tripled. Consumers are eager to attain the health benefits that have been associated with CBD use. CBD products are on shelves nationwide, but these products don't come with an instruction manual. There are different ways to administer CBD, which has left a pressing question at the top of consumers' minds: Can you smoke CBD oil? In short, no, you cannot smoke CBD oil. However, there are CBD products that you can smoke.
It is tricky getting to known all of these products, but don't worry. Below, we will walk you through what CBD oil is, which CBD products are safe to smoke, and how each may affect you.
What is CBD Oil?
Cannabidiol, commonly called CBD, is a type of cannabinoid found in the cannabis plant. CBD oil is created by extracting CBD from hemp, which is a type of cannabis. Cannabidiol is one of several cannabinoids the plant produces. Unlike Tetrahydrocannabinol (THC), CBD does not have psychoactive elements. That means users will not experience the "high" often associated with marijuana.
Cannabinoids interact with your endocannabinoid system (ECS). The ECS helps to regulate anxiety, sleep, appetite, digestion, mood, inflammation, soreness, and much more.
The ECS has two primary receptors: CB1 receptors and CB2 receptors. CB1 receptors are mainly located in the brain, whereas CB2 receptors are mostly in the gut (which houses most of the immune system). While THC binds with CB1 receptors, CBD is believed to stimulate CB2 receptors.
After extracting CBD from cannabis, manufacturers usually dilute it using a carrier oil. This combination is what creates CBD oil. Carrier oils are used to dilute essential oils, making them easier for the body to break down.
They earned the name "carrier oils" because they literally help carry the nutrients. Coconut oil, grape seed oil, and hemp seed oil are among the most popular carrier oils, although there are many more.
Related article: What is the Best Carrier Oil for CBD?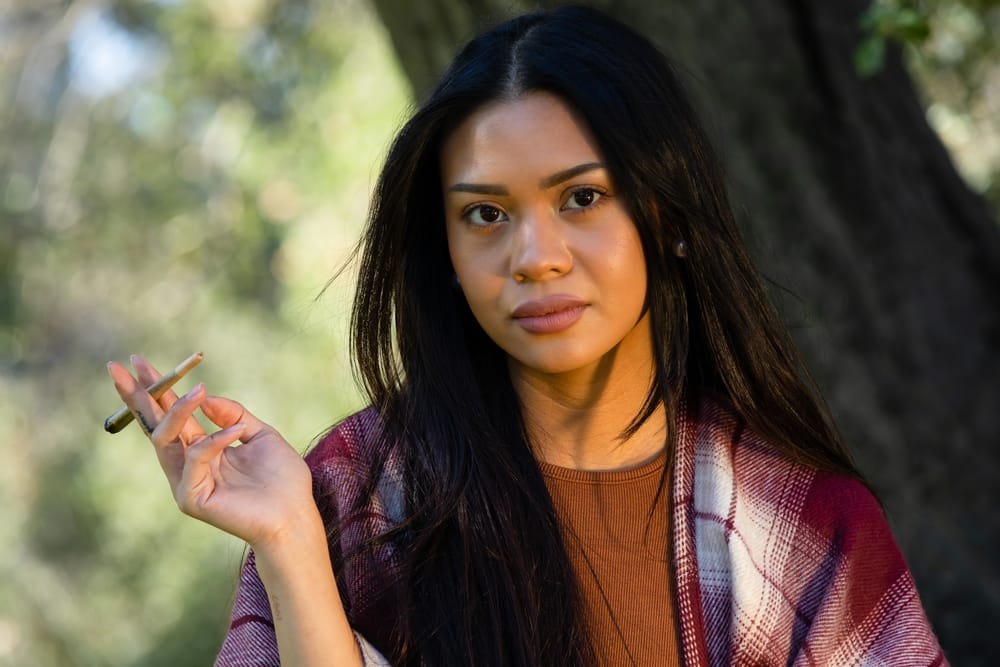 Can You Smoke CBD Oil?
No, consumers should not smoke CBD oil. CBD oil that comes in tinctures is strictly meant for ingestion or topical use. CBD oil has carrier oils in them, many of which should not be smoked or inhaled.
For example, CBD oil regularly contains MCT oil (which comes from coconuts). MCT is unhealthy to inhale. Can CBD oil make you sick if you smoke it? Smoking or inhaling oil has been linked to severe health risks such as lipoid pneumonia.
When you see people smoking CBD in liquid form, what they are really smoking is CBD diluted with vape juice. People may try to smoke CBD oil because they see others smoking CBD in a liquid form. Unfortunately, most CBD oil tinctures lack proper labeling to warn consumers not to smoke the product.
Can You Vape CBD Oil?
You should not place CBD oil into a vape pen or vaping device. Any cannabis product that you see in a vape cartridge is a type of e-juice. These products are safe to smoke. Once again, CBD oil typically contains carrier oils that are not safe to burn and inhale.
Can You Smoke CBD?
Yes, you can smoke CBD. There are several types of CBD products that are smokable. CBD vapes, CBD flower, and CBD dabs and waxes are all meant for inhalation. Inhaling CBD actually gives consumers the fastest form of benefits. When you ingest CBD, it must go through the digestive system. Here, it goes through the first-pass metabolism, which substantially lessens the potency of the product before it reaches the bloodstream.
The first pass effect occurs in the liver and gut wall, where absorption can significantly reduce the concentration of any medication. When you inhale CBD, however, the impact of first-pass metabolism is no longer a concern.
Keep in mind that the faster the CBD takes to kick in, the shorter the effect lasts. Because inhalation takes effect within a few seconds, the effects may only last for an hour or two. On the other hand, because digestion may take an hour to take effect, it will subsequently last much longer, sometimes 6-8 hours.
Choosing what type of CBD products to smoke depends on your preference. Let's differentiate the types of smokeable CBD and facts below so that you can decide what suits you.
CBD Flower
CBD flower is cannabis buds grown with 0.3% THC or less. Some consumers refer to these buds as "hemp flower." You can smoke CBD flower in many ways. There are tons of different smoking utensils, and they even make special vaporizers if you want to vape your herb.
CBD flower looks and smells just like regular marijuana flower, so consumers often get confused. To avoid the confusion, only choose flower that has been properly tested (by a third-party lab) and labeled CBD flower. These products are 100% legal and they will not contain enough THC to give you any psychoactive effects.
The minuscule amount of THC left in CBD flower aides what is known as the "Entourage Effect." The Entourage Effect is when all the cannabinoids in cannabis work together to provide the maximum amount of benefits. CBD flower may also come in a pre-roll form.
CBD Vapes
This is different than nicotine vape juices, instead of nicotine, they contain CBD! CBD vape juice, or CBD e-juice, is insanely popular. Vaping CBD is convenient, and it works fast! Companies sell it in different size bottles or disposable cartridges that you place on a vape pen battery.
When people say CBD "vape oil," that is incorrect because there is no oil, it's only e-juice. Most CBD e-juice contains Vegetable Glycerin (VG) or Propylene Glycol (PG) and CBD. Sometimes, CBD e-juice has additives for flavoring as well.
Cheef Botanicals vape cartridges are in a class of their own because they contain only CBD and terpenes. We strive to keep our products as natural as possible; our recipe avoids adding petroleum byproducts (like propylene glycol). We add no artificial flavors and we also pay close attention to the THC content. There should never be more than 0.3% THC in CBD vapes either, but always read labels.
Related article: CBD and Terpenes [Why They're Important]


CBD Concentrates
Typically referred to as "dabbing," the inhalation of CBD concentrates is also gaining popularity. Concentrates come in many forms, and several of them are still growing. The most prevalent types are wax, crystals, and shatter.
Depending on the viscosity and physical profile, a concentrate may be labeled as "sauce" or "crumble" as well. Regardless, farm bill compliant CBD concentrates will only have traces of THC, so they are also non-psychoactive.
You can smoke concentrates using a dab rig or vaporizer. You can also add CBD concentrates to your flower. For example, some companies or consumers may place CBD wax on the interior or exterior of a CBD pre-roll.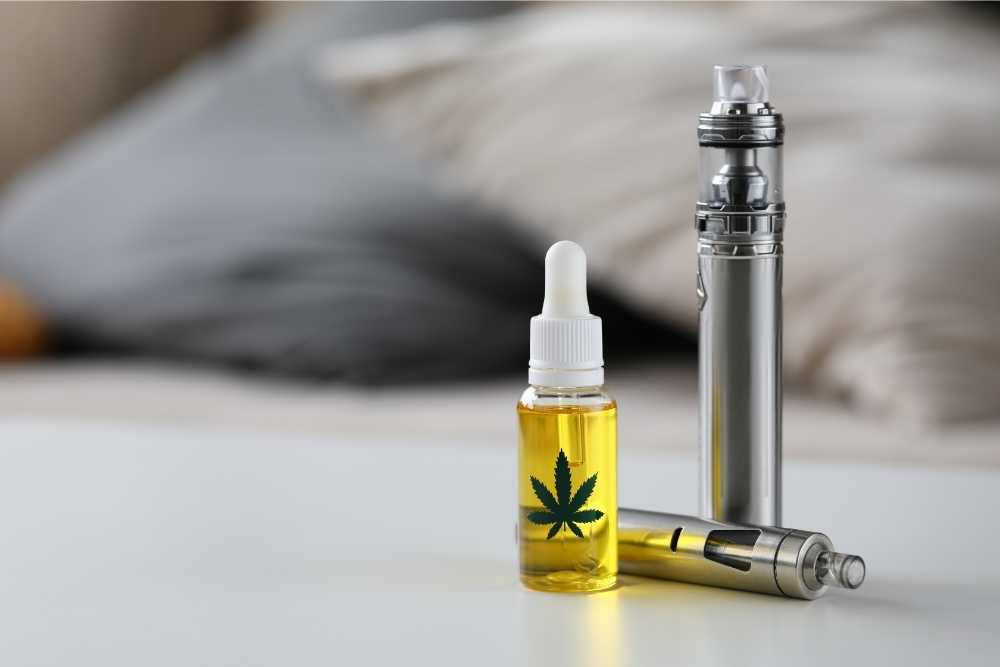 Difference Between CBD Oil and Vape Juice
The main difference between CBD oil and vape juice is the components that are mixed with the hemp-derived CBD. CBD oil contains carrier oils, which are not safe to smoke. These carrier oils are safe to ingest and use on the skin.
Vape Juice is made with VG, PG, or terpenes, all of which can be smoked. Surprisingly, most CBD vape juices are safe to ingest. So keep this in mind: in general, it is okay to smoke OR ingest CBD vape juice, but you CANNOT inhale or smoke CBD oil.
Benefits of Smoking CBD
Smoking or vaping CBD gives consumers the fastest benefits. The general rule of thumb for cannabidiol is, the quicker it takes to kick in, the shorter the effects last. So while smoking CBD can give consumers benefits in seconds, the effects typically last for 2-3 hours.
Smoking CBD also increases bioavailability. Bioavailability refers to the amount of cannabidiol that makes it into the bloodstream. As discussed earlier, the first-pass metabolism occurs when the digestive system reduces the potency of a drug.
The first pass reduces bioavailability. When you ingest CBD, it metabolizes in the liver. There it is broken down before entering the bloodstream—Cytochrome P450 (CYP450) oxidases enzymes in the liver, which will reduce CBD concentration. However, since smoking CBD avoids the digestive system, consumers can get a more potent effect.
Effects Of Smoking CBD
The effects of smoking CBD vary by consumer. Cannabis affects everyone differently. Also, consumers take CBD for different reasons. Many consumers claim that they feel relaxed or mildly euphoric after smoking or vaping CBD.
CBD may help promote overall health and homeostasis, which is why many feel a sense of balance and harmony when they smoke it. Smoking cannabidiol products instantly provides beneficial cannabinoids to your ECS.
As for negative effects, smoking CBD may lead to mild side effects. This can include dizziness, fatigue, change in appetite, and increased heart rate. These mild side effects typically abate once the consumer's body becomes accustomed to the CBD.
Final Thoughts
CBD products are flooding the market because consumers want to capitalize on the health benefits associated with cannabis but they wish to avoid any psychoactive effects. However, the CBD market is not fully regulated by the Food and Drug Administration. Consumers who wish to take CBD should always read labels and only smoke cannabidiol products that are intended for inhalation, like our CBD joints for sale online!
It is best to only use products that have been tested at a third-party laboratory. All reputable companies should provide a Certificate of Analysis (COA) for each product. COAs will list the cannabinoid content of the product and any contaminants if present.
As time progresses, we are sure more cannabis products will hit the market. You can always trust us to keep you up to date on everything in the cannabis industry.
The statements made regarding these products have not been evaluated by the Food and Drug Administration. The efficacy of these products has not been confirmed by FDA-approved research. These products are not intended to diagnose, treat, cure or prevent any disease. All information presented here is not meant as a substitute for or alternative to information from health care practitioners. Please consult your health care professional about potential interactions or other possible complications before using any product. The Federal Food, Drug and Cosmetic Act requires this notice.
Not sure which CBD product is right for you??? Take the quick quiz to find out!