Abacus CBD flower is a relatively new hemp strain that is turning a lot of heads. This strain hit the cannabis scene in 2017, and Abacus has quickly established itself as an aromatic, soothing, and complex CBD hemp flower. The Abacus strain contains many components that make it so unique.
This article will explain the cannabinoids, terpenes, and various other compounds that comprise this hemp flower. Cannabis is such a versatile and beneficial plant that we believe everyone should be well informed before they buy. Abacus CBD might be your next favorite hemp strain!
Abacus CBD Strain: Lineage
This CBD flower went through several permutations before it was perfected. High-tetrahydrocannabinol (THC) strains like OG Kush and Purple Urkle were experimented with, and each generation of plants was refined. Finally, the crossbreeding of Alien Sour Apple with Fruity Pebbles OG resulted in the Abacus cultivar.
Abacus is an Indica-dominant strain. Indica is known to induce relaxing feelings that are excellent for unwinding at the end of a day, while Sativa promotes focus and natural energy. Even though Abacus is slightly more suited to the evening than daytime use, it contains Sativa and Indica's benefits.
Alien Sour Apple is an uplifting strain that promotes creativity and focus. It is a perfectly balanced hybrid with an out-of-this-world sweet and sour flavor which earned it its name. Alien Sour Apple produces large, deep purple-and-green nugs with a thick layer of white trichomes.
Fruity Pebbles OG (FPOG) is an Indica-dominant strain with a sweet tropical flavor similar to the Fruity Pebbles cereal. Indica hemp is typically associated with rest and bedtime, and FPOG can certainly help you get to sleep. Though, this strain is also known to promote happy feelings.
Abacus CBD's high-quality is due to its original breeder's dedication to creating the best hemp strain possible. Nate Smith of Humboldt County, North Carolina, created this flower on his own, and Colorado CBD Seed later purchased its rights. Abucsus's popularity proves that nothing beats a homemade recipe!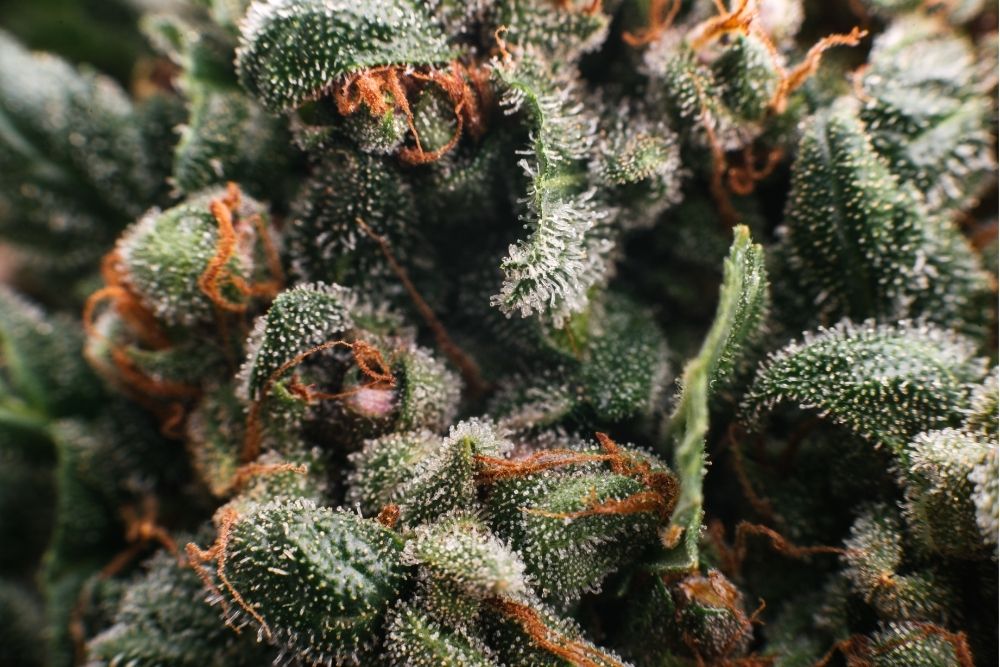 Abacus CBD Strain: Terpene Profile
Terpenes give a CBD flower its taste and smell. This flower's success has led Colorado CBD Seed to create several spinoff strains, including Cherry Abacus, Abacus Early Bird, and Abacus Diesel. Each of these strains has its own unique blend of terpenes, but we'll stick to Abacus's classic profile.
When you smell the sweet aroma of Abacus hemp, these are some of the terpenes you're experiencing:
Caryophyllene (0.45%): Common in black pepper, cloves, and cinnamon, caryophyllene is a peppery terpene with a delightful kick.
Pinene (0.14%): As its name implies, pinene is abundant in pine trees and carries the earthy smell of Christmas trees or a vibrant forest.
Myrcene (0.13%): This popular terpene is in many other CBD products, and it's even present in beer hops. That slight spice in beer is partially due to myrcene, and it's also in thyme, mango, and lemongrass.
Linalool (0.13%): The floral scent of linalool may be familiar if you're a fan of lavender flowers or birch bark. Linalool may also help your CBD promote relaxing effects.
Humulene (0.12%): Another terpene present in beer hops, humulene has a woodsy smell that sits neatly between the tree-like aroma of pinene and the peppery kick of caryophyllene.
Bisabolol (0.06%): Bisabolol has light and floral notes that complement the spicier terpenes in Abacus hemp. This terpene's sweet flavor is also present in chamomile.
Limonene (0.05%): Providing a refreshing citrus flavor that rounds out this strain's flavor profile, this terpene's named after lemon rinds which also contain limonene.
How Much CBD and THC are in Abacus Hemp Flower?
The beauty of a natural, hand-cultivated product is that it won't be precisely identical every time. This is why Abacus's CBD content can vary from 14-20%. This high-CBD strain has several variants, so double-check the CBD and THC levels before making your purchase.
RELATED: Top 5 CBD Hemp Flower Effects On Your Body & Brain


Hemp flower must contain 0.3% tetrahydrocannabinol or less to be federally legal. Even though its parents, Alien Sour Apple and FPOG, contain more than the federal legal limit, Abacus does not share these levels. Abacus contains between 0.2-0.3% THC and will not induce a "high."
Abacus CBD Flower Effects
Abacus's effects are tranquil, alleviating racing thoughts and mental anguish. The two words that define this strain's feelings are peace and alignment. These deep green nugs can help align your mind and body, putting them both at ease.
Abacus CBD flower is a hybrid that leans slightly towards Indica. Indica and Sativa can be thought of as a spectrum, with Abacus sitting nearly in the middle. Being Indica-dominant, the Abacus strain is ideal for nighttime, though its Sativa presence causes it to be suitable for any time of the day.
Abacus's buds have a high CBD content with 0.3% THC or less. If you're using a strain that has more than this level of tetrahydrocannabinol, it increases the chance of grogginess, intoxication, and a euphoric feeling commonly called a "high."
Similar CBD Strains:
The best CBD comes from us, Cheef Botanicals. None of our products — whether they be buds, vapes, lotions, oils, or edibles — have more than 0.3% tetrahydrocannabinol. We offer free shipping to all 50 states because we believe cannabis is meant for everyone, just like Abacus's founder, Nate Smith.
These are some CBD flowers that are similar to the Abacus flower.
Bubba Kush: Abacus's founder was from North Carolina, so we thought it'd be fitting to include another Southern strain. Bubba Kush shares many of Abacus's terpenes, including myrcene, limonene, caryophyllene, pinene, and humulene.
Lifter: Lifter has a sweet and sour aroma similar to Abacus's blend of scents and flavors. Its CBD levels are also similar to Abacus's cannabidiol content.
Sour Space Candy: Sour Space Candy has a strong tropical taste that carries an impressive amount of cannabidiol. Like Abacus, this flower's CBD levels can reach 20%.
All of Cheef Botanical's strains are compliant with the 2018 Farm Bill, which made hemp federally legal. Our hemp buds are grown in the United States, ensuring that they're evaluated and deemed safe by the Food and Drug Administration (FDA). Avoid CBD products made from imported hemp.
We also send each new CBD product to a third-party lab for a certificate of analysis (COA). A COA is a lab report that lists all of the components within each product. Our COAs are available for anyone to view at any time.
Final Thoughts – Abacus CBD
Abacus is one of the most exciting new hemp flowers to enter the CBD scene. It has a rich assortment of terpenes that don't overpower the calm feeling it promotes. Consider using Abacus CBD the next time you want to get some shut-eye, chill out, or center your mind!
Not sure which CBD product is right for you??? Take the quick quiz to find out!