CBD flower is one of the most popular ways to enjoy the amazing effects of cannabidiol. Many fantastic CBD hemp flower strains can provide you with relaxation and comfort. However, if you're looking for maximum relief and soothing benefits, which is the strongest CBD flower?
Let's first go over what CBD flower is and what makes some CBD strains stronger than others. In this article, we'll take a look at some of our favorite strains among the strongest CBD flowers and the various benefits, flavors, and aromas they can provide!
What is CBD Flower?
CBD flower comes from the hemp plant, which has high CBD content and very low levels of THC. CBD is a non-psychoactive compound, meaning it can't get you high or intoxicated when you take it. Although hemp is a cannabis plant, there is only 0.3% THC or less. These minor amounts aren't enough to have any intoxicating effects. Even the strongest CBD flower strains shouldn't induce intoxication if their THC level is kept below 0.3%.
CBD flower strains contain all the compounds in hemp, including terpenes and flavonoids. Terpenes are responsible for each CBD flower's tastes and smells, while hemp plants' colors are caused by flavonoids. There are two main categories of CBD hemp flower: Sativa and Indica. Sativa strains help you feel more energized, focused, creative, and happy. Sativa strains can be used in the morning to make you feel more awake and ready to tackle the day ahead.
Indica, on the other hand, is often taken at night due to its sedative qualities. People who take Indica CBD flower strains are looking to relax and unwind after a long day. Troubling thoughts or work issues will also fade away. The tranquil collection of Indica strains also promote better rest and deeper sleep, making them perfect for bedtime.
Is CBD Flower Legal?
All CBD flower is 100% legal! The 2018 Farm Bill legalized all hemp and CBD products to produce, manufacture, sell, buy, and use throughout all 50 states. While some states have stricter regulations than others (such as age requirements), you can find CBD flower at most smoke shops, retail stores, and health-focused establishments.
IMPORTANT: Be careful of less reputable companies that will try to sell you low-quality CBD. Always look for CBD brands that use premium flower grown within the United States. Hemp flower imported from other countries don't always follow the same standards and regulations that the United States does.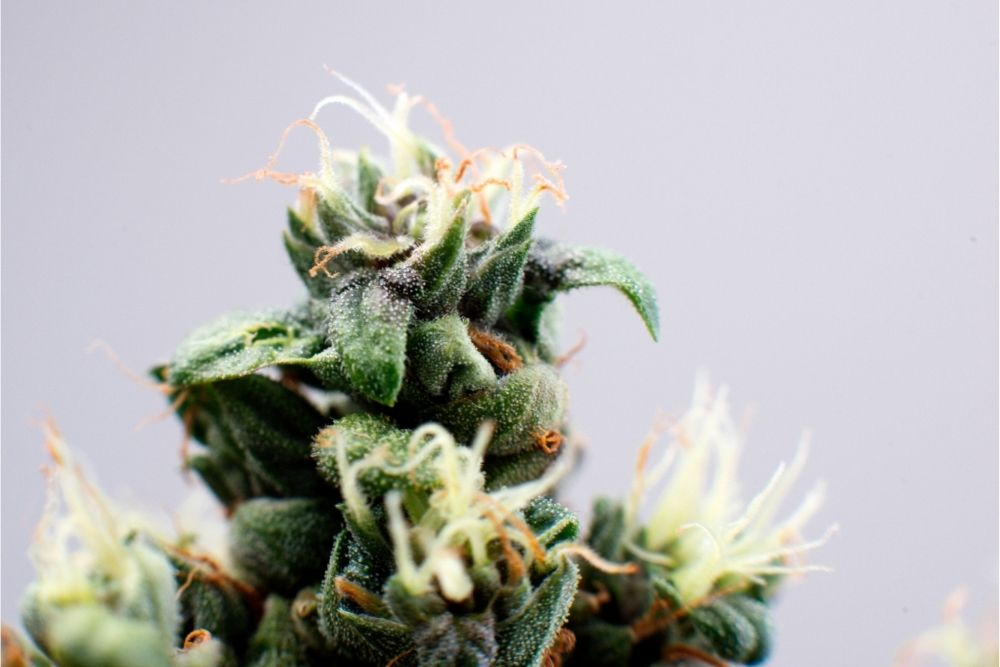 What Are the Benefits of CBD Flower?
CBD products, including CBD flower, have continued to grow in popularity thanks to their many wellness benefits. CBD can improve our overall well-being in various ways by supporting our body's endocannabinoid system (ECS).
Our ECS is in control of our homeostasis or balance. To maintain this balance, the ECS regulates many of the body's major systems, including the digestive, immune, and nervous systems. CBD interacts with these receptors in a unique way that provides various physiological and psychological benefits. Here are some of the most popular reasons that people turn to CBD flower!
Soothes Discomfort
CBD is commonly used to soothe physical ailments, including irritated skin, sore muscles, or joint discomfort. CBD has soothing properties that provide comfort, especially after a long day at work or recovering from an intense workout.
Reduces Negative Thoughts
When people feel worried, nervous, or stressed, many often smoke CBD flower to alleviate those unwanted thoughts. CBD helps calm the nerves and clear the mind so you can feel more at peace.
Promotes Sleep
Some strains of CBD flower are more potent and sedative, meaning they encourage better rest and deeper sleep. Many people often take CBD before bed to get a good night's rest. CBD products will have you waking up the next day feeling rejuvenated and refreshed.
Enhances Appetite
While you won't get the "munchies" as you would with marijuana, CBD is known to boost your appetite. CBD can also help regulate your digestive system so that you can function at higher levels.
Are There Various Potencies When it Comes to CBD Flower?
There are so many excellent CBD hemp flower strains out there, and cultivators are creating more every day. Each strain has different scents, flavors, and effects. With dozens of hemp strains available, there's probably one out there that can suit you and your needs! Something important to keep in mind is the potency of each strain. A CBD flower's potency can play a part in how each strain affects the body and mind.
What Strain is the Strongest CBD Flower?
A strong CBD strain is determined by the amount of CBD it contains. The more CBD it contains, the more impactful its benefits will be. If you're new to CBD, try starting with strains that contain less CBD and work your way up.
Some of our most popular strains at Cheef are also the most potent. There's not a "best" CBD flower because it all depends on what effects you're looking for. Here are some of our favorites!
Skywalker OG
Total CBD: 20.94%
Skywalker OG is a cross between Skywalker and OG strains. It's a CBD-dominant strain that provides powerful calming effects that lets you escape your worries and rest with ease. Skywalker has a surprisingly diverse flavor profile with its fruity, piney, spicy, and citrusy aromas.
Northern Lights
Total CBD: 20.73%
Northern Lights CBD is one of the most legendary and strongest CBD flower strains that provides powerful relief and relaxation. You'll feel like you're lying on a soft patch of grass and staring up at the stars thanks to this strain's deep, earthy taste. As one of our best-selling strains, we highly recommend trying Northern Lights for maximum comfort and tranquility.
Sour Space Candy
Total CBD: 20.66%
Sour Space Candy is one of our most popular top-shelf CBD flowers, featuring a sweet and sour flavor profile. The dense, sticky buds are a testament to the potency and effectiveness of this wonderful strain. The deliciously complex flavor provides uplifting and airy feelings.
Zkittles
Total CBD: 20.38%
With its delightful tropical, fruity flavor, Zkittles CBD is a sweet bedtime snack that will leave you sinking into your bed and feeling like your pillow is a cloud. This strain is perfect for winding down after a long day, leaving you calm and relaxed. With smooth smokability and delicious aromas, you'll enjoy every moment of Zkittles!
Sour Diesel
Total CBD: 20.17%
Sour Diesel looks simple but packs a strong punch with its sour and tangy flavors. This strain will energize and stimulate your mind, helping you stay focused and positive throughout the day. Try Sour Diesel when you wake up for a quick boost to start your mornings!
Super Silver Haze
Total CBD: 18.91%
Sweet and spicy with an earthy undertone, this hybrid strain is rich in CBD. Super Silver Haze keeps you feeling uplifted and energized. If you're looking for a boost of creativity and focus, this is the strain for you. Use it before starting an art project or sitting down to write the next chapter of your book. You can even use it before cleaning to stay active and inspired!
Gorilla Glue
Total CBD: 18.28%
Smoke Gorilla Glue in the morning to stay energized all day long. Its mixed flavor profile of citrus and pepper will keep you feeling alive and focused. The strong hints of chocolate and coffee act like a shot of caffeine throughout the day to keep you running.
Purple Gas
Total CBD: 18.69%
Purple Gas is a hybrid strain that has a balancing effect on users. You'll feel a sense of clarity that makes it perfect for both daytime or nighttime use. Purple Gas has a piney, earthy flavor with hints of citrus that many people love!
OG Kush
Total CBD: 18.08%
OG Kush has a very interesting aroma, often described as a zesty, woody aroma. It also features beautiful flowers with dark green hues and orange twirls. Despite its eclectic flavors and scents, OG Kush will leave you feeling relaxed and soothed, melting away all your aches and discomfort.
Cookies
Total CBD: 18.01%
Don't be surprised if your body melts into the bed and your mind stops wandering when you use the Cookies CBD flower strain. The mental serenity of Cookies will leave you feeling comforted and relaxed, making it perfect after a tough day at work or an otherwise frustrating day. The parent strains — Durban Poison and OG Kush — give Cookies an earthy and sweet flavor that will instantly remind you of a baked treat.
Related Article: What Does Good CBD Flower Look Like? [And What to Avoid]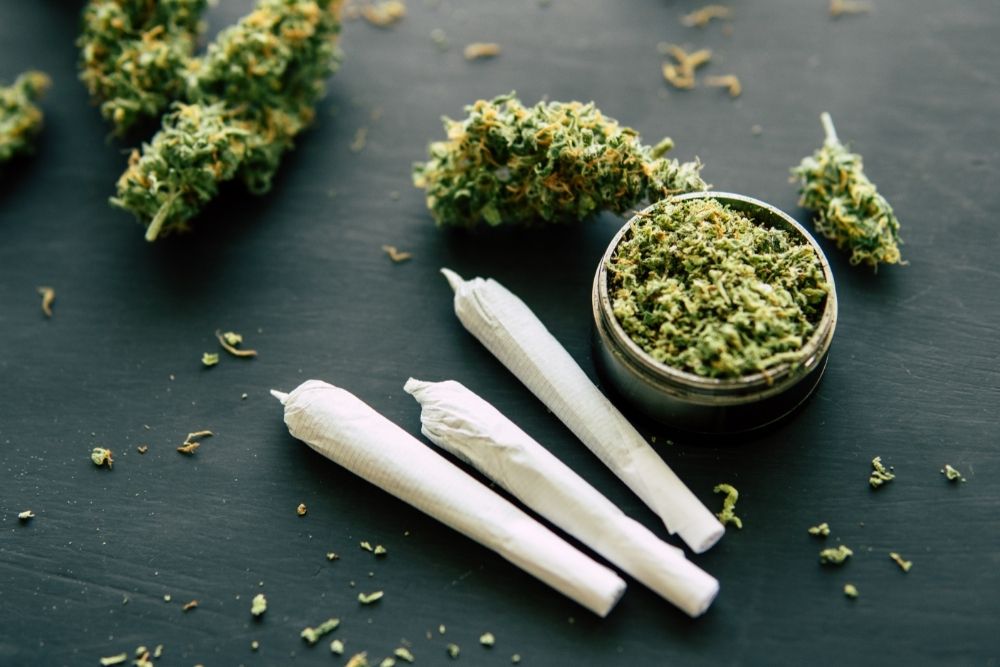 Why Choose Cheef Botanicals?
At Cheef Botanicals, we firmly believe that hemp and CBD are the future of holistic wellness. Everything we offer is made with natural, organic, and vegan ingredients to ensure you consume only the highest-quality CBD products! Finding a trusted brand can be tricky, so we've narrowed down a few categories to help you find one that matches your needs.
CBD Quality
There are two grades for hemp flowers: top-shelf and premium. We carry both top-shelf and premium buds, sourcing out hrmp from only the best growers in the country! You'll be able to tell the difference between poor-quality CBD bud and our grown-to-perfection flower strains.
Certificates of Analysis (COAs)
Reputable brands provide COAs to prove that their products have been third-party lab tested. COAs verify which compounds are in the CBD flower and confirms the product's label is accurate. Any CBD company you buy from should be able to provide COAs for their products as a sign they are high-quality and safe.
Healthy Ingredients
Believe it or not, our CBD products are even more than just premium CBD. We only use organic and vegan ingredients that are free of chemicals and GMOs. These are all-natural products that don't use any artificial flavors or preservatives.
Customer Reviews
We proudly share all of our customer reviews so you can get a better idea of how our CBD flower truly impacts people's lives. We believe it's important to share real-life testimonials to properly show how beneficial and effective our CBD flower strains are. Some brands may try to hide their reviews or not offer them at all if their customers aren't satisfied. Luckily, Cheef Botanicals doesn't have that problem!
Customer Service
Cheef Botanicals has a dedicated customer service department that is always there to answer your emails and questions, whether it's about what CBD flower strain is right for you or how to make a bulk order. We also offer full refunds if you aren't satisfied because we not only trust our products but care about your personal experience with our CBD flower.
Final Thoughts – Strongest CBD Flower
Smoking the strongest CBD flower can be one of the most efficient and quickest ways to enjoy CBD. Strains come in different strengths based on the amount of CBD they contain. The more CBD a flower strain has, the more powerful its effects will be. These effects can range from sedative to energizing, depending on which hemp flower you choose.
Try some of the strongest CBD flower strains and watch them change your life! Whether you are looking for extra relief or heightened clarity, we have a strain to suit your every need!
Not sure which CBD product is right for you??? Take the quick quiz to find out!