Aaaaah, yes — the search is officially over! You've stumbled across a CBD rub that not only works but works fast. When you're feeling a significant amount of discomfort or tension in a particular area, it's incredibly important to find a CBD rub that provides relief as soon as possible — and for as long as possible!
Don't worry, you're not asking for too much. Cheef Botanicals' CBD salve is one of the strongest CBD rubs out there. Our extra strength option offers 500mg of full-spectrum CBD and our maximum strength rub provides 1000mg. Both of these rubs are formulated for fast relief at maximum strength. You'll not only get the moisturizing effect of a good topical but the relief and calming effects of CBD. Let's dig a little deeper into exactly what a CBD rub is.
What is CBD Rub?
This all-natural ointment or "CBD rub" is applied directly to the skin. It is not a full-body application, like CBD body lotion, rather it's intended to target specifically bothersome areas. This rub is made by infusing CBD from cannabis flowers with a natural oil extract, then we add therapeutic herbs that compliment the CBD. In comparison to other topicals, our CBD salve is a stronger rub with a higher concentrate of CBD. It's a full-spectrum product, meaning it utilizes all of the cannabinoids, terpenes, and flavonoids in the hemp plant to get the most effective results.
Okay, let's pump the breaks. That's a lot of words. Cannabinoids, like CBD, are naturally occurring compounds in the hemp plant that interact directly with the cannabinoid receptors in our Endocannabinoid System (ECS). Every mammal has an ECS that helps maintain a healthy balance and stability through functions like digestion and mood.
RELATED: The Endocannabinoid System & CBD [How It Works]

When you apply a CBD rub, the topical reacts with your skin's cannabinoid receptors, which provides fast relief in that specific area. Once you apply a small amount you will feel it quickly penetrate the skin and surrounding tissue. There are some terpenes to keep an eye out for as well. A CBD rub with B-caryophyllene and pinene is preferred since these terpenes have a strong synergy with CBD when it comes to promoting comfort and soothing relief.
CBD salves are becoming more and more popular because of how quickly it works, how easy it is to use, and the ability to address specific areas directly. It's also non-psychoactive, meaning you won't get "high" from using it. The potential side effects are rare and if any do occur they're typically quite mild.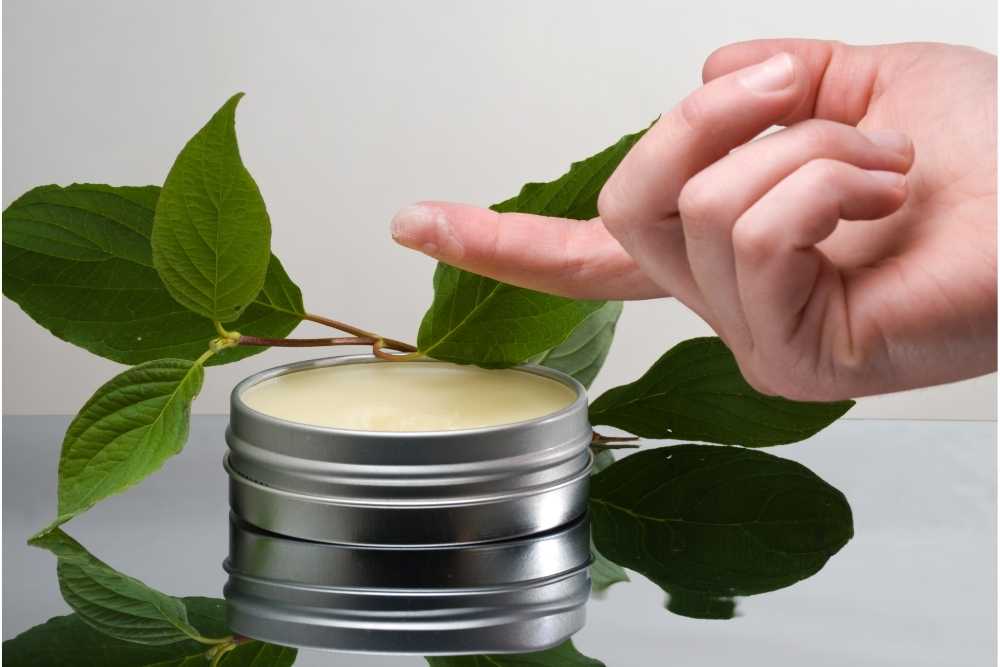 How Fast Does a CBD Rub Work?
Even though CBD rubs do not enter the bloodstream like other CBD products, it's still pretty fast-acting. That's because the CBD interacts with the CB1 and CB2 receptors found all over our skin.
You should start feeling the effects of the CBD — along with the Calendula Flowers, Peppermint Essential Oil, Menthol, and Vitamin E — in about five to 10 minutes. CBD rubs are long-lasting as well. You'll feel the effects for up to three to four hours!
What are the Effects of CBD Rub?
CBD rubs, especially our CBD salves, are highly favored by athletes and exercise enthusiasts because of the way the CBD interacts with our ECS. People who use CBD salves experience soothing relief and a sense of relaxation thanks to the full-spectrum CBD.
Cannabis salves containing CBD have been around for thousands of years. Cannabis' therapeutic effects were first recorded around 2600 BC in China. Ever since then there's been a consistent outpouring of studies that associate CBD rub with tension relief and joint comfort. Since research has so far concluded that people can't develop a tolerance for CBD, you will most likely feel the effects every time you use it.
How Do You Use CBD Rub?
Using a rub with CBD is thankfully quite easy, so you'll be feeling good in no time! Before skin application, wash your hands and the skin within the area you're targeting. Check for any injuries or irritations.
Once you're relaxed and clean, gently rub a thin layer over the area where you need relief and comfort. Promote blood flow to that specific area by massaging the rub into your skin slowly and gently. You'll start to feel its effects in just a few minutes.
You may feel the sorest after a long workout but you shouldn't slap some CBD rub on right after an intense run outside or weight lifting session. This is important; applying CBD rub directly after exercising or being out in the sun can sometimes make the effects of the rub a bit too strong.
You can apply CBD salves to the same area up to four times a day. Make sure you always wash your hands after applying the muscle rub and don't apply it near your eyes, mouth, nose, or genitals.
CBD Rub – Suggestions for Use
Research is still being conducted on CBD's benefits for people and there's a lot more to be discovered. But there's no denying that a CBD topical has a lot of potential uses. So when should you use a CBD rub like our full-spectrum salve?
After a Long Workout
Give yourself time to cool down, then apply some CBD rub on the area of your body that feels sore or uncomfortable after a strenuous workout. Along with proper stretching and hydration, CBD rub can provide a soothing feeling for athletes. Remember to take some time off to rest if needed. You'll heal even quicker if you give yourself time to recover.
RELATED: Soothing Actions of CBD Muscle Rub [Target Deep Relief]

If You Have Joint Discomfort
Our joints and ligaments are susceptible to wear and tear from strain and overuse. There is a ton of research, like this study, that claims CBD topicals may promote joint comfort. CBD rub works to provide soothing relief in that area for up to three hours. Apply it before bed, since you will be able to feel some calming effects almost immediately upon application. This will add to a restful night without discomfort.
Does CBD Rub Have Any Side Effects?
What makes CBD rub so great is that it comes with very little risks. Extensive tests on humans in clinical trials have confirmed that there's minimal evidence that CBD is harmful to our species in any way. Plus, it won't get you high, which makes it even better.
One thing to keep in mind is how your skin may react to different topical products. If you have sensitive skin, you might want to talk to your doctor about using different CBD topicals. If your skin ever becomes irritated from using CBD rub stop applying it and speak with your physician.
While everyone's experiences with CBD and its beneficial effects can vary, there's minimal risk with trying CBD in the form of a rub. You won't overdose and you won't feel any of the side effects of marijuana, like slower reaction times and light-headedness. Since there are little known side effects or risks, it's definitely worth trying if you're feeling discomfort in a particular area.
RELATED: Will Topical CBD Show Up On a Drug Test?

Final Thoughts
While there are many ways to ingest CBD, CBD topicals are becoming more and more popular. Since it can target a specific area and provide effects where you need it most, CBD rub is sometimes the simplest and most beneficial way to get that soothing relief you need.
CBD salve is stronger than most CBD topicals and it penetrates deeper. This leads to more comfort and relief — for longer. Our CBD salve was formulated for maximum strength and quick effects, making it a top choice for recovering athletes and people feeling a lot of discomfort.
The statements made regarding these products have not been evaluated by the Food and Drug Administration. Therefore, this product is not intended to diagnose, treat, cure, or prevent any disease. This product is not intended to be an alternative to a doctor's advice. You should still speak to your health care practitioner if you are experiencing ongoing discomfort. Consult a health care professional about potential interactions or possible complications before using any product, including CBD salve or rub. The Federal Food, Drug, and Cosmetic Act requires this notice.
RELATED: CBD Flower
Not sure which CBD product is right for you??? Take the quick quiz to find out!