What is Vape Juice Made From?
You can make a regular vape juice (without nicotine) with just a few ingredients: a carrier such as vegetable glycerin, propylene glycol, or MCT oil and flavorings.
In comparison, CBD vape juice contains much of these same ingredients with the addition of CBD (of course) and possibly terpenes. As you can see the list of ingredients for making a CBD vape juice is short. Let's break down each ingredient so you can get a better understanding of what is actually in your vape juice.
Vegetable Glycerin (Carrier)
Vegetable glycerin (VG) is a sugar alcohol made from plant oils. It is made by heating up these plant oils under pressure, which separates the fatty acid components from the glycerol portion. The end product is a sweet, odorless, viscous liquid known as glycerin.
Most vape juices today use vegetable glycerin as the main ingredient because it allows vaporizers to produce the thick smoke most people desire. It also has a hint of sweetness to it, although it is not enough to be a sweetener by itself.
Vegetable glycerin also has less of a throat hit, which may or may not appeal to some vape users. A "throat hit" is the harsh or scratchy feeling you get when inhaling smoke. Some people enjoy this feeling while vaping because gives them the sensation of smoking. If a throat hit is not particularly important to you, then vegetable glycerin might be the way to go because it is highly hypoallergenic and therefore suits most vape users.
Propylene Glycol (Carrier)
Propylene glycol (PG) is similar to vegetable glycerin in that you can use it as a carrier for the vape juice. You will find that there are vape juices that contain exclusively vegetable glycerin, exclusively propylene glycol, or a mixture of both.
Propylene glycol is alcohol, just like glycerin. The main characteristics of propylene glycol are that it holds on to flavor much better and gives a better throat hit, but the vapors are thinner than those from VG. The result is a smaller or thinner vape cloud which tastes great. You can see that PG is much different than VG, which is why the two are sometimes mixed together to get the best of both worlds.
PG actually acts as a preservative, which helps to increase the life of the vape juice. However, some people find that they are allergic to propylene glycol, so that is something you should be cautious about when trying out PG products. Swollen gums, sore or dry throat, sinus problems, and rashes are signs of an allergic reaction to PG.
MCT Oil (Carrier)
MCT oil is widely used as an alternative to PG & VG. The acronym MCT simply stands for medium-chain triglyceride. Triglyceride is a technical name for fats. These are fats that derive from foods such as coconut oil or palm kernel oil. The majority of vape juice manufacturers use MCT oil that comes from coconuts.
MCT oil is an extremely concentrated source of medium-chain triglycerides. This oil is produced through a man-made process called fractionation. The resulting MCT oil is odorless and flavorless which is why it makes a great carrier for vape juices.
Terpenes (Carrier/Flavoring)
These are natural aromas and flavors which manufacturers extract from various plants (including hemp). Scientists estimate that there are approximately 20,000 different terpenes existing with over 100 of them coming from hemp. Terpenes are not only ideal for adding flavor to vape juice but they also possess beneficial properties. Terpenes are similar to cannabinoids, they can bind to receptors in the brain and body to stimulate effects. This essentially is the science of aromatherapy.
When you add terpenes to a CBD vape juice they help to supply the body with the "entourage effect." This is when the CBD and terpenes work "synergistically" to achieve a combining effect greater than any single ingredient would provide.
Manufacturers use terpenes to add natural flavor back into the product. Additionally, manufacturers can also substitute terpenes as the carrier in the vape juice (instead of PG, VG, or MCT). Some of the most premium CBD vape juices are made up entirely of just CBD and terpenes (all natural).
Flavorings
One of the things that make vaping so enjoyable is the flavor. Whether it's a sweet or minty flavor, people love things that taste good. There is said to be over 7,000 different vape flavors out there. Some of these are natural flavors and some are artificial.
The flavorings used in vape juice are non-oil based, food-grade flavorings. This means the FDA approved the flavor for consumption but that leaves a lack of efficient research towards inhalation purposes. These flavorings come from either a natural source (food or plant) or are artificially made by humans.
Regular oil or essential oils should never be a component of any of the ingredients in vape juice because it is not safe to inhale and can cause lipid pneumonia. Note that MCT oil is not a regular oil or essential oil so if you use it properly it is safe for vaping.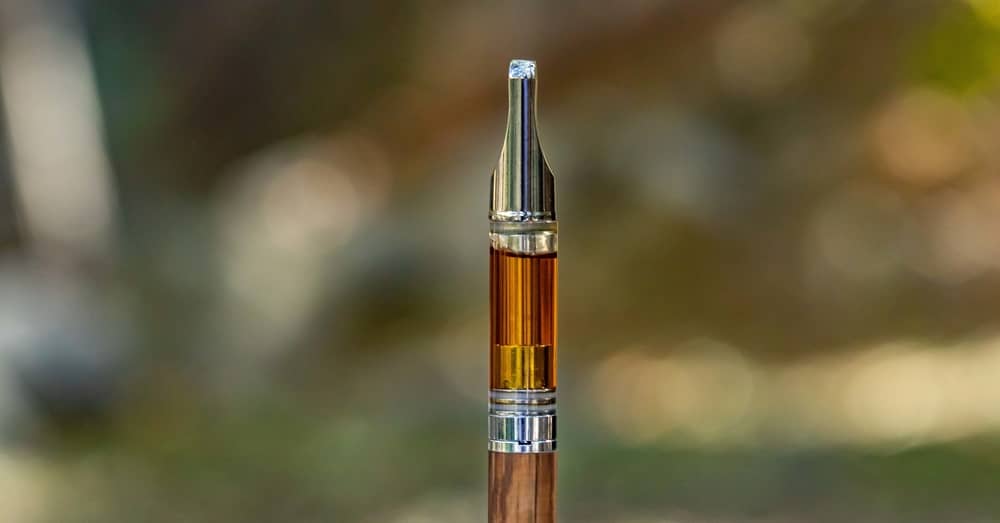 How to Make Vape Juice From CBD Isolate