Recent years have seen a boom in cannabis tourism. This is thanks largely to the federal government legalizing hemp and many states legalizing recreational and medical marijuana. With summer fast approaching, cannabis enthusiasts everywhere are ironing out their itineraries for cannabis vacations they'll never forget. Now that this natural herb's stigma has started to lift, cannabis connoisseurs have plenty of places to go and things to do to celebrate their favorite plant.
If you're a cannabis enthusiast, you might find it hard to determine which destinations to hit up. To simplify your travel plans, we put together this guide for the top ten places you should visit! Come with us as we explore some of the most popular hot spots and hidden gems on your route. We'll also tell you about some essentials to take with you on your cross-country cannabis tour. Let's get going!
What Is Cannabis Tourism?
Cannabis tourism is leisure travel to destinations that feature cannabis-related attractions or activities. As younger generations grow up, the popularity of cannabis tourism can only increase from here! Americans who have tried cannabis already make up a significant portion of the populace.
A 2020 report found some very surprising attitudes about travelers and cannabis tourism:
29% of all active leisure travelers want to participate in cannabis tours and activities on vacation.
57% said they would participate in cannabis-related activities where recreational cannabis is legal.
25% said they had already traveled to a destination for the sole purpose of indulging in cannabis experiences.
44% of Millennials and Gen Z, 23% of Generation X, and 14% of Baby Boomers have already participated in cannabis tours.
Public and political attitudes towards cannabis have changed dramatically in the past few years. For example, hemp is now legal in the United States. Marijuana for recreational or medical use — or both — is now legal in most states. California, Oregon, Washington, Nevada, and Colorado are great examples of states leading the way for cannabis tourism.
But these states are more than tourist destinations for cannabis enthusiasts. They are shining examples of the many benefits cannabis tourism can have on local economies. Just look back at the 2020 COVID-19 pandemic, where most businesses shuttered. But cannabis-related businesses were essential businesses, and their operations continued. With sales of hemp-derived CBD products in 2022 projected to be a record $2 billion, the cannabis industry and the tourism opportunities it produces are only just beginning.
How Can Cannabis Change the Travel Industry?
In 2019, the global travel industry had a record $1.8 trillion in revenue (yes, you read that right — trillion with a T).
As the industry rebounds from the pandemic, cannabis tourism will only add to that number. Enthusiasts will make cities like Portland, Las Vegas, and others into destination hubs. These cities will fight for the claim of the "Amsterdam of the West" for tourists worldwide.
Companies like Truelieve, Curaleaf, and MedMen are already ahead of the curve. These dispensary chains operate in several locations throughout the U.S. and are on their way to becoming destinations for travelers. These companies are also betting on the future by expanding their cannabis-friendly locations and services. Their hope is that marijuana products will soon become federally legal. The future is cannabis, and the travel industry is at the forefront of this revolution.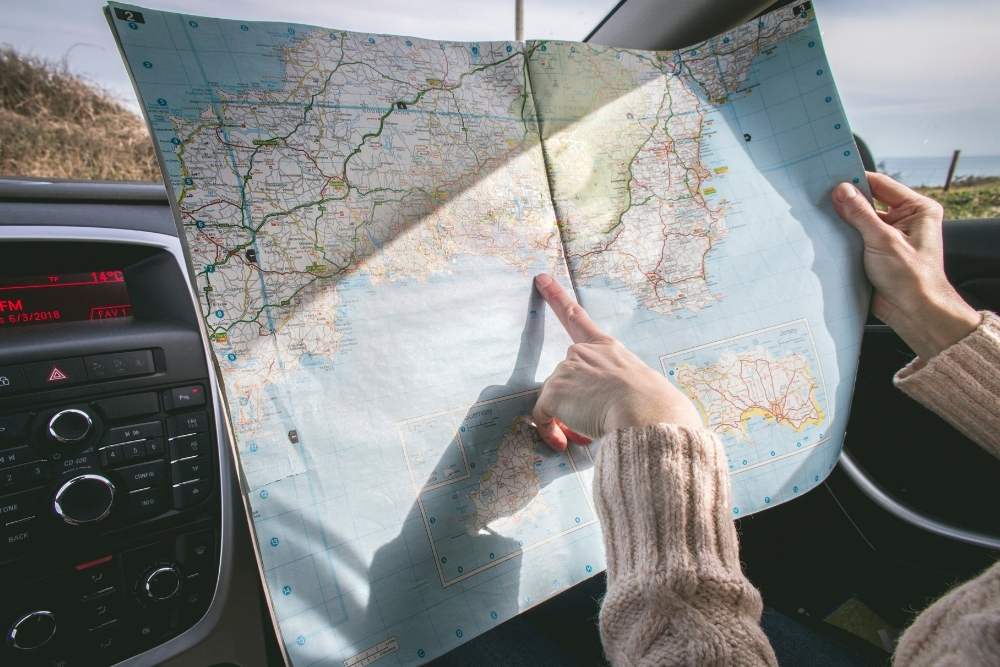 What Are the Top Cannabis Tourist Attractions?
There's more to cannabis tourism than just traveling to a place so that you can smoke a joint. You can have several unique cannabis experiences that will turn your vacation into one you'll never forget. Some of the ways you can enjoy your journey are by paying a visit to the following establishments.
1. Mountain Views Tree House B&B Retreat (Monroe, Washington)
One of the most unique experiences you'll have is a stay at the Mountain Views Tree House Bud & Breakfast Retreat in Monroe, Washington. Bud and breakfasts are just like bed and breakfasts but with a twist: they're cannabis friendly! Expect unique accommodations with a cozy mom-and-pop atmosphere that allows you to enjoy all things cannabis! Reservations are a must, so plan ahead.
Four eclectic treehouses adorn the surrounding property for a memorable glamping experience. You can stay in the Trippy Tree House, Hashtag Tree House, Pot Leaf Tree House, or 420 Tree House. Get high while perched high up in the trees of a whimsical forest. You may even encounter the many animals that roam the adjoining farm.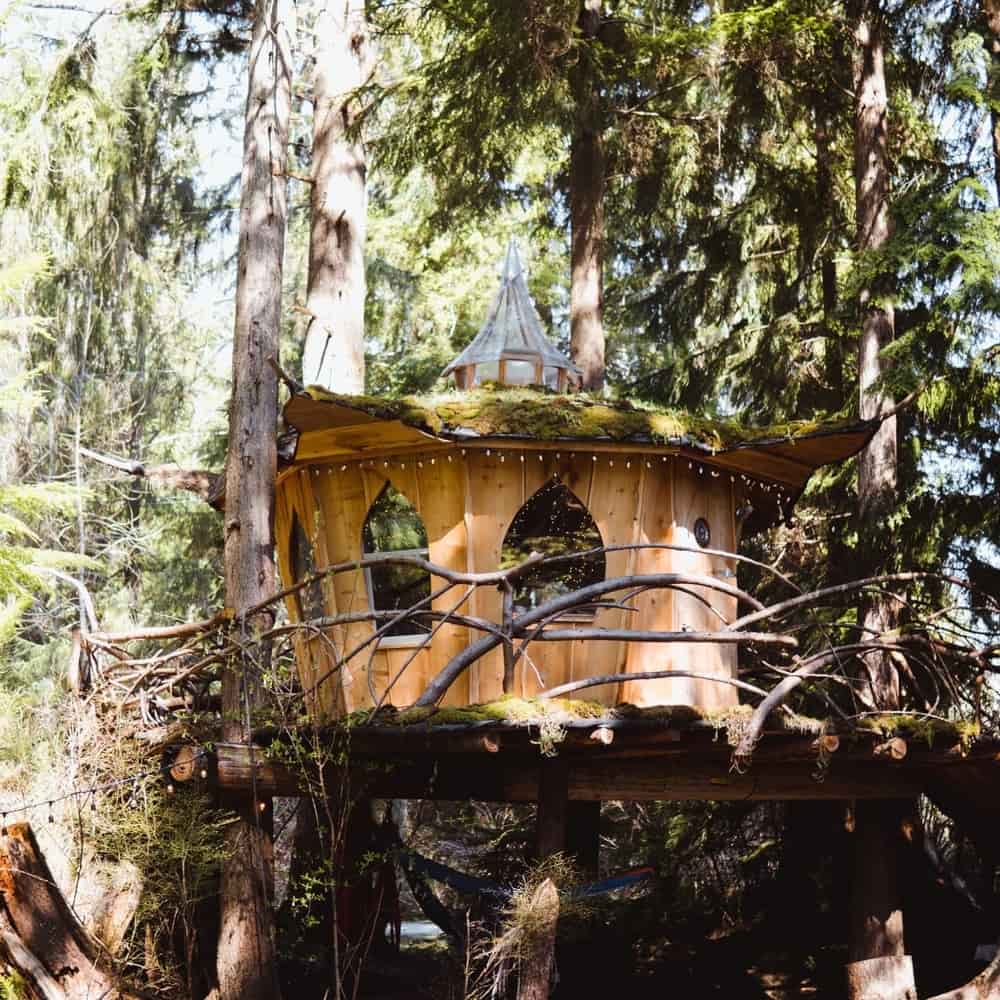 2. High Siskiyou Tours (Oregon)
Experience Oregon's thriving cannabis business by touring Green Springs or Crater Lake farms. This all-encompassing experience from High Siskiyou Tours allows you to connect with local growers and tour their farms. You'll also get in touch with nature, too.
Unlike other farm tours, High Siskiyou Tours will take you on excursions to local vistas. As you toke out with fellow tourists, you'll soak in the wonders of the Pacific Northwest and gain a new appreciation for Oregon, one of the first states to decriminalize recreational cannabis consumption.
3. Humboldt Cannabis Tours (Eureka, California)
Want to see where your favorite strain of cannabis came from? Then take a fully-licensed cannabis farm tour with Northern California's Humboldt Cannabis Tours! You'll walk the farm and tour the facilities where the flower is trimmed and processed. You'll also gain industry insight from expert growers about everything it takes to bring these buds from the field and into your pipe.
This tour provides half or full-day tours to get up close and personal with the plants and talk to farmers. Enjoy perks like transportation to and from the farm, a picnic lunch, and exclusive deals on products. All this and more await you on one of the best cannabis farm tours on the West Coast.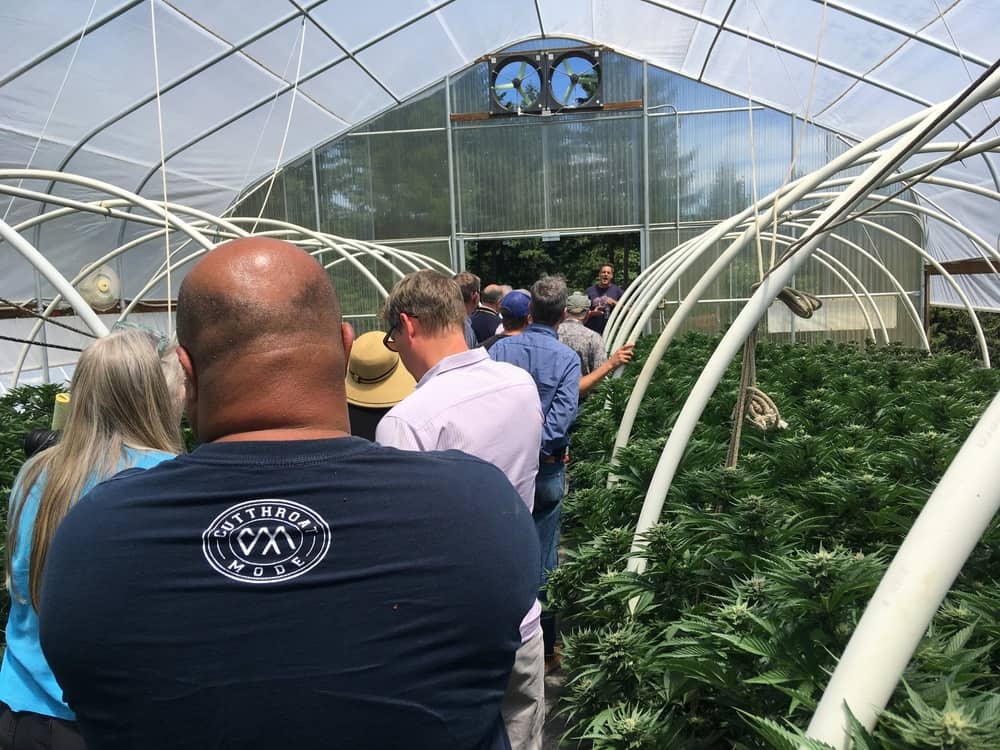 4. Te'Kila Hollywood (Los Angeles, California)
One tequila, two tequila, three tequila, more! If you're looking to unwind after a long day of travel, Te'kila has the perfect drink(s) for you. Nestled in the heart of Hollywood, Te'Kila offers new possibilities for cannabis-infused libations. Enthusiasts will experience the triple T combo of tacos, tequila, and THC at this street-style Mexican cantina.
As happy hour rolls around, you'll find it hard to choose from their menu of THC-infused tequila drinks. Look out for weekly specials like Margarita Monday, Taco Tuesdays, and Fajita Thursdays.
5. The Dispensary Lounge (Las Vegas, Nevada)
The Dispensary Lounge in Las Vegas is one of the most vibrant nightlife venues catering to cannabis enthusiasts. You can lounge with friends while listening to live jazz and dance the night away as you light up. Did we mention the 24/7 casino? This is Vegas, after all. As the munchies set in, devour their award-winning half-pound charbroiled burger and fries.
This iconic location has been a popular Sin City hotspot for nearly four decades! Voted the "Best Jazz Lounge" and "Best Dive Bar" in Las Vegas, The Dispensary Lounge is on its way to becoming the "Best Cannabis Lounge" in The City of Second Chances and a must-visit for cannabis enthusiasts everywhere!
6. Planet 13: The World's Largest Cannabis Dispensary (Las Vegas, Nevada)
Before you leave Las Vegas, stop by Planet 13, the largest dispensary in the world. Planet 13 boasts a monstrous 112,000 square feet of retail space dedicated to cannabis. Open 24/7, this one-of-a-kind dispensary embodies the freedom to smoke and is a favorite of tourists worldwide. Choose from an assortment of products like edibles, flower, concentrates, vapes, topicals, and accessories to take with you as souvenirs of Sin City's flourishing cannabis industry.
In addition, Planet 13 boasts production facilities, interactive displays inside and outside the building, and even a museum. The destination station is more than just a dispensary. It's a love letter to all things cannabis that every tourist should experience.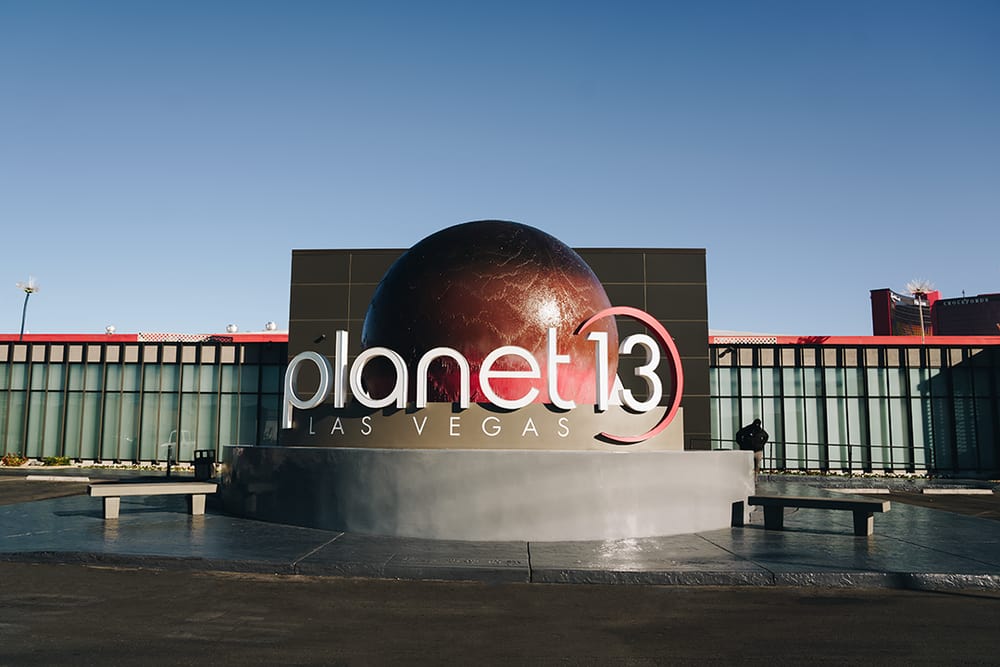 7. My 420 Tours (Denver, Colorado)
Are you ready to enjoy cannabis tourism while tasting cocktails with fellow enthusiasts on a party bus? If so, then enjoy a chronic and cocktails tour by Colorado's My 420 Tours! These tours are typically BYOC (bring your own cannabis). They start with a visit to a local dispensary and end with a visit to distilleries to sample small-batch spirits and cocktails.
If you don't like liquor, no problem! Try one of My 420 Tours' other cannabis tour options, which include smoking out on the ride there:
Kush & Candy Factory
Sushi & Joint Rolling
Buds & Beers: An Elevated Brewery Tour
8. Wake N' Bakery (Chicago, Illinois)
Like Wrigley Field and the Sears Tower, Wake N' Bakery is a Chicago landmark. The perfect blend of a coffee shop and a dispensary, travelers can savor cannabis-infused beverages and sweets unlike any they've ever had.
Try a Delta 8 latte, have a slice of THC-infused pie, or take a full spectrum custom cake to go! You can even take some pre-rolls and flower with you to get baked before exploring the rest of Chicago.
9. The History of Cannabis Museum (Washington, D.C.)
Visiting a museum is a great way to understand the long, complicated history of cannabis. One of the best places to learn about this history is The History of Cannabis Museum in Washington, D.C. on your cannabis tourism trip!
This guided tour lets you take a deep dive into the long road towards cannabis acceptance. You'll educate yourself about the origins of cannabis through various exhibits and artifacts. And you'll appreciate the many advocates that made it possible for you to legally smoke a joint. As you head to your next destination, you'll come away enlightened and privileged to live in a time when the medicinal and recreational use of cannabis is possible.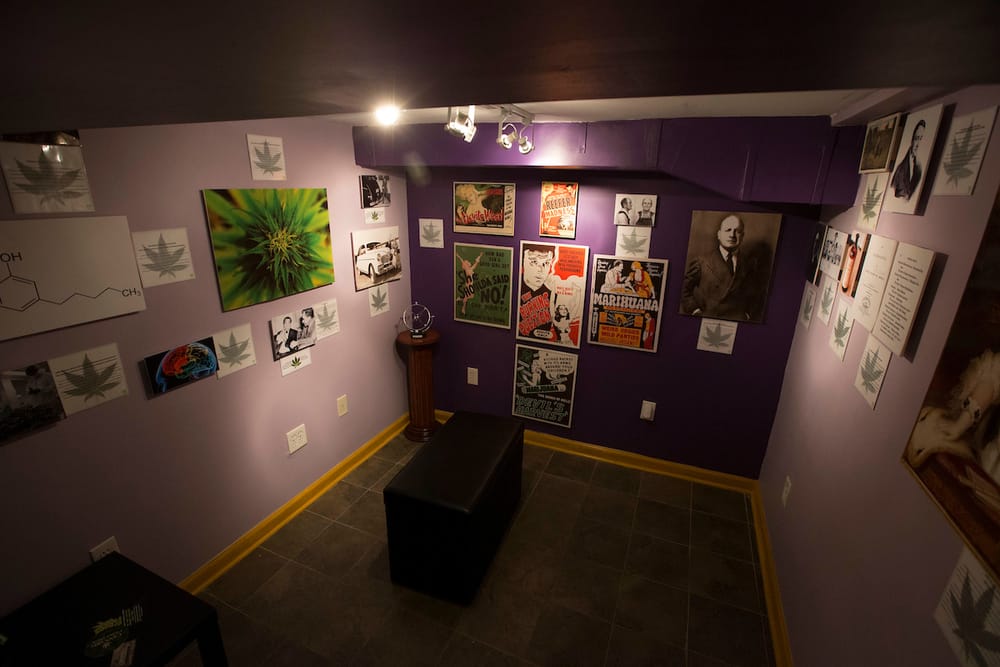 10. Puff, Pass, & Paint (Locations In Various States)
Available in 8 states, Puff, Pass & Paint allows you to take home a one-of-a-kind souvenir from your next vacation — a painting by you! Unleash your inner Bob Ross by experiencing the joy of painting at this BYOC art class. Materials are typically included, and marijuana use is highly encouraged.
Make new friends as you paint with fellow cannabis enthusiasts to create your own unique masterpiece. In addition, Puff, Pass & Paint offers cooking classes to allow you to create your own delectable edibles, too!
Cannabis Legalization
The road to full cannabis legalization has many roadblocks. But there is hope on the horizon. Fans of hemp can attest to this. Ever since the 2018 Farm Bill legalized hemp, cannabis lovers in the United States can enjoy this CBD-rich cannabis plant just about anywhere.
Marijuana enthusiasts, on the other hand, will find they have fewer travel options since the cannabis plant is still illegal at the federal level. The state level, however, is a different story. Recent years have seen state after state legalize marijuana recreationally, medicinally or both. In fact, most Americans — a 68% mandate — agree that it's time to legalize recreational marijuana across the country. Will politicians heed the call and listen to the people?
In April 2022, the Democratically controlled House of Representatives passed a measure that would federally legalize marijuana. The vote was split along party lines, with the majority of Democrats supporting it and the majority of Republicans voting against it.
But just like the Republican-controlled Senate's 2018 vote on The Green New Deal (remember that?), this vote on marijuana legalization was merely an election year tactic used to get politicians on the record and rally their base for the November 2022 midterms. This is because the bill has no real chance of passing the 50-50 Senate, where a 60 vote minimum is needed to pass and for President Biden to sign into law. And with Democrats projected to lose the House in 2022, the dreams of many cannabis connoisseurs will go up in smoke for now.
Which Cheef Botanicals Products Do I Need?
You might end up at an event on your travels that's BYOC. So it's important that you come prepared with some cannabis products. But be cautious — although hemp is federally legal, marijuana is not. Always be sure the locations you travel to allow you to possess and consume marijuana and hemp.
For top-shelf hemp-derived products to take on your trip, shop here at Cheef Botanicals and choose from our selection of:
CBD Flower: With plenty of strains to choose from, you can make your own joints, pack the bowl of a pipe or bong, or use a dry herb vape with any of our premium buds or smalls. Choose from Gorilla Glue, Sour Diesel, Northern Lights, and many more. Too tired to roll a joint? We offer these strains as pre-rolls for your convenience and pleasure!
CBD Vape Cartridges: Attach any of our premium carts to a standard 510-threaded vape pen and start vaping. Our carts contain natural ingredients and do not contain PG, PEG, VG, or MCT oil.
CBD Edibles: Gummies, soft gels, and capsules are perfect for when you're on the go. You can also add honey sticks to your travel mug or thermos for a sweet drink.
CBD Concentrates: Add our CBD wax or distillate to a dab rig or a wax vape to receive immediate benefits. Or you can add our CBD isolate to foods and beverages for a tastier experience.
CBD Topicals: Ensure your skin stays hydrated and nourished with our CBD-infused body lotion. For aches from traveling all day, use our CBD relief salve.
Don't delay! Head over to our shop to get these top-shelf hemp products shipped directly to your door for free, just in time for your vacation!
Final Thoughts – Cannabis Tourism
The future of tourism is looking very green. Now that hemp is 100% federally legal and states are starting to legalize marijuana use, plenty of tourism opportunities are opening up to accommodate cannabis enthusiasts looking for a green getaway. With travel season approaching, many have made their cannabis vacation plans and are looking forward to traveling and toking out! But these destinations aren't just limited to smokers and smoking.
From cannabis farm tours, bud and breakfasts, fine dining, and lounges, there's a cannabis venue for every connoisseur to enjoy on their travels. Take advantage of the many destinations and activities we provided you in this article, and make your travel plans today! And don't forget to take a few of our top-shelf CBD products with you on your reefer road trip! Safe travels, everyone!