Finding the best form of CBD to take can sometimes be a challenge, especially since there are so many options to choose from. There are CBD oils, flowers, edibles, and so much more. But one convenient option that you should consider is CBD soft gels.
CBD soft gels bring you all the benefits of CBD you know and love in an easily digestible form. Let's take a deeper dive into CBD soft gels, how they work, their benefits, and what you should look for when purchasing CBD soft gels.
What Are CBD Soft Gels?
CBD soft gels are very similar to CBD capsules, except with a slightly different texture. CBD soft gels are, well, soft! Because of their smooth texture, they are incredibly easy to swallow. Soft gels are a convenient and discreet way of taking CBD because it simply looks like you're taking a daily vitamin or pill.
CBD, which is short for cannabidiol, is a compound found in the hemp plant known to provide a range of benefits such as promoting appetite, improving sleep, and boosting your mood. CBD soft gels are a natural and organic way to promote your body's sense of homeostasis without feeling any intoxicating feelings.
CBD soft gel capsules come in a range of different potencies so that you can get exactly what you need. Cheef Botanicals' products are all 100% natural and organic, contain no artificial colors or flavoring, and are third-party lab tested for quality and safety.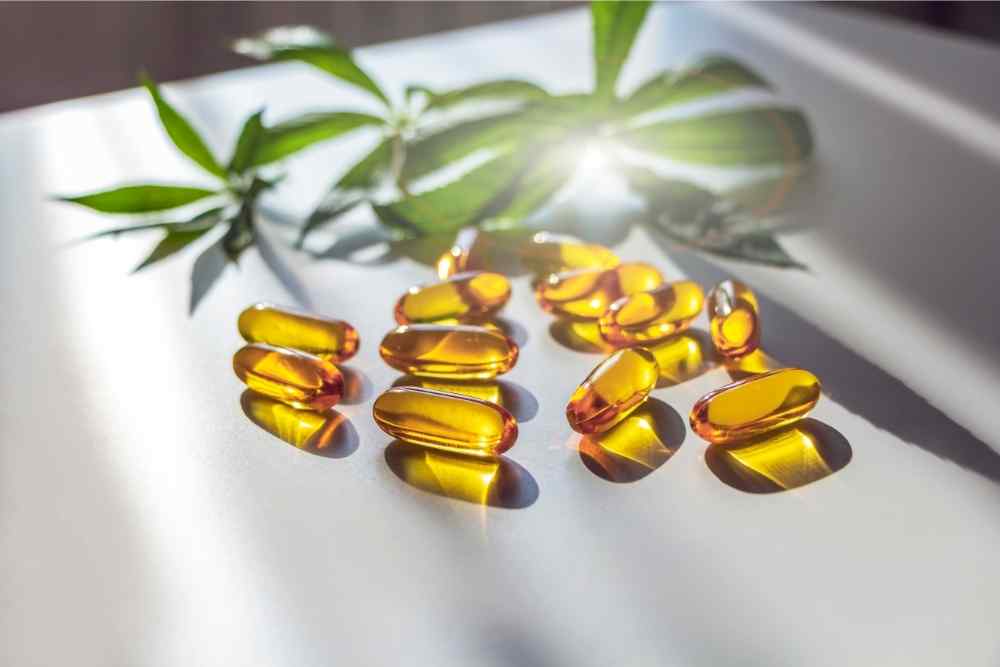 Can CBD Soft Gels Get Me High?
No, you can not get high from CBD soft gels. This is because there is only a small amount of THC (0.3% or less) in soft gels. THC is the cannabinoid extracted from the hemp plant known to provide a "high" effect on the body. But because there is only a minimal amount of THC in CBD soft gels, you do not have to worry about feeling intoxicated.
According to the 2018 Farm Bill, all CBD products must contain 0.3% or less THC to be federally legal in the United States. If a product contains more than 0.3% THC, the product is considered federally illegal marijuana.
0.3% or less THC is not enough to cause any intoxicating or "high" effects. In fact, this small amount of THC actually boosts CBD's effectiveness, relaxing the body and easing the mind.
It is always best to take precautions when buying CBD capsules online. Make sure the manufacturer of your CBD softgels can show a certificate of analysis (COA). COAs ensure that the CBD product has been third-party lab tested and that all of the ingredients labeled are accurate to provide quality and safety.
How Do CBD Soft Gels Work?
CBD soft gel capsules are swallowed, ideally with a beverage so that they go down easier. Other products are applied to the skin or are inhaled, but CBD soft gels take effect through the digestive system.
The digestion process of CBD takes a bit longer than smoking or sublingual (under the tongue) methods. This is because the cannabidiol must pass through the intestines and liver before reaching the bloodstream. The amount of time it takes CBD to enter the bloodstream can vary. Usually, the effects of swallowed CBD last longer than other methods.
Once the soft gel is digested, the CBD travels to the liver for filtration. After the liver, it enters the bloodstream, carrying the cannabidiol throughout the body so it can interact with your cannabinoid receptors.
The cannabinoid receptors play a key role in supporting the endocannabinoid system (ECS). This system provides balance to the body's many key functions: appetite, sleep, mood, digestion, and much more. CBD capsules can be a natural and organic way of bringing your body a wide range of benefits quickly and effectively.
What Are the Benefits of CBD Soft Gels?
There are a handful of benefits to taking CBD soft gels. One of the first being that they are a convenient and hassle-free way to enjoy CBD. Compared with CBD oils or vapes, soft gels provide precisely the same dose of cannabidiol every time.
CBD soft gel capsules are perfect for incorporating into any daily routine. They are easy to pack and carry with you when you are on the go. Just as if you were taking a daily vitamin, you can easily pop a soft gel into your mouth and let the CBD do its thing.
CBD soft gel capsules are also great because they are a discreet method of taking CBD. Even though it is federally legal, we don't always have the opportunity to light up a pre-roll. Fortunately, CBD soft gels are an inconspicuous alternative. Aside from the convenience of taking soft gel capsules, the CBD component promises a list of potential benefits to the body and mind.
Eases the Mind
From getting rid of those nervous feelings to encouraging focus and creative energy, CBD can help ease and relax the mind. If you are ever feeling jittery or need to calm down, take a CBD soft gel, and your mind will thank you.
Soothes Physical Discomfort
If you are experiencing any muscle soreness or joint problems, CBD is known to assist with such issues. And although soft gels take a bit longer to kick in than topical products, the benefits last much longer. CBD can interact with the endocannabinoid system and relieve the body of the issues or discomfort it may be experiencing.
Encourages Sleep
If you have difficulty falling asleep at night, CBD can help drift you off to sleep. CBD relaxes the body and mind to the state where sleep becomes natural. CBD helps release any tension on your body and brings those racing thoughts to a stop to get you the sleep you need.
Do CBD Softgels Have Side Effects?
There are a few potential side effects of taking CBD, but they are mild and rare. These effects may occur because someone took more than the recommended amount of CBD or because their body had an adverse reaction. Keep in mind that it is always good to talk with a doctor before adding CBD to your routine.
These are some of CBD's possible side effects:
Dry mouth
Slight drowsiness & fatigue
Mild diarrhea
Upset stomach
These side effects won't happen to everyone who tries CBD, and the effects typically depend on a person's physical characteristics, such as weight and height. There has never been a case of someone overdosing on CBD.
How Many CBD Soft Gels Should I Take?
The first step to determining how many soft gels you should take is by figuring out the CBD dosage range. CBD soft gel capsules come in a variety of potencies, and every person's ideal dose is different. It is recommended to start with a mild potency and then work your way up when you feel comfortable.
At Cheef Botanicals, we have a few different soft gel potencies: 300mg, 750mg, 1500mg, and 3000mg. To figure out what dosage is right for you, take 0.25mg to 0.5mg of CBD per pound of body weight. So if an adult weighs 150 lbs, they should take about 37.5mg of CBD for a mild dose (0.25mg). To calculate your CBD dosage, take a look at our helpful dosage chart.
Another determining factor for your CBD dose is the reason for taking the capsules. If you are taking a CBD gel in the morning, you may want to start with a mild dose to not overdo it. And if you are taking CBD capsules as a way to unwind at the end of the day, then taking a stronger dose may be appropriate. Always refer to the product's label and certificate of analysis to determine the best results.
What to Look For When Buying CBD Soft Gels
When buying any CBD product online, especially soft gel capsules, it is important to check if the product has been third-party lab tested. This process is important because it ensures the quality and safety of CBD products. It allows you to be confident that the product's label accurately describes what's inside.
Looking at user reviews can be extremely helpful, as you'll find unbiased customers that have already tried the products. If a CBD gel does not have amazing reviews, it is best to steer clear.
You should also check the ingredients of any CBD soft gel capsule to ensure the product is high quality. Always check that the soft gels contain 0.3% or less THC. This ensures that you will not feel any psychoactive effects when taking the product.
Finding soft gels that are vegan and made without animal gelatin may provide a better CBD experience. Organically grown and non-GMO CBD products can also ensure the quality of a soft gel capsule.
As far as desired ingredients to look for in soft gel capsules, make sure they are always 100% organic and natural with lab results to prove it. One beneficial ingredient you should look for in your CBD soft gel is coconut powder.
Coconut powder contains MCTs (medium-chain triglycerides) that help with the absorption rate of CBD. Coconut powder has other beneficial properties as well, such as balancing the body's PH level, relieving cramps, and improving your metabolism.
Why Choose Cheef Botanicals for CBD Soft Gels?
The top reason you should choose Cheef Botanicals for all your CBD soft gel needs is that our products are always 100% organic, all-natural, and third-party tested. We only use the highest quality of hemp grown in the United States, evaluated by the Food and Drug Administration (FDA), to ensure all our products are safe and legal.
At Cheef, our capsules are vegan and cruelty-free. We never use any artificial flavors or additives to ensure that you receive the best CBD product possible.
One of the most important reasons you should consider buying from Cheef Botanicals is our customer reviews. We pride ourselves on creating the best and most natural CBD products on the market, and our customers' word helps us determine if we are meeting those expectations. So if you are ready to start your CBD soft gel capsules journey, check out the Cheef store today!
Final Thoughts – CBD Soft Gels
CBD soft gel capsules are a wonderful product that can bring you all the benefits of CBD discreetly and conveniently. CBD capsules are easy to carry, easy to consume and promise to bring you all the CBD benefits you have come to love. These benefits include improving sleep, promoting appetite, and so much more.
If you are ready to take the next step and begin your soft gel capsule journey, take a look at the Cheef Botanicals store and pick up a bottle. We have a range of different potencies available for all of your CBD needs, and you can even save some money when you subscribe!