Looking for a fun and delicious way to take CBD? Well, is anything more fun and delicious than a warm batch of cookies? (That was rhetorical — we know the answer!) We have put together the perfect CBD cookies recipe for you. It's simple and easy, as well as delicious. It will also provide you with all of CBD's benefits.
CBD is the perfect addition to your cookies. Not only will you get to enjoy a delicious snack but you'll get to experience all the benefits that CBD has on the mind and body. Seriously, name a more dynamic duo than cookie dough and CBD. You'll be using this cookie recipe time and time again.
What Are CBD Cookies?
CBD cookies are essentially cookies with CBD oil in them! That means CBD cookies are an edible. By digesting the cookie you also get the benefits of CBD. So it's basically the best of both worlds — the deliciousness of a warm, yummy cookie and the health benefits of CBD.
CBD cookies can be purchased pre-made or even baked in your own kitchen. There are so many varieties available with a ton of different ingredients. Some cookies are chocolate, some are peanut butter — the possibilities are endless. CBD cookies can also have a range in potency depending on how much cannabidiol is used in the recipe.
By baking your own CBD cookies you can basically make the snack of your dreams. Drop in some chocolate chips or drizzle on some icing. Or even make some healthy oatmeal cookies with vegan ingredients. You are basically creating a dessert custom-made for your taste buds!
And you can also choose the amount of CBD in each cookie, meaning you can control your CBD dose based on a variety of factors. This allows you to get the exact benefits you were looking for while enjoying a tasty treat.
Are CBD Cookies Legal?
When you hear the term "CBD" you may get a bit on edge. But CBD cookies are 100% legal throughout the entire United States. You can purchase and use CBD oil without any fear of legal repercussions thanks to the passing of the Farm Bill in 2018.
The 2018 Farm Bill made hemp products legal, meaning anything with 0.3% THC or less. THC is a psychoactive cannabinoid found in cannabis that gets people high. When there's 0.3% THC or less in hemp it's not only legal, but users won't face any unwanted psychoactive effects.
With hemp becoming legal, it also allowed the Food & Drug Administration to create guidelines for hemp grown in the United States. That means you can easily find CBD products that are created with high-quality hemp grown in safe, healthy environments. So CBD cookies aren't only legal, they're safe if the ingredients are purchased from trusted companies.
How Do CBD Cookies Work?
CBD can be infused with cookie dough and then baked, meaning your cookies will contain CBD that activates after being digested. Digesting CBD is actually one of the slowest ways to feel the effects of the phytocannabinoid in your body and mind so try to be patient. You'll start feeling the effects in about 30 to 60 minutes. However, this depends on several factors. For example, if you just ate steak and potatoes before indulging in some CBD cookies, the effects can take even longer.
Edibles are a bit slower because the food has to be digested and broken down. Then the CBD will be absorbed into the bloodstream. At that point, the CBD will be able to interact with your body's endocannabinoid system or ECS.
RELATED: The Endocannabinoid System & CBD: How It Works


The ECS is essentially in charge of our body's well-being and balance. It ensures that all of our body's systems — including digestive, immune, and nervous — are working as intended despite possible outside influences. This includes helping with discomfort, digestion, and mood.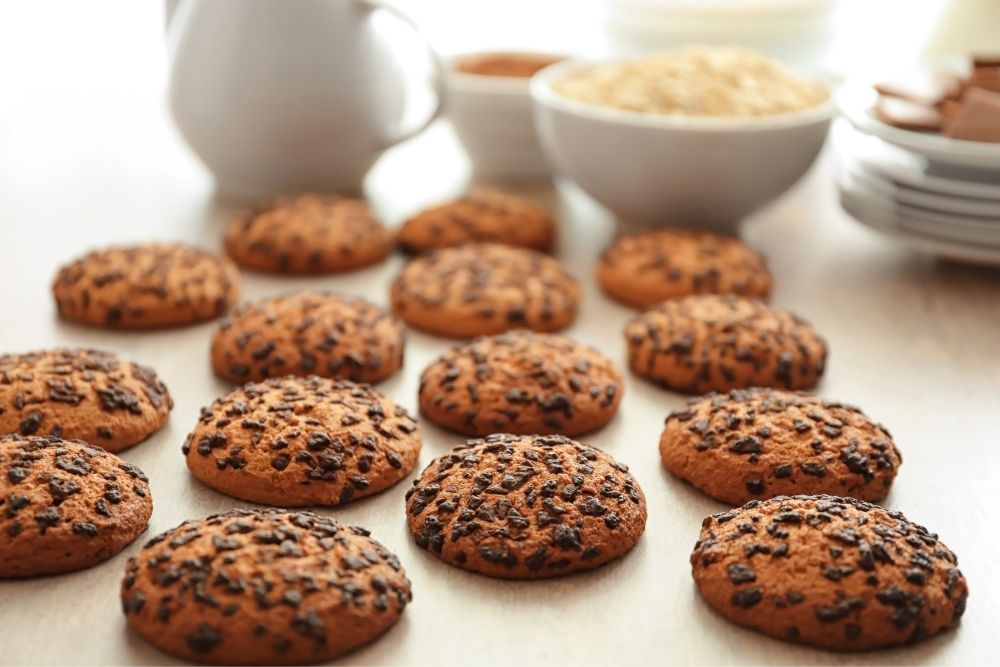 Can CBD Cookies Get You High?
While CBD has a lot of benefits for your body and mind, it won't get you high. CBD is a non-psychoactive phytocannabinoid. That means that it doesn't have the properties that cause intoxicating effects like THC does.
What Are the Benefits of CBD Cookies?
CBD interacts with the receptors in our body's endocannabinoid system (ECS). The ECS helps regulate many essential functions, such as sleep, digestion, mood, anxiety, memory, inflammation, and much more! A few of the benefits you may experience from using CBD include:
Great Alternative to Smoking or Vaping
When people think of CBD, one of the most common options for ingesting this phytocannabinoid is smoking. But not everyone likes the act of smoking or vaping.
If you don't enjoy smoking, there are luckily a lot of other options when it comes to trying CBD. One of those is CBD edibles, including CBD gummies, CBD honey sticks, and lollipops. Baking CBD oil into cookies is another fun and tasty option.
It's Delicious
Okay, this is one benefit we HAVE to include. Cookies are yummy — there's no denying that. And if you're baking them yourself, you can make them however you want. Do you prefer chocolate? Sugar cookies? Oatmeal? This is probably one of the tastiest ways to ingest CBD.
It's a Bit More Discreet
Even though CBD is legal, there might be reasons why you want your activities to be a bit more discreet. Baking CBD doesn't create any suspicious smells if guests are coming over or if you have nosy neighbors. This is a great way to still get all the benefits of CBD without anyone having a clue.
You Can Control Your Dosage
When you make your cookie dough, you can add the exact amount of CBD oil you desire. You can even add CBD oil into each individual cookie dough ball. This allows you to put an exact dose in each cookie, giving you your desired effects.
Improve Your Mood
CBD is often used to fight nervous and negative thoughts. If you are having troubling thoughts and need a moment to relax, try some CBD!
Aids With Discomfort
CBD can help relieve the discomfort you're feeling. The soothing effects of CBD are well known, and one of the many reasons millions of Americans love it!
CBD Promotes Sleep
CBD is known to promote a night of restful sleep. It can comfort and relax you, allowing you to rest when needed.
CBD before bed will help you reach deeper sleep, meaning you go through the REM cycle. Deeper sleep promotes better health and allows you to wake up feeling well-rested and refreshed.
Which CBD Oil Is Best to Use When Making Cookies?
The best CBD oil for baking is one that has hemp oil — like ours! Cheef Botanicals' CBD oil is vegan, natural, and organic. There are no additives or preservatives. All it has is CBD and hempseed oil.
Hempseed oil is rich in essential Omega 3, 6, and 9 fatty acids. This makes hempseed oil a very beneficial nutritious superfood that supports a healthy diet. It's also a great source of protein. But hempseed oil is also NEEDED to make CBD oil easier to bake with and digest.
How Do You Make CBD Cookies?
CBD is fat-soluble. That means that your body best absorbs CBD when it's paired with food containing fats. That's why CBD oil with hempseed oil is the best choice for baking cookies. The hempseed oil acts as a carrier, allowing your body to digest CBD easily and make it more effective.
This is definitely important to keep in mind when you choose to make your own CBD cookies. Besides this key point, baking CBD cookies is almost like baking any old batch of baked goods. You'll notice a lot of the ingredients and instructions are quite similar! Baking CBD cookies is easy and fun — and the result is always worth the messy kitchen!
How Much CBD Should You Use?
We have a handy CBD dosage chart to help you choose the right amount of CBD to add to your cookie recipe. The amount of CBD you choose depends largely on your weight, age, activity level, metabolism, and severity of your symptoms. You should also keep in mind how much you've eaten before ingesting CBD.
But, we do have a basic chart to go by. For a regular dose, you'll want to ingest 0.25 mg of CBD oil per 1 pound of body weight. For example, a 140-pound person would require 35 mg of CBD to get a regular dose. A stronger dose, which is often used when a regular dose isn't enough, would be double that — 0.5 mg of CBD oil per 1 pound of body weight. The same 140-pound person would need 60 mg.
For the most effective benefits, it's recommended that you take CBD every eight hours. You can also take CBD oil twice a day. CBD is most effective when it's taken regularly. Unlike marijuana and other drugs, you won't build up a tolerance to CBD. In fact, it's usually quite the opposite.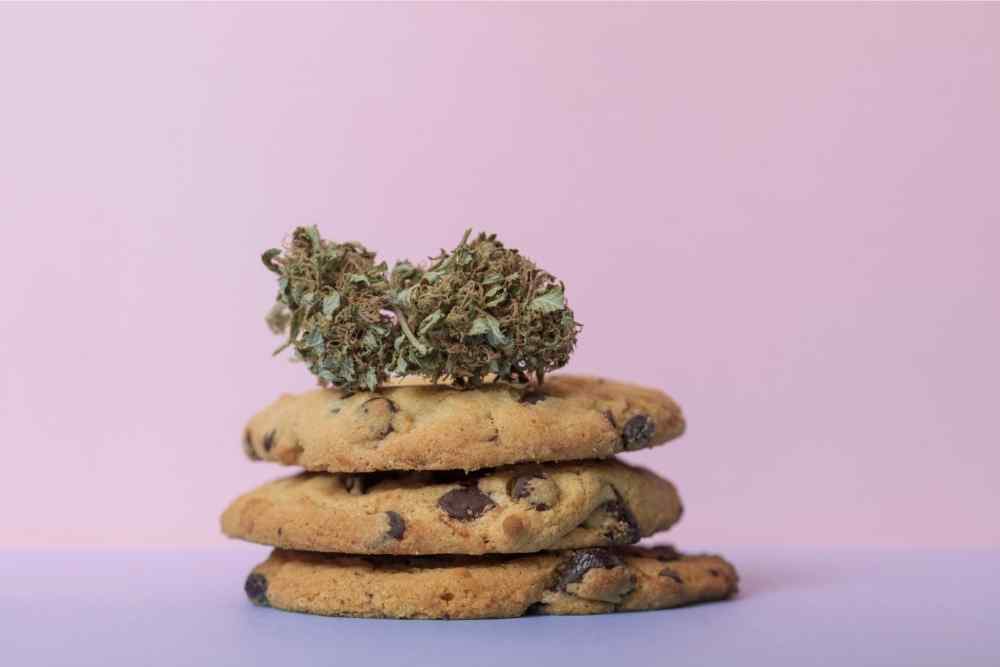 What Do You Need to Make CBD Cookies?
To make CBD cookies, you will first need a kitchen with a stove and counter space. You'll need a bowl to mix all the ingredients in and a cookie sheet to put the cookie dough balls on. These are the main requirements for making CBD cookies, along with measuring cups and a whisk or blender. This CBD cookies recipe is for 12 cookies
Here are the ingredients to gather for one of our favorite CBD cookie recipes:
Flour (3 cups)
 Semi-sweet chocolate chips (2 cups)
 White sugar (1 cup)
Packed brown sugar (1 cup)
Softened butter (1 cup)
Chopped walnuts (1 cup)
Eggs (2)
Hot water (2 teaspoons)
Vanilla extract (2 teaspoons)
Baking soda (1 teaspoon)
 Salt (1/2 teaspoon)
 Unflavored CBD oil tincture (0.5 oz) *Use 300mg tincture for regular dose or 600mg tincture for strong dose
A lot of these ingredients are optional, including the chocolate chips and walnuts. You can also add your own mixed-in ingredients, like sprinkles. Or decorate the top after they're done baking. You can also replace the butter with vegan alternatives like dairy-free yogurt, coconut oil, coconut butter, nut butter, mashed banana, or mashed avocado.
The Best CBD Cookies Recipe
This is luckily a super easy recipe that even beginning bakers can master. Once you've gathered the above ingredients and supplies, it's time to get started.
First, preheat your oven to 350 degrees Fahrenheit.
While the oven is heating up, grab your bowl. Put in the softened butter, CBD oil, brown sugar, and white sugar. Mix until these are smooth.
Once the above concoction is smooth, beat in the eggs. Do this one at a time. Eggs should be cracked in a separate, smaller bowl first — one at a time as well. Check for eggshells before dropping them into the main mixture.
Stir in the vanilla extract during this time.
Dissolve the baking soda in the hot water. Add that blend to the batter.
Slowly stir in the chocolate chips and nuts (or whatever ingredients you've chosen to add in for flavor and texture).
The last thing to mix in is the flour.
Your cookie sheet or pan should be ungreased. Drop large spoonfuls of the cookie dough onto the pan. You can do this by rolling them by hand, picking their exact size, or using an ice cream scooper or spoon.
Bake the cookies for about 10 minutes or when the edges start to turn a golden brown.
Remove them from the oven and let them cool down.
Eat the cookies warm and gooey or put them in the freezer for later use.
RELATED: How To Make Your Own CBD Infused Drinks [5 Amazing Recipes!]


Final Thoughts – CBD Cookies Recipe
Is there anything more satisfying than a warm, gooey cookie? Yes! One with CBD! CBD cookies are becoming a very popular edible since it combines the deliciousness of a cookie with the health benefits of CBD. Together, it makes for a very satisfying experience!
CBD cookies are easy to make. Just make sure you have the right ingredients and supplies — including quality CBD oil. Ours is perfect since it has hempseed oil, making the CBD easy to digest and much more effective. And then make sure you have an appetite — these are going to be seriously scrumptious.
CBD is a beneficial addition to any baked good. When it interacts with your body's ECS it provides positive effects for your mind and body. This includes keeping you feeling well-balanced, comforted, and relaxed. And when you add cookie dough, you're looking at even more benefits: It's yummy and makes you happy! Now that you have the tips and tricks to make the perfect batch of CBD cookies you're good to go. Enjoy!
Not sure which CBD product is right for you??? Take the quick quiz to find out!