From seasonal outbreaks to a pandemic without end, hand sanitizer is an essential product everyone should have on — ahem — hand. But don't just settle for any kind of hand sanitizer. Get yourself some CBD hand sanitizer. Not only will you cleanse your hands of harmful germs, but you'll also give these all-important appendages the localized relief they need.
Come with us as we discover the benefits of CBD hand sanitizer and why it's a must-have item to keep on you at all times. We'll also teach you how to make this useful product at home using CBD oil from Cheef Botanicals!
What Is CBD Hand Sanitizer?
CBD hand sanitizer is an alcohol-based hand sanitizer infused with cannabidiol (CBD) from the hemp plant (Cannabis Sativa). Like all hand sanitizers, it's used for your hands' external use. You should not apply it to other parts of the body or consume it. CBD-infused hand sanitizer typically comes in a small bottle that fits in the palm of your hand and can be easily carried in your pocket anywhere you go.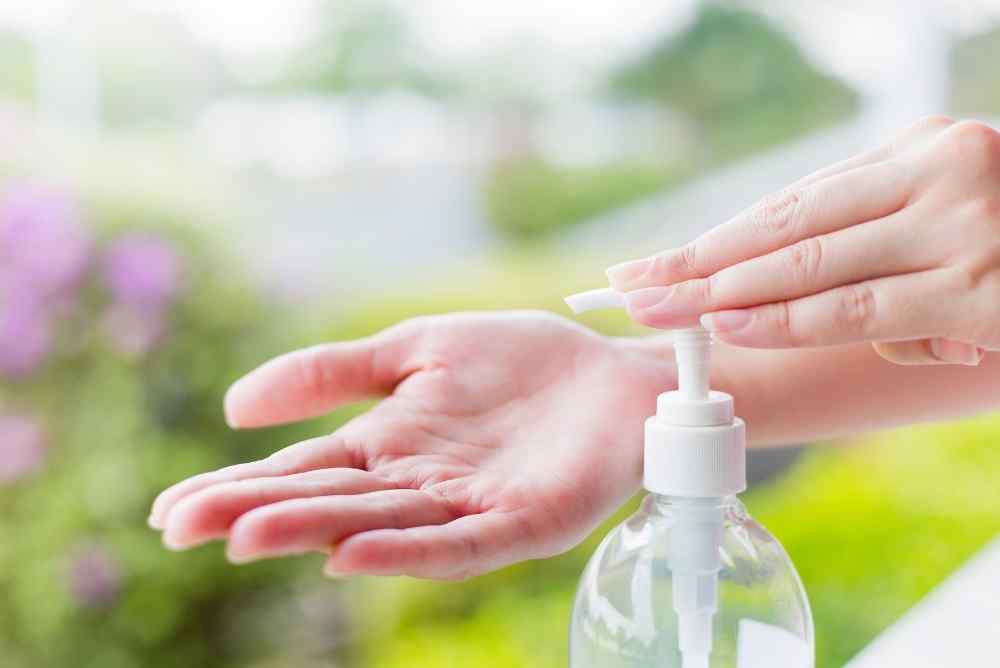 What's in CBD Hand Sanitizer?
To effectively kill germs and bacteria that accumulate throughout the day on your hands, CBD hand sanitizer must contain at least 60% — the minimum amount recommended by the Centers for Disease Control (CDC) — of either ethyl alcohol (organic ethanol) or isopropyl alcohol. These are the only two types of alcohol approved for use in hand sanitizers by the Food and Drug Administration (FDA).
But the defining feature of this hand sanitizer is the presence of hemp-derived CBD. You will find CBD hand sanitizer with one of two types of CBD in it:
Full Spectrum CBD: Contains CBD, THC (0.3% or less), other cannabinoids, terpenes (plant compounds responsible for aroma and flavor), and flavonoids (plant compounds responsible for pigmentation).
Broad Spectrum CBD: This contains all of the compounds found in full spectrum CBD but is THC-free.
In addition to alcohol and hemp-derived cannabidiol, a high-quality soothing CBD hand sanitizer also includes a unique assortment of common skincare agents and natural ingredients:
Purified Water USP: Stabilizes the sanitizer for long-term use and dilutes the harshness of the alcohol.
Glycerin (Kosher Vegetable): A natural, plant-based substance that hydrates the skin by allowing it to retain moisture.
Ethyl Cellulose: A thickener derived from cellulose, a constituent of plant cell walls.
Aloe Vera (Aloe Barbadensis): Gel from this plant moisturizes and softens skin.
Vitamin E: Helps protect the skin cells against oxidation.
Flower Extract: Floral extracts contain several beneficial properties that help to cleanse, moisturize, and soften skin and help fight premature signs of aging.
Hyaluronic Acid: A popular and common ingredient in many skin care products that helps retain moisture to keep your skin and tissues hydrated.
Witch Hazel: Contains tannins to protect the skin from oxidative damage.
And much more!
Is CBD Hand Sanitizer Effective?
Yes, CBD hand sanitizer is very effective at ridding your hands of germs and harmful bacteria as long as the alcohol content is at or above 60%. However, you should only use hand sanitizer when you can't properly access soap and water to wash your hands.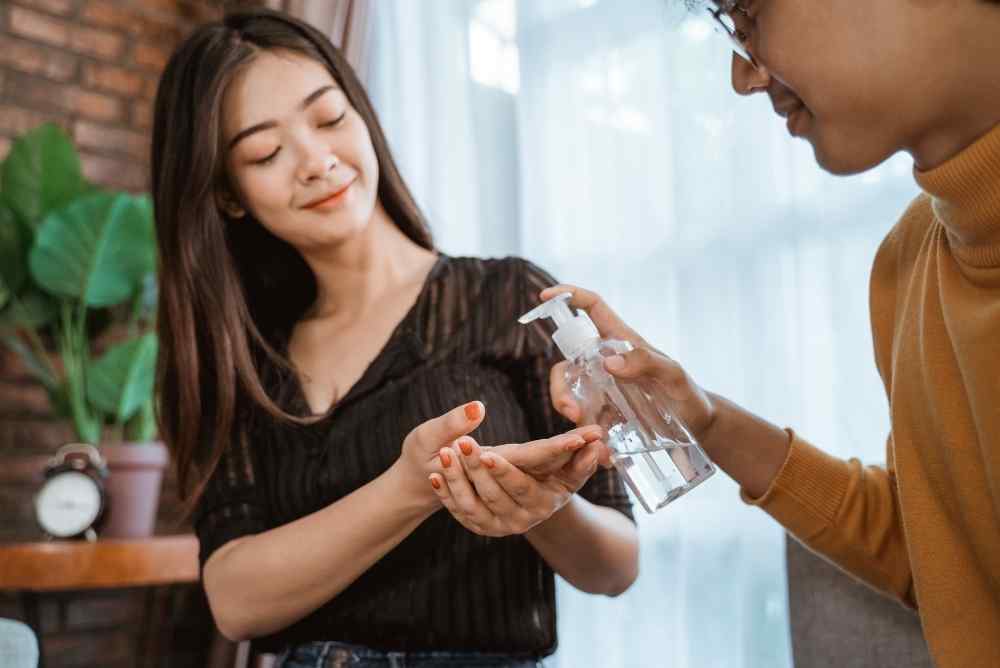 Benefits of CBD Hand Sanitizer
CBD hand sanitizer has many benefits, which is why it's a must-have product for a lot of people. Here's how it benefits you and keeps your hands protected:
Provides CBD: When you apply CBD-infused sanitizer to your hands, the CBD interacts with the CB1 and CB2 receptors on the surface of your skin and deep within your tissue to provide localized relief.
Kills germs: As long as the sanitizer contains at least 60% alcohol, it will destroy common bacteria, viruses, and germs you encounter daily.
Easy to use: Spray hands thoroughly or squeeze a small amount into your palm and rub your hands. That's all it takes to use CBD hand sanitizer!
Convenient size: Hand sanitizer is small enough to carry in your pocket or purse and take anywhere you go. Having it with you at all times will help you limit the chances of getting sick and spreading germs to others.
Nourishing ingredients: As we previously mentioned, there are several beneficial ingredients (i.e., Vitamin E) with natural skin-healing properties in CBD hand sanitizer that will nurture your skin and won't leave behind a sticky residue.
Disclaimer: CBD hand sanitizer is not intended to diagnose, treat, cure, or prevent any health condition or disease that you may or may not have. Avoid contact with the eyes and do not use it on children.
Can You Make CBD Hand Sanitizer at Home?
Making a soothing CBD hand sanitizer at home is very simple to do! Here's what you need and how you can make it in less than 5 minutes:
Ingredients:
2/3 cup of ethyl alcohol or isopropyl alcohol (at least 70% concentration)
1/3 cup of aloe vera gel or glycerin (Kosher vegetable) oil
1 1/2 teaspoon of Cheef Botanicals 1200mg CBD oil
Optional: 8-10 drops of your favorite essential oils
Instructions:
Combine alcohol and aloe vera gel or glycerin oil into a contain and whisk until evenly blended.
Add CBD oil and optional essential oils and stir until blended.
Fill the mixture into small squeeze bottles.
Congratulations, you just made CBD hand sanitizer! Although the ingredients are easy to come by, the key to a soothing CBD hand sanitizer that will have your hands feeling clean and refreshed is a high-quality CBD oil (tincture). At Cheef Botanicals, we have the perfect top-shelf tincture for your homemade hand sanitizers!
Where Can I Get CBD Oil?
You can get top-shelf CBD oil right here at Cheef Botanicals! Our CBD oil is good stuff — it's 2018 Farm Bill compliant (contains 0.3% or less THC), and we make it with natural ingredients. It's also available in various strengths and comes in a convenient dropper bottle for easy consumption and handling! In addition to a great tincture, we have many other products to suit your CBD needs.
Here's how you can save money on CBD products at Cheef Botanicals:
Fast and free shipping on every order with no minimum quantity or other required criteria needed.
25% off on your first purchase.
Never pay the regular price again by saving 25% on every order forever when you become a member of our free subscription services. You can choose to have your products delivered to you bi-weekly or monthly.
Save roughly 10% on our CBD product bundles.
Receive exclusive deals when you sign up for our e-mail newsletter on our site.
Free 30-day money-back guarantee in the extremely rare case that you're not satisfied with our CBD products.
Please read, share, review our many positive customer testimonials on Trustpilot, a reputable customer reviews website, to see why we're so great. We're also an A+ business accredited and evaluated by the Better Business Bureau (BBB).
At Cheef Botanicals, we go the max length to keep our customers happy! We're here to help you with any issues you may have about our website. If you have a question, write us an e-mail or give us a call to talk to our live customer service representatives!
So don't wait until your cart is empty. Put some CBD oil in your cart, buy it, and make soothing CBD hand sanitizer at home to keep your hands protected at all times!
Not sure which CBD product is right for you??? Take the quick quiz to find out!