Become a CBD Isolate Retailer
Are you interested in bulk CBD isolate powder at wholesale prices? You are probably aware that the CBD market is growing — and growing fast. When the Farm Bill passed in 2018, hemp became 100% legal throughout the 50 states, making it more popular and accessible than ever before. It's now 2020 and over 1/4 of the US population has tried CBD, including 40% of millennials.
There's no denying that CBD is becoming more desirable. Google searches for the word "CBD" grew 260% over the past year, meaning more and more people are looking for CBD products. The worldwide CBD market is projected to reach almost $24 billion by 2025. So how can you get involved? You guessed it — become a CBD isolate retailer.
Being a CBD isolate retailer is the perfect way to tap into the growing CBD industry. With almost half of CBD users spending up to $80 a month on CBD products, being a CBD retailer is more lucrative than ever. Whether it's a brick-and-mortar location or an online store, you are bound to have success if you sell unique, quality CBD products.
Why Should I Buy CBD Isolate Wholesale?
CBD, short for cannabidiol, is a phytocannabinoid molecule found within the hemp plant. hemp plants actually have over 100 different cannabinoids, as well as hundreds of other terpenes and flavonoids. Our bulk CBD isolate is only CBD, meaning all of the other cannabinoids, terpenes, and flavonoids are not present. Isolate is 99% pure CBD or above, meaning people get all of the potential benefits of CBD without any other molecules interacting.
White, powdery, scentless, and flavorless, CBD isolate is one of the most versatile and pure CBD products out there, making it perfect for retailers looking for a wide and varied customer base. CBD isolate can be ingested and experienced in a multitude of ways. You or your customers can even use CBD isolate to make their own CBD products.
One of the benefits of being a CBD retailer is getting to choose the specific products you want, like high-quality CBD isolate. You don't need to worry about getting those products ready for customers. The time and costs required to grow, manufacture, and prepare CBD isolate products are all done by your trusted CBD isolate supplier (psst, that's us!).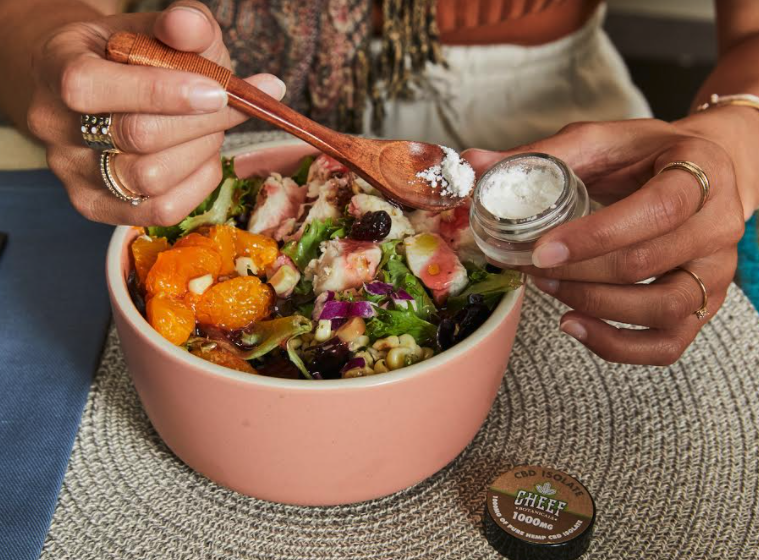 Different Ways To Use CBD Isolate
Ingesting: Since CBD isolate has no smell or flavor, it's easy to ingest it in pill or powder form.
Sublingual: Placing CBD isolate under your tongue for 90 seconds is a way to quickly experience CBD's effects.
Drinking: Consumers can simply add CBD Isolate to any drink they prefer. Just weigh out the correct dose and put it in your coffee, tea, smoothie, juice, or alcoholic beverage.
Cooking: CBD can complement many tasty recipes! We have some general guidelines to avoid burning your CBD in the process.
Vaping: Consumers can combine CBD Isolate with other ingredients and flavors to create their very own custom CBD vape juice.
CBD tincture potency: You can make a CBD tincture stronger by adding CBD isolate! Put them both in a pot with water, warming up the mixture to a boil for 10 minutes. The powder should fully dissolve. Pour the mixture back into the original container.
Dabbing: This is probably the quickest way to feel CBD's effects. Basically, inhale the CBD isolate in one breath using a dab rig, a dabbing tool, and a torch.
Why Buy Wholesale CBD Isolate From Cheef Botanicals?
When you're looking for a bulk CBD isolate powder supplier, it's very important to find a trustworthy company that cares about you and your customers. Our health-conscious plant-based cannabis products stand out in the marketplace. But we also are a passionate company with a skilled manufacturing department and a professional customer service team. We aren't a giant corporation — we're always available to help you and your customers when it comes to our quality, natural CBD products.
3rd Party Tested – Bulk CBD Isolate
Every single batch of CBD isolate from Cheef Botanicals comes with a Certificate of Analysis (COA). This means that a third-party lab was able to evaluate the product for quality and content. You (along with your customers) will be aware of the purity of CBD — and the absence of other cannabinoids. Legitimate COAs serve as proof of a quality product.
Pricing and Sizes – Bulk CBD Isolate
Retailers who purchase wholesale CBD isolate will be able to take advantage of a very reduced rate. First-time buyers can view Cheef Botanicals wholesale terms and conditions here. If you are looking for more information or you would like to purchase some high-quality CBD isolate please give us a call at (818) 839-0516  to discuss wholesale prices and size options with a sales representative. Office hours are from 6 am to 6 pm Monday-Friday and from 6 am to 2 pm Saturday and Sunday PST.
What To Know When Purchasing CBD Isolate Wholesale
There are a few things to look out for when purchasing wholesale CBD isolate to ensure you're providing a quality product to your customers.
You first want to make sure that the CBD isolate is 99% pure CBD or more. It's very important that it has no THC whatsoever. That's the cannabinoid that makes people "high." CBD, on the other hand, is a non-psychoactive cannabinoid that reacts with the cannabinoid receptors in our body's endocannabinoid system (ECS). This allows CBD to help give us a sense of homeostasis without the side effects of THC, like red eyes, hunger, and slower reaction times.
Your wholesale CBD isolate should always be clean and of high quality. At Cheef Botanicals, our CBD is made from high-grade hemp grown by legally licensed farmers in Colorado. Our CBD products are also natural, organic, and non-GMO. We were founded by a group of health-conscious cannabis enthusiasts with over 25 years of combined experience in the organic food industry that want to educate consumers about the benefits of superfoods and natural alternatives.
How Can I Buy CBD Wholesale?
If you're interested in selling Cheef Botanicals' CBD isolates in your store, fill out our wholesale application below. We'll just need your business name and address, your reseller permit number, and your contact information. You can also drop us a message to tell us a bit more about your business — and yourself!
Bulk CBD Isolate Wholesale Application
Are you a reseller and would like to carry our products in your store? Please fill out the quick application below and our review team will get back to you within 24 hours!
Bulk CBD Isolate Wholesale – FAQ 
We understand that not everyone has experienced the benefits of CBD isolate for themselves, so it can be hard to know all of the advantages and benefits it can offer! As a wholesale distributor, we know it is important to be aware of everything about the product you are selling to provide your customers with the best information. Because of this, we answered some frequently asked questions regarding CBD isolate for your convenience.
Will CBD Isolate Get You High? 
CBD isolate will not get you high; instead, it will ease tension and relieve stress without creating a cloudy or unfocused headspace. Our CBD isolate is also completely THC-free. This makes CBD isolates a great option for consumers who want to fully avoid consuming THC in any amount.
We also offer products including trace levels of THC that help to encourage the beneficial entourage effect. The entourage effect describes the beneficial synergy found when multiple cannabinoids and terpenes are taken together. With the entourage effect, consumers benefit from CBD working together with a broader cannabinoid profile to provide enhanced and more varied therapeutic effects. All of our products containing THC are hemp-derived and contain 0.3% THC or less. This is considered a trace amount of THC, an amount far too small to cause a "high" sensation in the consumer.
Aside from CBD isolate, we offer CBD products in two different forms:
Full Spectrum: These products contain trace amounts of THC (0.3% or less) to encourage the benefits of the entourage effect. Full spectrum extracts contain all other beneficial terpenes and cannabinoids naturally found in hemp plants.
Broad Spectrum: Broad spectrum extracts are THC-free. However, they retain the other cannabinoids and beneficial terpenes naturally present in hemp. This allows consumers who want to avoid consuming THC an option that can still help them experience the entourage effect.
CBD Isolate Wholesale vs CBD Distillate – What's the Difference? 
CBD isolate and distillate might initially seem similar, but some essential differences need to be noted. Isolate is composed purely of CBD with no additional compounds. Essentially, isolate is the purest form of CBD, more than 99% pure CBD. Isolate exclusively provides the effects of CBD without any other cannabinoids influencing the experience.
CBD distillate is different from isolate in that it usually contains more than 90% CBD. What about the other roughly 10%, you might ask? The remaining portion consists of other cannabinoids such as cannabigerol (CBG), cannabinol (CBN), and THC (in concentrations of 0.3% or less). This gives distillate a varied effect that is influenced and modulated by the effects of other cannabinoids and terpenes.
Why Do People Prefer CBD Isolate Over Full Or Broad Spectrum CBD? 
Many people take CBD isolate for its wellness-enhancing benefits, but why choose isolate over broad spectrum or full spectrum CBD? One of the main reasons consumers choose isolate over other products is to avoid consuming THC, even if it is only present in trace amounts in full and broad spectrum CBD. 
Another reason why consumers prefer CBD isolate is because of its versatility. There are several ways you can take CBD isolate. You can mix isolate into your favorite meal or beverage, or you can make your own CBD products with it! Some CBD products you can make with isolate include tinctures, vapes, and capsules.
How Can I Use Bulk CBD Isolate To Make CBD Products 
Bulk CBD isolate gives consumers an easy and effective way to start making their own CBD products! You can make all kinds of products using CBD isolate, including CBD oil, vape juice, and capsules. Let's look at how you can make these products with our isolate. 
Making CBD Oil With Isolate 
A great way to use your CBD isolate powder is to turn it into handy CBD oil! CBD molecules bind well to fats and oils but has a hard time with water. When you make your oil, you will use a carrier oil as the liquid component. We recommend using hemp seed oil for its health benefits and because it's easily digested. The carrier oil will enhance your body's ability to absorb CBD so you can get the most out of your isolate.
Cheef's CBD tinctures come in 300mg, 600mg, 1200mg, and 3000mg bottles. But you can make CBD oil at home at whatever potency you would like! 
Here's how to make a bottle of CBD oil with isolate:
Weigh out the amount of CBD powder you want to include in the oil. 
Pour the isolate into the bottle you intend to store your oil in.
Fill the bottle to the neck with the carrier oil of your choice (i.e., hemp seed oil or olive oil), do not overfill the bottle–you still need room for the dropper! 
Seal the bottle, give it a shake, and then wait overnight. 
Enjoy your homemade CBD isolate oil!
Making CBD Vape Juice With Isolate
The process of making vape juice is surprisingly similar to making CBD oil. Just follow these simple steps: 
Instead of using a carrier oil, you will use either a pre-made vape juice or make one yourself using vegetable glycerine and propylene glycol together in equal parts.
Measure 300 to 2000 milligrams of CBD powder per 30 ml of vape juice. 
Shake it to mix, and then enjoy!
Making CBD Capsules With Isolate
For an easy way to take isolate at your preferred dosage, you can put CBD powder in a gel capsule! Here's how:
Measure out how much CBD isolate you want to include in the capsule.
Insert the CBD powder into a gel capsule, being careful not to spill it.
Seal it, and it's ready to go! 
Just be sure you store your capsules in a cool, dry place–preferably in a sealed container away from pets and children. These capsules will make a great addition to the wellness routine of anybody who wants a quick and easy way to get the benefits of CBD isolate.
What Is The Shelf Life Of CBD Isolate?
Luckily, wholesale CBD isolate powder enjoys a long shelf life of approximately 2 years when stored properly. Still, it is a good rule of thumb to always check the expiration dates on your products before consumption to ensure the product will still be effective.