Healing salves are consistently gaining more popularity for consumers. But, what are they exactly? Healing salves were created both to heal and nourish your largest organ: the skin! The skin takes wear and tear almost all day and night. Yet, it still protects your insides and performs vital functions you might not be aware of. Healing salves are meant to strengthen, heal, revitalize, and protect your skin. 
What is a Healing Salve?
Oftentimes, you will hear people refer to salves as balms or creams. Salves are semi-solid combinations of oils and wax. Ordinarily, salves are used to soothe skin conditions and heal the skin. These salves typically are marketed as lip balms or skin creams. However, other salves are antimicrobial. This means they form to fight against bacteria, fungi, viruses, and other microorganisms. 
Even yet, there are salves infused with different compounds, giving consumers pain and soreness relief. For example, Icy Hot salves typically infuse menthol and methyl salicylate (aspirin) to help with soreness and pain.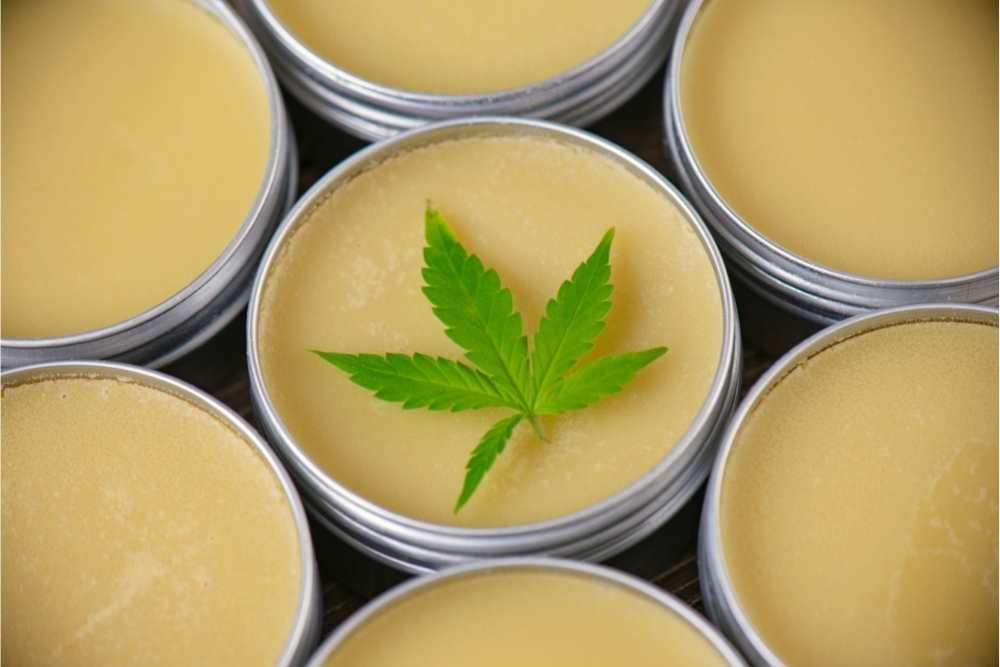 What are the Best Salve Ingredients? 
It is questionable as to which ingredients are the best for a healing salve. For instance, manufacturers use a number of different essential oils in healing salves. It really depends on the consumer, and what they're looking for. Of course, you may want to look for healing salves that are all-natural or organic.
We recommend avoiding salves that include synthetic ingredients like artificial scents or coloring. According to some sources on the internet, our skin is capable of absorbing 60% of any topicals you apply. While other sources claim that our skin is an impenetrable membrane.
As you can see our skin's absorption rate is debatable. Therefore, "the best" ingredients for a healing salve depends entirely on what the consumer is seeking, here is our list of some ingredients that provide the best benefits:
Peppermint Essential Oil
Peppermint is one of the most popular essential oils in healing salves. Typically, it contains L-menthol. It is used to treat minor aches and pains in the joints and muscles. Not to mention, peppermint has natural antiseptic and antibacterial properties. 
Olive Oil
According to the International Olive Council, olive oil has numerous vitamins. This includes Vitamins A, D, and K, along with vitamin E. Olive oil also hydrates and heals dry skin while also acting as an antioxidant.
Fennel Essential Oil
Fennel essential oil is a powerful antispasmodic, which means it can help stop body spasms. This essential oil is also known to have relaxing effects on the body and has antiseptic properties to hinder and prevent infection. Fennel essential oil can also help with wound healing.  
Coconut Oil
People across the globe appreciate the benefits of coconut oil. It is anti-inflammatory and also possesses antimicrobial properties. Coconut oil is great for healing wounds, treating and preventing acne, and will nourish the skin deeply. 
Lemongrass Essential Oil
Lemmon grass helps to detoxify skin and reduce impurities. It is a powerful astringent with antioxidant properties. Therefore, lemongrass will help fight signs of aging and also leave your skin feeling very fresh. Not to mention it contains generous amounts of vitamins A and C.
Beeswax
Beeswax is often used as the base for many healing salves. It is all-natural and you can find it in the hives of bees. It softens the skin, making it amazing for those with coarse or harden dry skin. Beeswax also heals and had antibacterial properties and can help you battle skin conditions like acne, eczema, and stretch marks.
Candelilla Wax
Candelilla wax is praised for its ability to reduce the signs of aging. It works well against stretch marks and wrinkles. Also, it hydrates dry skin remarkably! Also, candelilla wax is a healthy vegan alternative to beeswax.
Sunflower Seed Oil
Sunflower seed oil is an emollient that helps to moisturize skin. Additionally, they're packed with vitamin E, which is amazing for protecting and healing skin. On top of that, sunflower seed oil is an antioxidant that can help keep your skin looking young with a healthy sheen.
CBD
Cannabidiol, or CBD, is a cannabinoid in the cannabis plant. Unlike its cousin cannabinoid, THC, CBD cannot get you high. Instead, it provides the benefits of cannabis without the mind-altering effects. CBD interacts with your endocannabinoid system (ECS). There are cannabinoid receptors on your skin that react to the topical use of CBD and other cannabinoids.
What are the Top Healing Salves?
#4.  Joy Organics CBD Salve
Beeswax base

Organic MCT oil,

Organic Lavender Essential Oil, and Organic Eucalyptus Essential Oil.
Phytocannabinoid-rich hemp extract
All organic
#3. Joshua Tree Healing Salves
Beeswax base

Echinacea, Myrrh Gum, Lavender, Jojoba Oil, Tea Tree Oil, Benzoin Gum, Wildcrafted Chaparral, Comfrey, and Calendula.

No Hemp Extract

No added scents or softeners
#2. Prestidge Beaute
Beeswax base

Coconut oil, Shea Butter, Jojoba Oil, Sesame Oil, Palmarosa, Lemongrass, Sweet Orange, Lavender, Pomegranate Seed Oil, Frankincense, Galbanum, Lime Peel.
No Hemp Extract

All organic and cruelty-free
#1. Cheef Botanicals CBD Relief Salve 
Candelilla wax base

Calendula flowers, olive oil, coconut oil, jojoba oil, fennel essential oil, peppermint essential oil, frankincense essential oil, vitamin E, CBD oil.

Full-spectrum CBD hemp extract

Vegan-friendly, cruelty-free, all organic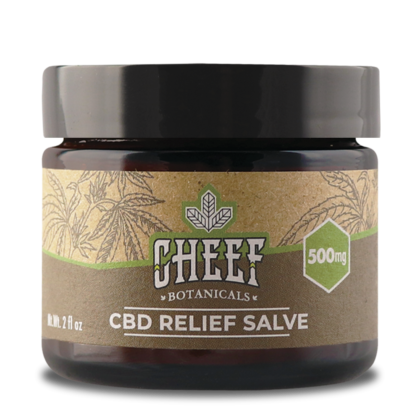 What is the Best Salve for You?
Cheef Botanicals offers the best healing salve. The combination of essential oils such as jojoba oil, fennel oil, peppermint oil, coconut oil, frankincense oil, and vitamin E create a unique blend. Most healing salves aim to nourish, hydrate, revitalize, protect, and strengthen the skin. In addition, we infuse our relief salve with CBD! When applying CBD healing salve topically, it does not reach the bloodstream. Instead, it interacts with the cannabinoid receptors spread throughout the skin's surface. 
All mammals have an endocannabinoid system (ECS). Your ECS creates and regulates cannabinoids in the body to promote homeostasis of the skin and within the body. Additionally, the ECS assists in regulating sleep, inflammation, pain, digestion, mood, stress, and much more! The CBD from our salve interacts with cannabinoid receptors in the skin to create soothing effects.
Why Choose Cheef Botanicals
Cheef Botanicals was founded by a collection of health-conscious cannabis connoisseurs with over 25 years of combined experience in the organic food industry. Cheef partners with hemp farms in Colorado and Oregon to provide the highest grade CBD products available online.
 
At Cheef Botanicals, we all acknowledge that there is a tremendous shortage of health-conscious plant-based CBD products available to us here in the United States. It has been our purpose to fill this void. You can rest assured knowing that our CBD healing salve is made from the best products accessible.  
Our products include only the best organic vegan ingredients. They are non-GMO, cruelty-free, gluten-free, and dairy-free. Also, we only use genuine wholesome ingredients, with no artificial flavors or colors. Plus, each order of our CBD healing salve comes with free shipping!

Other Popular Topicals
Here at Cheef, we have plenty of options! Try out our other topical products: CBD infused bath bombs, CBD infused lip balm, and our CBD infused body lotion. 
CBD Infused Lotion
Our CBD infused lotion comes in Cucumber Melon and Orange Bliss. We use organic shea butter, coconut oil, olive oil, aloe vera, stearic acid, emulsifying wax, and vitamin E to provide you with the most nutritive and hydrating CBD lotion on the market. 
CBD Infused Bath Bomb
Our CBD infused bath bomb is crafted to help you relax and rejuvenate in the bath! We utilize citric acid, sea salt, sunflower oil, organic shea butter, coconut oil, and various essential oils to provide the utmost feeling of comfort, cleanliness, and calm.
CBD Infused Lip Balm
Our CBD infused lip balm aides drying and cracking lips. Although our CBD lip balm is great all year long, it truly proves its worth in the winter months. Tired of dealing with damaged lips in that cold weather? At Cheef Botanicals, we utilize candelilla wax, shea butter, coconut oil, calendula-infused grapeseed oil, comfrey oil, frankincense, lavender, and vitamin E to help you protect, reinvigorate, and heal your lips. 
Final Thoughts
Healing salves have become an integral part of the healing and wellness community. Many of them offer a safe alternative to harmful skin products, along with therapeutic benefits. Still, many consumers don't do enough to take care of their skin.  Your skin is your largest organ, and arguably one of the most important. It protects your insides against harm. Isn't it time that you protect it in return? 
Not sure which CBD product is right for you??? Take the quick quiz to find out!