As kids, was there anything in the world better than gummies? In adulthood, gummies might not be quite so iconic, but they still delight people of all ages. CBD gummies are an excellent option for people seeking the therapeutic benefits of CBD (cannabidiol) in the form of delicious candy. You are probably thinking, "Yeah, this sounds nice, but where can I find CBD gummies near me?"
You may be surprised to learn how easy it is to find top-quality CBD gummies online or in-person. Before you begin your search, allow this guide to demonstrate an easy method to search for CBD gummies online or locally. As you read further, you will also learn what to expect when shopping for gummies and what to look for when researching different cannabidiol gummy brands.
Using Local Maps on Google to Find CBD Gummies Near Me
Google is by far the easiest way to find CBD gummies near you. Google Maps is one of the most recommended ways to find the best CBD gummies in the market. 
If you favor a different search engine, you can still try these steps to find gummies near you. The specifics might be different, but many of these tools are similar regardless of the company behind them. The process is simple with these easy steps:
Open your internet browser to access Google Maps, or download it from the app store of your smartphone, tablet, laptop, or any other smart device for better optimization.

Type in "CBD gummies near me" in the search bar. If you're on your phone, make sure your location settings are on for a more precise search. Here's how to 

turn on location settings

 for iPhone and Android.

As long as your internet signal is at full strength, a list of all nearby locations should display in just a couple of seconds.

Take a moment to research any information you can about the different locations that pop up. Then, look at their reviews or browse their website if they have one. This will give you more insight into their CBD gummies' quality.

Once you find a store that interests you the most, check out its business hours. Hop in your car and let Google Maps navigate the trip for you.

After you arrive at the location, check out their inventory and buy CBD gummies that are most appealing to you! You are then free to enjoy your CBD gummies whenever you want!
Before smartphones became widespread, online searching was not easily accessible to most people since computers were not common in every household. However, thanks to advances in technology, Google Maps has made it possible to find CBD gummies near you with just the tap or click of a screen.
Are There Risks to Buying CBD Gummies from Local Merchants?
Google Maps will connect you with shops that sell CBD, but how do you know which one to choose? Shopping from local merchants can come with a few risks. Every store location is different from city to city, but the hurdles you might have to face are all the same. 
Your online search for CBD gummies most likely produced the following locations:
Retail or grocery stores

Holistic wellness shops

Tobacco or Smoke Shops

Dispensaries
Sometimes, you need a little luck when shopping for stuff. In general, here are some of the stumbling blocks you might experience when you visit some of these locations.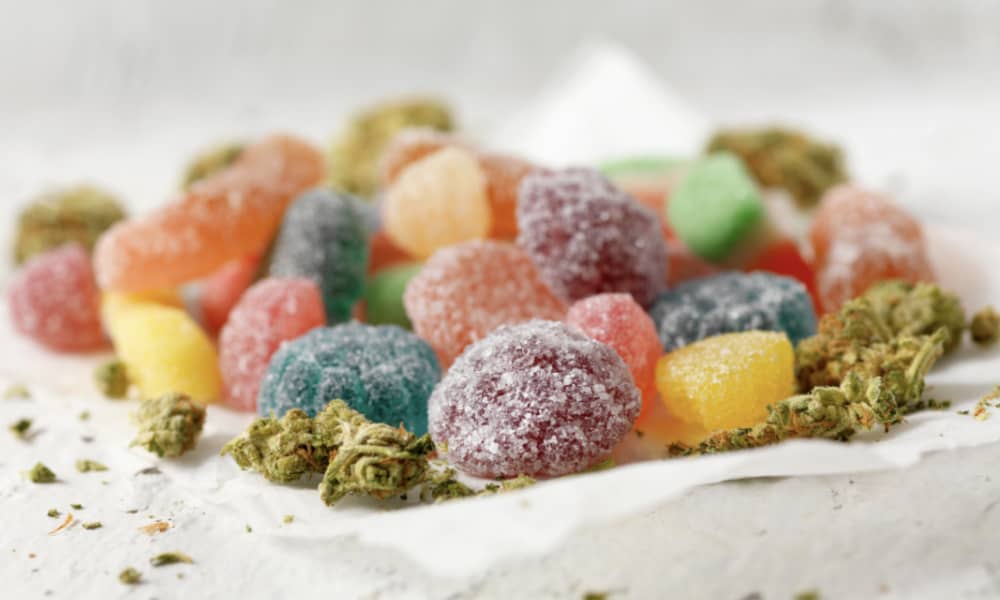 Overpricing
Have you ever bought something and felt like a greedy salesperson ripped you off? Most people behind the counter are honest and polite. But unfortunately, since CBD is relatively new, some merchants sell overpriced products that may not be high-quality.
The local store you go to might be the only local supplier of cannabidiol. Without competitors to challenge their prices, local merchants are free to buy something cheap and sell for quadruple the profit if they want. So if your wallet feels emptier than it should, consider buying your cannabidiol from another seller!
Poor Selection of CBD Gummies
You know that feeling when you make it all the way to a local shop, only to find that they don't even carry what you want? Just because local shops sell CBD gummies doesn't mean they will carry a broad selection of flavors, concentrations, and types. 
With only a few stores to choose from, there may be a limited supply of CBD gummies near you. However, remember that you don't have to settle for poorer quality! There are plenty of incredible products out there, so keep searching until you find that perfect blend of affordability, quality, and personal preference. 
Lack of Product Knowledge and Transparency
Just because the package says CBD gummies doesn't mean it is the best one out there. In fact, they may not even taste good. Any brand selling CBD products should display key product information such as:
Ingredients

Type of CBD (full or broad spectrum) and dosage information

Whether it's cruelty-free

Whether it has been lab-tested/approved
The seller should be able to easily provide any information that's not on the label. Since CBD is often sold at places like coffee shops and retail stores, the employees behind the counter are rarely CBD experts. Some may even give you false information just to make a sale.
How To Find CBD Gummies Online
Shopping in stores can quickly feel like a drag. You may have to sit in traffic, waste gas, or spend hours of your day for subpar gummies. In some cases, the stores displayed on Google Maps could be more than an hour's drive away. Save yourself from a potential headache and shop online instead. 
Fortunately, the process for buying CBD gummies online is not much different from using Google to find local stores. It's essentially the same process with no driving! Here is how you do it:
Open up your preferred device and launch Google. Enter "CBD gummies" in the search bar. For more specificity, you may want to type "CBD gummies for sale."

Within seconds, your search should display different websites that offer CBD gummies. 

Review each link to make sure the product lines up with your needs. Take as much time as you need to review the different online stores available.

Select the cannabidiol-infused gummies you are interested in the most. Complete the online checkout process for that site. After filling in your shipping information and submitting your order, the CBD gummies will be delivered to your door after a couple of business days.
What To Look For When Shopping For CBD Gummies Online
It's easy to feel overwhelmed with so many online CBD stores to choose from. Luckily, we're here to help! Here are a few things to look for when shopping for CBD gummies:
Reputable Brand

: Before you decide to buy CBD gummies, make sure it comes from a top brand that is fully transparent about how their CBD edibles are made. The website should indicate their methods for extracting hemp. The site should also be easy to navigate and address any potential questions you may have.

Certificate of Analysis

: No matter what kind of CBD product you are seeking, it should always have a Certificate of Analysis. This document lists the compounds inside and ensures the product's label is accurate. An accredited third-party laboratory performs the tests and gives the manufacturer a Certificate of Analysis if they pass.

Consumer Feedback

: Customer reviews help provide an outside perspective on CBD products. Companies can tell you how great their products are all day long, but customer reviews will confirm or deny those claims.
How to Tell if CBD Gummies is High Quality or Low Quality
Are all CBD gummies the same? Although they might seem the same in appearance, some CBD gummies are of higher quality than others. Higher standard CBD gummies are usually pricier, but keep in mind that a big price tag does not always mean the product is high quality. Customer reviews quickly call out cheap products at high price points. So if you can't find reviews or Certificates of Analysis, steer clear! 
The top-notch stuff should include these traits:
All Natural Ingredients

: Your body will appreciate it if you buy CBD gummies with organic ingredients from naturally grown hemp.

CO2 Extraction Method

: There are many ways to extract CBD from hemp plants. CO2 provides the safest and cleanest way of extracting CBD without harming the consumer.

Clear Labeling

: The package the CBD gummies come in says a lot about the product. Bold claims and flashy labels are nice, but they should be backed up with a Certificate of Analysis. The label should clearly state what's inside and what sets the product apart. 
USA Grown Hemp CBD Vs Imported Hemp CBD
CBD comes from hemp plants, and there is hardly any debate that US-grown hemp is better than imported crops. Hemp plants can be grown anywhere around the world, but the regulations under which they are grown make a significant difference.
CBD became more widespread in the United States thanks to the 2018 Farm Bill. This legalized hemp and hemp-derived products like CBD, but only if they contain 0.3% THC or less. THC can cause a "high" when taken in large amounts, but 0.3% is not enough to induce intoxication.
Aside from THC content requirements, US-grown hemp is also regulated by government agencies like the Food and Drug Administration (FDA). Imported hemp may come from countries with less quality control on their hemp flower. As a result of less regulation, imported hemp has a higher chance of containing pesticides, herbicides, and other harmful chemicals.
Why Choose Cheef Botanicals?
Cheef Botanicals is recognized as a top brand in CBD products, thanks to our dedication to organic ingredients and transparency with customers. Our CBD is safely and cleanly extracted from organic hemp farms in Colorado and Oregon.
Cheef Botanicals' CBD gummies are vegan with organic ingredients and no artificial colorings or sweeteners. Our full-spectrum CBD gummies offer the reinvigorating effects of cannabidiol to help you get through the day.
Final Thoughts – CBD Gummies Near Me
CBD fruit snacks chocolate, or lollipops are a great way to enjoy the beneficial remedies of CBD. Searching for CBD online or in person may be a hassle, but this guide was created to make the entire process easier for you. Next time you are in the market looking for CBD gummies near you, consider Cheef Botanicals!
Read Next: 

How to Make CBD Brownies in 9 Easy Steps!
Not sure which CBD product is right for you??? Take the quick quiz to find out!