Are you interested in trying CBD gummies but wondering about how they might make you feel? If you've never tried CBD before, it's natural to have questions about how it will affect you. CBD gummies give most consumers a feeling of tranquility and calmness. However, everyone reacts differently to CBD.
CBD gummies are an edible product, which is something you eat. As you may or may not know, edibles produce longer-lasting effects than other forms of CBD. So, what do CBD gummies feel like? We're here to fill in some of the blanks for you.
What is a CBD Gummy?
CBD gummies are chewy snacks that have been infused with CBD oil. CBD, which stands for cannabidiol, is one of the many cannabinoids found in the hemp plant. It has several beneficial properties that can produce therapeutic effects.
CBD gummies are popular for their long-lasting effects and delicious flavors. The best CBD gummies are made with 100% vegan, organic, and all-natural ingredients. CBD is intended to promote natural wellness, so the other ingredients in CBD gummies should follow that same principle.
What Do CBD Gummies Feel Like?
After eating your recommended dose of CBD gummies, you should begin to feel the effects within 30 minutes to two hours. You can expect to feel a sense of relaxation and serenity coming over you within that period of time. Studies show that CBD may help reduce feelings of dread and nervousness.
As your racing thoughts begin to ease, you'll begin to feel tension and soreness melt away. You might feel lighter in a way as the heaviness of your mental and physical discomforts dissipate into nothingness. It's a blissful experience.
The list of beneficial effects of CBD goes far beyond panicked thoughts, however. Research is constantly emerging on the prospective properties of CBD that could play a role in the management of a range of ailments, such as:
Abnormal cell growth
Discomfort/tension
Skin conditions/irritation
Trouble sleeping
Upset stomach
And many more!
Consumers report that they have used CBD to combat joint discomfort, temple tension, appetite, and sleep (to name just a few). Since CBD gummies are long-lasting, they're able to provide all day (or all night) relief.

How Do CBD Gummies Work?
Cannabidiol (CBD) interacts with a network of receptors spread throughout the body known as the endocannabinoid system (ECS). Researchers are working to fully understand the ECS, but for now, they know that it plays a role in maintaining homeostasis through regulating bodily functions such as:
Body temperature
Learning/memory
Pain responses
Mood
Appetite
And many more.
To operate, the ECS relies on our bodies' natural endocannabinoid production. When you ingest external cannabinoids like CBD, you supplement your endocannabinoids and, in turn, increase the functionality of your ECS.
Can You Get High from CBD Gummies?
No, CBD gummies cannot get you high. Full-spectrum CBD oil does contain trace amounts of THC (0.3% or less), a well-known psychoactive cannabinoid found in cannabis plants. However, the trace amounts in full-spectrum CBD products are nowhere near enough to intoxicate a consumer.
Cannabidiol (CBD) is a non-intoxicating (won't get you high) cannabinoid found in high levels in hemp. The strong feeling of relaxation and sense of relief that comes from taking gummies infused with CBD oil can feel blissful, but it isn't a psychoactive "high."
If CBD Gummies Don't Get You High, Why is There THC in Them?
Hemp and hemp-derived products like CBD oil contain more than just CBD and THC. There are micro levels of dozens of other non-intoxicating cannabinoids found in cannabis plants. Additionally, there are compounds called terpenes and flavonoids that give hemp its aroma, flavor, and color.
When two or more cannabinoids are ingested in conjunction with terpenes and flavonoids, each element increases the functionality of the next. This is known as the entourage effect. The most beneficial entourage effect occurs with the presence of THC, even a trace amount like 0.3% or less.
While THC is not necessary to produce the entourage effect, a 2010 study found its presence was the most effective at relieving subjects' discomfort. By taking CBD gummies infused with full-spectrum oil, you encourage a more beneficial experience than you might have with CBD alone.
Are CBD Gummies Legal?
Yes, CBD gummies are legal throughout the United States. The 2018 Farm Bill made hemp-derived products (like CBD oil) federally legal as long as they contain 0.3% or less THC. Therefore, the trace amount of THC in full-spectrum CBD oil used in CBD gummies can be no more than 0.3%.
If you live somewhere marijuana is legal, you might find marijuana-derived CBD products with higher THC levels. These may or may not be intoxicating, depending on the THC and CBD contents. If you're looking to avoid intoxication, stick to hemp-derived CBD products that meet the federal standards.
Although CBD is federally legal, it remains mostly unevaluated by the Food and Drug Administration (FDA). Except for one anti-seizure medication, Epidiolex, CBD is not officially intended to diagnose, treat, cure, or prevent any disease.
How Do You Take CBD Gummies?
Eating CBD gummies is one of the tastiest ways to take cannabidiol. First, you'll want to calculate your CBD dosage range. Since the FDA doesn't regulate CBD, there is no official dosage chart. Not to worry, though, because we've consulted with experts to provide you with general dosing recommendations.
We typically recommend 0.25 (mild dose) to 0.5mg (strong dose) of CBD per every one pound of body weight. Let's go over an example of calculating a dosage range for a 140lb adult.
Multiply 140 by 0.25. This shows the mild does as 35mg of CBD.
Multiply 140 by 0.5. This shows the strong dose as 70mg of CBD.
The CBD dosage range for a 140lb adult is 35 to 70mg of CBD.
So how many cannabidiol gummies should you eat? If you're new to CBD gummies and other CBD edibles, we recommend starting at a normal dosage. If you don't feel like you achieved your desired effects, move your way up toward your strong dosage recommendation. Everyone reacts differently to CBD and requires varying amounts.
CBD gummies will often come in a range of bottle sizes that hold different total levels of CBD and different levels of CBD per gummy. Most people will need to eat a couple of gummies to achieve their desired dosage.
Once you've counted out the number of gummies needed for your dose, simply eat them and enjoy the sweet, fruity flavors of this delicious CBD snack. Then, kick back and relax while you wait for the soothing benefits of CBD to kick in. Remember, this can take between 30 minutes and two hours.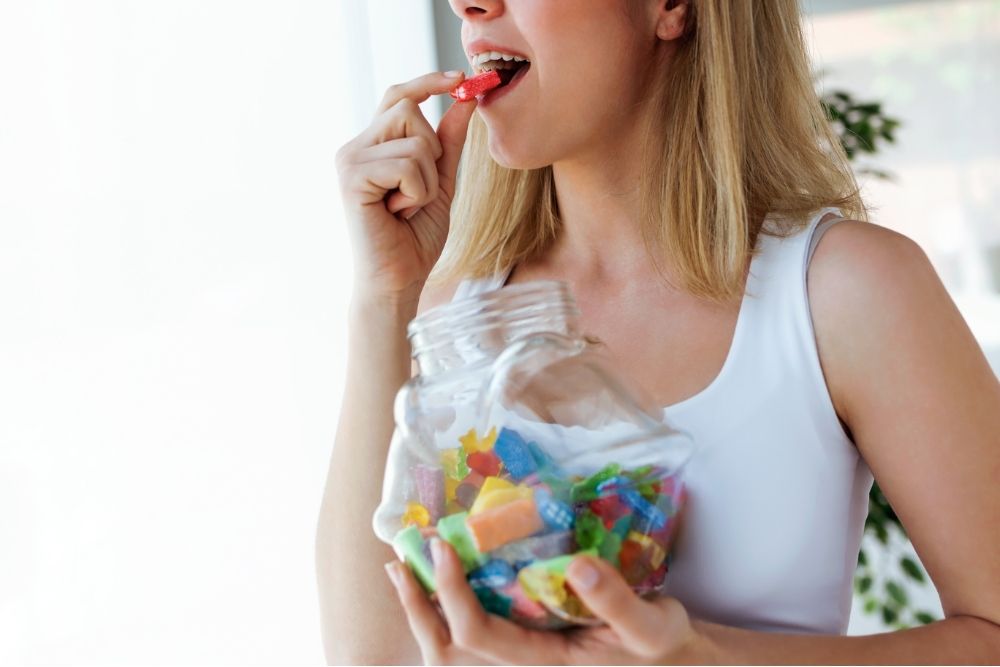 Are There Any Adverse Side Effects to Taking Too Many CBD Gummies?
Cannabidiol is well-tolerated by the vast majority of consumers. CBD is also non-addictive. Taking "too much" CBD will not cause you to overdose. Taking more than your recommended dosage, or more than your body can personally handle, may cause mild, short-lived adverse side effects, such as:
Dry mouth
Dizziness
Drowsiness
Upset stomach
If using CBD gummies makes you feel any of these side effects, don't let it get you down about CBD in general. In most cases, mild side effects subside once your body adjusts to the dosage.
Where to Buy CBD Gummies
It shouldn't be hard to find CBD gummies near you. If you're interested in trying CBD gummies, we make ours with 100% vegan, organic, all-natural, and non-GMO ingredients. To cater to our customers' various dosage needs, we offer four different sized bottles:
300mg total at 10mg of CBD per gummy
750mg total at 25mg of CBD per gummy
1,500mg total at 50mg of CBD per gummy
3,000mg total at 100mg of CBD per gummy
These four size options make it easy for you to choose a bottle of gummies that will meet your dosage needs. You can take multiple at a time or cut the gummies in half to achieve specific dosages.
Our CBD gummies can help you feel the potent, effective, and long-lasting benefits of CBD oil. Edible CBD products like CBD gummies can produce therapeutic effects for up to six hours. Plus, they're a deliciously sweet and naturally fruity snack!
What to Look for When Buying CBD Gummies
Shopping for CBD gummies (or any CBD product) can be confusing. Where do you start, how do you know what to look for, and how can you differentiate between low and high-quality products? Let's go over some of the crucial things to look for when buying full-spectrum CBD gummies.
American-grown hemp: The 2018 Farm Bill imposes regulations like ethical farming practices and the 0.3% or less THC limit on American hemp farms. To ensure you're getting non-psychoactive, high-quality, organic CBD gummies, look for a company that sources American-grown hemp and CBD oil.
Third-party testing (COAs): Next, look for whether or not the company sends its CBD oil for independent third-party lab testing. These tests reveal the actual levels of each cannabinoid present in the oil.
The results of those tests should be readily available for you to view on the company's website in the form of a certificate of analysis (COA). A reputable CBD company has nothing to hide about its products. If this information isn't made available, move on to a more transparent brand.
Prime ingredients: Next, look at the quality of their other ingredients. Are they vegan, all-natural, and non-GMO? The quality of the other ingredients in the gummies is just as important as the quality of CBD oil. Harmful ingredients could make you feel unwell and tarnish your CBD gummy experience.
Stellar reputation: Last but not least, use the power of the internet to your advantage. How well do their customers review their products? What about their customer service and their customer policies? You can learn a lot about the quality of a company and its products from online reviewers.
Final Thoughts
The effects of CBD-infused gummies can make you feel relaxed, at peace, and rejuvenated. The powerful, beneficial compounds found in hemp plants work with your body's natural processes to help keep you functioning at 100%. Plus, they're discreet, tasty, and long-lasting.
Not sure which CBD product is right for you??? Take the quick quiz to find out!